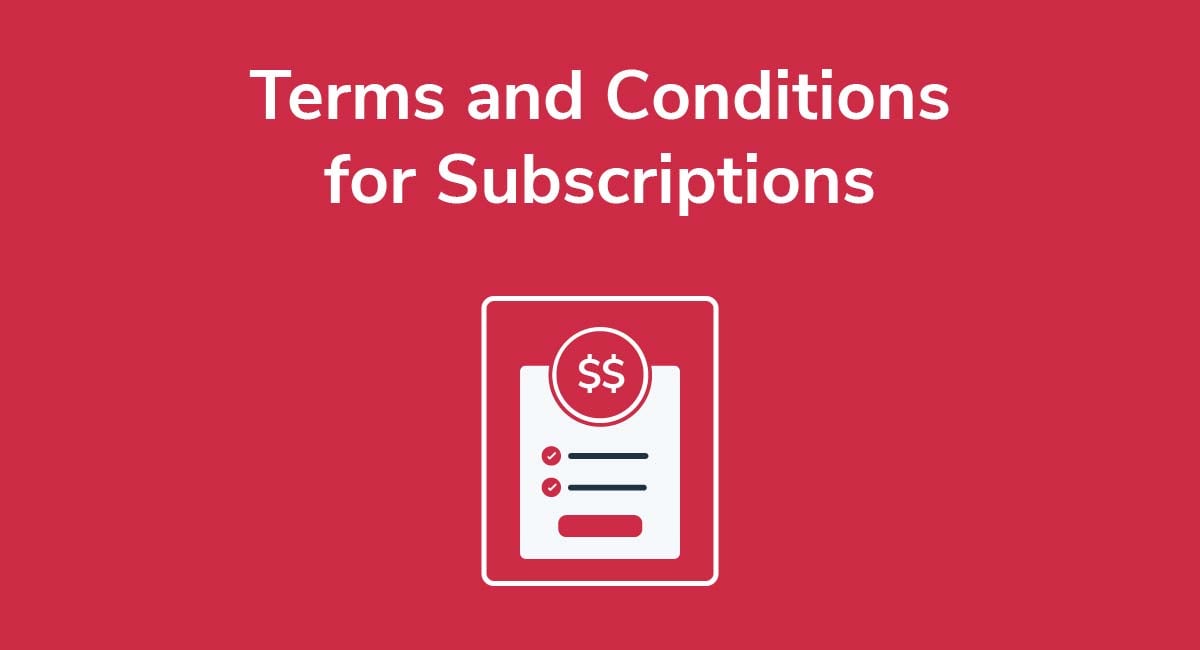 Subscription services are becoming increasingly popular with busy consumers who'd rather not waste time shopping online or at traditional brick-and-mortar stores. While subscription services present several unique challenges for business owners, these issues can and should be addressed in each company's Terms and Conditions agreement.
This article will explain why your subscription-based website or service should have a Terms and Conditions agreement and how you can easily create one and add it to your website.
Need Terms and Conditions for your business? We can help you generate a customized Terms and Conditions agreement in around two-three minutes for free. Try our Terms and Conditions Generator and just follow these steps:
Click on the "Create your Terms and Conditions today" button.
At Step 1, select the where will you use your Terms & Conditions and click "Next step":

Add information about your business:

Select the country and continue to the "Next step":

Answer the questions about your business practices and click "Next step" when finished:

Enter your email address where you'd like your agreement sent and click "Generate."

You're done! Now you'll be able to instantly access and download your new agreement.
What is a Terms and Conditions Agreement?
A Terms and Conditions agreement is a legal agreement that allows subscription service providers to establish the ground rules that govern business relationships with users and customers. These agreements can cover everything from payment terms to limitations of liability.
Terms and Conditions are also commonly referred to as Terms of Use, Terms of Service, or simply Terms, but whatever they're called, they can provide a number of important protections for businesses and customers alike.
Some of these benefits include:
Keeping users informed about your requirements
Managing user expectations around your service
Helping to limit your legal liability in certain cases
Helping you keep the right to exclude abusive users from your service
Letting users know how they can contact you with questions
Key Clauses for Your Subscriptions Terms and Conditions Agreement

When deciding what information to address and include in your Terms and Conditions agreement, most subscription services will want to consider the following:
How and when customers will make payments
How you'll deal with declined payments and delinquent accounts
Whether subscriptions will auto-renew and how they can cancel a subscription
What behaviors will be restricted and how'll rule breakers will be dealt with
How you'll protect your intellectual property
What laws will govern your agreement
Here are some examples of clauses from real Terms and Conditions agreements that address some of these points.
Eligibility
When it comes to sensitive and age-restricted products like alcohol and tobacco, not everyone will be eligible to sign up for subscriptions.If your subscription service has any restrictions as to who can sign up, disclose this. This can be due to age, due to location, or something like you cannot ship to P.O. boxes.
Splash Wines addresses Eligibility in its Terms of Service as follows: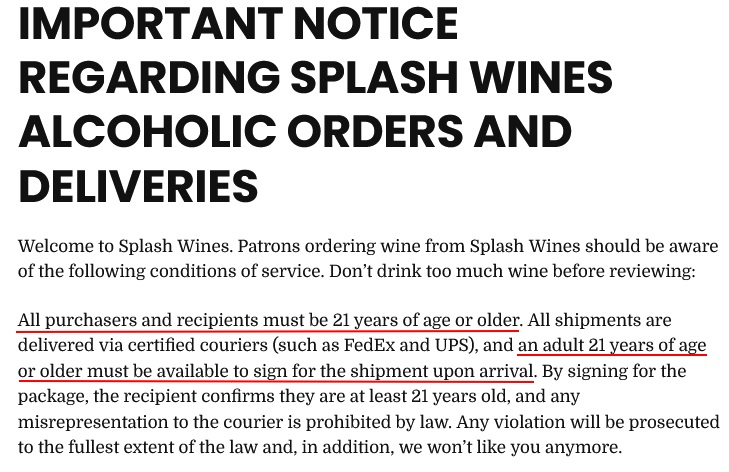 Payment and Billing
Because most subscription services require monthly, quarterly, or yearly payments, you'll need to establish how and when payments can (or must) be made.
In its Terms of Sale agreement, The New York Times lets users know that subscriptions renew automatically, that payments are made at regular intervals, and that the company may change terms and fees at any time: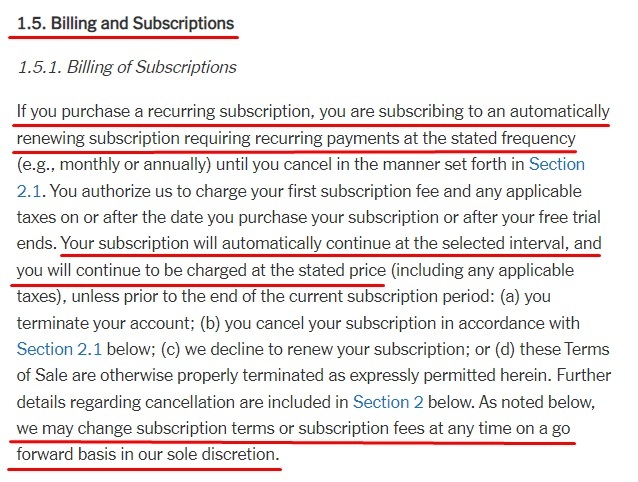 When dealing with payment and billing issues, be very specific and disclose information and details about custom rules you have such as:
Prohibiting customers from receiving or keeping goods they haven't paid for
Establishing how recurring charges will be calculated and processed
Addressing how you'll deal with declined credit card payments and unpaid balances
Laying out the fees and penalties that will be assessed to delinquent accounts
Free Trials
Oftentimes businesses may offer a free trial of a subscription to attract and hook customers. This can be a free 2-week trial, one month free with the purchase of additional months, or any number of combinations of structuring the deal.
If you offer a free trial, make sure to be clear about what it entails, and what exactly will happen at the end of the trial. It's rare to see businesses that simply offer the trial without taking payment information to keep on file, so let users know when you plan to start billing them after the free period ends.
Here's how Blue Apron lets users know that only one free trial is allowed per household, and that when the free trial ends, billing will begin unless the subscription is canceled before the trial ends:

Automatic Renewals
If your subscription plans include automatic renewal, add a dedicated clause to your Terms and Conditions agreement to address it.
Tea subscription service Sips by displays the following Automatic Renewal Terms in its Terms of Use agreement:

Cancellation of Subscriptions
Users will likely be curious about how easily they can cancel a subscription, even before they decide to sign up. In fact, the ease of cancellation may be a factor in whether they sign up.
Include a clause that outlines what a user must do to cancel, and how it will affect them financially, such as with partial refunds, any fees charged or loss of promotional credits.
Here's how Blue Apron breaks down its cancellation policy in its Terms of Use:

Unpaid Charges
Let users know how you'll handle unpaid charges, such as by canceling or suspending their accounts, adding on fees, or some combination of both.
Regularly scheduled credit card payments can be declined when cards expire or when banks suspect fraud. When this happens, businesses often spend time and other resources resolving the issue, and they may pass these costs on to customers through fees and penalties.
By agreeing to your Terms and Conditions, customers acknowledge that they have read and understand your policy regarding unpaid charges and any fees or repercussions they face in such events.
The New York Times addresses Unpaid Charges in its Terms of Sale agreement as follows: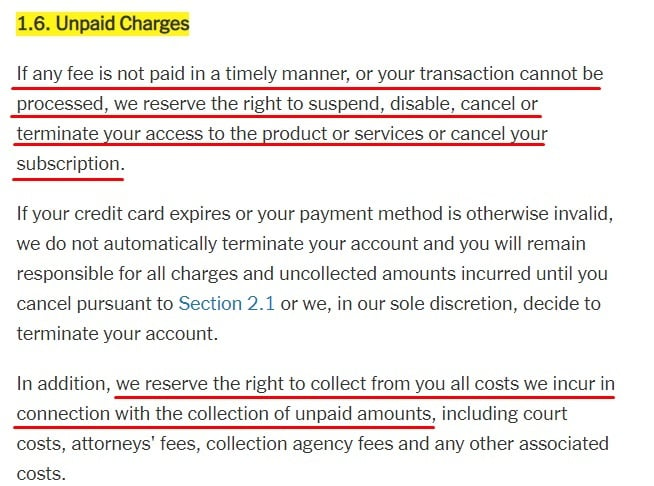 Returns and Refunds
Include information about how you handle returns and refunds. Since subscription business models are different from standard one-off purchase business models, this will be something that you'll want to be very clear about when it comes to your terms and rules.
Let users know if you offer any refunds for a subscription once it's been paid for. For access subscriptions, such as for music streaming services, this can look like a prorated refund for time not used. For a subscription where you get an item, such as a plant-of-the-month subscription, you might have users return the item to get a refund. It really depends on the nature of your business and what parameters you want to set here.
You can choose to have a separate Return and Refund Policy if you have a lot of details to disclose. Or, you can simply add a clause to your Terms and Conditions that addresses the topic.
Here's how Sips by addresses returns and refunds related to its subscription boxes:

If Sips by only offered subscriptions, this could be the only information that would be needed and could be added to a Terms and Conditions agreement. However, because the company sells other products and a la carte tea, it has a separate Refund and Return Policy to address subscriptions and non-subscription purchases:

Blue Apron has a generous return and replacement policy where it may replace whole meals or meal ingredients if people aren't satisfied and contact the company as directed. It also addresses the issue of products arriving damaged: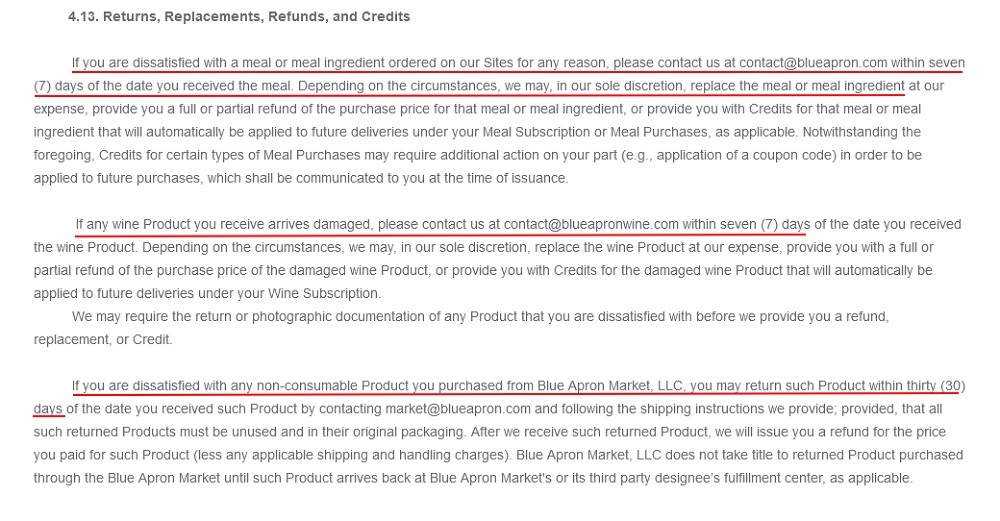 Intellectual Property
In addition to detailing what constitutes intellectual property in your Terms and Conditions agreement, you may want to establish the actions you can take (or damages you can seek) if your intellectual property is used inappropriately or without authorization.
Intellectual property includes everything from original artwork and music to logos and concepts, so it's important to be thorough when addressing this in your Terms and Conditions agreement.
Here's how Sips by makes it clear that the company takes intellectual property rights seriously by extensively outlining what content it holds the rights to:

Cancellation and Termination of Accounts
Subscription service providers often reserve the right to cancel user accounts at their sole discretion. Users may also wish to cancel their own accounts. Your Terms and Conditions agreement should both reserve your right to cancel accounts, while letting users know how they can go about doing so as well.
Trade Coffee lets users know that they can cancel their accounts at any time and that the company reserves the right to terminate accounts without prior notice:

Limitation of Liability
Including a Limitation of Liability clause in your Terms and Conditions agreement will allow you to state your terms, minimize your liability, and establish a monetary "ceiling" on damages.
Here's how Blue Apron limits its liability:

Governing Law
Governing law clauses allow subscription service providers to state which laws govern their Terms and Conditions agreements. A governing law clause is particularly important if you and your subscribers are located in different states or countries.
In its Governing Law clause, Cigar Club lets users know that the agreement is governed by the laws of the State of Alabama where the company is headquartered:

While your Terms and Conditions for subscriptions may have additional clauses to address unique aspects of your subscription service, starting with these clauses will help you get going on the right path towards having a robust, complete Terms agreement.
Displaying and Getting Agreement for Your Terms and Conditions for Subscriptions

It's important to place your Terms and Conditions agreement in a conspicuous location where users won't have trouble finding and accessing it. You can also display it at points where you request users agree to it.
On websites, Terms and Conditions agreements are most commonly found in the following locations.
Footers
Terms and Conditions agreements are often placed on website footers because most users know to look for them there.
My Milk Club places its Terms & Conditions agreement under the Company heading at the bottom of its website:

And here's how The Atlantic does this:

Sign-Up Pages
Displaying Terms and Conditions at the same time you request users agree to them is something you'll see often at sign-up pages. That's because it's a great time to let users know you have Terms, and that by signing up, they will be agreeing to the terms.
In the example below, Amazon lets users know that they're agreeing to the Kindle Unlimited Terms by clicking on the Start your 30-day free trial button:

Here's an example using an "I Agree" checkbox to get agreement to the Terms: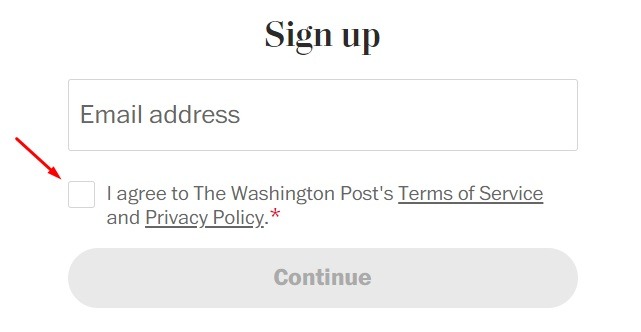 Summary
From baby formula and coffee to online magazines and streaming music, subscription services are more popular than ever.
Having a Terms and Conditions agreement makes it possible for subscription service providers to lay out the guidelines, rules, and restrictions that govern relationships with customers and users.
Many subscription service providers include the following sections in their Terms and Conditions agreements:
Free trials
Cancellation of subscriptions
Payments, billing and automatic renewals
Returns and refunds
Limitations of Liability
Governing Law
Termination
Get customers to actively agree to your Terms and Conditions by using an "I Agree" checkbox or a clearly labeled button that makes it clear that by signing up for the subscription, the user is agreeing to be bound by the Terms agreement.
Terms and Conditions agreements are most commonly displayed on website footers, on sign-up and checkout pages.
Crafting a comprehensive Terms and Conditions agreement may seem like a daunting task, but the benefits and protections are generally worth the investment of time and money.