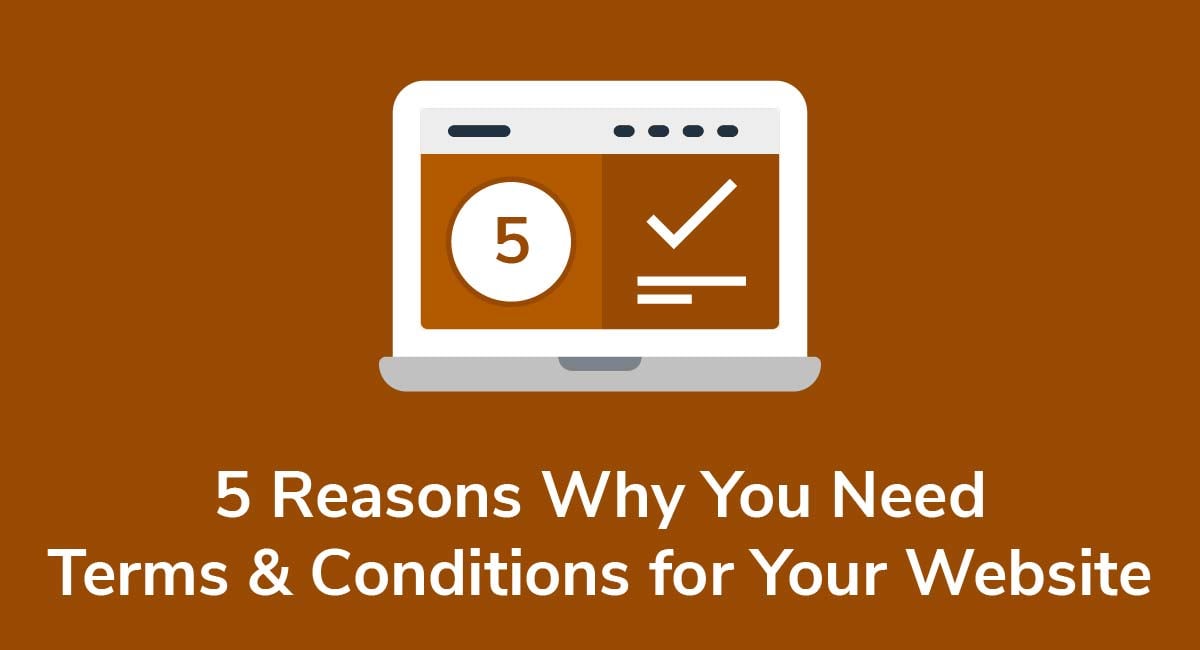 If you offer goods or services online, you should have a Terms and Conditions agreement (T&C) on your website. Your Terms and Conditions agreement can form the backbone of your relationship with your customers.
Here are five major reasons why every business needs a Terms and Conditions agreement.
Need Terms and Conditions for your business? We can help you generate a customized Terms and Conditions agreement in around two-three minutes for free. Try our Terms and Conditions Generator and just follow these steps:
Click on the "Create your Terms and Conditions today" button.
At Step 1, select the where will you use your Terms & Conditions and click "Next step":

Add information about your business:

Select the country and continue to the "Next step":

Answer the questions about your business practices and click "Next step" when finished:

Enter your email address where you'd like your agreement sent and click "Generate."

You're done! Now you'll be able to instantly access and download your new agreement.
What are Terms and Conditions Agreements?
A Terms and Conditions is a type of agreement between your business and its end users e.g. customers or clients. The Terms and Conditions agreement should set out conditions for using your site or service as well as the terms on which you agree to do business with someone else.
If drafted correctly, a Terms and Conditions agreement allow you to protect your copyright, limit your liability, and terminate a user's account if they breach your rules. We'll explore these benefits and others in more detail below.
You can use a Terms and Conditions agreement on any platform, whether it's a blog, ecommerce store, or app. You don't need to call the agreement "Terms and Conditions," either. Other titles you might use include:
Whichever title you choose, what matters is that your end users know what the document is, and the conditions under which you will provide them with the agreed services or features.
Are Terms and Conditions Legally Required?
Surprisingly, there's no legal requirement to provide a Terms and Conditions agreement. This is a key difference between your Terms and Conditions and a Privacy Policy - Terms and Conditions may be optional, but Privacy Policies are legally required in most jurisdictions if you process personal data from website users.
If you're unsure of how to draft a Privacy Policy, our Privacy Policy Generator can help.
5 Reasons Why You Need Terms and Conditions

Just because there's no obligation to draft a Terms and Conditions agreement doesn't mean you should skip it.
Let's consider six reasons why your website needs one.
1. To Protect Your Copyright and Intellectual Property

You can use Terms and Conditions to protect your website content, which includes:
Blog posts
Custom graphics
Logos
Trademarks
Website design
Without a copyright or intellectual property (IP) clause, it might be harder to prevent others from using your IP without permission. A copyright clause means there is no doubt about what belongs to you.
Airtable, for example, makes it clear that it owns all its website content, including software and algorithms. Using Airtable does not give people a license to do things like reproduce, share, or copy the company's content without permission:

Individuals may still try to use your content without permission. However, T&Cs give you peace of mind and make it easier for you to enforce copyright issues in court, if this is ever necessary.
2. To Avoid Lawsuits and Opt for Dispute Resolution Instead

If there's ever a dispute with a customer or service user, you can rely on your T&C to help resolve the issue or determine which country's laws will apply. Terms and Conditions, then, give business owners - and customers - some certainty which can help resolve disputes.
What's more, as the business owner, you can determine the governing law.
Here's an example from Atlassian's Terms of Service. The agreement is governed exclusively by Californian law: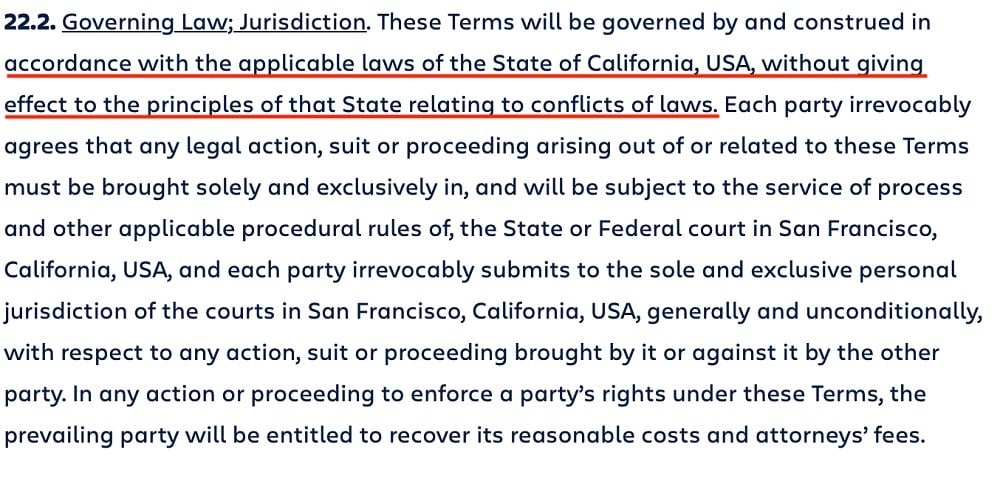 If you don't have a Terms and Conditions agreement, you may end up subject to laws which you're unfamiliar with.
3. To Limit Your Legal Liability

Terms and Conditions agreements help you limit your liability if something goes wrong or if your website is not functioning properly. For example, you can use disclaimers to limit liability for many things, including the following:
What you should limit liability for varies depending on your business. For example, in Bumble's Terms, the company states that the app is provided "as is," that no advice is given, and it makes no warranty that the app will be secure, free of errors, have uninterrupted service or that it will meet a user's expectations: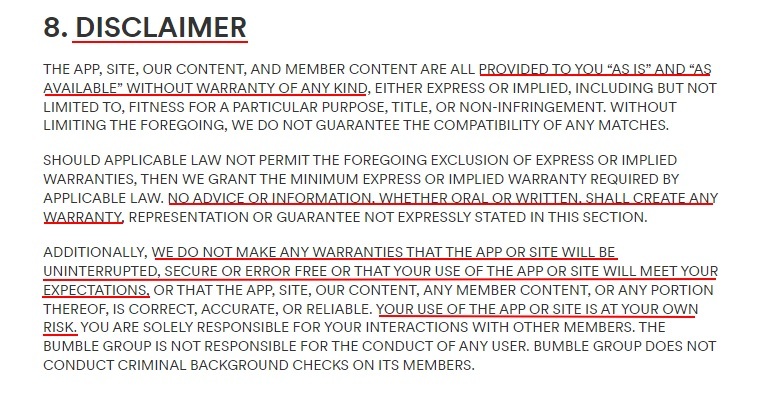 It also confirms that it won't be liable for various damages arising out of use of the site or app, such as loss of data, income, or property damage:

Realistically, it's impossible to stop users from suing you if they believe they have a case against your business. However, a limitation of liability clause in your Terms can offer you significant legal protection.
4. So You Can Terminate Accounts as Needed

A Terms and Conditions agreement lets you determine when you can end any contract between your business and its users.
Without Terms and Conditions, you might find it challenging to take certain actions such as:
Closing a customer's account
Terminating your services
Immediately suspending an account
For example, if someone fails to pay a subscription fee, you can suspend their account until payment is made, so long as there's a Terms and Conditions with a contract termination clause in place. Or, if someone violates your T&Cs, you can terminate their account immediately if your Terms agreement states that you will do so.
Airtable, for example, reserves the right to stop providing services at any point, and it can suspend someone's account without notice if the user is violating the Terms:

This short and simple clause gives Airtable a wide authority to terminate harmful, abusive, or otherwise problematic accounts and protect its business interests.
You need Terms and Conditions on your website if you want control over who can access your services and how quickly you can shut a problematic account down. Otherwise, you run the risk of facing lengthy and costly customer disputes whenever there's a breach of the T&Cs.
5. To Earn Consumer Trust

Many customers expect you to provide a Terms of Service or User Agreement of some kind. Having Terms and Conditions can help you build better customer relations, which could improve your ROI over time.
Here are some reasons why people love seeing a Terms and Conditions agreement, even if they don't read them:
T&Cs make your business appear more professional.
With Terms and Conditions in place, people may feel more comfortable using your goods or services because they know you take your legal obligations seriously.
A Terms and Conditions agreement can improve your company's transparency since you will disclose how you handle certain situations up front.
In short, Terms and Conditions are a key legal document people expect to see when they visit your website, buy your products, or download your app, and your business might seem less trustworthy if there are no T&Cs available.
What to Include in Your Terms and Conditions Agreement

To get the most from your Terms and Conditions agreement, make sure it includes the following clauses:
Acceptance of Terms: Unless users consent to the T&Cs, the Agreement is not legally enforceable. This clause should explain what constitutes acceptance of terms.
Jurisdiction: This clause sets out which country or state laws apply if, for example, there's a dispute or contract issue.
Privacy Policy: You should include a clause referencing your Privacy Policy (and, where applicable, your Cookies Policy).
Conditions for Termination: The termination sets out when you can close or suspend someone's account, whether the termination or suspension is effective immediately, and whether you give refunds on services the user paid for but now can't access.
Limitation of Liability: This clause establishes the extent of your liability and what you can't be held responsible for.
Disclaimer: Similar to the limitation of liability clause, a disclaimer addresses things that your users must know, such as that they use your site at their own risk.
Payment, Billing, and Subscriptions: In this clause, explain how your payment and billing cycles work and what happens if customers fail to make payments.
Copyright Protection: This clause should cover your IP, such as what's protected by trademark and what constitutes a copyright infringement.
User Generated Content: Explain what constitutes UGC, how it can be used, who owns the content once it's uploaded, and whether users get the content back if they close their account.
Changes to T&C : This clause confirms your right to amend your T&Cs and reminds users to check back often for updates.
Contact Information: There should be a clause with your business contact details so someone may contact you if they have questions or concerns.
You may choose to include more clauses, depending on how complex your services are. Always seek legal advice if you're unsure what clauses you need.
How to Write a Terms and Conditions Agreement

Since T&Cs aren't legally required, there's no single right way for drafting the Agreement. However, here are some tips for writing your own T&Cs:
Know what you're trying to accomplish before writing your agreement. This will help you decide how many clauses you need and what information you should provide.
Keep the language simple so it's easy for the average user to understand.
Break the text into short paragraphs. Use bullet points and other techniques like italicizing words or using bold font to improve readability.
Set out the agreement in a logical and clear way so that it flows well.
Here are some examples to illustrate what we mean.
Airtable's introductory paragraphs are friendly, clear, and concise. Key words are in bold text so readers notice them: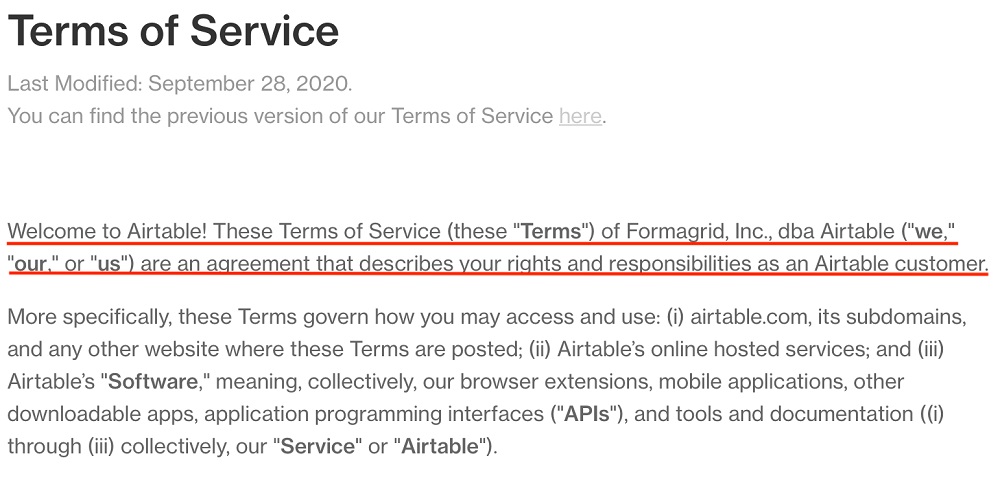 Atlassian uses short, succinct paragraphs to make its Terms more easily readable: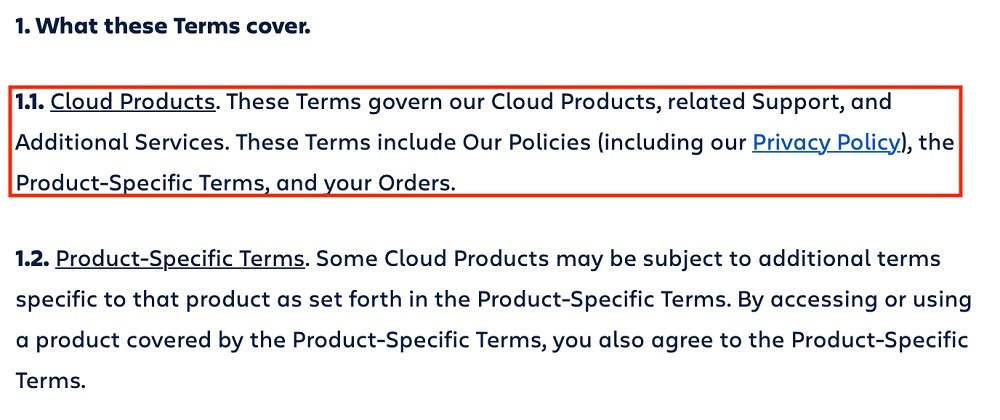 Although you can draft your own T&Cs, remember: you can also use a Terms and Conditions template or generator to quickly create a comprehensive agreement.
Conclusion
A Terms and Conditions agreement, also known as a Terms of Use or Terms of Service, sets out the conditions under which you agree to provide goods or services, and which your users must adhere to.
T&Cs are not legally required, but most websites have them since they can be used to protect your business.
There are five key reasons why your website needs a Terms and Conditions agreement:
T&Cs help you protect your copyright and trademarks.
You can use the Terms and Conditions Agreement to resolve disputes.
A Terms and Conditions Agreement lets you limit your liability in certain circumstances.
With Terms of Use in place, you can set "house rules." If someone breaks the rules, you can terminate their account.
T&Cs help you build consumer trust, which may help you grow your business.