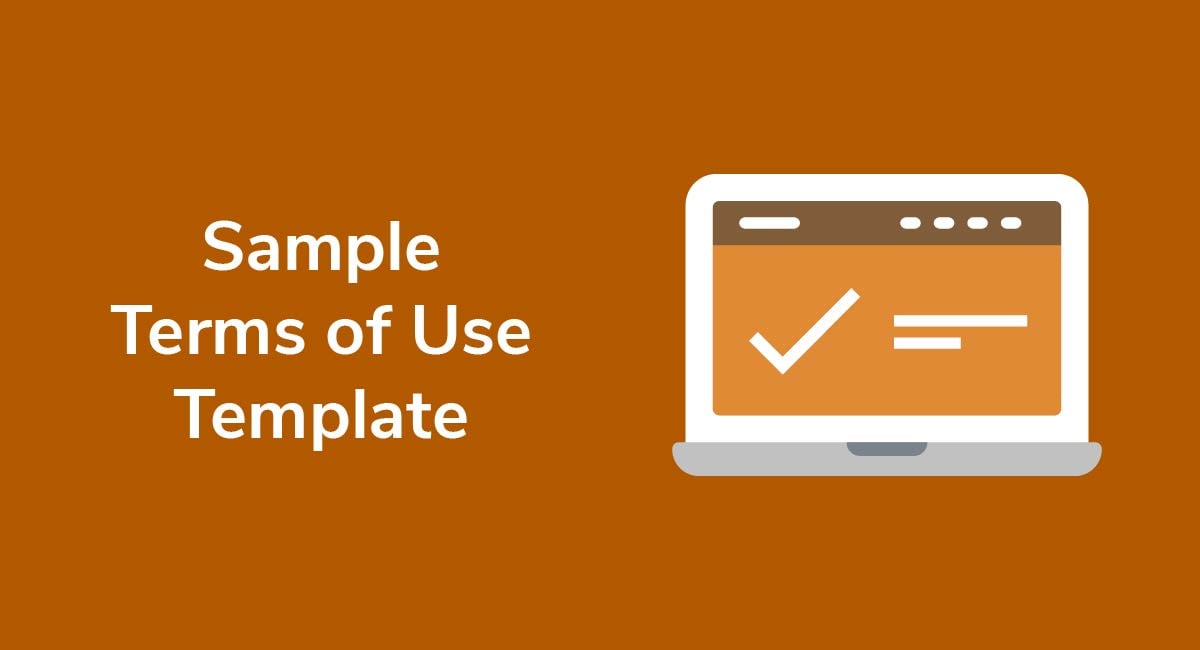 A Terms of Use agreement is essentially a contract between you and your users that informs your users of how they must use your website, app or servce.
So, what exactly are Terms of Use agreements, who needs them, how do you create one and how do you make your agreement legally binding? This article willl explain all of that.
Need Terms and Conditions for your business? We can help you generate a customized Terms and Conditions agreement in around two-three minutes for free. Try our Terms and Conditions Generator and just follow these steps:
Click on the "Create your Terms and Conditions today" button.
At Step 1, select the where will you use your Terms & Conditions and click "Next step":

Add information about your business:

Select the country and continue to the "Next step":

Answer the questions about your business practices and click "Next step" when finished:

Enter your email address where you'd like your agreement sent and click "Generate."

You're done! Now you'll be able to instantly access and download your new agreement.
What are Terms of Use Agreements?
If we think of Terms of Use agreements as a contract, they're basically the rules by which:
You offer goods and services, and
Individuals or companies do business with you
In other words, you agree to provide certain services and users agree to behave in a certain way and use your platform for permitted activities. It's no surprise, then, that most companies have a Terms of Use agreement in place.
If you don't have a ToU already, you should consider creating one if you:
Have a website,
Offer goods, or
Offer services
Unlike with a Privacy Policy, there's no legal requirement to have a Terms of Use agreement. However, although it's technically unnecessary, a ToU is a vital way to protect your company's financial, legal, and business interests, all while providing a reliable and professional service to your consumers and target audience.
You might be wondering what the difference is between Terms and Conditions and a Terms of Use agreement. The answer is there's no difference aside from the name.
Terms of Use can also be called:
Acceptable Use Policy
Terms of Service
Terms and Conditions
User Agreement
The Benefits of Having a Terms of Use Agreement

There are numerous benefits to having a ToU in place. Here are a few of them:
Protect your intellectual property (IP) rights
Terminate accounts and control unacceptable behavior
Stop people from abusing your website
Control which laws regulate the contract
Limit your contractual liability
Is My Terms of Use Legally Binding?
Yes, if you get valid consent. Because a Terms of Use Agreement is a contract, it's enforceable if it satisfies the conditions of a valid contract. So, to be enforceable, your ToU must be:
Clear and easy to understand
Lawful
Reasonable (you can't place unreasonable obligations on either party)
Agreed to (both parties have consented to the terms)
So, what should your Terms of Use look like, and how do you make it enforceable?
What Should Your Terms of Use Agreement Contain?

Whatever you use your website for, and whatever industry you operate in, there are some essential clauses that should be in every Terms of Use agreement. These clauses are key to making your ToU legally binding.
Effective Date
Make it clear what date your ToU is effective from. You should put this right at the beginning of your agreement, like Levi's does here:

If you update your Terms of Use, you can change the effective date to the updated, more recent date. Or, you can make a note saying that the Terms have been updated as of the update date.
Introduction/Purpose
Draft a clause that introduces your Terms. Remind people that they're using your website or services subject to the ToU and describe briefly the purpose of the agreement.
Etsy does this well. It briefly introduces the Terms and notes that using the website in any capacity, even if it's just browsing, means that the individual agrees with the Terms of Use:

The tone and language you use depends upon your target audience. You can see how Etsy's is quite casual, which is fine since it represents that brand.
Governing Law and Jurisdiction
Set out which country's laws govern the Terms of Use. In other words, explain which country's courts can handle disputes if they arise. Or which state's laws will apply. This is typically the country/state where your business is registered.
The clause should be easy for a lay person to understand.
The Body Shop defines its governing laws in just two sentences:

Here's an even simpler example from Waterstones:

Changes to Your Terms
Tell customers that you reserve the right to update and change your terms. Let them know how you'll alert them to any changes you make. By telling the customers about the changes, you're giving them a chance to withdraw from the contract, which keeps it lawful and reasonable.
Here's an example from Etsy. The company will take reasonable steps to notify customers of any changes. It's on the customer to actually read the new Terms, and f the customer keeps using the service, this can be deemed as acceptance:
Etsy uses a banner notification sometimes to let users know as soon as they visit the website that changes have been made to the Terms:

This is one of many great ways to let users know about your updates and changes.
Contact Details
You must make it easy for individuals to contact you, whether it's by post, email, telephone, or live chat. The more options you provide, the better.
Origin Fitness, for example, gives customers three options:

Link to Your Privacy Policy and Cookie Policy
It's a good idea to put links to your Privacy Policy and Cookie Policy (if applicable) within your Terms of Use. That way, customers can easily switch between policies and find out what they're looking for.
Here's how Etsy sets this out:

Registration Requirements
If applicable, you should set out legal requirements for who can register for an account. You should also explain that individuals are responsible for protecting their own passwords, and for keeping their account information accurate.
DeviantArt sets its registration requirements out over two clear and concise paragraphs. You will see that it's up to individuals to safeguard their own accounts and keep them secure:

Here is where you can note any restrictions you have for members, such as age limits.
Account Termination
Set out ground rules for when you might terminate someone's account, and reserve the right to do so. This prevents users from arguing that you closed their account without a fair reason. Reasons can include, for example:
Breaching the Terms of Use
At the customer's own request
Extended account inactivity
Using the account to conduct fraudulent or illegal activity
You can also inform users how they can go about terminating or deleting their own accounts, and let them know what will happen to their information or content upon termination on either end.
Here is how The Body Shop addresses account termination:

Restricted User Behavior
Be clear in your Terms of Use that you won't tolerate abusive, harmful, or illegal behavior on your website or platform. Make it clear that:
Users are responsible for their content
No one can use your website for unauthorized commercial purposes
Using the platform to bully, harass, or intimidate is strictly prohibited
DeviantArt sets this all out very clearly. The ToU gives just enough detail without being overwhelming: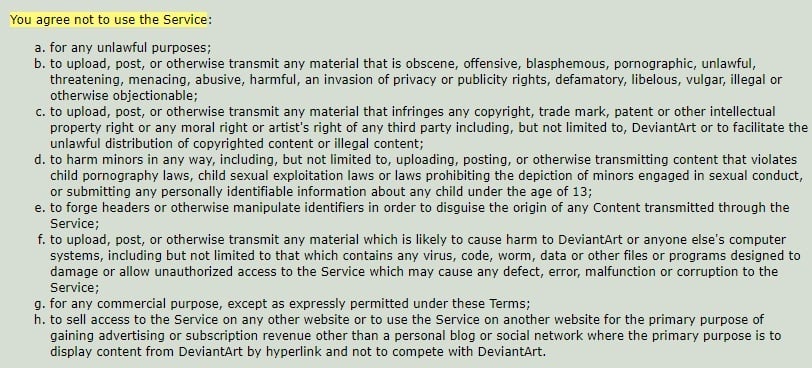 Permitted Use of Content
Be clear about your rights over user generated content.
It's common for websites to let users upload their own content, whether it's a picture, video, song, blog post, or comment. Your Terms of Use should address three points:
What content is unacceptable
What you can do with user generated content
What action you'll take if users breach your Terms of Use here
Keep what falls under "unacceptable" content broad so that you can take action quickly without justifying your reasons, like Etsy does. "Otherwise offensive" covers a huge range of content, which is a great strategy:

If you run an ecommerce platform like Etsy, you must be able to share and promote content to help the platform - and the individual creators - grow: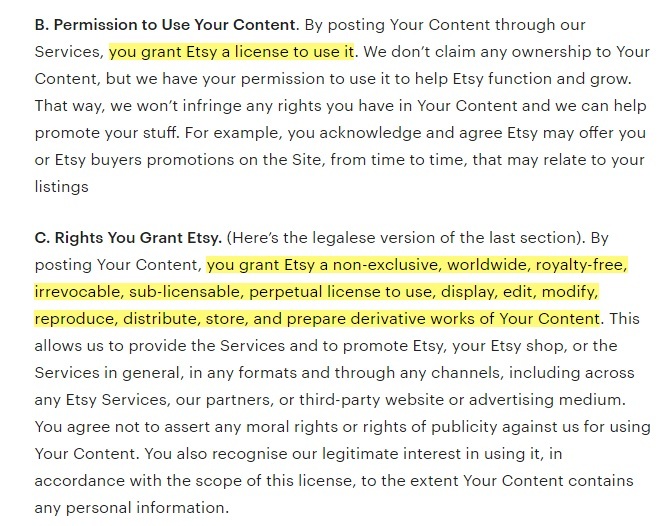 Finally, set out that you'll delete user content if it violates your ToU. Here's a straightforward clause from Instagram: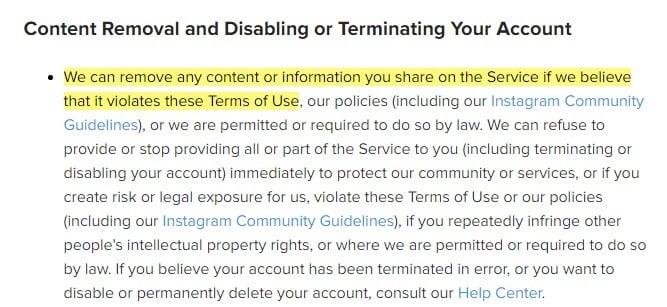 Payment Rules
Set out your payment and subscription charges clearly and specifically, if this applies to you. Be clear about:
When and how you collect payments
What happens if a payment is missed
What happens when any free trials end
How someone can cancel their subscription
Let's look at Netflix. First, it sets out the free trial rules:

Then, it lays out billing information, including payment cycles and payment methods: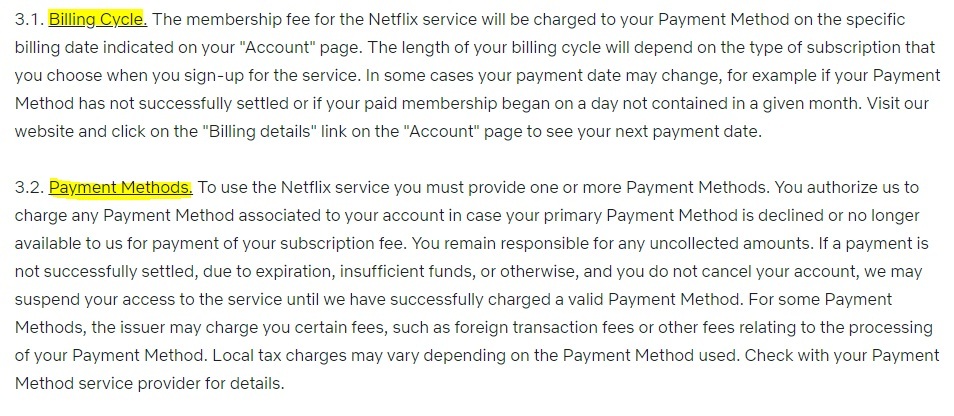 And, finally, it outlines how users can cancel their subscription and notes that no partial refunds are given. Price changes are also mentioned: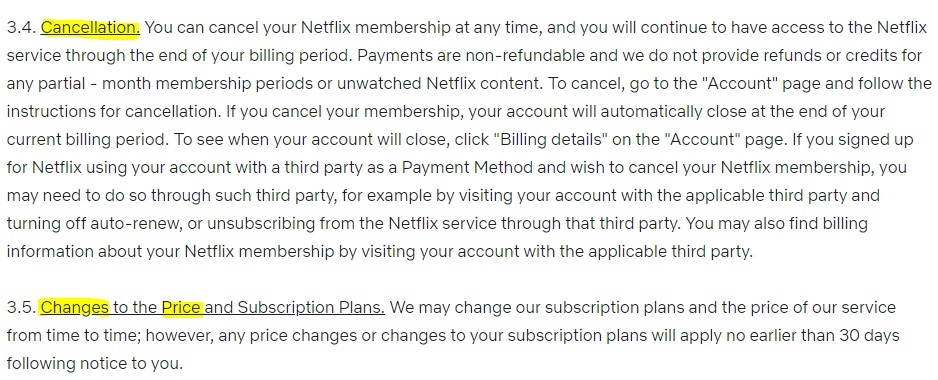 Disclaimers, Liability and Warranty
It's crucial that you restrict your contractual liability where possible. You should limit liability for problems such as, for example:
Malware and viruses
Information inaccuracies
Third party actions
A general disclaimer clause might look something like Etsy's:

Not only can this save you money in legal costs, but it also helps you resolve disputes quicker. Below are some disclaimers to have.
You can't - and shouldn't - claim that your website will always be available. You also shouldn't be responsible for any damage that customers suffer should you suspend or terminate your platform.
Here's how Etsy handles this:

Ensure that, so far as the law permits, users can't hold you liable for any losses they suffer as a result of using your website.
Since it's extremely difficult to exclude all liability, you should set a maximum amount that users can sue you for e.g. $100. The amount should be proportionate depending on your business and the types of losses that users may incur.
Let's look at DeviantArt's clause that sets out a lot of this information in a general, boilerplate way which is very, very common to see:

It's possible to exclude liability for implied warranties (and, sometimes, express warranties) through your ToU. Express warranties include specific promises you make to users.
Implied warranties, on the other hand, include an item's fitness for purpose, its safety, and your labelling accuracy. Since not all jurisdictions exclude implied warranties, it's worth remembering that these clauses are not always enforceable.
However, using Twitter as an example, here's what a clause might look like: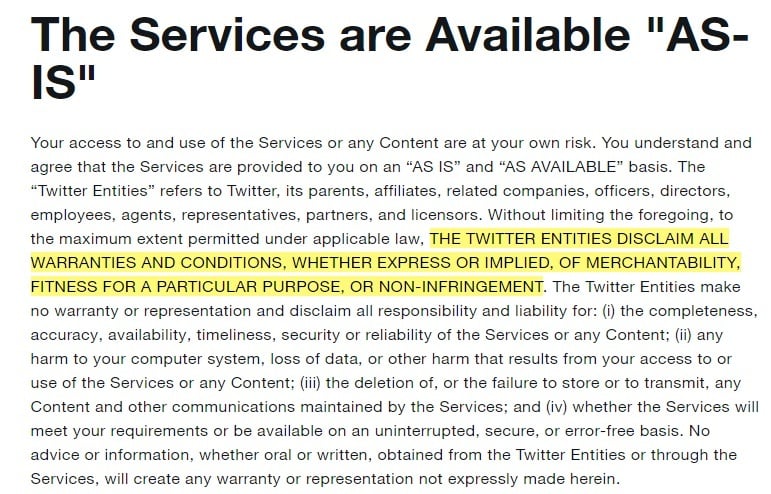 You shouldn't be held liable for any harm caused to others by user generated content.
For example, if you're sued by User A over something User B said or did, User B should hold you "blameless" and cover your legal costs. In other words, they must indemnify you.
Here's a very straightforward clause from Etsy: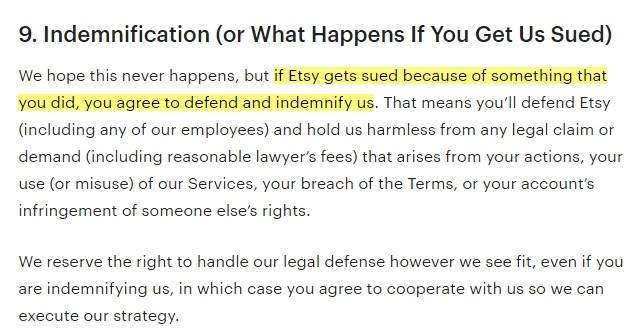 Now we're clear on what Terms of Use look like, where do you put your agreement when you have it created?
Displaying and Getting Consent for a Terms of Use Agreement

It's very important where you display your Terms of Use, and how you request consent for it. Here's why.
A Terms of Use Agreement is only binding and enforceable if:
Users know that it exists, and
Users agree to be bound by its terms
Where to Display Your Terms of Use
Here are four places where you can display your Terms of Use to make it enforceable. Let's take a look.
Header or Footer
You can display a link to your ToU within your website's header or footer. This is a great place to include your Terms because users can view it whenever they wish, and they look here often for important information and legal agreements.
Here's an example from the BBC:

Within Other Agreements
Since every website should have a Privacy Policy, this is another place where you can link to your Terms of Use. The BBC links to its Terms of Use twice within its Privacy Policy - once at the top of the page in a menu:

And once within the Privacy Policy itself:

Login or Signup Screen
Before someone signs up for an account with your website, they should have the clear opportunity to read and agree to your Terms of Use.
Myprotein highlights both its Terms and Conditions and Privacy Policy at the first stage of the signup process, which is good practice:

Checkout Screen
Individuals should always have a chance to review your Terms of Use before they complete a transaction and enter into a contract for sale with you.
Before users buy something from MyProtein, they can review the Terms and Conditions from the convenient, easy-to-find link:

Always add your link with a statement or checkbox that makes it clear to users that by making the order or completing the transaction, they'll be in agreement with the Terms of Use.
And that brings us to consent.
Getting Consent for Your Terms of Use

The two main ways to obtain consent are through browsewrap or clickwrap, but only clickwrap is recommended.
You can use the browsewrap technique to get implied consent to your Terms of Use. Implied consent is potentially enforceable here if you:
Publish your ToU somewhere obvious,
Highlight the ToU at frequent opportunities e.g. at the checkout or at account registration, and
Include a clause, such as a clause in your ToU, stating that browsing the site is deemed acceptance of the ToU
However, not all courts are quick to enforce browsewrap agreements these days, especially with new levels of consent being required by laws such as the GDPR.
Clickwrap
With a clickwrap agreement, you ask your users to click a checkbox or some sort of clearly-labeled button to say they agree to the Terms of Use before using your website in some way.
Clickwrap agreements are easier to enforce because there's no feasible way for users to claim they didn't know about the ToU. You should use them before asking users to enter a contract e.g. before they go through the checkout.
The Body Shop uses clickwrap. Users must physically check the box to prove they've read the Terms of Use before opening an account:

Conclusion
If you have a website and you offer goods or services,allow users to create accounts, sign up for email newsletters or contribute their own content, you should have a Terms of Use agreement. So, basically almost every website should have one.
Your Terms of Use agreement will form a contract between you and your customers and be legally enforceable so long as your agreement is clear, reasonable, lawful, and agreed to.
Every Terms of Use should include an introduction and an effective date, and clauses explaining:
Which laws apply
The ToU's legal status
Contact details
Links to other policies
How changes are communicated
Warranties, availability, liability, and indemnity
Payment rules
User behavior and content rules
Account registration and termination rules
Display your Terms of Use on your website clearly so that visitors can consent to it. Implied consent is not recommended, but rather express consent is preferred. You can get consent when users sign up for an account, make a purchase, opt in to receive marketing emails and at other points when you would want the agreement between you and your users to take effect.