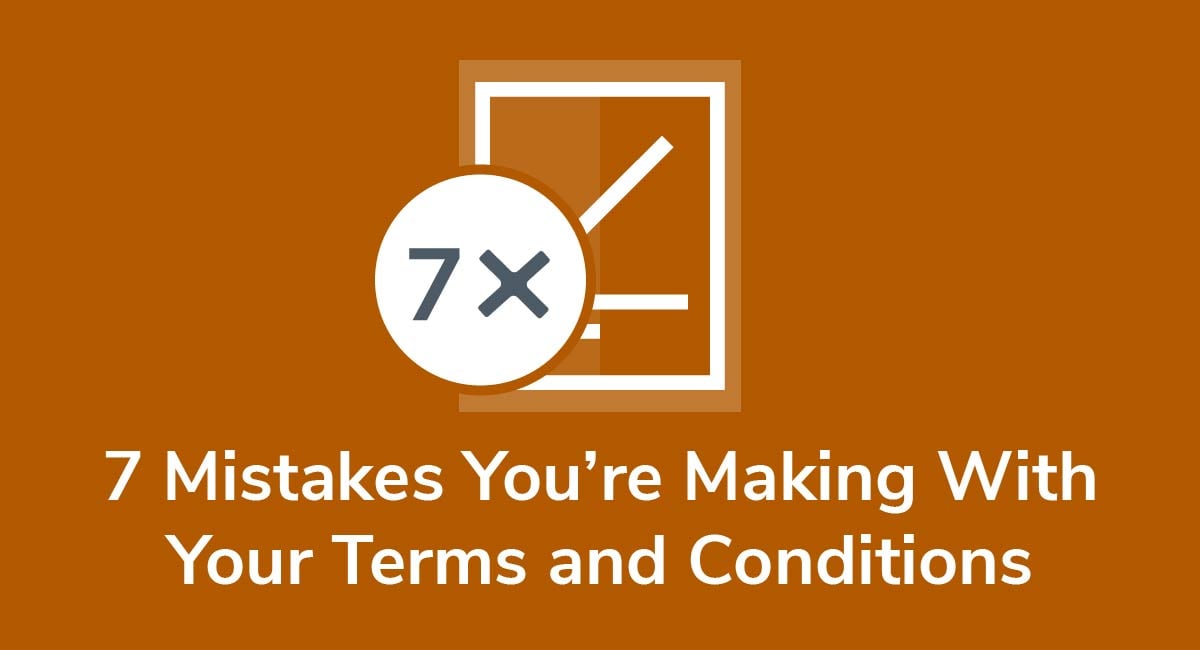 If you're looking to create your own company or fully protect your business, including a Terms and Conditions agreement is a business necessity.
The Terms and Conditions agreement for your company is your opportunity to dictate the use of your site and protect your company from legal issues.
Every company's Terms and Conditions, or T&C, are distinct to the company, but including these terms and writing them correctly can help protect your company. We'll take a look at some of the most common mistakes people make with these agreements and how to avoid them.
The Terms and Conditions Agreement typically includes disclosures and clauses that cover issues such as:
How a user may and may not interact with your site
Your right to deactivate abusive user accounts
Legal disclosures
Payment terms
Terms and Conditions may also be called Terms of Use/Service depending on the company. These names are interchangeable.
While there is no law requiring the inclusion of T&Cs on your page, it is highly recommended to include the agreement to protect your company. Additionally, once the T&Cs are accepted by the user they are legally binding. Acceptance of the T&Cs creates a contractual agreement between the company and user and would come into effect if any liabilities arose.
If your T&Cs are not properly written, however, you may encounter legal ramifications down the road. Here are 7 mistakes to avoid.
Need Terms and Conditions for your business? We can help you generate a customized Terms and Conditions agreement in around two-three minutes for free. Try our Terms and Conditions Generator and just follow these steps:
Click on the "Create your Terms and Conditions today" button.
At Step 1, select the where will you use your Terms & Conditions and click "Next step":

Add information about your business:

Select the country and continue to the "Next step":

Answer the questions about your business practices and click "Next step" when finished:

Enter your email address where you'd like your agreement sent and click "Generate."

You're done! Now you'll be able to instantly access and download your new agreement.
Not Making the Agreement Complete Enough

Your Terms and Conditions agreement gives you an opportunity to dictate the use of your website, service or app. It is also the best way to protect your company from possible lawsuits and legal liability.
Less is not more when it comes to Terms and Conditions. Including any key terms and disclosures to protect your company from any issues is a must. A short and vague T&C can lead to a broad interpretation later on down the road, which can create issues for you.
Here are few key clauses that you should include:
Definition of terms in agreement
User responsibilities and rights
Privacy practices
Disclaimer and Limited Liability
Intellectual Property Rights
Payments
What law applies (governing law)
For a good example of a very complete Terms and Conditions agreement, check out Spotify's agreement. It has a linked table of contents at the beginning and includes 25 clauses that cover everything from user guidelines and customer support to warranty disclaimers and third party rights: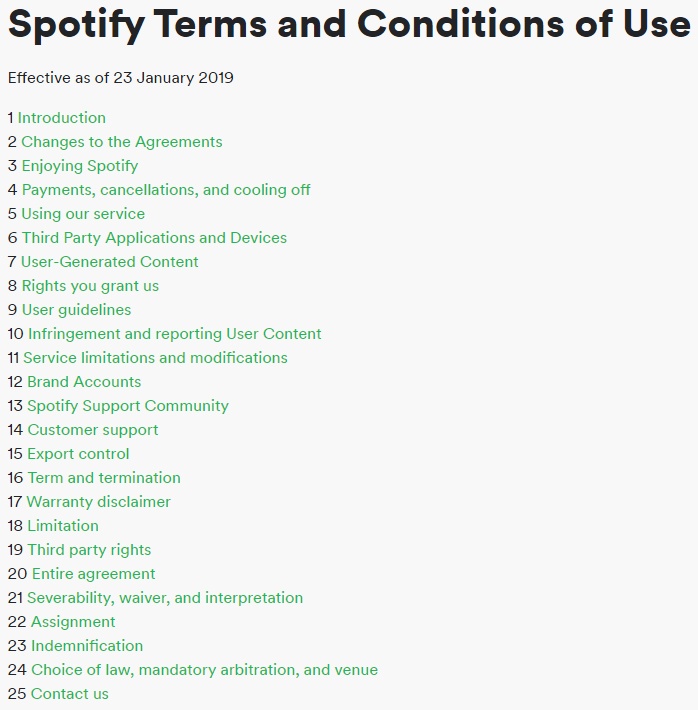 Not Clearly Displaying the Agreement
The most common place to include a link to your Terms and Conditions is in the footer of your webpage. Traditionally, this is where most people look and expect to find a link. The link should:
Be large enough that users won't miss it
Not be hidden amongst other links
Be discernible from the background of the footer
An example of how a clear link in the footer can be seen is on Uber's webpage. Uber's footer has a black background with white lettering that makes the Terms link stand out. Also, the link to the terms is separated from other links to draw a user's attention.

Other places you also should include a link are in the:
Header of webpage
Pop-ups when visitors first use the site
Subscription forms
Checkout pages
When displaying your T&Cs there should be no question as to where to find them. A new user should be able to easily locate the link and access the terms at any time. Don't make the link difficult to find.
Not Getting Consent to Your Terms and Conditions

Consent is one of the most important aspects of any legal agreement. Your Terms and Conditions agreement will only be an enforceable contract if your users consent to the terms. Without consent, nothing in your T&C will be enforceable.
You should always get clear, unquestionable consent. You can do this by having your users check a box to show they consent to your T&C.
Vudu's sign up form includes a checkbox for users to check to show that they're consenting to the company's Terms of Service: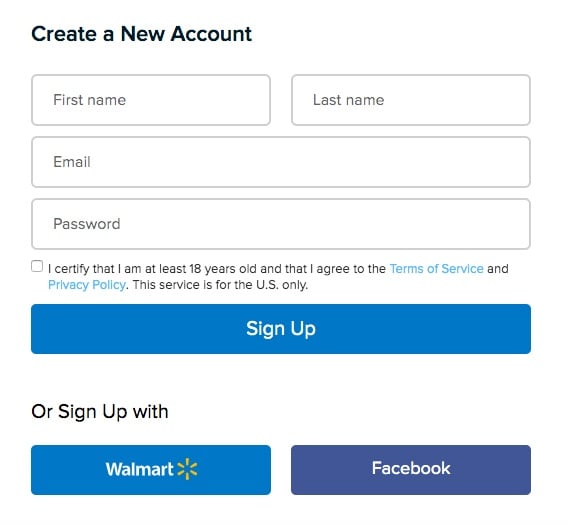 Remember to always get consent to your Terms and Conditions agreement. The best way to do this is with a checkbox next to a clear statement that by checking the box, a user is agreeing to the Terms.
Not Limiting Liabilities and Including Disclaimers
One of the two major advantages of including Terms and Conditions is being able to protect your company from future legal matters.
Including these disclosures is an extra layer of protection if any issues arise from user error, negligence, and other issues.
Two sections you should include in your T&C to help your company against possible situations are:
Limitations of Liability
Disclaimers
Limitation of Liability
A limitation of liability will be a disclosure stating that your company has restrictions on what it's liable for when it comes to the use of the service and other issues. You can include a general liability or a more detailed liability section, but one should always be included.
A note, however, If you include a too broad of a limitation of liability, you may face legal issues like Facebook did.
Facebook changed its limited liability terms after the European Commission found to be too general and demanded further compliance with their consumer laws. This change would have the company accept responsibility if any negligence is found in the handling of users' data.
While limited liabilities are meant to protect your company from claims, not including a detailed enough limited liability could open your company up to much larger lawsuits.
Here's Facebook's current Limits on Liability clause: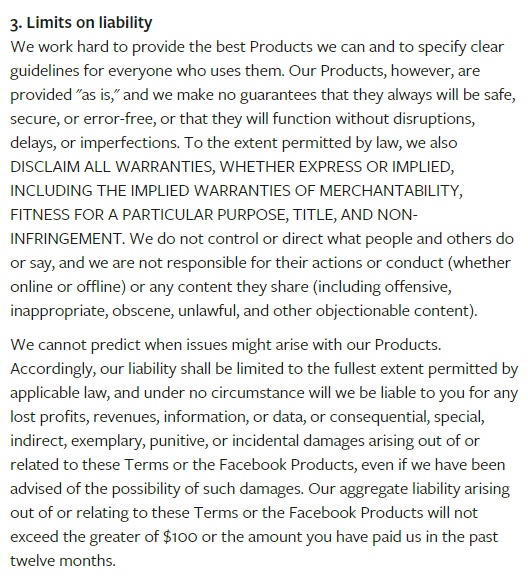 Disclaimers
Disclaimers are extremely important for companies that provide services or advice. Disclaimers in your site provide protection from users misunderstanding information on your site.
Every site should use a disclaimer to prevent any issues, but there are specific industries or sites that must include one:
Medical information sites
Legal help sites
Technology sites
Blogs
Service sites (such as booking sites, ticket sale sites)
Disclaimers are meant to disclose that you offer a specific service or type of content and your service or content should not be construed as substitutes for certain professional services, such as doctors or lawyers.
LIVESTRONG is a website dedicated to helping those suffering with cancer and provides tips to help people live a healthy life after cancer. The company includes a separate page for its disclaimer where it acknowledges that it does research to make sure the information on the site is correct, but that it should not be considered as "medical, financial, or legal advice."
Additionally, it clearly states what the site is intended for: as a place to learn about cancer, support, and health, not as a medical service.

While LIVESTRONG has a separate page for this disclaimer, your disclaimers can and should also be part of your Terms and Conditions agreement.
In fact, LIVESTRONG includes a link to this page in a separate section in its Terms of Use that addresses accuracy of the information on the site: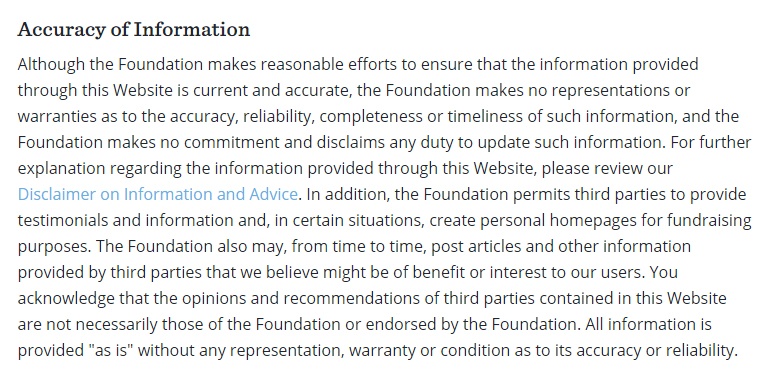 If you need to use disclaimers, include them in your T&C even if you have them on separate pages. You can always link to the separate page within your T&C.
It's a good idea to include a standard Warranty Disclaimer as well. These tend to be very standard clauses used across the board. Here's an example of one from Spotify:

You've likely seen these clauses before and noticed how similar they are from company to company, always in capital letters and using very heavy legal language.
Making the Language too Complicated

It is no longer acceptable for companies to create long-winded legal agreements with dense paragraphs made up of confusing words. Your Terms and Conditions agreement should:
Be structured in an easy to read format
Use simple language that non-lawyers can easily understand
Instagram is a great example of a company that clearly explains its services without attempting to confuse or mislead users. The language is easy to understand and paragraphs are written with a conversational tone that allows the user to easily comprehend the terms they are agreeing to: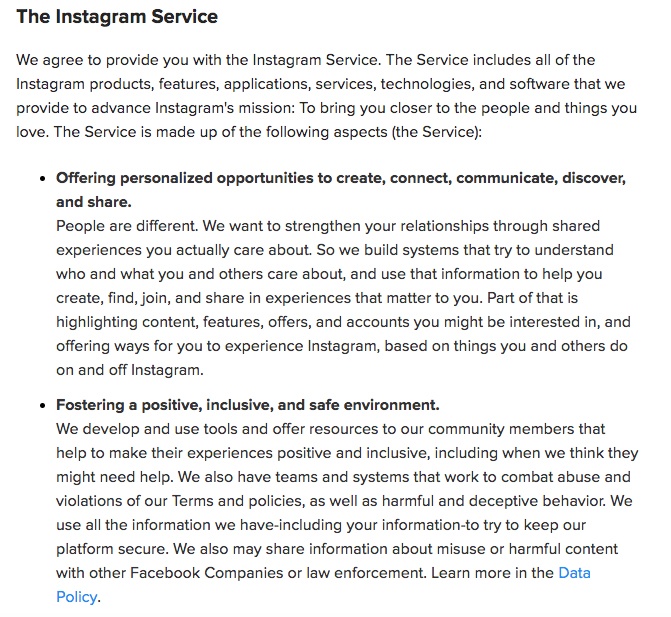 Not Keeping Information Updated
The terms of a company are always changing. You may change third-party partners or the Cookies you use to collect information, but either way you must inform your users of these changes.
Outdated Terms and Conditions could leave your company open to liability. Also, if you don't notify your users of changes, you may be found to be misleading or defrauding your customers.
Users should be notified of changes by:
Sending out emails
Pop-ups on the site
Including a section about recent changes within your Terms and Conditions agreement
If you haven't made recent changes, you can inform users by including a "Last Updated" date somewhere in your T&C.
Netflix includes a "Last Updated" statement at the end of its T&C so the user is aware of the last time any changes may have been made.

Make sure that your current version of your Terms and Conditions agreement is accurate, up to date and reflects your current practices. Also make sure that your users know of any material changes you make.
Not Disclosing Termination Terms

Including this section will allow you to deactivate accounts or ban users who violate your terms.
Your termination clause should clearly state what will trigger an account being terminated. It should also include how users may deactivate their own accounts.
Twitter includes a clause that starts off by telling users how they can end the legal agreement by deactivating their accounts and includes a link to instructions on how to do so. The following section of the clause is where Twitter reserves its right to suspend or deactivate accounts for any reason, along with when the terms are violated: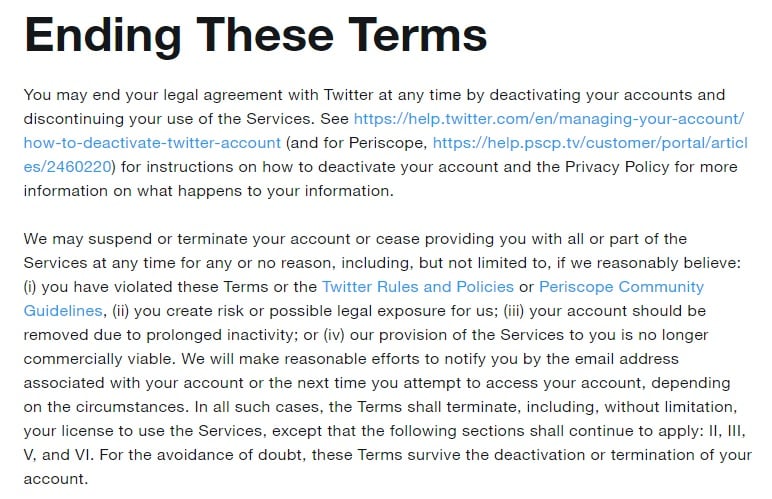 It's very important that you maintain the right to terminate accounts or ban users. Otherwise, your site or service can be open to things like spamming, user abuse, reverse engineering or non-paying members and you won't have many options to get control back.
Summary
The Terms and Conditions Agreement is a vital legal agreement that helps to protect your company from future legal issues and dictates how your users can and cannot interact with your business. However, if you do not properly write and present your T&Cs, you may be facing issues.
Common mistakes you should avoid when constructing your T&Cs are:
Not making the agreement complete
Not displaying it properly

Needs to be easy to find and links should be in multiple areas

Not getting consent

Must have express consent

Not stating limited liabilities and disclaimers

Need specific limited liabilities to protect against lawsuits
Disclaimers protect from misunderstandings

Making the language too complicated
Not updating changes in terms
Not including a termination clause

Maintaining the right to terminate helps you maintain control