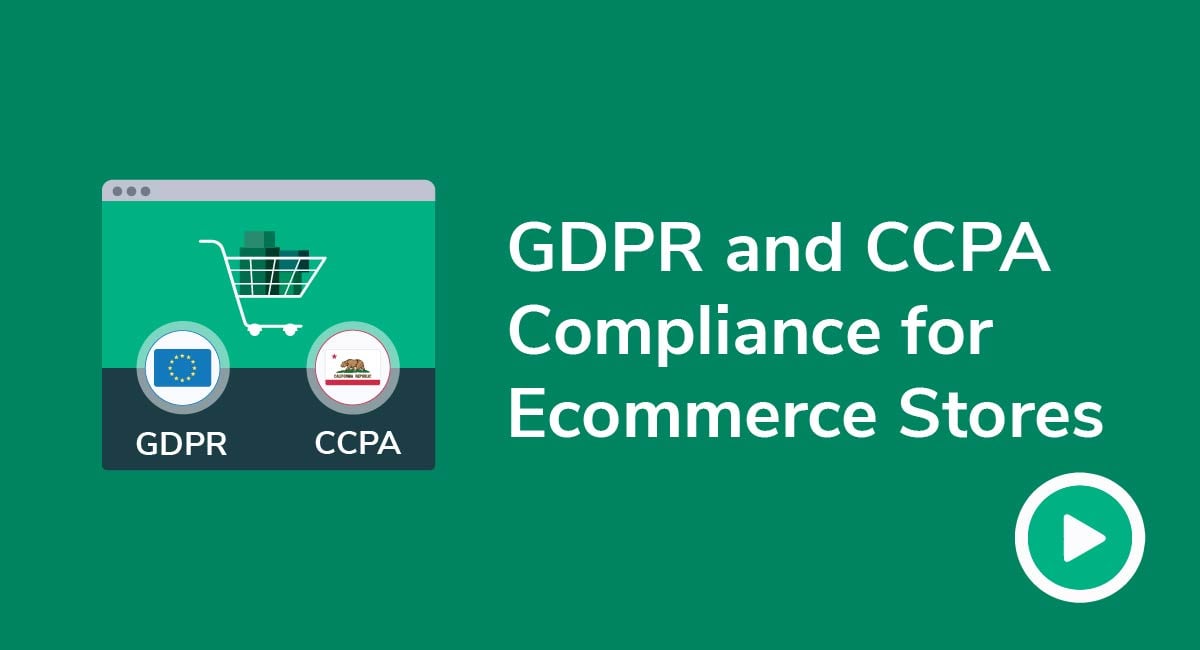 If you sell products or services online, your ecommerce store likely needs to comply with the EU's GDPR and California's CCPA. These laws come with a number of requirements, including having an easy to find and easy to understand Privacy Policy that contains some specific information.
Your Privacy Policy must be written specifically for current rules and regulations in force everywhere your customers reside, whether or not you or your business or ecommerce store is physically located in those jurisdictions.
Today we'll discuss what ecommerce stores should consider when drafting their Privacy Policy, what the GDPR and CCPA specifically require, and how you can use our Privacy Policy generator. So if you're interested in learning more, then stay tuned.
Hey everyone, it's Heleana here, and welcome to Privacy Policies, the place where you can generate custom-made Privacy Policies in seconds to help keep your business safe.

So let's get started.
What does the GDPR require for ecommerce stores?
Ecommerce stores collect a lot of protected personal information including payment details and home mailing addresses. Because of this, data security is a priority under the GDPR for ecommerce stores.
Only collect the minimum amount of data you need to process an order. Disclose what data you collect within a GDPR-compliant Privacy Policy and list your lawful basis for processing that data.
Have a dedicated Data Protection Officer and/or EU Representative if required.
Obtain consent before processing certain types of data, and allow consent to be revoked at any time if a customer wishes to do so.
And finally, make sure your ecommerce store's Privacy Policy is compliant with the GDPR. List out user rights, the full details of what information you collect and how you use it, and keep your policy updated and accurate at all times.
What does the CCPA require for ecommerce stores?
The CCPA is similar to the GDPR in that it also requires you to let customers know what personal information you collect, how you collect it and how you use it. This is done via a Privacy Policy.
It also has a number of user rights that you'll have to facilitate and note in your CCPA-compliant Privacy Policy.
If you sell personal information, you must disclose this and offer a "Do Not Sell My Personal Information" page on your website.
What is a Privacy Policy for ecommerce stores?
A Privacy Policy outlines your methods for collecting, storing, using and sharing personal information from your online customers. And as noted above, both the GDPR and CCPA require you to have one if you collect personal information, which your ecommerce store surely does.
This includes information you collect directly, such as through opt-in forms and your shopping cart checkout page, and indirectly such as by monitoring browser clicks, time spent on a page, interaction with ads, etc.
Depending on the nature of your ecommerce business, your site might be collecting any or even all of the following protected personal information:
First and last name
Gender
Date of birth
Mailing address
Email address
Phone number
Credit card information
Website cookies
All ecommerce stores collecting personally identifiable information must allow online customers the option to provide or refuse to provide their personally identifiable information, as well as the option to change their mind.
Am I legally required to have a Privacy Policy for my ecommerce store?
The United States and most governments worldwide legally require ecommerce websites and certain mobile apps to clearly display a comprehensive Privacy Policy.
In the U.S., the National Conference of State Legislatures (NCSL) published a guide to privacy laws in all 50 states and the US territories.
Additionally, the state of California has the CCPA that affects ecommerce business owners that collect personally identifiable information about Californians.
Privacy laws aren't isolated to the United States. In the EU, a wide-sweeping privacy regulation went into effect in May of 2018.
The General Data Protection Regulation, or GDPR, was written to provide maximum protection for the private information collected from people in the EU. The GDPR imposes unprecedented rules for ecommerce stores and other websites operating in the EU, whether or not the store or website is itself located in the EU.
Does it matter if I use WooCommerce, Shopify, Bigcommerce etc.?
No, it does not matter what platform you host your ecommerce website on. If you have an ecommerce website that collects personal information of any kind from your users, you'll be legally required to have a Privacy Policy in place.
What should a Privacy Policy for an ecommerce store include?
A Privacy Policy for your ecommerce store is a critical component to limiting your liability and ensuring compliance with local, state, federal and international privacy laws.
The information you include in your Privacy Policy for your ecommerce store should be comprehensive, though written plainly so your average site visitor can understand your policies and their rights.
At a minimum, your Privacy Policy should disclose:
What information you collect directly and indirectly through your ecommerce store. Your Privacy Policy should itemize a comprehensive list of data your site collects from customers, erring on the side of providing more information, not less.
The methods you use to collect, manage and share customer data
The ways you use the information you collect
How third parties such as Google Analytics, AdSense and others might be collecting and managing information from your customers
Whether you share information you collect with any third parties
How you protect the information
How users can contact you
A good Privacy Policy should inform your online shoppers that they might be making their personally identifiable information available to you directly or indirectly, and it should explain the difference.
If this sounds like a lot to keep in mind and you want to draw up a Privacy Policy for your ecommerce website, then let us help you. We have a Privacy Policy Generator that will help you get the job done quickly and efficiently.
Need a Privacy Policy? Our Privacy Policy Generator will help you create a custom policy that you can use on your website and mobile app. Just follow these few easy steps:
Click on "Start creating your Privacy Policy" on our website.
Select the platforms where your Privacy Policy will be used and go to the next step.

Add information about your business: your website and/or app.

Select the country:

Answer the questions from our wizard relating to what type of information you collect from your users.

Enter your email address where you'd like your Privacy Policy sent and click "Generate".

And you're done! Now you can copy or link to your hosted Privacy Policy.
Just go to our website PrivacyPolicies.com and click on the Privacy Policy Generator, then modify the information so that it accurately matches your ecommerce website's, and viola, you'll have your Privacy Policy ready within minutes.
And that's it for now. We hope that you found this video on GDPR and CCPA compliance for ecommerce stores helpful and informative.
If you have any more questions related to the topic that we didn't happen to touch on, please leave them in the comments below and we'll get back to you as soon as we can.
Thanks for watching, don't forget to subscribe so you can stay up to date with all our latest videos, and we will see you in our next video.