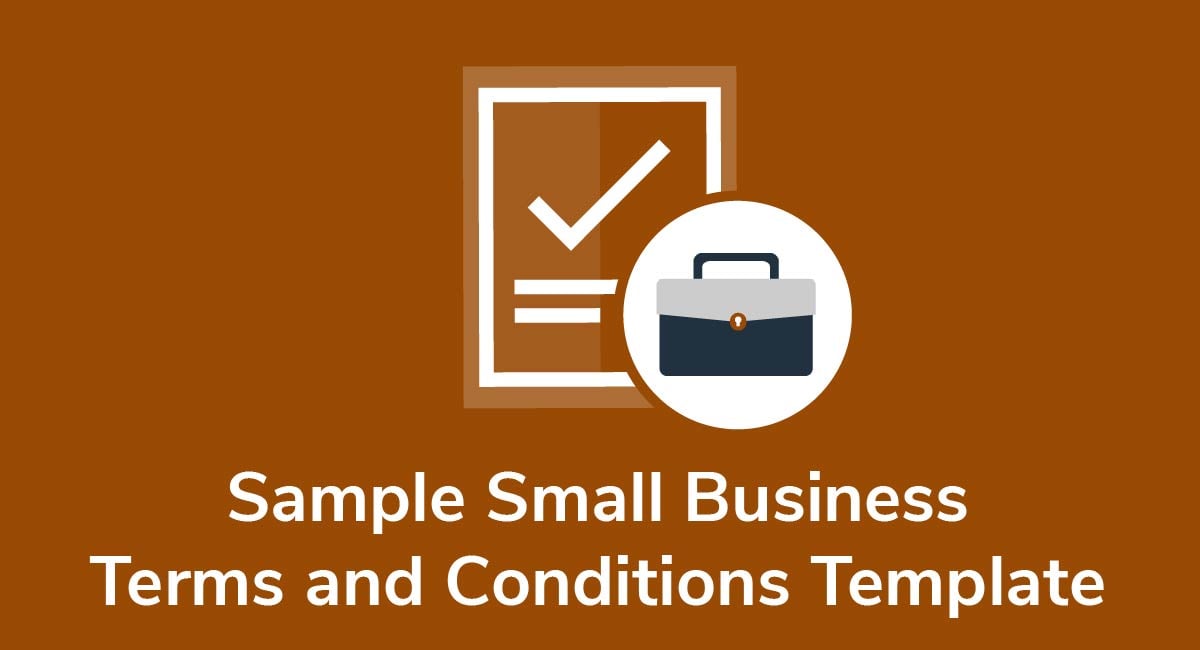 If you run a small business, you should have a Terms and Conditions agreement (T&C). It doesn't matter whether you sell goods or services, or if you don't have many customers yet. If you're selling anything online, T&Cs can help to protect your business.
This article will explain why a Terms and Conditions agreement is important for small businesses and how you can draft and display your own legally enforceable agreement.
Need Terms and Conditions for your business? We can help you generate a customized Terms and Conditions agreement in around two-three minutes for free. Try our Terms and Conditions Generator and just follow these steps:
Click on the "Create your Terms and Conditions today" button.
At Step 1, select the where will you use your Terms & Conditions and click "Next step":

Add information about your business:

Select the country and continue to the "Next step":

Answer the questions about your business practices and click "Next step" when finished:

Enter your email address where you'd like your agreement sent and click "Generate."

You're done! Now you'll be able to instantly access and download your new agreement.
What are Terms and Conditions Agreements?
Terms and Conditions agreements are contracts, or agreements, between a business and its customers. The contract describes your conditions of sale or service, and it sets out what remedies are available if something goes wrong.
This agreement can also be referred to as a Terms of Use or Terms of Service.
It should tell customers what they need to know about a formal relationship with your company before they enter a contract with you. The agreement should cover, for example:
Shipping
Returns and refunds
Delivery of items
Warranties
With a solid Terms and Conditions agreement in place, you can take various actions to protect your company, such as:
Terminating a sale
Refusing refunds in certain circumstances
Closing a client's account
Enforcing payment collection actions
Terms and Conditions agreements benefit every business, however small or large your customer base is, by helping you maintain more control over how people are allowed to interact with your business, and what rights you have when responding.
Do You Legally Need a Terms and Conditions Agreement?
There's no law requiring you to have a Terms and Conditions agreement. However, if you do have one, you can enforce it as a legally binding contract so long as it meets certain conditions:
All parties entered into the agreement freely
You obtain clear and affirmative consent to the T&Cs from customers
All parties understood what agreement they entered into e.g. a contract of sale
The contract terms are fair and don't deprive customers of their consumer rights in the relevant jurisdiction
Why You Should Have a Terms and Conditions Agreement
Although you're not legally obligated to draft a Terms and Conditions agreement, here are four reasons why you should:
T&Cs let you limit what customers may hold you liable for
You can use T&Cs to restrict returns, which helps to protect your cash flow
T&Cs help make your business appear more professional
Your T&Cs, if they're clear and fair, can reduce the likelihood of disputes arising
How to Create a Small Business Terms and Conditions Agreement

Although every document will vary slightly depending on business needs, here are 12 key clauses that your Terms and Conditions agreement should include.
Introduction
The introduction is where you can state clearly what the document is (a Terms and Conditions agreement), and that it's a binding agreement between you and customers.
Here's an example of an introduction clause from Etsy that states it's a legally binding contract between Etsy and the reader, and that it makes up the "house rules:"

The introductory clause is your chance to confirm this is your Terms agreement and a legally binding contract, so make sure these details are clear.
Rules and Restrictions
You can use your Terms and Conditions agreement to restrict what users can and can't do if they use your website. This allows you to set rules for user behavior and terminate non-compliant accounts.
The restrictions you put in place will depend on the type of small business you have, but it's common to forbid:
Abusive behavior
Illegal activity
Malicious actions e.g. hacking
Theft
Copyright infringement
Etsy forbids users from, among other things, selling illegal items or engaging in fraud: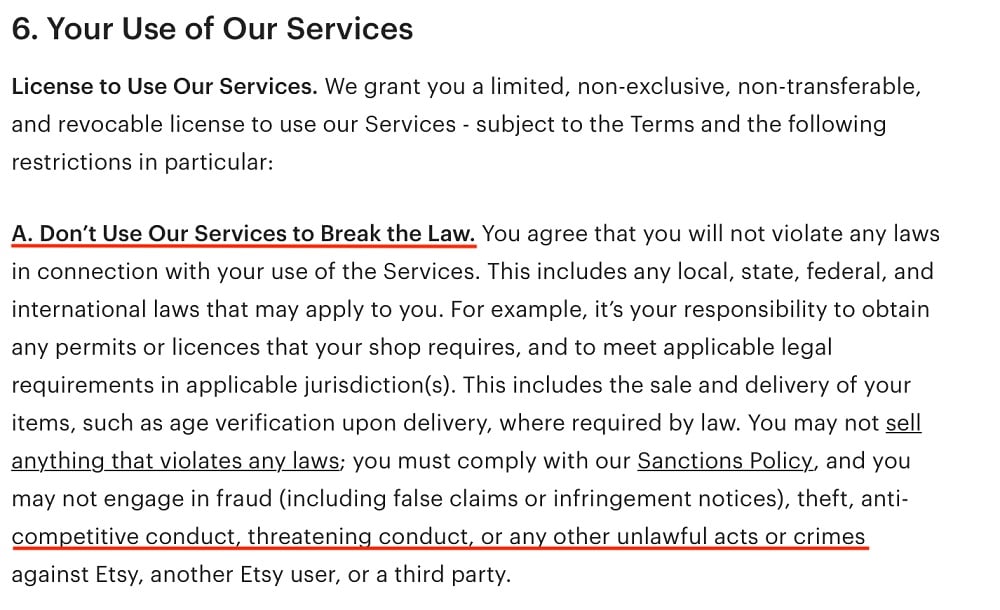 And users can't disrupt Etsy's IT network:

Use bold text and short paragraphs to improve readability and make your points stand out.
Governing Law and Jurisdiction
If there's ever a dispute between parties, it should be clear which country's laws govern the resolution process. So, your Terms and Conditions must confirm the jurisdiction i.e. which national, territorial, or state laws apply.
Out of Print, for example, relies on New York laws to govern any contractual issues. It's clear that anyone doing business with Out of Print should accept NY laws as the governing laws:

Although it works, there's no need for a long or complex clause. Katie Crewe Fitness has a good example of a more succinct clause which confirms that Florida laws apply:

Changing the Agreement
It's crucial that you reserve the right to change the terms without seeking fresh consent from your customers every time. You can do this by including a clause asserting your right to modify your T&Cs and explain you will only inform customers about "material" changes i.e. changes which alter the basic nature of the contract.
Here's an example of a modification clause from Redbubble. The company will make "reasonable effort" to tell customers about significant changes. "Reasonable" is broad enough to protect the company if, for some reason, it is unable to contact a customer about contract changes:

Limitation of Liability
Limitation of liability clauses limit what customers might hold you liable for. You can use your clause to explain, for example:
You're not responsible for third-party content on your website
People use your website at their own risk
You're not responsible for losses arising out of a person's use of your website, products, or services
While you can't contract out of all liability, you can limit your liability to what's required by law and no more than this. For example, in Redbubble's "Disclaimers and Limitation of Liability" section, it explains that customers can't sue the company for damages so far as this is permitted by law: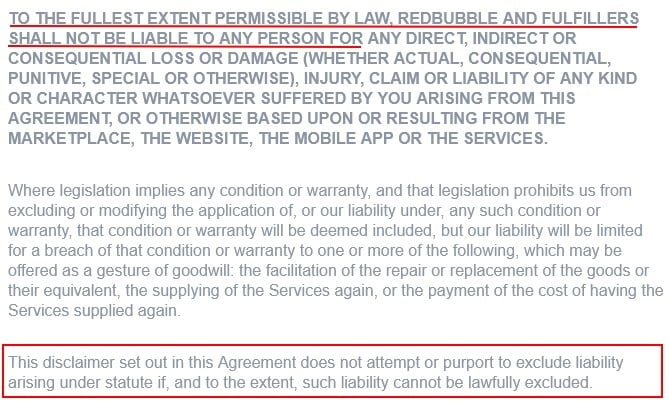 You'll notice the company uses bold font and capital letters to make these clauses stand out. Similarly, Texas Family Fitness uses capital letters and short sentences to draw attention to key parts of the clause:

Payment Terms
If you have a subscription service, explain your pricing model in your Terms and Conditions agreement. Be specific about:
What is chargeable
When free trials end (if applicable)
How payment is taken
When payment will be taken
How customers can manage their subscriptions
Katie Crewe Fitness has a good example of this. The payment terms are clear, and there's a step-by-step guide for managing subscriptions:

Shipping and Delivery
Set out your shipping and delivery guidelines, but be sure to manage expectations. Leave the clause broad enough that you won't be liable if there are shipping or delivery delays outside of your control.
Women's Best aims to ship orders within three business days but can't guarantee this during busy periods. Explaining that shipping may sometimes be subject to delays helps to manage customer expectations:

Katie Crewe Fitness has this excellent clause in its Shipping Policy, but you can easily add something similar to your Terms and Conditions agreement: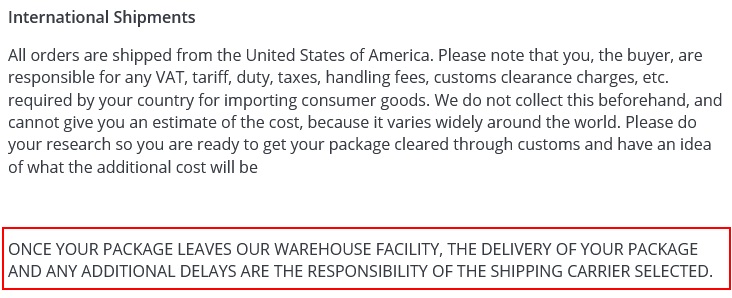 Returns and Refunds
Although you can have a separate Return and Refund Policy, you can include your key refund terms in your Terms and Conditions agreement. Clearly set out your rules for customers returning items or seeking refunds, and be specific about any items which are non-returnable (to the extent permitted by law).
MYPROTEIN states its basic return policy (the right to cancel within 14 days) and directs customers to its full Returns Policy for more details, which is an effective way to do this:

Bob and Brad has a succinct, easy to read returns clause which clearly sets out the specifics: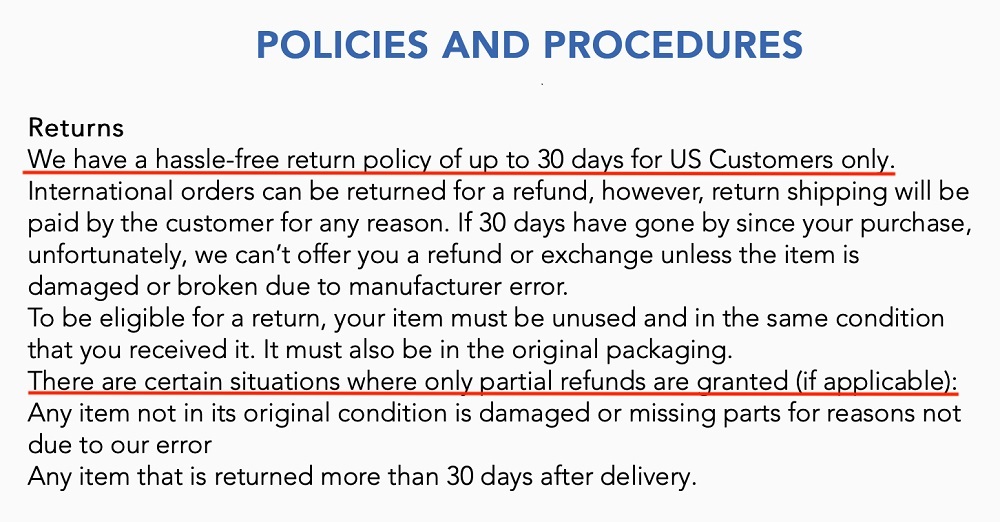 Warranties
Warranty clauses let you specify what you're not promising or guaranteeing the customer. This clause can protect you from liability in the event of issues such as the following:
Website downtime
Stock issues
Product misdescriptions
Delivery delays
What you include depends on your business.
Here's how The Winner, a boutique, does not guarantee the site will be available 100% of the time, or that products will always be of a certain quality:

Redbubble doesn't warrant that uploaded content is protected, or that services will run uninterrupted. The company includes this clause within its wider Limitation of Liability section:

Copyright
You don't need a copyright clause to protect your intellectual property (IP). However, assume your customers don't know copyright law and include one for clarity. Your clause should assert your IP rights and confirm that there may be legal consequences for copyright violations.
Here's an example from Jovani Fashion. The company lists what might be considered copyrighted material and clearly specifies that copyright infringements may be prosecuted: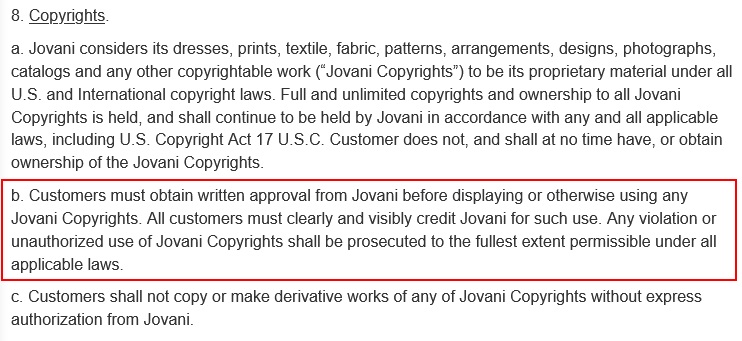 Copyright clauses can reduce the chance of disputes arising, so be sure to include one.
Termination
Termination clauses let you stop individuals from accessing your services or buying products from your business. If you don't include a termination clause, it's harder for you to suspend someone's account or membership if they breach your Terms and Conditions agreement.
This clause should enable you to stop serving someone immediately, at your discretion and without explanation. Otherwise, you risk individuals arguing that you have suspended them unfairly or violated your own agreement by canceling their account.
Texas Family Fitness has a good example of such a clause. As a private business, Texas Family Fitness is free to determine for itself what constitutes "unacceptable" conduct, which gives it the freedom to suspend accounts at any time:

Contact Details
It should be easy for customers to reach you if they have questions or complaints. Include at least two ways for them to contact you (at least one option should be free).
Helen Bernhard Bakery customers, for example, can reach the company through an email address or business address:

Links to Other Relevant Agreements
If you're running a small business, you will probably have other policies such as a Cookies Policy, Service Level Agreement, or Privacy Policy. You should include links to these other policies within your Terms and Conditions to emphasize that these documents should be read together.
Here's an example from Redbubble's opening clauses. It's clear that buyers and sellers must agree to all policies, including the Terms and Conditions agreement, before using the website. The links are clearly visible and easy for readers to click:

Now that you have an idea of what to include in your small business Terms and Conditions agreement, let's look at some best practices for how to best display your agreement.
Displaying Your Terms and Conditions Agreement

You can only enforce your Terms and Conditions agreement if customers know about it and actively consent to it. Let's break down four places where customers will often expect to see your agreement.
Within Other Agreements
As a small business, chances are you have other policies on your website such as a Cookie Policy and Privacy Policy. Make your website user-friendly by including a link to your T&Cs within these other policies.
Etsy, for example, directly incorporates its Terms of Use into its Privacy Policy, which is an effective strategy: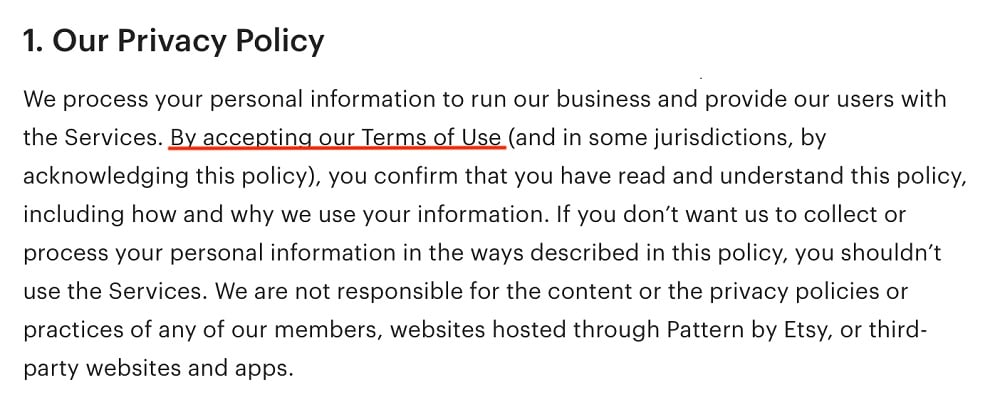 Out of Print refers customers back to its Terms of Use in the "What Personal Information We Collect About You" section of its Privacy Policy:

At Point of Sale
Customers should be able to read your Terms and Conditions agreement before completing checkout or signing up for your services. To help make this possible, you should include a link to your T&C at some point during the sales process.
Out of Print, for example, includes a clearly visible link alongside its other policies during its checkout process: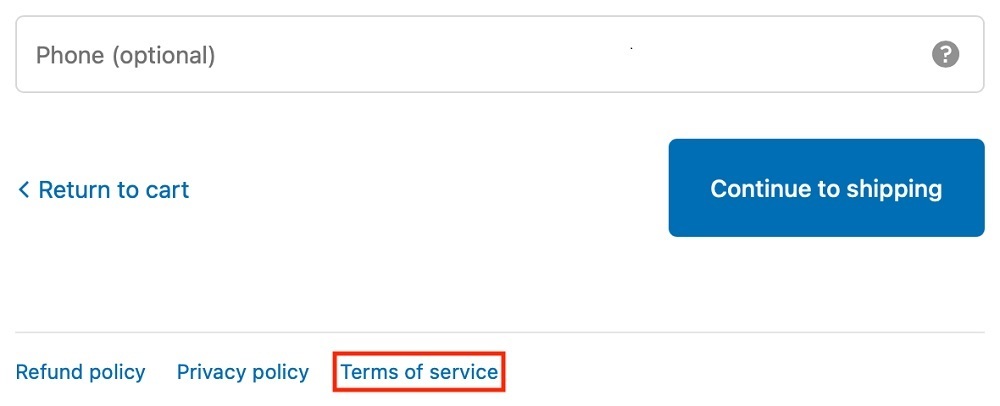 Wherever you place your link, just make sure customers have a fair chance to read your Terms before purchasing something.
At Account Creation
Users should always be able to read your Terms and Conditions before creating an account with your platform, especially if an account is required to buy or use your products.
Here's how GNC links to its Terms and Conditions on the sign up screen: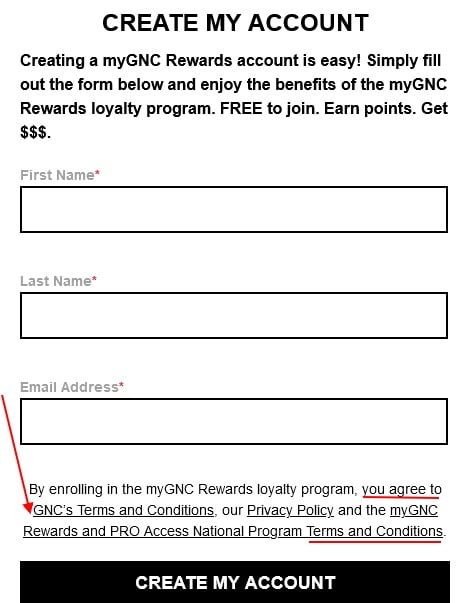 In Your Website's Header or Footer
The most obvious place to link to your Terms and Conditions agreement is your header or footer, depending on where you link to your other agreements.
Here's an example from Helen Bernhard Bakery. The Terms and Conditions link stands out nicely against the background and helps make it easily noticeable:

You might also link to your Terms and Conditions in your sidebar if this is where you place links to your other core agreements.
Getting Consent to Terms and Conditions Agreements

Once customers know about your Terms and Conditions agreement, they should still consent to it before entering a contract with you such as buying something. What you're looking for is express consent.
Express consent means the individual takes some positive, affirmative action to indicate agreement such as:
Ticking a checkbox
Clicking a button which says "I Agree" or something similar
Lancome users can't create an account without agreeing to the Terms of Use: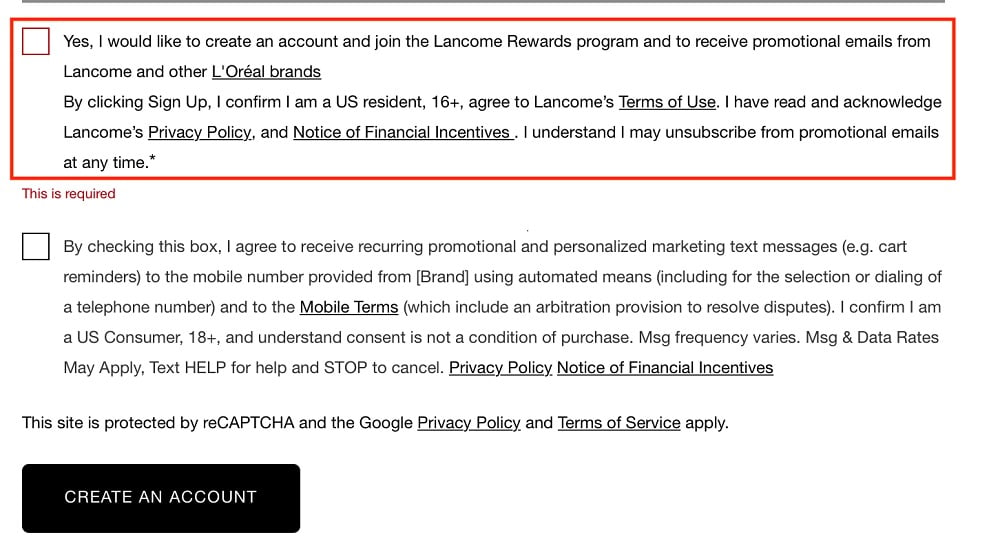 While you can't guarantee that your customers have read your Terms and Conditions, requiring affirmative consent is sufficient to confirm that they should have.
Conclusion
Small businesses should have Terms and Conditions agreements on their websites. T&Cs determine what goods or services you'll provide, and the terms upon which you will provide them. In other words, they are your conditions of sale.
Every Terms and Conditions agreement should include, at minimum, the following clauses:
Introduction
Governing law
Changing the agreement
Limitation of liability
Payment terms
Shipping and delivery
Returns and refunds
Warranties and exclusions
Copyright
Termination of agreement
Contact details
Links to other agreements e.g. Privacy Policy
Make sure you get express consent to your Terms and Conditions rather than implied consent to ensure it's legally enforceable.