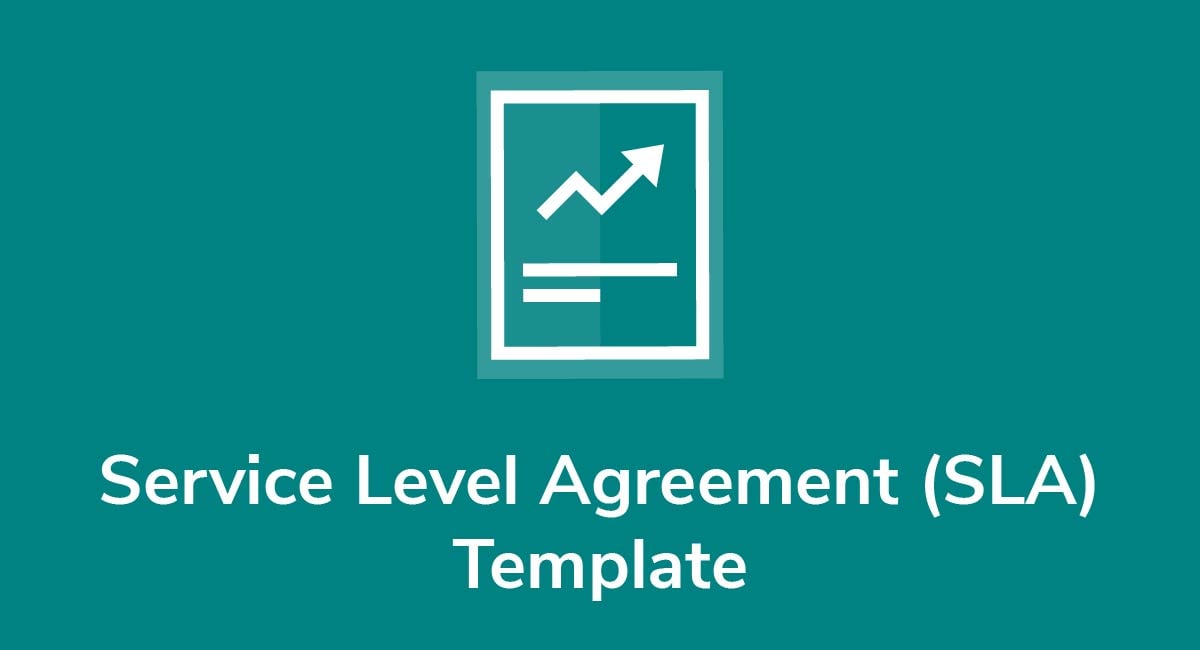 A Service Level Agreement, or SLA, is a contractual agreement between a service provider and the customer. It specifies what services you provide and how they are provided.
If you're a service provider, then you should create a Service Level Agreement (SLA) which customers can read before they sign up for your services. This article will explain what Service Level Agreements are, what's included in a typical SLA, and how to draft and display your own SLA.
What is a Service Level Agreement (SLA)?
As stated, a Service Level Agreement is a contract between you - a service provider - and your customers. The SLA will specify the details of the services you provide and how you will be providing them.
The SLA will specify the following details:
The scope of the services you are providing
What customers can expect from your services
The remedies available if either party is unhappy with the agreement
Your conditions for terminating the agreement
The extent of your liability
A Service Legal Agreement ensures that you and your customers are on the same page in terms of what services you provide, and what standards of service the customer can expect.
Service Level Agreements vs Terms and Conditions Agreements

SLAs and Terms and Conditions Agreements (T&Cs) are different policies.
A Service Level Agreement sets out the terms for the service you provide. It also specifies what remedies each party has if something goes wrong with the service.
A Terms and Conditions agreement, on the other hand, governs the wider business relationship between you and your customers. The T&Cs cover everything from subscription fees to copyright infringement, and so they're far more comprehensive than a Service Level Agreement.
You might include your SLA within the T&Cs, but they are not the same thing.
Who Should Use Service Level Agreements (SLAs)?
If you provide an online service in the IT or telecommunications sector, you should have a Service Level Agreement.
Companies that should use SLAs include:
Application service companies
Cloud service providers
IT service providers
Managed service providers (MSPs)
Storage services companies
Telephone companies
Are Service Level Agreements (SLAs) Legally Required?
No. However, they make good business sense because they set clear expectations regarding what you can (and can't) be held responsible for.
What's more, well-drafted SLAs can be legally binding, which means you can rely on them to settle disputes more efficiently than if there was no Service Level Agreement in place. You can't enforce SLAs without making sure that your customers properly consented to the Agreement, though. We'll cover this below.
What are the Benefits of Having a Service Level Agreement (SLA)?

Service Level Agreements offer four major benefits:
A Service Level Agreement provides clarity for all parties so there's less room for misunderstanding or miscommunication.
Customers are more likely to stay loyal to your company and services if they're happy with your SLA and trust you to honor its terms.
SLAs set clear terms for how to resolve issues. In the event you're facing a customer dispute, an SLA will save you time and resources resolving the matter.
SLAs with generous terms, such as high levels of guaranteed uptime, can encourage prospective clients to choose you over your competitors.
The Main Types of Service Level Agreements (SLAs)
There are three main types of SLAs:
Internal Service Level Agreement: These agreements are between you and another party in your company. For example, the accounts department and IT department may have their own SLAs.
Customer Service Level Agreement: Customer agreements are between a service provider (the company) and an external customer. An example would be a contract between a business and a MSP which handles the business's IT support needs.
Multilevel Service Level Agreement: These agreements cover groups of customers, such as your external clients and internal departments, and how they all work together to achieve a common objective. For example, an IT company may support an entire business but offer additional, more comprehensive services to specific departments e.g. finance.
What Information Should Your Service Level Agreement (SLA) Contain?
Although Service Level Agreements should be tailored to the specific arrangement, every well-drafted SLA has certain specific clauses such as ones that address service availability, the escalation process, any exclusions to the agreement, and termination of the agreement.
Let's look at these and others in more detail.
Summary of the Agreement
First, specify what the agreement is i.e. a Service Level Agreement and what this means.
Here's an example from Amazon's Athena SLA. It clearly states what the agreement is and confirms that it takes precedence over other policies if there are any contradictions in terms: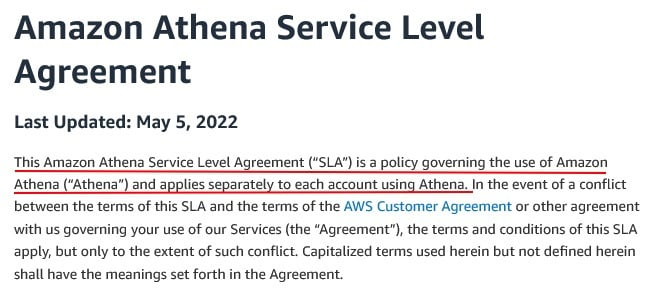 SLA Goals and Objectives
If your client has specific goals or objectives, these should be specified within the SLA itself.
For example, say client X hires you for IT services.
You might state that the purpose of the SLA is to set a framework for providing IT services to client X, and the goal is to reach a mutual agreement as to how these services will be delivered.
You might then add specific objectives such as ensuring there are measurable key performance indicators in place, and there's clear agreement between what services will be delivered and when.
Exclusions
In this section, confirm what issues fall outside the scope of the SLA i.e. exclusions. This section allows you to disclose what faults and downtime you won't be responsible for.
Here's an example from AT&T Broadband. Customers can't rely on the SLA if, for example, there's downtime caused by their own negligence:

Be clear about when you are not responsible for downtime to reduce your liability and limit the chance of disputes arising.
Service Availability
Since customers are paying for a service, it's crucial to specify what your service "uptime" will be, or what you guarantee. Time when the service is offline is known as "downtime." It might be unwise to guarantee 100% uptime. After all, mistakes and accidents do happen.
In this section you should also specify the remedy for clients if you miss your target.
Google Cloud, for example, offers clients 99.9% uptime. If Google misses that target, clients can claim "Financial Credits" for service lost. The level of credits vary depending on the level of downtime based on a monthly average: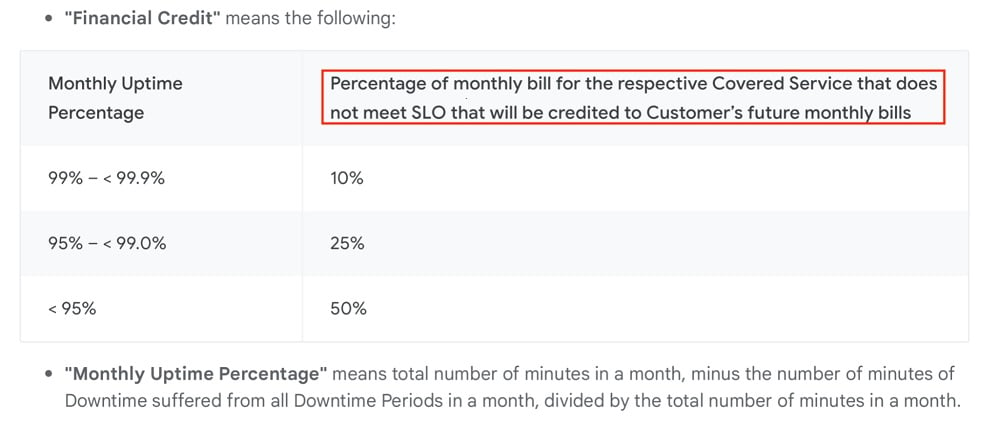 And here's an extract from Monday's SLA, showing how the SLA starts out stating that it provides a commitment for uptime of 99.9 percent: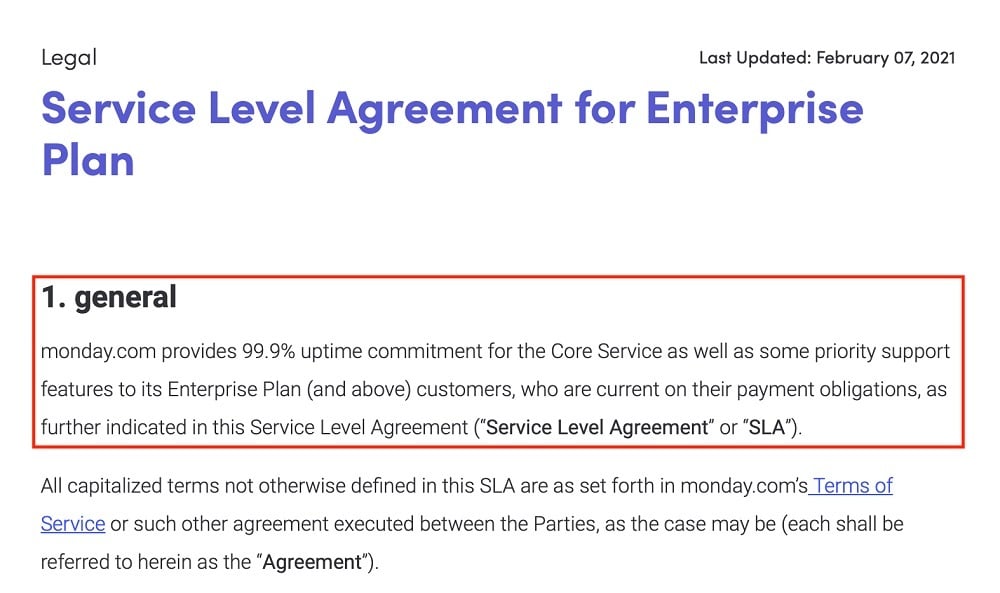 Be transparent about your uptime targets, and make sure it's easy for customers to calculate the credits they might be entitled to.
Escalation Procedure
You should always specify a pathway for customers to make complaints or reach out for technical support. Furthermore, you should be clear about your response times so that customers know what to expect depending on whether their query is urgent or non-urgent.
Let's take a look at Monday's SLA. First, it offers various means for customers to reach the support team:

Next, it specifies how it will classify the urgency of a customer's query, and how long it will take to respond depending on the urgency. Critical queries will receive a response within 30 minutes, whereas low-level bugs have a 24-hour response time: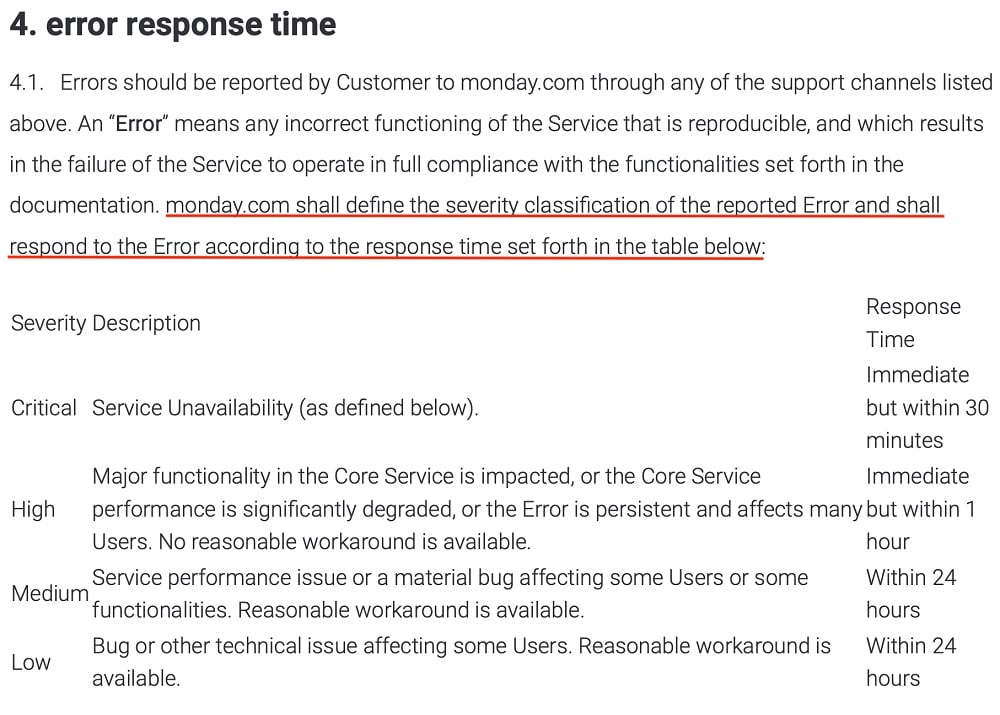 Furthermore, the "clock" only begins from when Monday acknowledges the request:

Remember to specify that your business will determine the urgency of the query to guarantee you meet your response times. Use a table format or other formatting such as bold text, bullet points, and underlining to make your procedures easy to read and follow.
Penalties for Contractual Breaches
In many SLAs, financial credits are a customer's only remedy if the service provider fails to honor the agreement. They are also, of course, free to terminate the SLA if the service provider repeatedly fails to meet their responsibilities.
This is the case for Monday customers. Financial credits are the only remedy available:

Such a clause is essential because it prevents the customer from suing you for damages or further compensation if you fail to meet your contractual obligations.
You might also specify a maximum amount of credits a customer can claim, irrespective of downtime, to protect your cash flow.
Here's an example of such a clause from AT&T:

Termination
Every contract should have a clear option for ending the agreement. This clause should spell out what events can trigger a termination by you, or what a user must do to terminate the contract and what penalties for this may be.
Here's an example from Airtable's Terms of Service. Airtable reserves the right to terminate services at its sole discretion:

Your Contact Information
In this clause, specify who your points of contact will be for resolving customer queries.
For example, Alexa for Business clients should open a query in the AWS Support Center if they're applying for Service Credits for downtime:

And Google Build clients have 30 days to contact the tech team for Financial Credits:

Including specific points of contact helps to improve communications between you and your customers.
Changing or Updating the SLA
You should reserve the right to change or update the SLA to reflect changing business arrangements. Otherwise, you may be left with a Service Agreement which is no longer fit for purpose and which doesn't serve the needs of your business or clients.
Monday, for example, outlines its right to modify the SLA and, if required, reduce the services it provides. Such a clause protects Monday's commercial interests. It will notify the customer of any material changes:

As with the above example, keep this clause as broad as possible so you're not restricting the changes you can make, or how often you can make them.
Displaying and Getting Consent to a Service Level Agreement (SLA)

If you want to enforce your SLA, you must ensure that your customers have a chance to review and consent to your SLA before entering a services contract with you. An SLA should be displayed prominently on your website, and customers should clearly and expressly consent to its terms before using your services.
There are three places where SLA's are most commonly displayed: The website header or footer, at the account sign-up page, or at the point of creating a contract.
Header or Footer
You can link to your SLA within your website header, footer, or even sidebar depending on your site layout and where you link to your other key terms e.g. your Privacy Policy.
You can view HubSpot's various legal policies by clicking on "Legal Stuff" in the website footer: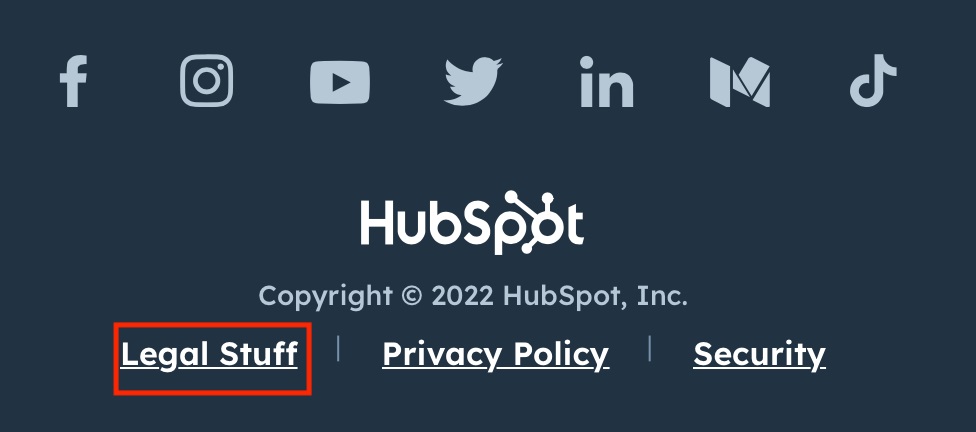 And you can view Google Cloud's Service Level Agreements by clicking "Google Cloud Terms" in the footer:

You don't need to use the term "Service Level Agreement" in your header or footer link. It's sufficient to place the SLA somewhere intuitive e.g. within a section containing your other key legal terms.
Account Sign-Up
If you want to ensure that customers agree to your terms before signing up for an account on your platform, then include a link to your SLA at the account sign up stage, and have customers mark a checkbox confirming consent.
Here's an example from Dropbox. Dropbox has customers click to say they agree to the company's "Terms" which include the SLA: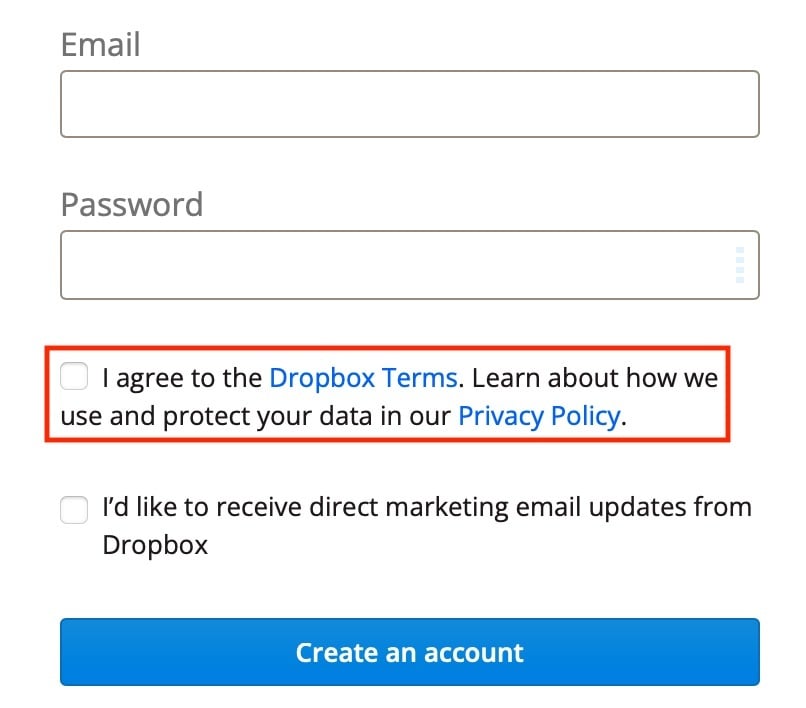 As with account sign up, you should make sure that customers can view and accept your SLA before signing up for paid services. Again, all you need to do is include a checkbox or other clickable option (such as an "I Agree" button) for customers to confirm they've read and agreed to your terms before they buy your services.
Conclusion
A Service Level Agreement (SLA) is a contract between a service provider and its customers. The SLA sets out what services the business will provide, how issues are escalated, and what the company can (and can't) be held liable for.
Every SLA should include clauses to cover the following:
Summary: What the agreement is i.e. a Service Level Agreement
Objectives: The client's goals and objectives for implementing the Service
Exclusions: Exclusions to the SLA
Availability: An overview of service availability (including uptime guarantees)
Escalation: The pathway for escalating complaints and concerns
Breaches: What remedies are open to the customer
Termination: How parties can end the SLA
Contact: Who the customer can contact for support
Changes: The company's policy on changing or updating its SLA
Display your SLA somewhere obvious so customers can agree to it in advance of using your services.