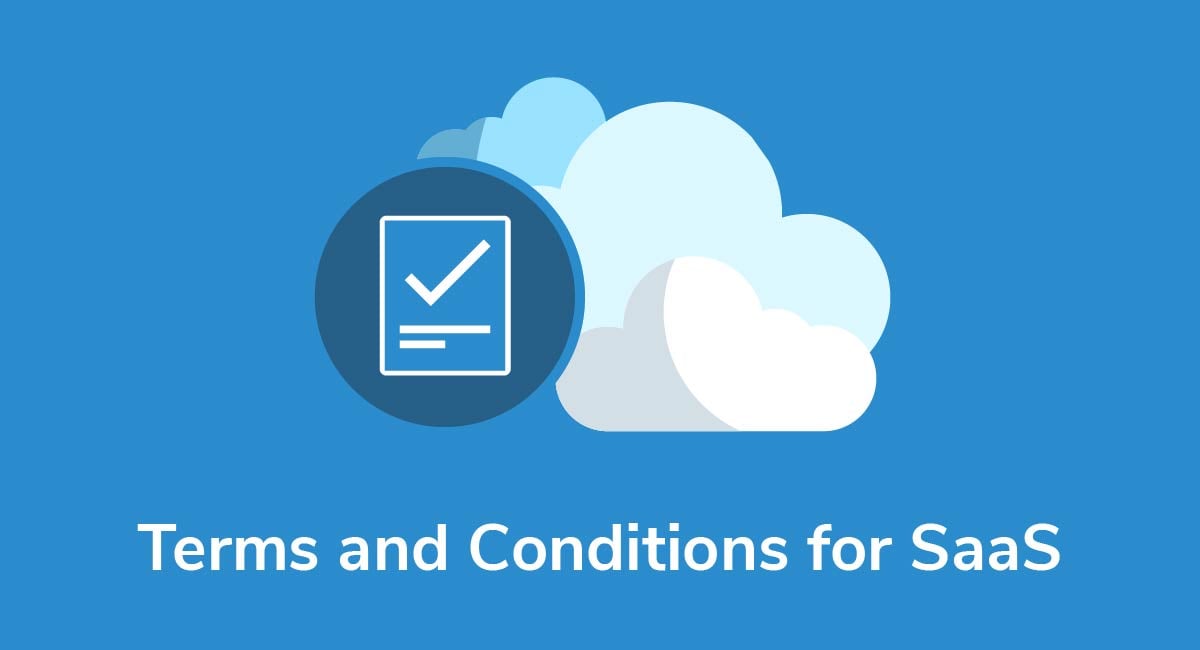 Does your SaaS application allow your users to upload their own content, send messages, or otherwise interact with the software?
You likely have rules and guidelines in place to ensure that the users' interaction with your service doesn't land you or them in hot water.
Those rules and guidelines come in the form of a Terms and Conditions agreement. The agreement is your best friend because it protects your reputation, retains some control over your site, and generally keeps the ball in your corner.
What is a Terms and Conditions agreement? Is it enforceable? And how do you write one? We answer these questions and more.
What is a Terms and Conditions Agreement?
Terms and Conditions agreements (Terms and Conditions) are a contract between your company and your users. The agreement sets out rules under which your customer/user can use the site. It clearly states what you expect from each user in exchange for the service to both preserve the integrity of your software and to protect both individual users and your customers as a whole.
Need Terms and Conditions for your business? We can help you generate a customized Terms and Conditions agreement in around two-three minutes for free. Try our Terms and Conditions Generator and just follow these steps:
Click on the "Create your Terms and Conditions today" button.
At Step 1, select the where will you use your Terms & Conditions and click "Next step":

Add information about your business:

Select the country and continue to the "Next step":

Answer the questions about your business practices and click "Next step" when finished:

Enter your email address where you'd like your agreement sent and click "Generate."

You're done! Now you'll be able to instantly access and download your new agreement.
There is no law that requires your SaaS business to create and post a Terms and Conditions agreement. However, these documents are extremely beneficial for all businesses, particularly SaaS products, and we highly recommend you have one.
Why do they serve you?
First, the expectations you set in your agreement mitigate the potential for misuse of your service. It makes it clear what is and isn't allowed and shows regulators that you aren't willingly playing host to bad behavior.
Second, you retain control over your application by being able to refer customers to the agreement if you need to take disciplinary action. With a written agreement in place, you can suspend or terminate accounts as required. You can even go as far as denying refunds if the situation calls for it (and you state the option in your agreement).
Third, it gives you leeway to remove user-generated content when you deem it necessary. Your Terms and Conditions makes it clear that you don't allow content that violates copyright agreements or content that could be legally questionable. You can even grant yourself the right to remove content legally deemed offensive or threatening. The disavowal in your Terms and Conditions allows you to remove it without warning if need be.
In summary, your Terms and Conditions agreement makes your SaaS app and website a more hospitable place for all your users and gives you the power to take action and distance yourself as necessary to protect yourself from litigation.
Essential Clauses for a Terms and Conditions Agreement

What clauses do you need to create a legally-effective Terms and Conditions agreement?
You should start by tailoring your agreement to your SaaS product by including these essential clauses:
Prohibited uses
Termination
Licensing information and limitation
Fees and payment
Intellectual property
User-generated content clause (if applicable)
Limitation of liability
User conduct
Governing law
Let's take a look at each clause, why it's important and what it should look like in most cases.
Prohibited Uses
Most businesses have a list of things they prefer their customers don't use their service for.
Write your list out in your prohibited uses clause.
Prohibited uses may include:
Prohibited people
Violations of the law
Anti-social behavior
Actions that damage the site, its reputation, or its intellectual property
Pinterest provides a helpful example of who can and can't use its site at the beginning of its Terms:

Effectively, you can't use Pinterest if you are from a country under U.S. sanctions. If you're European, you can't use Pinterest if you aren't yet old enough to consent based on your country's or European law.
Decluttr, an online retailer, uses a full and extensive prohibited uses clause on its site. This is only an excerpt from the full, robust clause: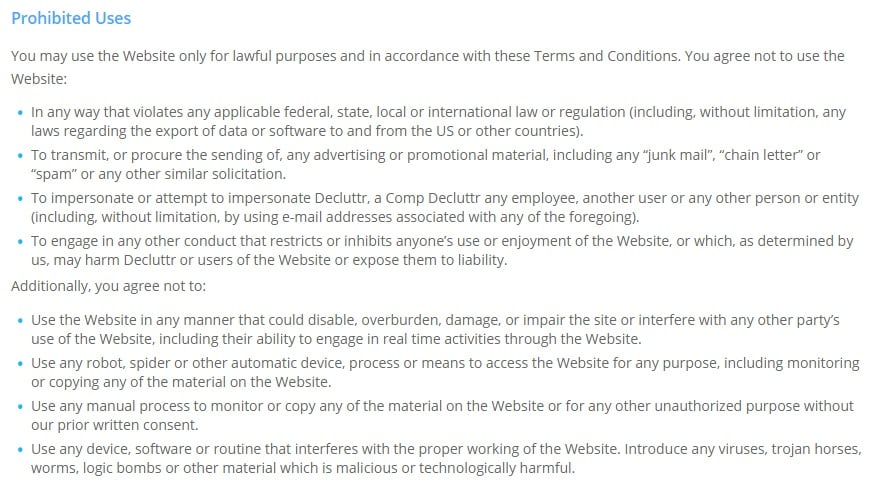 Decluttr says you can't use its site in a way that:
Violates any law
Spams other users
Prevents others from using or enjoying their use of the site
Impersonates Declutter itself
Damages, copies, or attacks the site
Upwork explains specific kinds of behavior that constitute prohibited uses of its site by giving examples, which is helpful: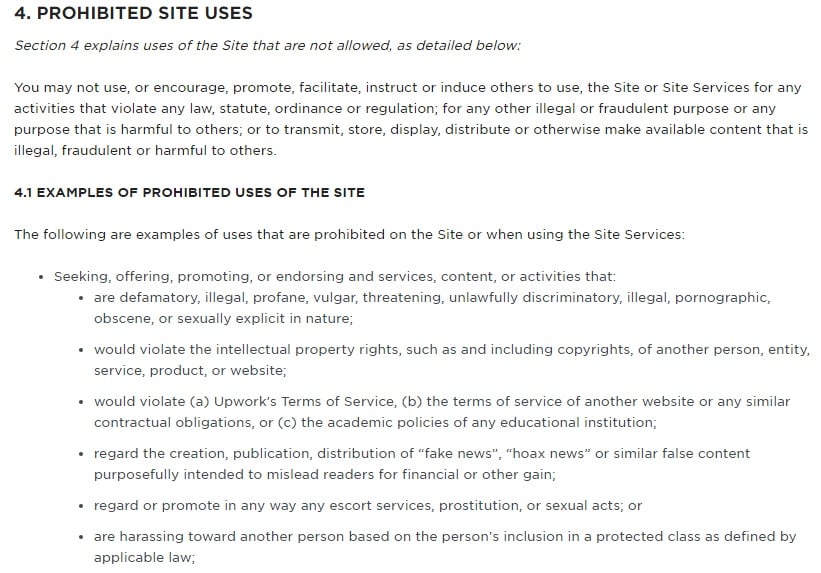 For example, Upwork specifically bans any users who buy or sell services related to "the creation, publication, distribution of "fake news, "hoax news" or similar false content."
Creating or publishing false content isn't illegal, but Upwork wants no part in facilitating it and makes it clear in its Terms.
Termination
If a user is misusing your site according to your prohibited uses clause, you can reserve the right to end their access or remove their account by adding a termination clause.
Termination clauses are essential for SaaS companies because they allow you to take swift action to protect your site and often other users.
Your termination clause should include:
What an account termination is
How it affects the user
When you reserve the right to terminate the account
If termination affects their statutory rights (if applicable)
Apple's iCloud Terms uses both a termination clause and refers to it elsewhere in the document.
It starts by noting that "repeated violations of the limitations may result in the termination of your Account:"

Other references to termination also appear throughout the document, but Apple also includes an entire Termination section that covers:
Voluntary termination
Termination by Apple
Effects of termination

First, Apple shows you how to terminate your Apple iCloud on your account if you wish and says your fees are nonrefundable, including fees paid in advance.
In the next clause, Apple covers when and how it can terminate accounts: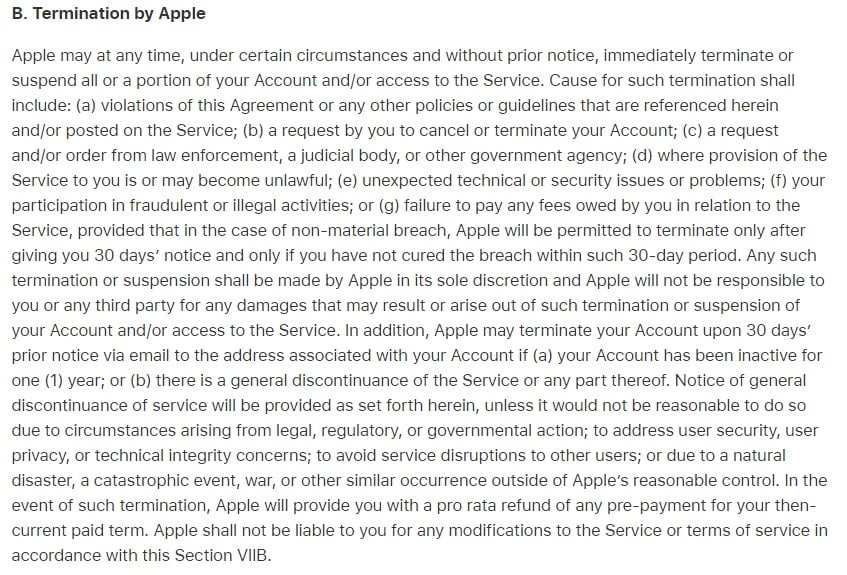 Apple gives itself the right to immediately terminate an account under certain circumstances "at any time" and "without prior notice." It also outlines the reasons Apple will take this action including:
Violations of the Terms
Request from the account holder
Demands from government agencies and law enforcement
Security issues or technical problems
User participation in fraud
Failure to pay for the service
If none of those apply, Apple can still terminate your agreement but only if it provides you with 30 days to cure your non-material breach of service.
Finally, Apple makes the effects of your account termination clear - no matter why it happens. It makes it clear that you lose all access to your account and its contents and that Apple has the right to delete your data after time passes:

This might seem like a lot of words to get a point across, but this can be really helpful both for users and Apple itself. Everyone will know what to expect, and exactly what rights Apple is maintaining for itself when it comes to termination of accounts.
Licensing and Limitation

A licensing clause grants your users the right to use your services for a specific purpose. To create an effective clause, you need to outline:
The ways a user can use your service (the license)
The restrictions to the license
The intellectual property and trademarks you wish to protect
Here's an excellent example from Eventbrite.
In its first section in the licensing clause, Eventbrite outlines the two ways you can use its service: to look for events, and to create event registration pages. Plus, you must use the service in a way that complies with all laws, rules, and regulations wherever you live:

In other words, you can create an account with and use Eventbrite to organize a bowling event in aid of a charity, but you cannot, however, organize an event during which the participants will knowingly commit a crime.
In section 2 of the clause, Eventbrite points out the other restrictions of your license:

In essence, Eventbrite won't let you use its service to copy it for your own business. It also won't let you create an account to let someone else use it in an unauthorized manner. Finally, you can't participate in activities that interfere with the service (such as attempting to break the site or steal information).
There's more. Eventbrite uses the third section to expand upon the license limitations and specifically protect its intellectual property. The Terms here specifically state that you acknowledge all Eventbrite's copyrights, trademarks, service markets, and any other intellectual property upon using the site.

Fees and Payments
Do you charge a subscription fee to access your services? Add it to your Terms and Conditions agreement by noting:
What your fees cover
What third-party fees cover (if applicable)
What methods you use to collect payment (if applicable)
Adobe provides an example in its Terms and Conditions.
Your Adobe subscription covers only the access to the Adobe license. According to the Terms, you pay any other taxes and fees including foreign transaction fees, mobile carrier fees, or credit card fees.
Additionally, Adobe notes that if it tries to charge your card and your payment method is out of date, then it may use another program to find new payment information. The company does this to avoid interrupting your service:

Intellectual Property
An intellectual property clause is an essential clause from a legal standpoint, and it may be the one you come to rely on most.
Your clause can and should do a minimum of two things:
Protect your intellectual property
Promote the protection of other bodies' intellectual property
If you access and distribute user-generated content, then your clause needs to explain that, too.
Instagram is a hub of creativity and also one of the most notorious hives of intellectual property theft (in the form of photo stealing without accreditation).
As a result, it's Terms and Conditions offer one of the clearest intellectual property clauses out there: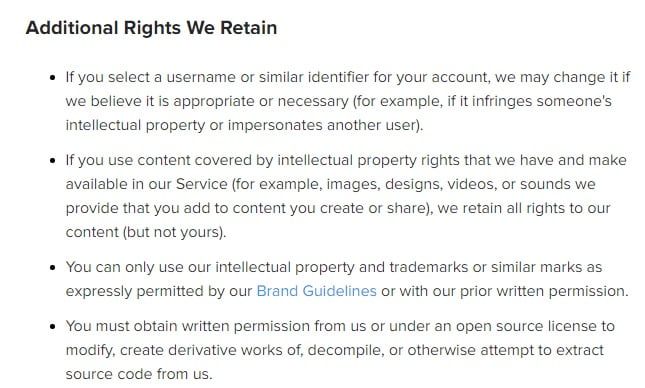 In this section, Instagram identifies how users can engage with Instagram's own intellectual property and directs users to a fuller list of guidelines to ensure compliance.
Instagram also makes it clear that users can't post anything that violates intellectual property rights. It goes on to provide a remedy for reporting content if you think your content was stolen:

Finally, Instagram makes it clear that while it doesn't claim ownership of user content, uploading photos grants Instagram a "non-exclusive, royalty-free, transferable, sub-licensable, worldwide license to host, use, distribute, modify, run, copy, publicly perform or display, translate, and creative derivative works of your content."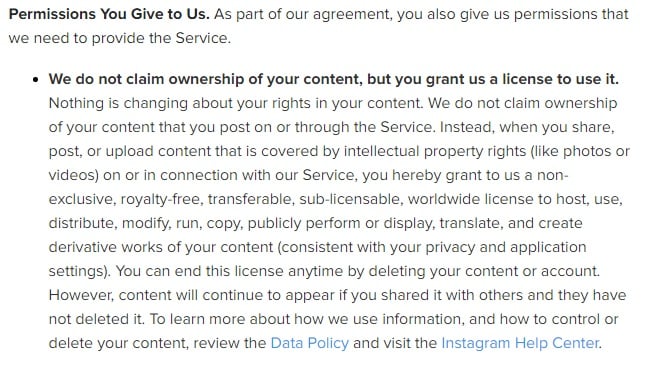 In other words, Instagram says that your content remains legally yours. However, Instagram can do whatever it wants with it as long as it doesn't claim that it created the content.
Your intellectual property rights clause should follow Instagram's example in that it should be as explicit as possible about what, if anything, you declare you have the right to do with user content.
User-Generated Content Clause

Do you allow users to upload or create their own content? If so, you need a user-generated content clause.
The clause must include three parts:
Ownership of content
Guidelines/rules for posting content
Copyright infringement
SurveyMonkey, which relies almost exclusively on user-generated content, offers a crystal-clear vision for its own Terms and Conditions agreement.
SurveyMonkey makes it clear:
You own your content - SurveyMonkey does not
SurveyMonkey can exploit your content
SurveyMonkey responds to U.S. Digital Millennium Copyright Act (DMCA) claims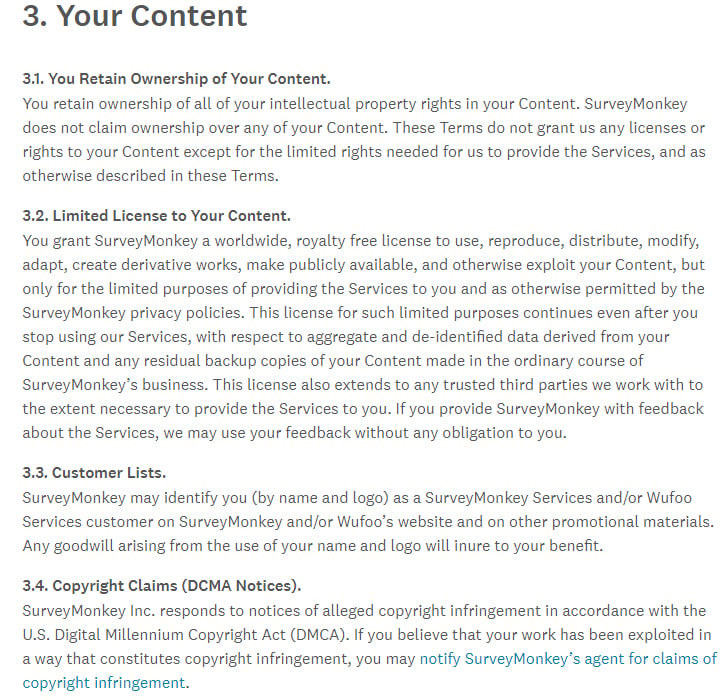 If you assume ownership of user-generated content, you must make it clear. Alternatively, if you don't own the content but you do grant your business rights to use it or "exploit" it, then you must also not only state it but describe the potential use.
Use of user-generated content will also come up in your Privacy Policy.
Limitation of Liability
As a SaaS provider, you provide the software and the customer provides the use or content. You can actively patrol accounts to prevent misuse under both your terms and governing law, but you can't be omnipresent.
That's why it's important to use a limitation of liability clause in your Terms and Conditions. It doesn't matter what service you provide or the scale you provide it at: it offers protection from lawsuits in case a user winds up in legal trouble.
To limit your liability, you need to explicitly state what you are and aren't liable for.
For example, Microsoft says it's not liable for user-generated content or any other third party materials (including links). Microsoft is only liable if Microsoft (or its vicarious agents) itself acts "with gross negligence or willful misconduct:"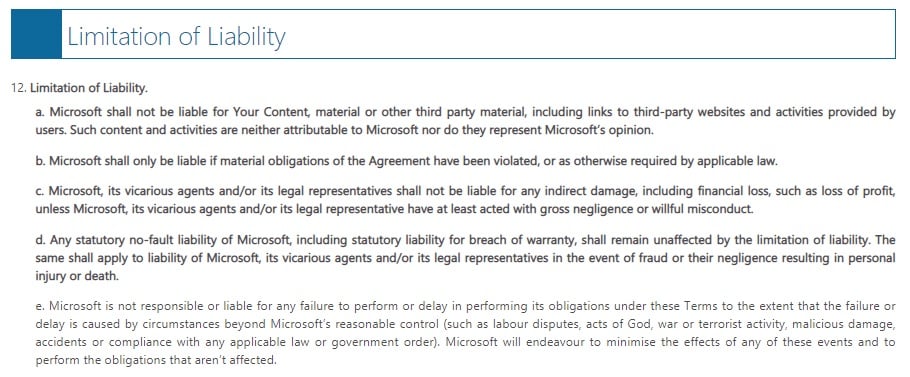 User Conduct
The way people behave on your site or service impacts the experience of every other customer. Adding a use conduct clause allows you to outline what behaviors are and aren't acceptable.
Some of the behaviors you are most likely to include as unacceptable are:
Bullying
Harassment
Hate speech
Defamation
Doxxing (posting personal details)
There are two ways to go about adding a user conduct clause.
The first is to include it within your Terms and Conditions itself. You simply write your user expectations and banned behavior within the document. This works well for sites and services that don't require a huge amount of user interaction and therefore don't need to limit.
However, if your site includes any kind of social media or messaging, you might choose the more extended option: a user conduct clause and a link to community guidelines or user conduct document.
Why do some companies choose the second route? In cases where message boards, private messaging, and profiles are accessible to all users, your user conduct section might be lengthy and hold an extra layer of importance.
Linking between your Terms and Conditions and your user conduct or guidelines document allows for full transparency without making your Terms and Conditions difficult to read.
For example, Facebook lists its user conduct clause along with its prohibited users. Rather than going into detail, it links to the site's Community Standards, which provide a more in-depth view.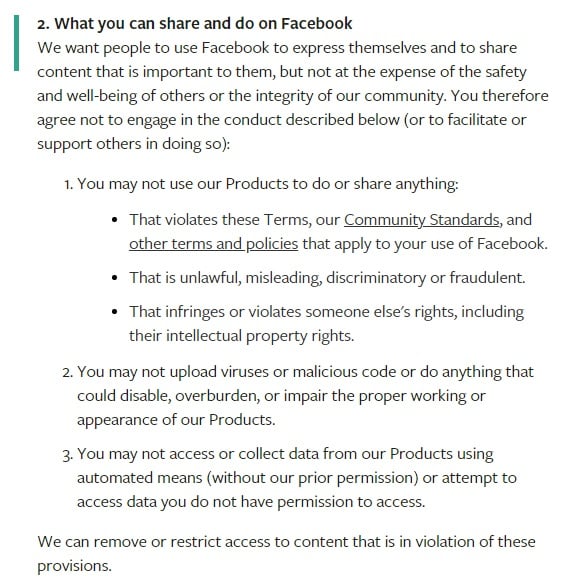 To make the Community Guidelines legally binding, it says "You may not use our Products to do or share anything: that breaches these Terms, our Community Standards, and other Terms and Policies that apply to your use of Facebook."
Governing Law

What laws apply to your business? Usually, this is a question of the state or country you base your operations in.
Note the laws under which any disputes will happen within your Terms and Conditions.
For example, Splunk operates solely out of San Francisco, California, and thus, it constructs its Terms and Conditions within the confines of the law of the State of California:

This clause doesn't need to be as in-depth as this one is. It can be a simple sentence or two stating which laws govern your agreement and any issues arising under it.
Without this clause, your users can sue you wherever they're located, which can understandably be a huge, expensive and nearly impossible thing to deal with.
Displaying and Getting Agreement to Your Terms and Conditions

Once your Terms and Conditions agreement is complete, you need to do two things to make the document legally binding:
Display it in a conspicuous place
Seek agreement or consent to your terms
Displaying it conspicuously is important for ensuring everyone has access to it. Hiding it away makes it difficult to hold up during both mediation and legal disputes.
It also makes it easier to obtain consent to your Terms.
You should add a link to your Terms and Conditions on your account creation page and use a clearly-labeled accept button or unchecked checkbox to gather confirmed consent. Be sure to record the consent so you can prove it if need be.
In most cases, you'll share a link to your Terms and Conditions in the footer of your website, so it's easy to find no matter where you are on the site:

If you run a desktop or web app, include a link to your Terms and Conditions in the Settings, Legal, About or other similar menu. Don't force the user to navigate to your web page to access the link. Make sure it's within the app itself.
Here's an example from Microsoft Sway, which includes the software license terms link in its About feature: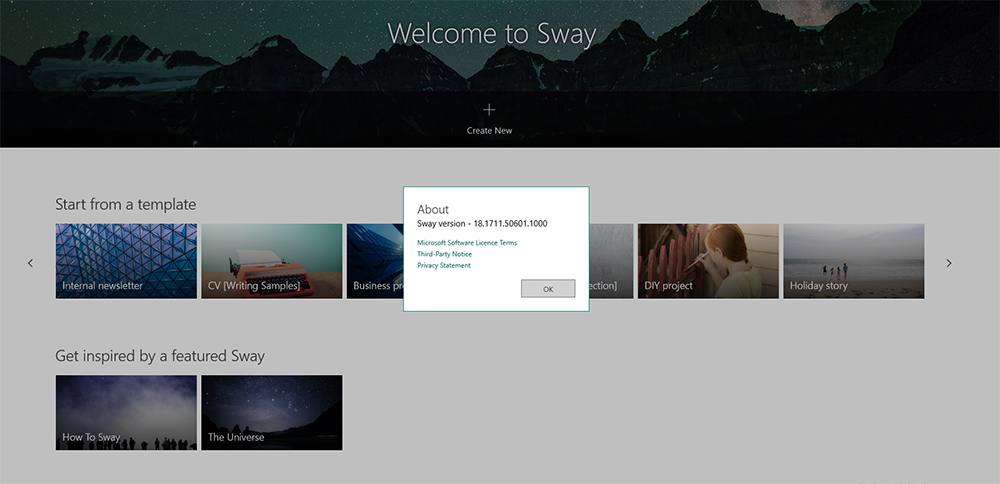 Finally, if you run a mobile app, be sure your Terms and Conditions is available within your About, Legal or other relevant menu. Amazon's mobile app allows access through the left-side menu bar in a Legal Information section: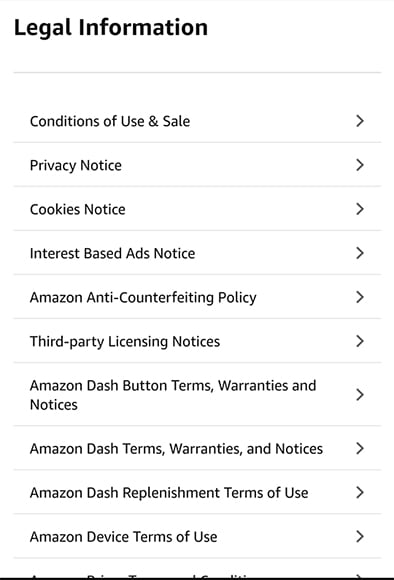 Always get agreement by using the clickwrap method. This method involves making a user take an action such as checking a box or clicking a clearly-labeled button that makes it clear they're giving agreement to the Terms and Conditions.
This approach works great on mobile apps: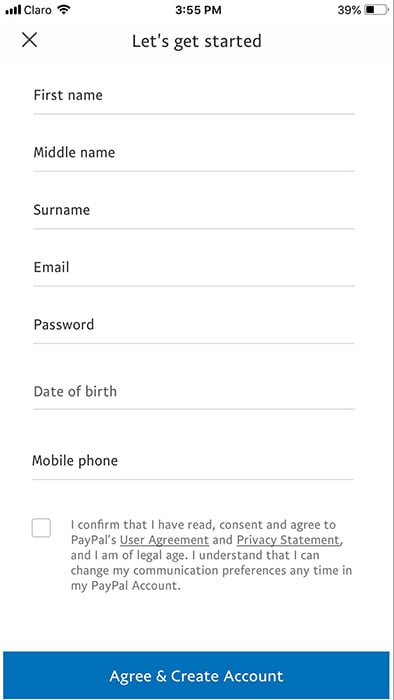 It also works great within your desktop apps and general website: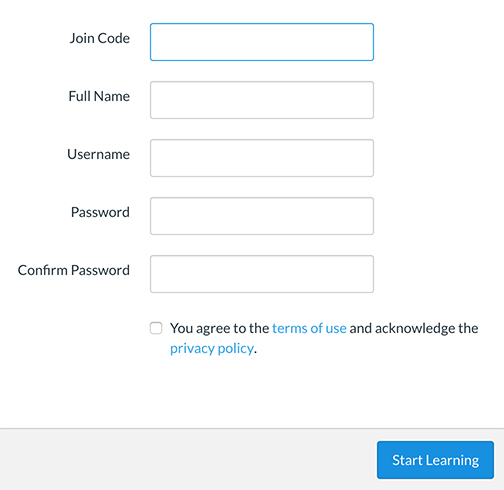 Always get consent when a user is installing or signing up for your SaaS service.
Summary
Your Terms and Conditions agreement gives you back control over user experience by explaining when, why, and how users can use your software and also explaining the relevant laws related to your service.
By crafting a Terms and Conditions agreement and seeking consent, you make it easier to ensure you protect both your software and your users.
Remember to use the clauses that apply specifically to your service and to ensure your Terms and Conditions remain easily accessible on all interfaces - web, desktop, and mobile. And always get very clear consent to make your Terms and Conditions legally binding!