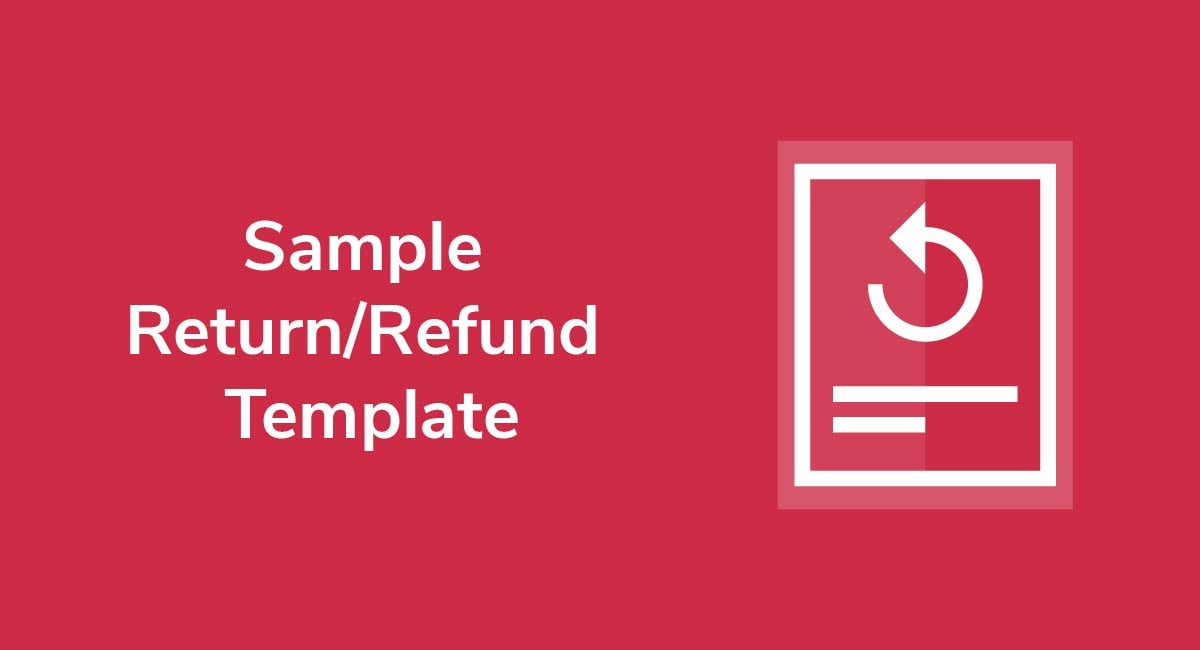 If you run an ecommerce store, or you sell goods and services to customers, you should draft a Refund Policy and publish it on your website either as a standalone document or as part of your Terms and Conditions agreement. This is the only way to ensure that customers understand their rights before they make a purchase from you.
Having a clear Refund Policy can instantly make your store seem more attractive and professional, which encourages customers to shop with you. Think of it from a consumer's perspective - if you don't know what a store's Refund Policy is, would you really buy goods or services from them?
This article will break down what a Refund Policy entails and help you create and display your own.
Get compliant today with PrivacyPolicies.com
Select one of our generators to create the required legal agreements for your business:
Integrate a free Cookies Notice and Cookie Consent banner to comply with the EU ePrivacy Directive and the new GDPR law regarding cookies.
What is a Refund Policy?
Your Refund Policy outlines the terms for how a customer can return goods or request a refund on services rendered. Broadly speaking, it should set out:
What goods are returnable (or which are not)
When you will offer a refund
How customers can claim a refund, or make an exchange
Your exchange rules
How long it takes to receive a refund
The customer's right to cancel an order
When refunds or exchanges are prohibited
In other words, your Refund Policy sets out what a customer can expect from you if they make a purchase.
Who Should Have a Refund Policy?

Every retailer should provide a Refund Policy. This includes companies selling:
Goods e.g. fashion retailers
Digital content e.g app developers
Services e.g. digital content creators
Basically, if someone pays you for anything, they have a right to know what happens if they're unhappy with what they get.
Why are Refund Policies a Good Idea?
There are lots of reasons why you should have a Refund Policy, but the most important ones are:
They let you make "all sales final" if you want
They encourage consumer confidence, which is especially important for new stores or companies operating in competitive markets
They give you something legally enforceable to fall back on - more on that below
Are Refund Policies Legally Binding?

Yes, they should be legally binding. Refund Policies are, essentially, legally enforceable contractual terms between you and the customer.
However, like any contract, these terms are only enforceable if they are:
Clearly set out
Agreed to by the customer
Fair and reasonable
Lawful (e.g. you're not agreeing a contract for illegal activity)
Statutory rights granted to the consumer by law will always supersede any unreasonable or unfair terms in your Refund Policy.
So, how do you know the customer agrees to your Refund Policy, and how do you ensure that it's binding? By including a mention of your Refund Policy within your Terms and Conditions or Terms of Use agreement.
Since you need a customer's consent to your Terms of Use before they purchase goods or services from you, including your Refund Policy within this document means you can assume that the customer consented to them.
When we say including your Refund Policy within your Terms agreements, we don't necessarily mean including the full text of the Refund Policy. Just including a mention of it and a link to the separate agreement will work and is a good option if your Refund Policy is very long and worth separating.
However, if your Refund Policy is quite short, you can absolutely include it as a clause in your Terms and Conditions agreement, like ClearSmile Brace did here:

That paragraph is the entirety of the Refund Policy, and it's included towards the end of the overall Terms and Conditions. There's no need to have a full separate page and document for the Refund Policy in this case.
But, for most businesses, your Refund Policy may easily end up being longer than this short paragraph.
What Should Your Refund Policy Contain?

While Refund Policies vary from store to store, there are some clauses which every comprehensive and legally enforceable Refund Policy should have. To help make things clearer, we'll break the Policy into sections: refunds, exchanges, shipping, initiating the refund or exchange, and cancellation.
All that matters is that you don't impose terms that restrict a customer's statutory rights under the applicable law. These terms will be unenforceable, which could undermine your entire Refund Policy.
Even if you include your Refund Policy as part of your Terms and Conditions, and you don't have a separate Refund Policy, you should still include these clauses or information addressing each point.
Refunds

The simpler your Refund Policy, the better. But it still needs to be informative and address relevant information.
Refundable Items
It's fine to choose to offer refunds on some items but not on others. Common non-returnable items include:
Jewelry
Underwear
Sale items
Cosmetics
Food and perishables
Custom items
Harvey Nichols set out a clear list of items it won't refund: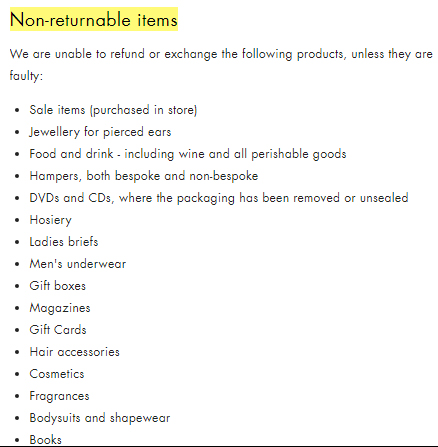 The company will only accept some returns under some conditions. For example, you can only return swimwear if the hygiene strips are still present and intact:

FLEO won't refund sale items:

And some Etsy stores won't refund face masks, due to their personal nature:

Finally, Origin Fitness won't refund custom orders:

You can also refuse to accept returns for used items, or items no longer in their original packaging. Strength Shop won't offer refunds for items that customers have used:

Refund Conditions
Common conditions for refunds include:
Time limitations
Liability
Exceptions for faulty items
Most companies only offer customers a certain length of time to return their items. So long as it's not shorter than statutory regulations allow, you can set whatever time restrictions you wish.
Myprotein, for example, gives customers 14 days to make a return:

Be clear who is liable for the product while it's in transit back to your store - typically, the customer will be. Encourage them to use tracked mail, like Collectif Clothing does here:

You can make exceptions for incorrect or faulty items, if this suits your business. This approach can improve your company's reputation. Collectif Clothing, for example, gives customers 6 months to return an incorrect item:

Refund Method
You should specify how you'll process the refund i.e. how the customer will get their money back. There are a few options here. You can refund onto the original credit or debit card, or you can offer store credit or put the refund onto a gift card.
Typically, you refund the money back onto the credit or debit card the customer paid with.
This is how Gymshark processes its refunds:

Gymshark also explains how it will refund payments made by a combination of cards and gift cards. It will process the gift card refund first, then the card payment:

Generally companies only issue gift cards or store credit for refunds if the customer can't provide a receipt or some other proof of purchase, or as a goodwill gesture if the customer returns the item slightly out of time.
This is what FLEO does with orders returned without an authorization number:

Collectif Clothing offers a credit note for returns made slightly outside of the original refund window::

It's important that you make it easy for customers to claim their refund. You can, for example:
Ask customers to contact you
Use a returns portal
Make a returns form available online and/or in the package
Myprotein asks people to contact the company to get an authorization number before they send the item back:

Gymshark uses a returns portal and sets out very clear steps on how to use it: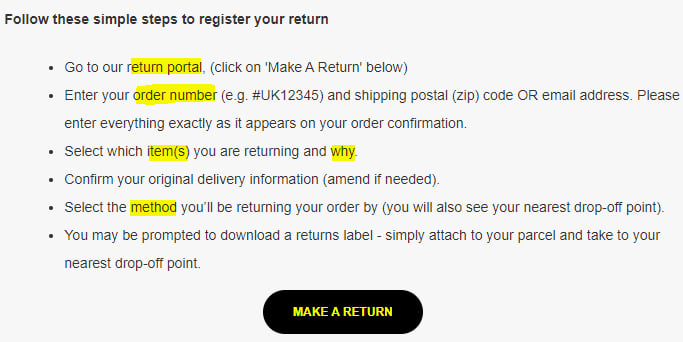 Strength Shop uses a returns form:
What matters is that your process is clear.
How Long the Refund Takes
Be clear about how long customers should wait for a refund. This saves confusion and stops customers from contacting you for updates on their return.
Myprotein does this well. Most refunds are processed within 7 working days of receipt, but it can take up to 30 days. Don't put hard deadlines in place - if you don't meet them, you're breaching your own policy!

You can also say that it takes longer during busy times. Collectif Clothing takes this approach:

Whatever the details and specifics of what you accept for return, what conditions surround the return being accepted and how you'll issue your refund are, make sure to include them in your Refund Policy.
Exchanges

There's no legal requirement to offer exchanges. If you don't want to offer exchanges, and you want to offer returns instead, all you need is a simple clause that states this.
Here's an example of one from Gymshark:

If you can't accept exchanges for some items, whether it's for hygiene reasons or otherwise, set this out in your Refund Policy.
Next, for example, can't accept exchanges for:
Custom orders unless they're faulty
Items where the security seal is broken
Gift cards (i.e. when someone wants to exchange a gift card for cash)

You can also offer store credit instead, like Curvy Kate. This is a really popular choice for ecommerce stores. All you need is a simple clause that works for both refunds and exchanges:

Shipping Costs
Be clear about who pays for the return post or shipping costs if a customer returns or exchanges an item.
Typically, customers will expect you to pay the return costs if they received a damaged, faulty, or incorrect item, but otherwise, it's common for customers to pay these costs themselves.
Here's a simple and clear clause addressing these points from Collectif Clothing:

Initiating a Refund or Exchange
Set out clearly how customers initiate the returns process. It should be concise and easily understood by the consumer.
Gymshark dedicates a section of its Return Policy to this: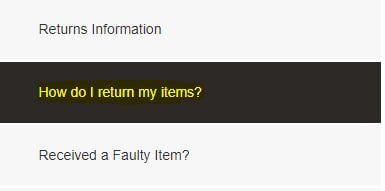 The company sets out the steps in a simple, jargon-free way: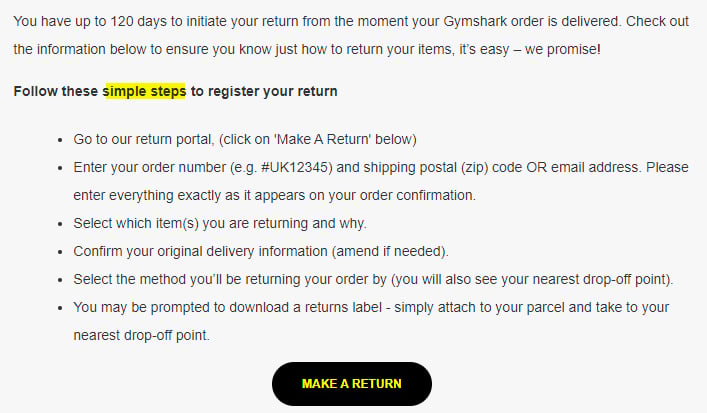 Right to Cancel an Order
In most jurisdictions, customers have a legal right to cancel within a certain length of time (e.g. 14 days). You might know this as the "cooling off" period. If you don't inform customers of their legal right to cancel, they may actually have longer to cancel their order as a consequence.
For goods, here's an example from Primal Strength. First, they set out the consumer's statutory right to cancel in the UK. You'll note the customer pays the return costs, and custom orders are non-returnable:

The company sets out its own refund conditions, which give customers 30 days to return items rather than 14:

For services, again, you only need a brief clause setting out the rights to cancel.
Here's an example from Experian:

After you have your Refund Policy created, it's time to display it so your customers can find it quickly, easily and whenever they wish to access it.
Let's look at some of the most common and effective ways to do this.
How Do I Display a Refund Policy?

Most customers want to know how they can return or exchange an item if they're unhappy with it, which is why you need to display your Refund Policy somewhere obvious.
There are four common places where you can display it.
Website Footer
Many ecommerce stores or businesses place a link to their Return or Refund Policy in their website footer. Customers can then review the Refund Policy as they browse the website.
Here's an example from Primal Strength: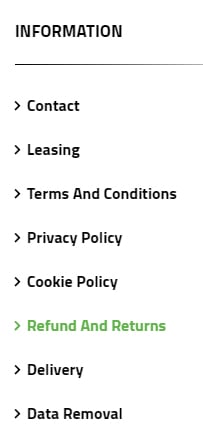 And another from Topshop: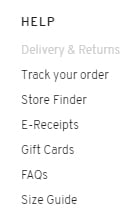 Within Other Policies
Alongside setting out key refund clauses within the Terms of Use Agreement itself, you should also include a link to your full Refund Policy, if you have one.
Why is this helpful? It's all about convenience and transparency. A customer can quickly review your refund terms before they enter into a contract with you.
Let's look at Marks and Spencer. This company does both.
Within the Terms and Conditions is a link to a specific section on Terms and Conditions of Sale:

The linked section contains key information on, for example, the company's goodwill Refund Policy, and the consumer's statutory rights:

You'll also see further down the page a link to Marks and Spencer's full Refund Policy which should be read alongside the Terms and Conditions:

So if you have a separate Refund Policy, you should always link to it through your main Terms and Conditions or Terms of Use.
Checkout Page
You should always link to your Terms and Conditions at critical places on your website e.g. the checkout screen. If your Refund Policy is included within your Terms, customers can read it before completing the checkout process.
This is the approach taken by MyProtein:

Or, you can highlight your Refund Policy during the checkout process, like Marks and Spencer does:

Order Confirmation Emails
You might want to draw a customer's attention to your Refund Policy in order confirmation emails. That way, customers have an opportunity to review your Policy again and they can quickly jump back to it if they need to return or exchange an item.
Although some companies include a link to the Refund or Return Policy in emails, it's less common than highlighting the Policy elsewhere. This is unsurprising since the contract is already concluded at this point.
Conclusion
Every business selling goods or services should publish a Refund Policy online. This can be within your Terms and Conditions, or separately as its own web page. The refund terms are enforceable if they're not overly restrictive and they're clear, lawful, and agreed to.
Every Refund Policy should include clauses on:
Refundable items
The refund process
Exchangeable items
The exchange process
Shipping costs
How to cancel orders
How long refunds and exchanges take
Publish your Refund Policy within your Terms and Conditions, or provide a link to the Refund Policy in your website footer or at another key place such as during checkout and in an order confirmation email.