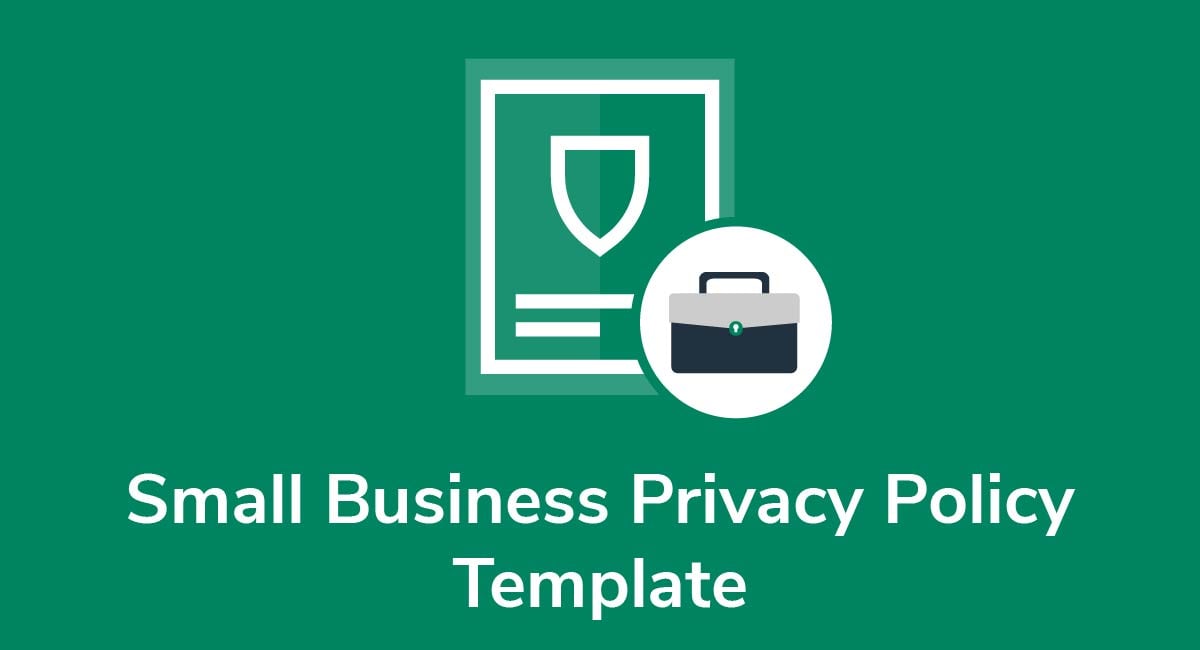 As a small business owner, you most likely collect personal data such as names, addresses, and financial information from your customers. If you collect such data, then you are legally required to have a Privacy Policy on your website disclosing the type of data you collect, why you require it, and how it's used.
Below, we explain why a Privacy Policy is required and what information one must contain. We'll show you how to create your own Privacy Policy for your small business and display it for the world (and the legal authorities) to see.
Need a Privacy Policy? Our Privacy Policy Generator will help you create a custom policy that you can use on your website and mobile app. Just follow these few easy steps:
Click on "Start creating your Privacy Policy" on our website.
Select the platforms where your Privacy Policy will be used and go to the next step.

Add information about your business: your website and/or app.

Select the country:

Answer the questions from our wizard relating to what type of information you collect from your users.

Enter your email address where you'd like your Privacy Policy sent and click "Generate".

And you're done! Now you can copy or link to your hosted Privacy Policy.
What is a Privacy Policy?
A Privacy Policy is a statement explaining how your company collects, processes, and uses personal or sensitive data. It must be accessible, easy to understand, and available at all times.
What's considered "personal" or "sensitive" data varies slightly depending on which privacy laws apply, but generally:
Personal data is any information which can be used to identify a specific person
Sensitive data is any data you should handle with extra care and protect from unauthorized access
Examples of personal data include names, email addresses, IP addresses, and screen handles. Sensitive data includes biometric data, health information, and religious or political beliefs.
There's no strict format for how you should structure a Privacy Policy. However, to count as a valid Privacy Policy, every notice should contain clauses covering specific points which we'll consider in more detail below.
Are Privacy Policies Legally Required?

The short answer is yes. There are various privacy laws around the world which require businesses to provide Privacy Policies.
The most significant laws include:
If you collect any personal or sensitive information from your customers or website visitors, then you're required to comply with various privacy laws around the world such as these. These privacy laws typically require you to provide a written notice describing your data processing practices (in other words, a Privacy Policy) so that visitors can make an informed decision before choosing to share data with you.
As a small business owner, you will collect at least some personal data from your customers in order to fulfill contracts with them. The exact privacy laws you're bound by will vary depending on where you do business, but in any case, you should assume that a Privacy Policy is legally required.
Why Do Small Businesses Need Privacy Policies?

Aside from complying with legal obligations, there are other reasons why you should have a Privacy Policy as a small business owner:
Some third-party service providers, such as Google Analytics, require you to have a Privacy Policy as a condition of using their services. If you don't have a Privacy Policy, you're violating the User Agreement/Terms of Service.
A Privacy Policy promotes transparency. Customers will have more confidence doing business with you if they understand why you need their data and how you use it.
Privacy Policies show customers that you take their personal data seriously. By showing yourself to be a responsible business owner, you can build your reputation and grow your company.
What's more, you can use your Privacy Policy to help resolve disagreements between customers and your business, which minimizes the risk of costly legal disputes. This is especially helpful if you're a new or small business.
How to Write Your Own Small Business Privacy Policy

Before we consider in detail how to draft a small business Privacy Policy, here is a summary of what a typical Privacy Policy should cover:
The type of personal or sensitive data you collect
How you collect this data
Why you collect this data
How this data is used by your company and/or third parties.
Who you share the data with.
Your company's contact details.
What rights customers have regarding their personal data.
What steps you take to secure and protect personal data.
Whether you sell personal data to other companies.
As mentioned earlier, you don't need to structure your Privacy Policy in a specific way. However, you may take steps to make it easier for customers to read, such as using bold font, bullet points, small paragraphs, and section breaks.
Starbucks, for example, has a "Contents" section and breaks its Privacy Policy into smaller, more manageable sections for visitors to check out: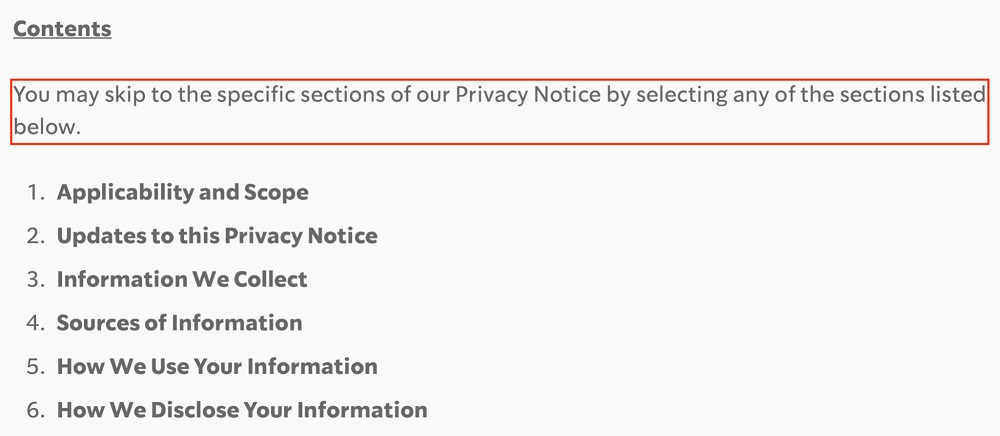 Here's a deeper look at some of these common sections that your small business Privacy Policy should include.
What Data You Collect, and How
Your Privacy Policy should clearly specify what type of data you process and how you collect it. The best way to set out such a clause is by using a list format with highlighted or italicized text so that customers can quickly scan the clause for the most relevant details.
MAC Cosmetics, for example, lists some categories of data it collects from customers, although the information it collects changes depending on how the customer interacts with the company:

In the "How We Collect Information" clause, it sets out some of the various ways that the company collects data and reserves the right to combine data sources when necessary:

Be transparent about the various types of personal information you collect from customers, even if you think some of it may already be obvious e.g. their names and delivery address for shipping an order.
Clearly outline how you collect that data so customers know where you are obtaining their data from.
Why You Collect the Data
One of the vital purposes of a Privacy Policy is explaining why you need the data you collect. In other words, there should be a specific purpose, or reason, for why you collect every piece of information you're asking for or collecting passively.
Set out your purposes clearly, but don't word your clause so strictly that there's no scope to deviate, as business needs change.
Barnes & Noble, for example, collects data "as necessary" to fulfill business purposes. Helpfully, the company also sets out how customers can change their data usage preferences, which is a good practice to adopt:

How You Use the Data You Collect
Your customers have a right to know how you use the data you collect from them. You should set out how you use information in a straightforward, clear way which is easy for readers to understand.
MAC Cosmetics has a "How We Use Information" clause which sets out specific ways the company uses personal data, but it remains broad enough to cover situations which are not specified:

A broadly worded clause gives you the ability to change the scope of how you use personal data without constantly needing to update your Privacy Policy.
How You Share the Data You Collect
As a small business owner, you might wish to share personal data with third parties such as vendors and financial companies. You may also be required to share data for legal reasons e.g. lawsuits or cases of copyright infringement.
Your Privacy Policy should clearly specify the situations when you might share data, and with whom.
Bob and Brad, for example, sets out its third party data sharing practices in a list format. The short sentences and bullet points draw attention to the key details and make the clause readable:

Gymshark adopts a similar approach, but emphasizes that they'll only share data with consent or when there's a legal basis for sharing it: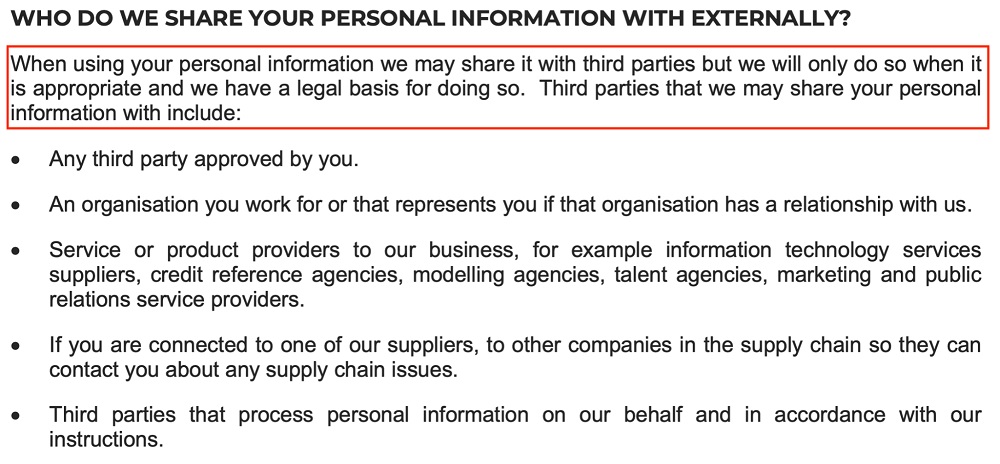 Customer Rights
Your customers have the right to make certain choices about what happens to their personal data. The exact rights vary depending on which laws apply, but you should set out the relevant choices clearly.
It's best to keep a clause like this simple rather than using too much legal jargon.
Here's how LIVLY sets out what rights customers have and, importantly, tells visitors how they might exercise those rights: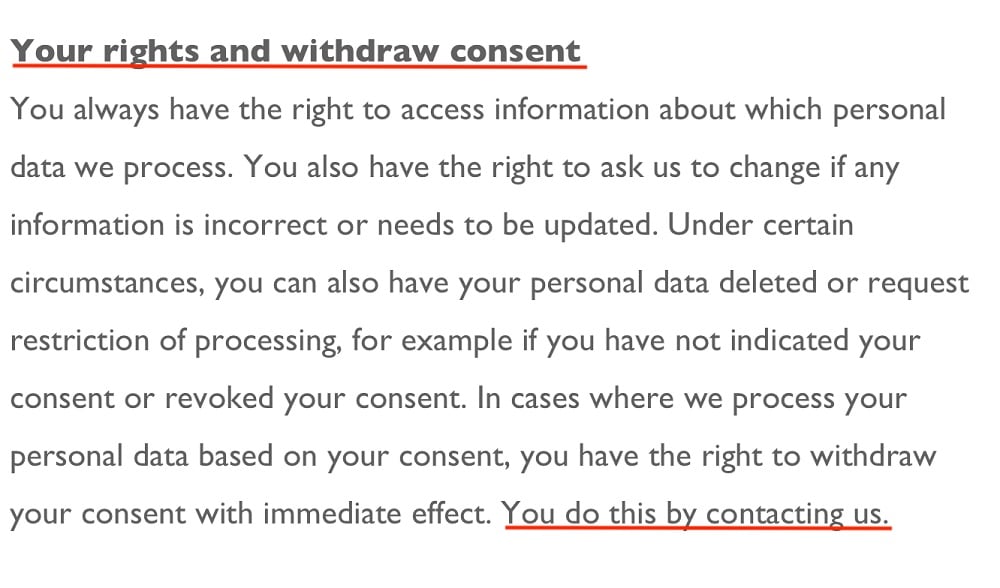 In short, assume that your customers don't know anything about privacy laws and make your Privacy Policy as user-friendly and helpful as possible. Give visitors the information they need to exercise their privacy rights.
Data Security
You're expected to take reasonable steps to protect personal data in your possession. Although you can't prevent every cyber attack or data breach, you must handling the data you process with due care.
To give consumers confidence in how your business protects their data, include some information on your data security practices in your Privacy Policy.
Etsy, for example, uses industry-standard level encryption but it can't guarantee data is 100% safe. This is a good clause because it goes some way to limiting Etsy's liability if there's a breach:

Your Contact Details
Include at least one, but preferably two or more ways for customers to contact your business to ask questions about your Privacy Policy or privacy practices.
Etsy customers, for example, can send an email or written correspondence, or contact the Help Center: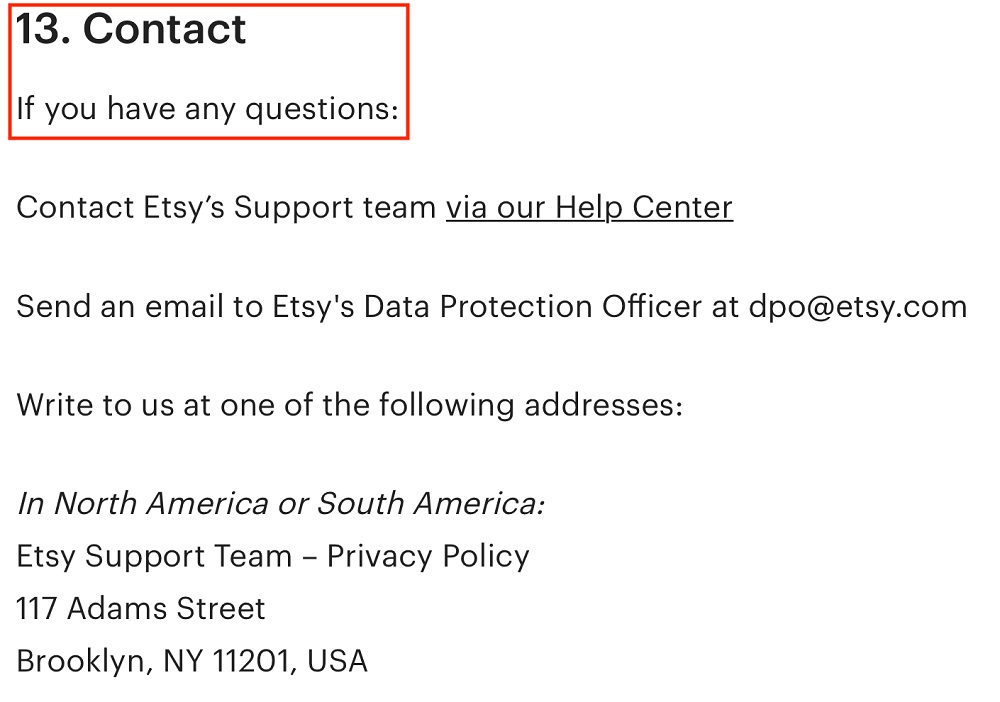 Good customer service is critical to a small company's success. Make sure it's easy for customers to reach you if they have any concerns.
How to Display a Small Business Privacy Policy

At a minimum, you should link your Privacy Policy to the following places on your website:
In your website header, footer, or sidebar
At the account sign-up stage
In a pop-up notice, such as a cookie consent notice
During the checkout process
For example, you can view Etsy's Privacy Policy in the website footer:

There's also link to the Privacy Policy at the account login and sign up stage: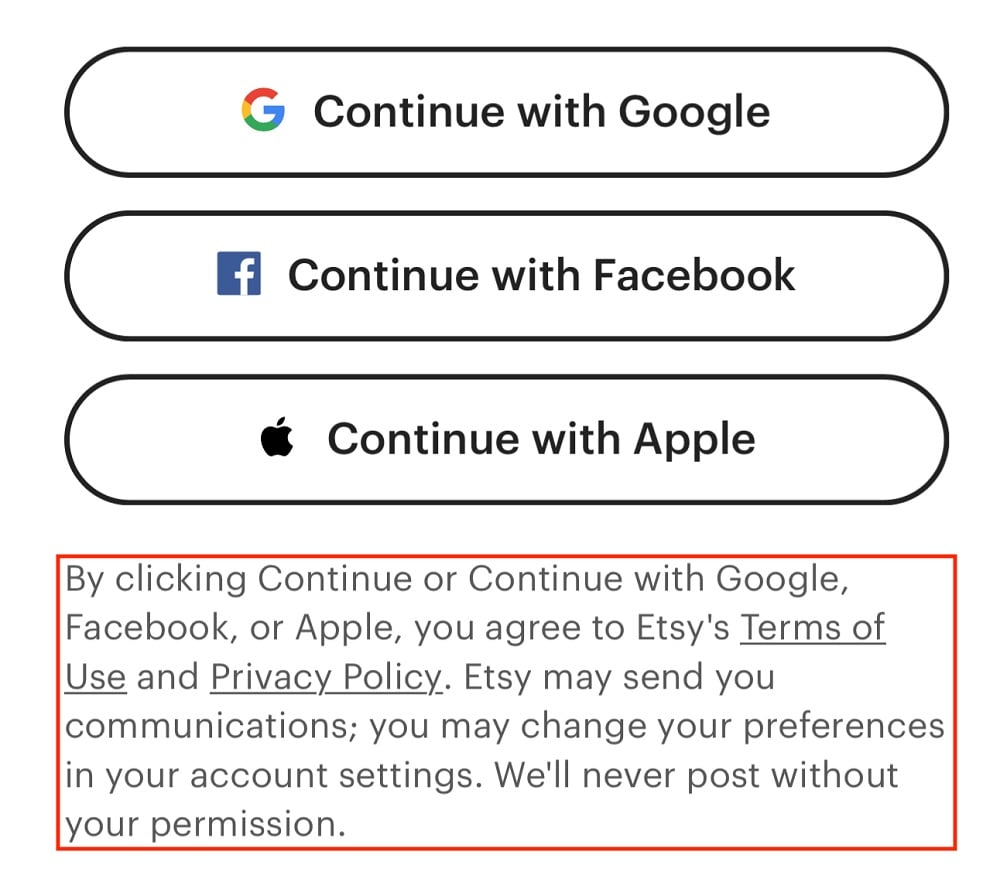 Here's an example of how to link a Privacy Policy to a cookie consent notice:

What's important is that customers have the opportunity to view (and agree to) your Privacy Policy before they give over any personal data, so make sure that your notice is readily accessible.
Getting Consent to a Small Business Privacy Policy

Depending on which laws apply (for example, the GDPR), you may need express and unequivocal consent from customers to your Privacy Policy. Even if these strict laws do not apply to your business yet, it's best to get clear, informed, and overt consent before processing personal data.
To get express rather than implied consent, use tools like "I Agree" checkboxes or buttons. The customer must interact with these features in order to provide permission, which means they're expressly consenting to your Privacy Policy and how you use their data.
Here's an example of how this could look in action, from The Washington Post: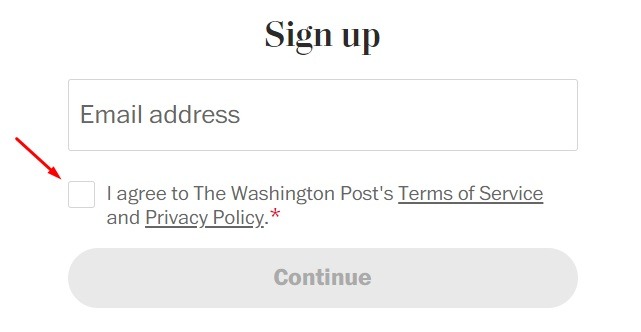 Key Takeaways
Every small business should have a Privacy Policy outlining how it collects, processes, and shares personal data and for what purposes. Not only are Privacy Policies typically required by law if you collect personal data, but they can help to minimize disputes and demonstrate your commitment to responsible data handling.
Every small business Privacy Policy should have, at minimum, clauses describing the following:
What information you collect
The reasons why you collect this data
The ways you use the data you process
How you secure the data you collect
Your data sharing practices
Your company's contact information
Privacy rights and consumer choices
Display your Privacy Policy somewhere prominent such as your website footer, and always get express rather than implied consent to its terms such as via an "I Agree" checkbox.