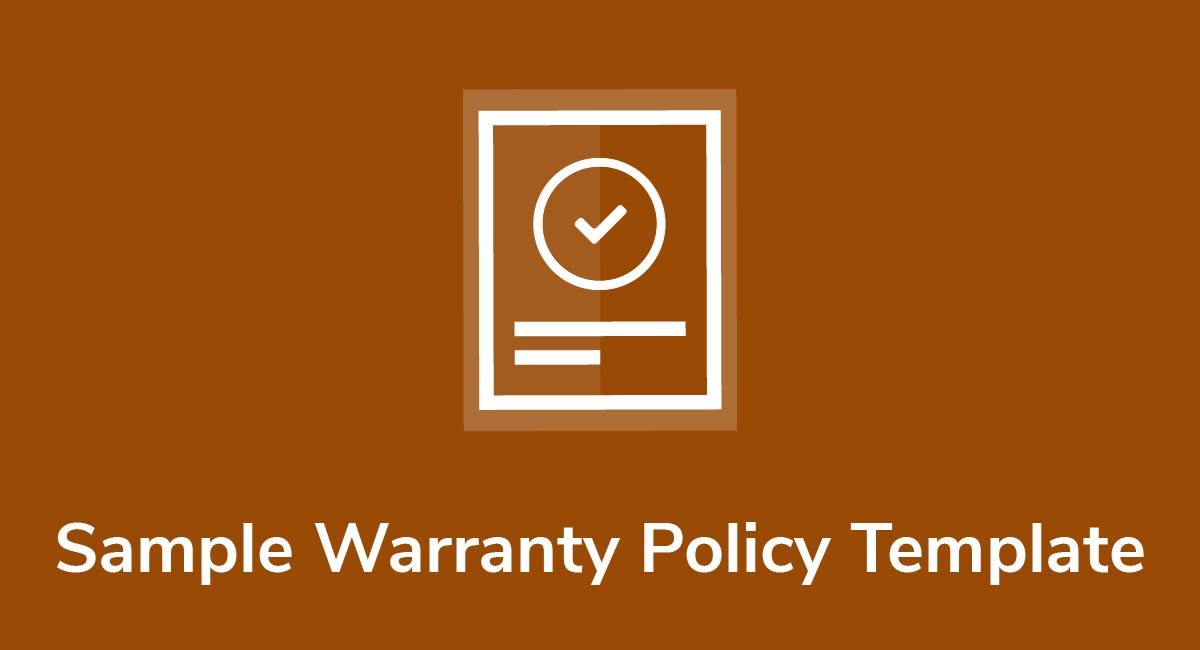 A Warranty Policy is a statement that lets customers know what type of warranty coverage is included with or available for the product or service they purchased or are considering purchasing.
In this post, we'll take an in-depth look at Warranty Policies to help you determine if you need one, what to include if you do, and where to put it for maximum noticeability.
Get compliant today with PrivacyPolicies.com
Select one of our generators to create the required legal agreements for your business:
Integrate a free Cookies Notice and Cookie Consent banner to comply with the EU ePrivacy Directive and the new GDPR law regarding cookies.
Who Needs a Warranty Policy?
Businesses aren't legally required to provide or offer warranties for goods or services, but having a Warranty Policy makes sense for a number of reasons.
Before making a purchase, savvy customers like knowing what is (and isn't) covered and for how long. This is especially true when they're unfamiliar with a company, product or service.
Whether you sell high-end software to corporate clients online or lumber to local contractors from a brick-and-mortar store, it's worth considering the following benefits when determining whether you need a Warranty Policy:
A Warranty Policy will provide some measure of legal protection by limiting risk if your product has quality, safety, or perishability issues that can make it dangerous
A Warranty Policy will keep your business in-line with competitors that offer Warranties, especially when your products, services and prices are similar
A well-crafted Warranty Policy provides a clear path for customers seeking repair or resolution
A Warranty Policy can provide value and minimize perceived risk for customers (especially new ones) by implying that you sell high-quality products or services and stand behind them
What Information Should a Warranty Policy Include?

Warranty Policies are often the first place customers turn when they're having an issue with a product or service. Since they can detail individual product warranties or a company's general policy, they should be written clearly and provide the customer with an easy-to-follow path to resolution.
Though they vary by industry and business type, well-written Warranty Policies generally include the following information:
The length (term) of the Warranty period
Which services, parts, and components are covered (and which aren't)
How customers can get repairs or remedies for product or service issues
How the company will handle Warranty issues once the customer has initiated the process
Whether the Warranty or any of its provisions are affected by state or federal laws
Before crafting your Warranty Policy, it's a good idea to think about what you sell, how you sell it, and what your competitors' warranties look like.
Once you've taken these considerations into account, you may want to include the following sections that are commonly found in Warranty Policies.
What Your Warranty Policy Covers
It's a good idea to lay out exactly what your Warranty Policy covers right out of the gate.
The screenshot below shows how Goodyear Service Network lists which parts and labor are covered for different products and services and for how long: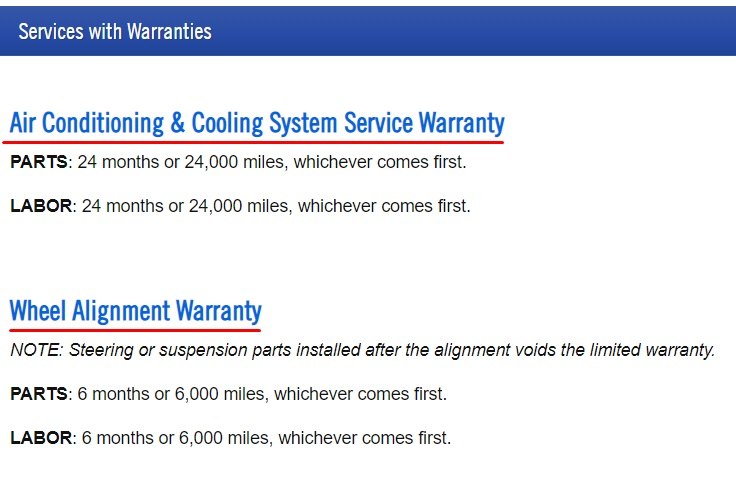 This may also be a good time to address how additional repairs are handled for items that have already had Warranty work done.
What Your Warranty Policy Does Not Cover
It's just as important to spell out what your Warranty Policy doesn't cover in addition to what it does. This will decrease the likelihood of customers assuming that their product or service is covered when it isn't.
The screenshot below taken from the Goodyear Service Network Warranty Policy shows a number of exclusions:

It's also worth noting that many Warranty Policies cover defects in material and craftsmanship, but exclude damage caused by the following:
Unauthorized modification
Negligence or misuse
Natural disasters like hurricanes and hail storms
Riots, wars, looting, and vandalism
Theft
How Long Coverage Lasts
Because nearly all warranties expire, it's important to note when coverage ends and how the Warranty term is determined.
Depending on your product or service, Warranty terms can be expressed in time (days, months or years) or some other measure like operating hours or miles, which are common on heavy equipment and on-road vehicles respectively.
Premium eyewear retailer Luxottica lists the warranty term for Ray-Ban glasses (one of its brands) as follows:

How Customers Can Get Warranty Service
Customers like to know exactly what they need to do to get their issues resolved as quickly and painlessly as possible. In this section of your Warranty Policy, you may want to include things like:
Whether the product needs to be returned in its original packaging
What method of shipping must be used, and who's responsible for the charges
Whether accessories (like chargers and protective cases) need to be returned as well
What documentation (like original sales receipt) the customer needs to include
Whether there are fees for handling, restocking, etc.
Fishing equipment manufacturer Shimano lists the following criteria (and others) for customers who need Warranty repairs for damaged fishing reels:

Additional items that can be covered in this section include:
Whether Warranty repairs are free
Whether the company will use new, used, or rebuilt parts
When damaged products will be replaced with new ones instead of being repaired
How items that are no longer covered by a Warranty will be repaired
How the Company Will Address and Correct Warranty Issues
Even a well-written Warranty Policy won't be much help if a customer can't figure out how the company will attempt to resolve their issue. Let customers know what exactly you will do in response to a claim.
Here's how Seiko instructs customers how to initiate a Warranty repair, what documentation they must provide, and how the company will fix their watch.

Definitions of the Terms Used in Your Warranty Policy
Some Warranty Policies include terms and phrases that customers don't understand or that are open to interpretation. When this is unavoidable due to necessary technical or legal jargon, it's wise to include definitions for the sake of both parties.
For example, CAT Footwear includes a section defining the term defective product:

What Laws Govern the Terms of Your Warranty Policy
In the United States, Warranty Policies can be affected by the laws of the state in which the business is headquartered or by those in the state where the buyer resides or does business. Some states also prohibit Warranty exclusions or limitations, so the terms may not apply equally to everyone.
Since online sporting goods retailer Cabela's is owned by Missouri-based Bass Pro Shops, includes the following notice:

Now that you've seen some of the key clauses and information to include in your Warranty Policy, let's look at some of the best ways for you to display your completed policy.
Where to Display Your Warranty Policy
Warranty Policies are most commonly found at the bottom of website homepages, in the footer.
They may also be placed within Terms and Conditions agreements, or on individual product pages if terms vary from product to product.
Retailer L.L. Bean places its Warranty information under the Shipping section at the bottom of its homepage: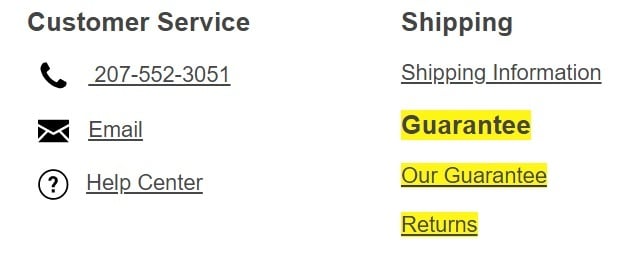 MAKO Boats places its Warranty Policy under the About heading at the bottom of its homepage:

Fishing lure and outdoor gear manufacturer Rapala places its Warranty Policy under its own heading in the Customer Service section: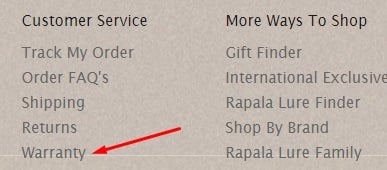 Additional Warranty Policy Considerations
In addition to content and placement, there are a few other things to keep in mind when it comes to creating and presenting your Warranty Policy.
Keep your Warranty Policy as Simple as Possible
Keeping things as concise, straightforward, and free from legalese as possible will help customers understand your Warranty Policy and navigate the process with relative ease.
Provide a Clear Path to Remedy and Satisfaction
Buying a product or service that doesn't perform as expected can be frustrating, and customers are generally skeptical of Warranties in general.
The process can be tedious and time-consuming even under the best circumstances, and Warranty Policies that don't give customers a clear path to resolution can make things even worse. When Warranty issues aren't dealt with efficiently and professionally, some customers inevitably end up taking their business elsewhere.
Know Your Warranty Policy Inside and Out (or Make Sure Someone Else Does)
Whether it's you (the business owner) or a department of experienced professionals, customers need to be able to discuss their issues with actual people capable of walking them through the process.
Even well-written Warranty Policies may need additional explanation.
Give Customers the Option to Extend Their Warranties
Customers often feel more confident about making a large purchase when the product or service comes with a robust Warranty, and they may feel even better when they can extend coverage for a reasonable price.
In addition to reassuring customers that they're making a smart buying decision, Warranty Policies can be profitable revenue streams.
Take Advantage of Warranty Issues
Some business owners view warranty issues with dread, but others welcome the opportunity to build rapport with their customers by helping them through an unpleasant experience. In addition, the process often provides valuable feedback that can be used to improve products and services.
Summary
A sound Warranty Policy can minimize business liability, strengthen relationships with your customers, help you stay competitive, and provide valuable feedback that can lead to product and service improvements.
Warranty Policies vary by industry and business type, but most include:
The length of the policy term in time or some other measure
Which services, parts, and components are covered and which aren't
What customers need to do to get warranty work done
How the company will handle Warranty issues once they've been initiated
Whether the warranty or any of its provisions are affected by state or federal laws
The format, content and placement of your Warranty Policy will depend on what you sell, how you sell it, and what your competitors include and exclude in their warranties.
Display your Warranty Policy within your website footer to make it easy for customers or potential customers to access at any time. At a minimum, display it within your Terms and Conditions agreement.