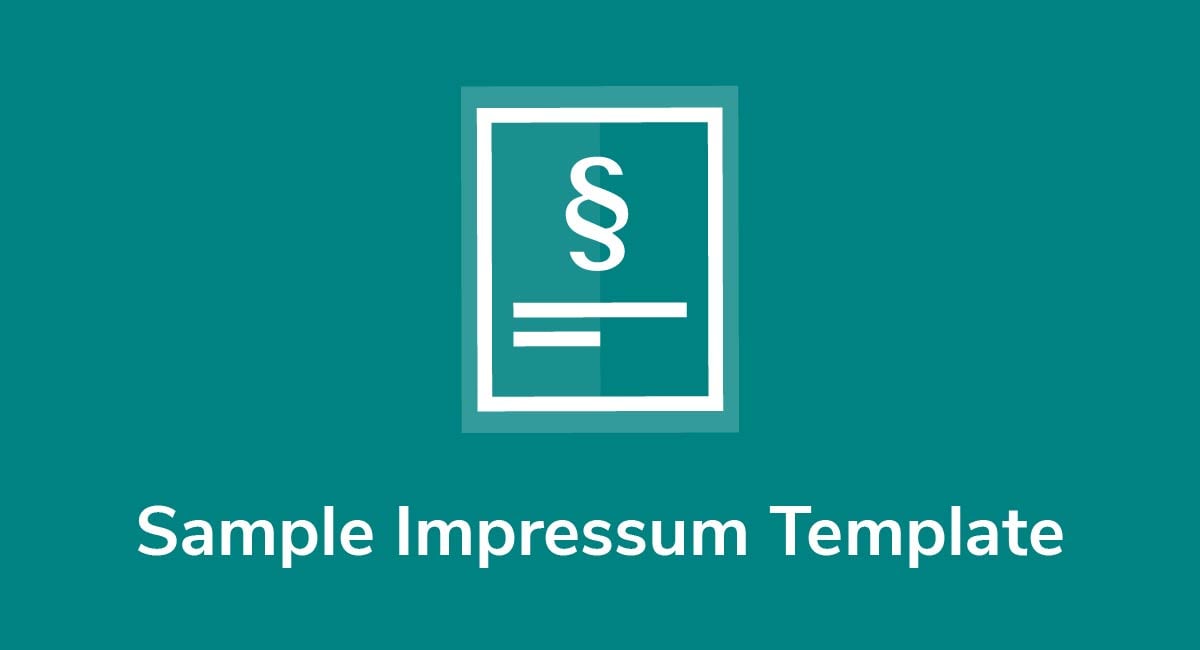 An Impressum is a legal disclosure and statement of ownership. It's used to declare that you are the owner and author of content on your website and it promotes business transparency. Customers can use the information contained within your Impressum to contact you with questions or research your company in more detail.
Many business owners in the U.S. are unfamiliar with the term "Impressum" and what it means, as it's a requirement in German-speaking countries such as Germany, Switzerland and Austria. However, if you own an online business, you may need to include an Impressum on your website depending on your target market.
Below, we explore what an Impressum is, when it's required, and how you can draft your own Impressum for your business.
Get compliant today with PrivacyPolicies.com
Select one of our generators to create the required legal agreements for your business:
Integrate a free Cookies Notice and Cookie Consent banner to comply with the EU ePrivacy Directive and the new GDPR law regarding cookies.
What is an Impressum?
As noted above, an Impressum discloses details about your business, such as:
Business name
Business address
Company registration details
Contact information e.g. telephone number, email address
Name of the website owner or manager
We'll cover the exact requirements in more detail below. For now, just remember that Impressums are legal statements used to assert a company's ownership of website content and disclose their contact information.
Impressum Examples
Here's an Impressum example from German financial services company, Allianz (English translation here). You will see that the company details are clearly designated, and there are various ways for consumers to find more information about Allianz such as by emailing or calling the company: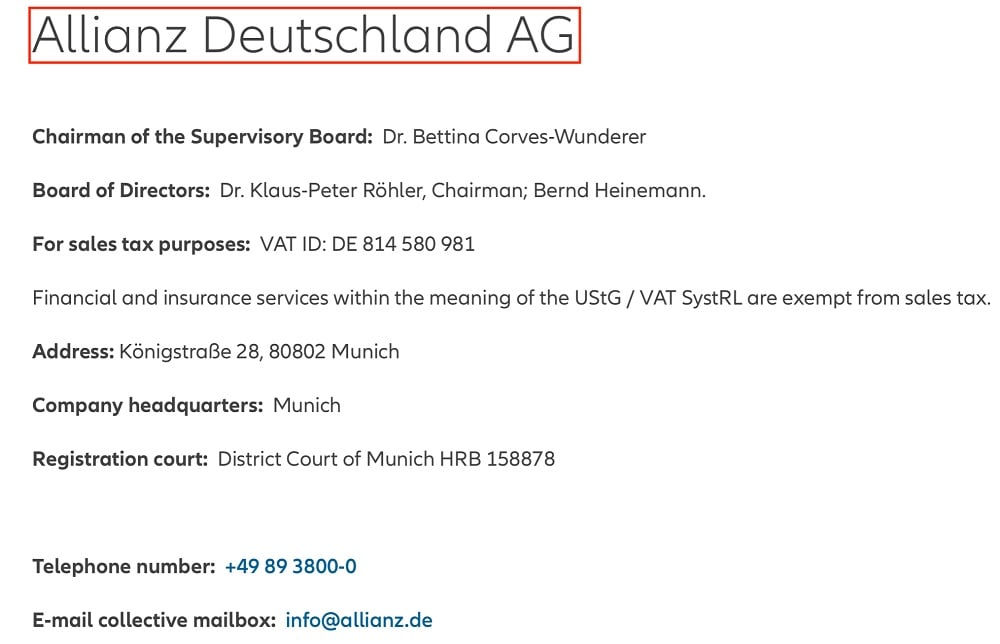 Here's another example from BMW. The Impressum is titled "Imprint" which is a legally acceptable alternative, and it contains all the key business information a customer might need: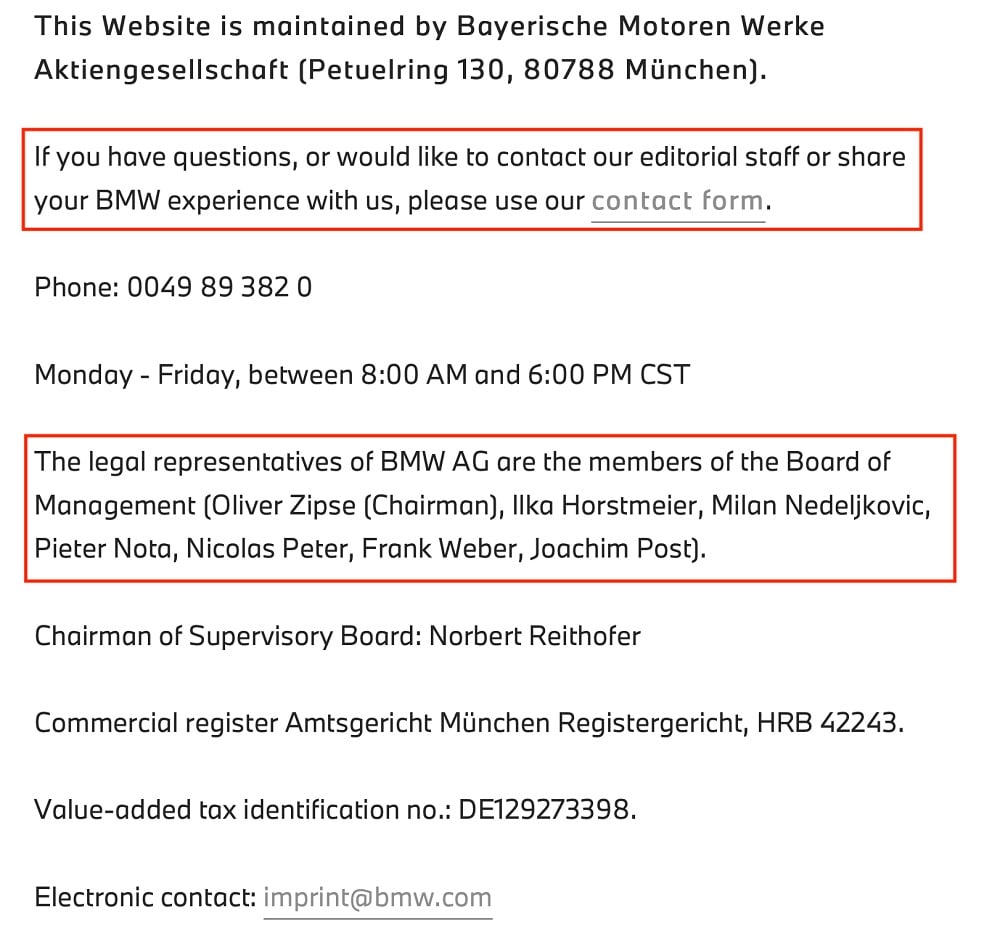 Now that you have a better idea about what exactly an Impressum is and what one looks like, let's look more at the requirements surrounding them.
Are Impressums Legally Required?

Under the Telemedia Act 2007 (TMA), Impressums have been legally required for commercial sites in Germany, Switzerland, and Austria for some time. Although there have been changes to German media law since 2007, including the new Telecommunications and Telemedia Data Protection Act (TTDSG in German), Impressum rules remain the same.
Impressum requirements actually extend beyond German-speaking borders. If your website is commercial in nature and targeting these markets, you also need an Impressum.
So, you need an Impressum in the following circumstances:
Your website has a ".de" domain name
Your business has an online presence in a German-speaking country
You wish to sell to customers in Germany, Austria, or Switzerland
As an example, Gymshark is a British brand. However, it sells in Germany, so there's an Impressum on the Gymshark EU website:

Even if you don't need an Impressum, you should know what to include and how to format one so you're prepared to enter the German-speaking markets.
Do I Need an Impressum if I Already Have a Privacy Policy or Terms and Conditions Agreement?

If you have a website which is commercial in nature and you're competing in German-speaking markets, then yes, you still need an Impressum even if you have another legal agreement such as a Privacy Policy. Here's why:
Privacy Policies are legally required if you process "personal data" i.e. data which can identify a person. Even if you don't need an Impressum, you may still require a Privacy Policy.
Terms and Conditions agreements serve an entirely different purpose from Impressums. You may still want to include Terms and Conditions on your website even if there's no need to include an Impressum page.
Always err on the side of caution. If you suspect that you may require an Impressum, include one on your website or seek legal advice.
What to Include in Your Impressum

If you need an Impressum, it must include the following:
Business name and address
Names of any authorized representatives
Contact details enabling quick, electronic, and direct contact e.g. an email address
Details of the supervisory body or authority (if applicable)
Company registration details
VAT number (if applicable)
Registration court and number (if applicable)
Let's consider these requirements in more detail so you know how to draft your own Impressum.
Business Name and Address
Your official business name (including any legal designations such as LLC) and address must be clearly noted in your Impressum.
Bayer uses succinct paragraphs to set out its full name and business address. These details are included at the start of the Impressum for clarity and transparency: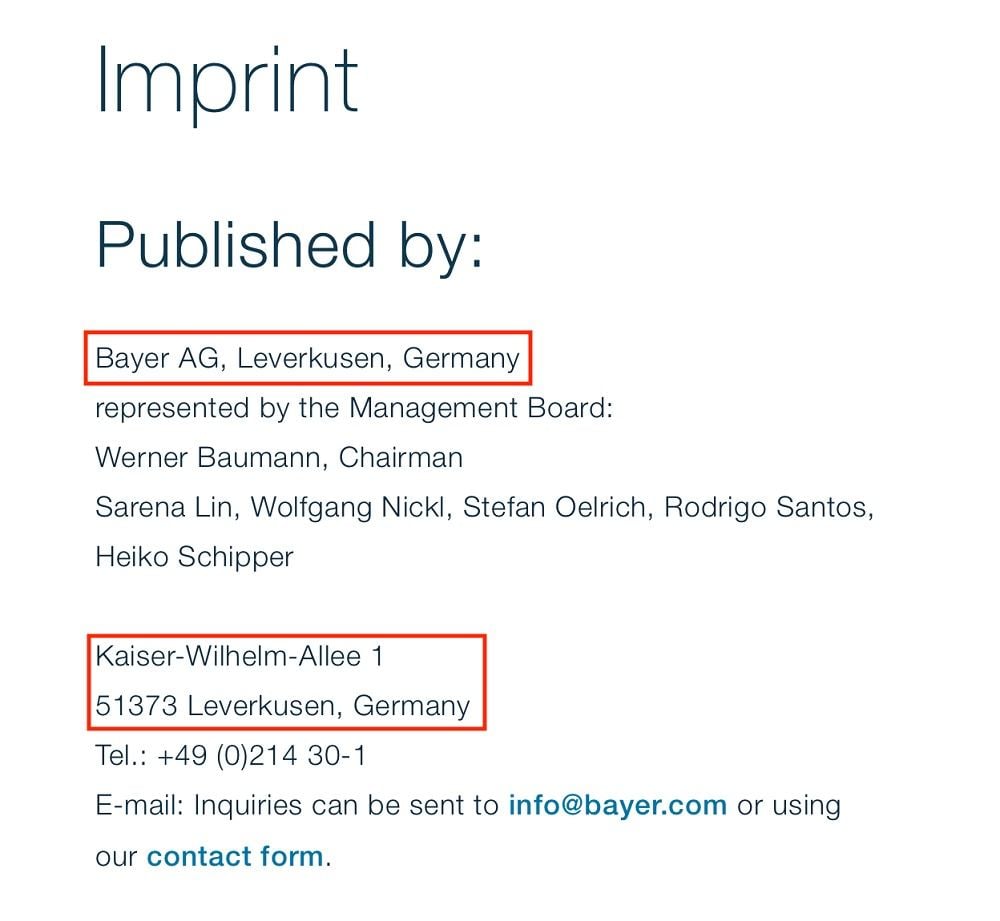 And law firm Gleiss Lutz, which has various offices, lists the details for each office separately:

Authorized Representatives
Authorized company representatives are individuals who have the power to act on the company's behalf. Examples include members of the company board, treasurers, and financial officers.
List the names of these representatives in a clear, succinct way.
BMC Switzerland uses a list format:

BMW uses short paragraphs and clearly notes the Chairman:

Naming the authorized representatives promotes transparency, so make sure to name everyone who qualifies.
Contact Details
As mentioned, you are required to include at least one method of communication which is fast, direct, and electronic (an email address). However, you should also include at least one other means of contact, such as a telephone number or web portal, to give visitors more options.
Here's a good example from Allianz. Allianz provides a telephone number, email address, and a link to its Help and Contact Center. The details are clearly listed in bold font so they're instantly recognizable: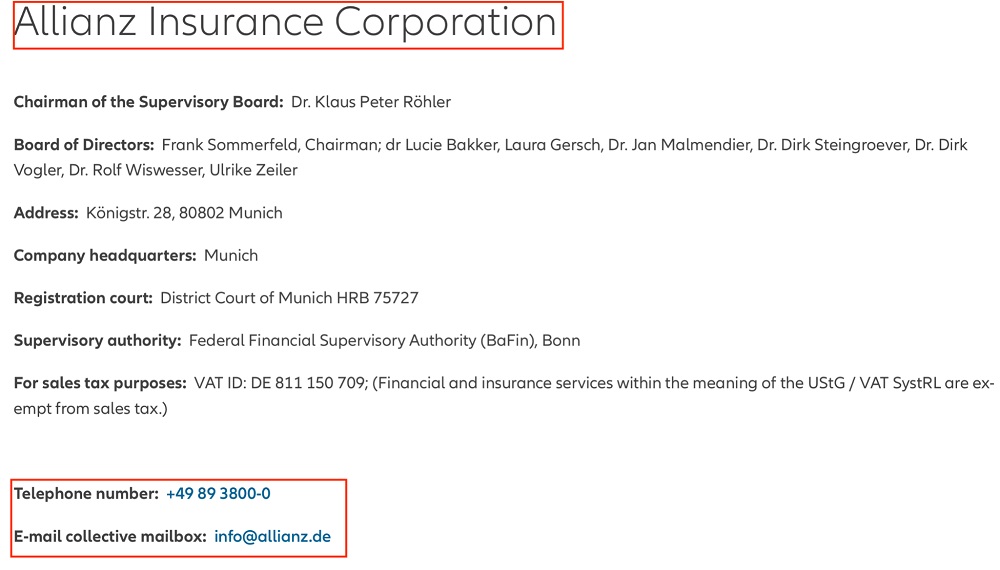 The Mercedes Imprint includes an email address, telephone number, and fax number: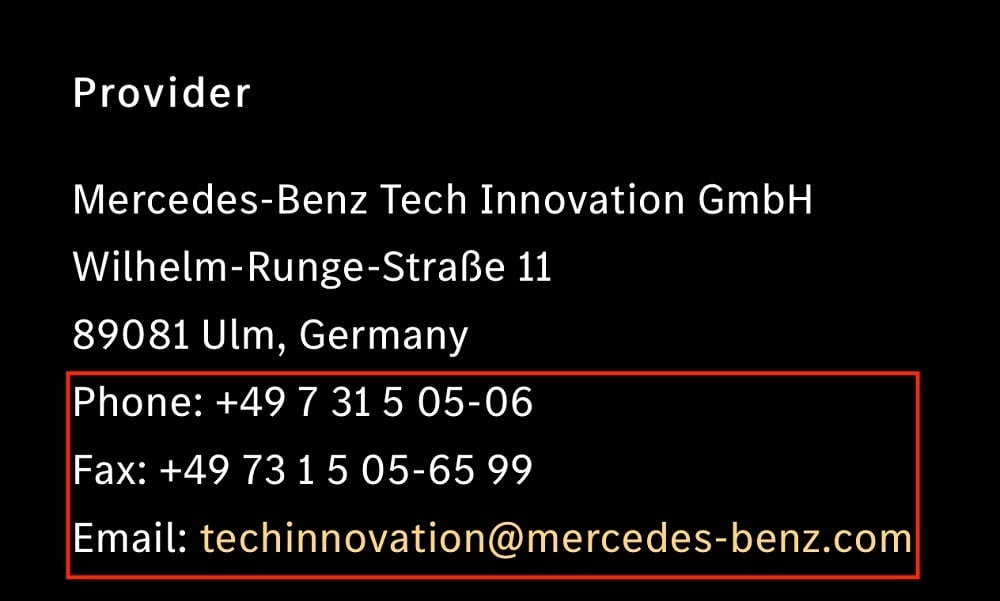 Supervisory Authority
If you're subject to a supervisory body, include the details within your Impressum page. This allows readers to learn more about the rules you are required to follow and the standards you're expected to uphold.
Gleiss Lutz, for example, lists which Professional Codes of Practice apply to the firm:

The Allianz Private Health Insurance Corporation, listed in the Impressum, is subject to the Federal Financial Supervisory Authority in Bonn: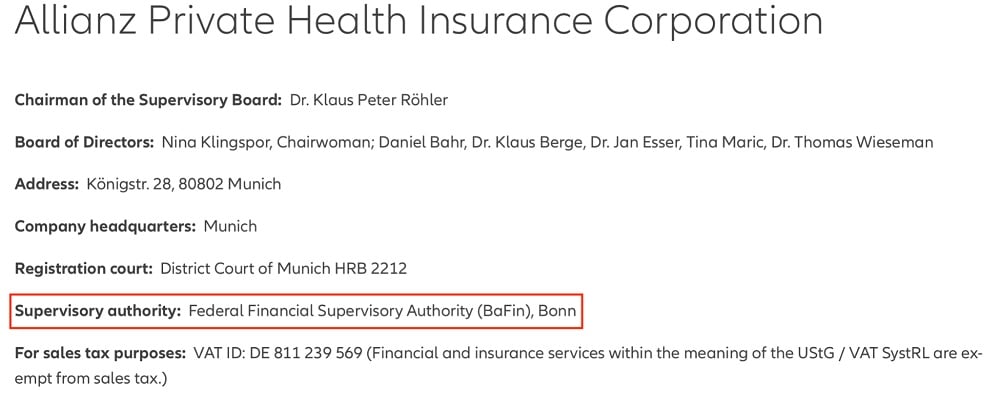 Use bold type, bullet points, or other formatting to highlight key details such as your regulatory body.
Company Registration Details
Your company receives a registration number when it's incorporated, and this should be included in the Impressum notice. You should also include other relevant company numbers, such as your:
Tax ID
Commercial register number
Capital stock (if applicable)
The exact numbers you need to display may vary depending on the sector you operate in. However, you may choose to include as many extra details as you wish to enhance transparency.
Bayer, for example, includes its turnover tax ID alongside its commercial registration details:

Oakley lists its share capital and trade registry number:

Oakley's Impressum is concise. If you're looking for a good example of a succinct Impressum, this example is an ideal place to start.
There is no specific place in your Impressum where you should list these business registration numbers. Just ensure that they're clearly marked so that visitors know what the number refers to, should they wish to check it out.
VAT Number
Your business may have a value-added tax (VAT) number if you are registered for VAT. This number helps to identify your tax status. If you do have a VAT number, this should be listed on your Impressum page so that readers can check the VAT register if they so wish.
It's logical to include your VAT number close to your other business ID numbers or your commercial registration details. BMC Switzerland sets out its Swiss VAT number beneath its registry entry:

As with other Impressum details, clarity is key. Make sure your number is clearly marked as the VAT number and set it apart from your other information so it's easily recognized. Use bold, italics, or other formatting such as headers to achieve this.
Registration Court and Number
In some countries, such as Germany, you may be required to join a type of commercial register managed by a local court. If such a rule applies to you, then you should display the name of the court and the relevant number in your Impressum. The Allianz Impressum referred to earlier is a good example of how these details may be displayed on your page.
Other Relevant Details
There may be more specific requirements depending on which industry you operate in. For example, law firms may be required to specify bar admission details or declare what the firm is qualified to advise on e.g. tax or financial matters. You may also need to provide details of your liability insurance, especially if you provide legal or financial advice. You may also wish to include a copyright notice within your Impressum to clarify ownership rights.
Complying With Impressum Requirements

Information contained within your Impressum should be "easily, directly, and permanently accessible." There are a couple of steps you must take to comply with this rule:
Display your Impressum clearly
Name the Impressum appropriately
Ensure your Impressum works across all types of electronic devices e.g. laptops, cellphones
Let's go through these requirements in turn.
Where to Display Your Impressum
Your Impressum should be easily accessible from anywhere on your website. Include a link to your Impressum page in places where visitors expect to find links to legal documents e.g. your website footer or header.
As an example, Netflix displays its link to its "Unternehmensangaben" in the website footer:

Check each page on your website to ensure that the Imprint is accessible from anywhere.
Name the Impressum Document
While it's best to call the document an Impressum, there's no legal requirement to do so. You can also title it something similar such as "Company Disclosure" or "Imprint," just so long as it's clear what readers will find if they click the link.
Gleiss Lutz, for example, calls its webpage "Legal Info" but it's clearly an Impressum: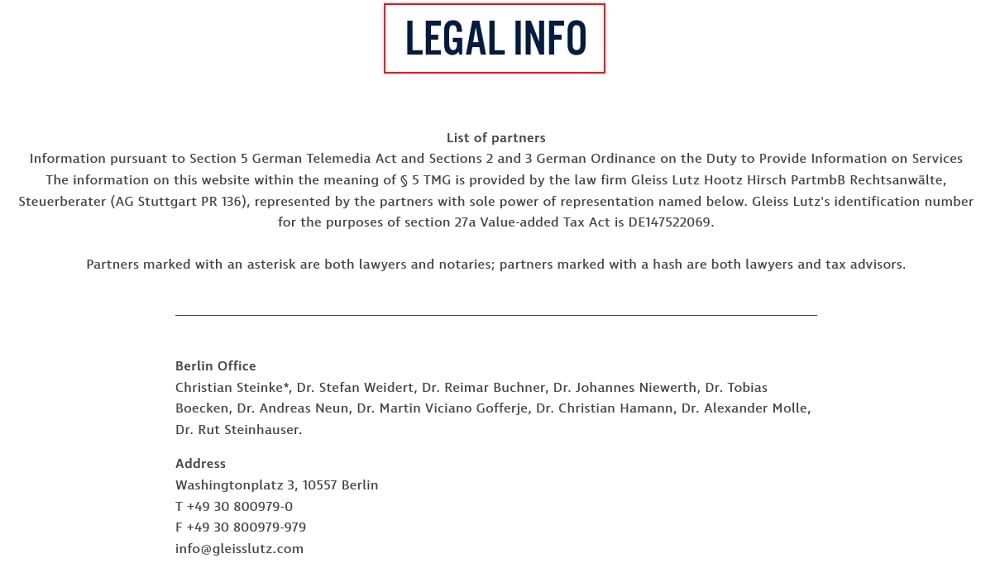 Just make sure the title makes it obvious to visitors that they're about to read a summary of the company's core information.
Ensure Device Compatibility
Check that your Impressum displays correctly on different devices. This includes making sure that links are easily visible no matter whether someone is using a smartphone or a laptop, and ensuring that the links are clear and clickable. The page should also load correctly without undue lag time or formatting issues.
Seek help from a web developer if you're unsure how to check your website for device compatibility.
Penalties for Non-Compliance With Impressum Laws

Non-compliance with the relevant German media laws, including the TMA and the TTDSG, can lead to financial penalties and reputation damage for your business.
Financial penalties can jeopardize business growth, especially if you're a new or smaller business.
Reputation damage could mean you lose clients or struggle to attract new business.
Given the commercial risks associated with non-compliance, seek legal advice if you're unsure what responsibilities you have under the applicable media law.
Summary
An Impressum is a legal declaration asserting key information about your business. It's legally required if you have a ".de" domain or sell goods and services to German speaking markets i.e. Germany, Switzerland, or Austria.
Your Impressum should contain the following:
Full official business name and address
Name of authorized representatives
Contact details, one of which must be an email address
Registration details and registration numbers e.g. VAT number
Other relevant information e.g. details of the applicable supervisory body
Your Impressum should be clearly displayed on your website, easy to open, and accessible at all times. It should be compatible across devices and clearly titled so consumers know what it is.