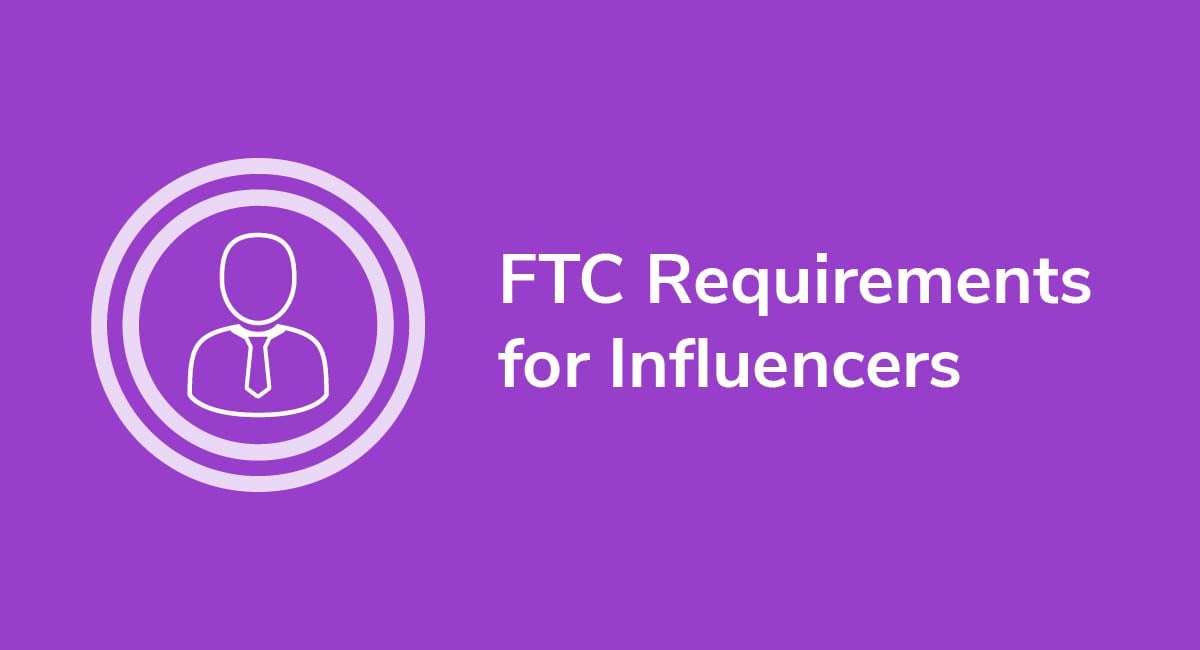 If you're an online influencer, then you're also considered to be an advertiser. Being an advertiser means you're required to follow certain rules set out by the Federal Trade Commission (FTC).
Failing to follow these rules could mean you face financial penalties and reputational damage. However, the good news is that the rules are fairly straightforward. The FTC wants to help you strike a balance between endorsing brands and being transparent, so it has clear guidelines for influencers of all sizes to follow.
Below, we explain what the FTC requires of influencers and how you can stay compliant.
Get compliant today with PrivacyPolicies.com
Select one of our generators to create the required legal agreements for your business:
Integrate a free Cookies Notice and Cookie Consent banner to comply with the EU ePrivacy Directive and the new GDPR law regarding cookies.
The Federal Trade Commission (FTC) at a Glance
The Federal Trade Commission (FTC) is a U.S. government agency. Its objective is to protect U.S. consumers from unfair, deceptive, or misleading business actions by holding the following principles:
Consumers should have the information they need to make informed purchasing decisions.
Businesses should not be allowed to deceive the public or use unfair tactics to encourage them to choose one business over another.
The idea is that regulating business practices will encourage consumers to trust companies and promote a thriving, healthy economy:

One of the FTC's priorities is ending misleading, false, or exaggerated ads. As such, the FTC regulates how businesses might advertise goods and services online across all platforms including:
Apps
Blogs
Email
Social media
Websites
Influencers are regulated by the FTC.
Let's consider how the FTC defines an "influencer" and what it means to endorse or otherwise advertise a product.
The FTC's Definition of "Influencer"

Influencers are considered "endorsers" by the FTC. Endorsers, or influencers, promote services, products, or places on behalf of another company. They have followers online and their content might influence others to take certain actions such as:
Buying a specific product
Trying a new restaurant
Going to a certain holiday resort
It's not enough that a company asks you to review their product, though. For the FTC's purposes, you're an influencer who must comply with the rules if a company does any of the following:
Compensates you for reviewing their products e.g. they give you free products or something else of value
Pays you to review their products
Sponsors you in some way e.g. you're in a paid partnership with them
If you work with a brand to recommend them or any of their services, then you could be considered an influencer.
The FTC's Definition of "Endorsements"
According to Section 255 of the FTC Act, an endorsement is an "advertising message" which consumers may assume reflects someone's experiences, opinions, beliefs, or findings:

An advertising message can be any communication including verbal statements. The definition is quite broad.
We'll look at more specific requirements in a moment, but some examples of an endorsement include:
Recommending a product on social media
Using a brand's hashtag to promote them on social media
Having affiliate links on your website
Reviewing a restaurant that gives you a benefit when someone goes there
If you have a relationship with a brand, and you communicate about them at all online, then you must disclose that relationship.
What Does the FTC Require for Influencers?

Briefly, the requirements are:
You must disclose if you have a material connection to a brand
You must use simple, easily understood language to make your disclosure
You must display your disclosure somewhere obvious
Let's break down these requirements one at a time.
1. Disclose Material Connections
Material connections are personal, family, employment, or financial relationships with a company. They must be disclosed because they affect the credibility, or weight, of your endorsement.
As an example, say you have a medical procedure at a clinic. You're paid to talk about your experiences. You can't, for example, talk about how great the doctor is or how easily you recovered without mentioning your relationship with the clinic.
Ultimately, all FTC compliance comes down to erring on the safe side. It's better to make "too many" disclosures than too few.
Regardless of whether you're expressing a positive or negative opinion, always disclose relevant relationships.
If there's any chance that a follower could be influenced to take a certain action after reading your comment then include an affiliate disclaimer.
There's one simple point to bear in mind here. If knowing you have a connection to the brand whose product you're endorsing might change how someone evaluates your message, then you need to disclose your connection.
2. Use Simple Language
The key to FTC compliance is transparency. Your disclosure should be simple, clear, and easy to understand. Avoid using vague language or abbreviations which followers might not understand.
For example, the FTC cautions against using the hashtag terms "spon" or "sp" when you want to declare a sponsorship:
Instead, use the full word "sponsored" after the hashtag. The FTC recommends using tags or abbreviations that the average viewer will already be familiar with, such as "ad" or "advertisement."
Here's an example from Ryann Lynn Weller of how you can fit such a hashtag into your content properly. Placing the brand's hashtag and the "sponsored" hashtag alongside each other is transparent and FTC-compliant:

3. Display Disclosures Conspicuously - Don't Bury or Hide Them
Disclosures should be placed somewhere obvious alongside your endorsement. This means at the top of a blog post with affiliate links, or at the beginning of a video for a product review. The point is to get the disclosure to the public before they even have a chance to interact with your affiliate links or other endorsements.
Here's an example of a very obvious partnership disclosure from Dr. Lyss where every brand she partners with is listed under a "partnership" title:

This simple "Includes paid promotion" notice at the bottom of an influencer video meets this requirement as well as all of the above requirements:

It uses just 3 simple words, displayed prominently at the bottom of a video, to disclose the material connection of paid partnership to the viewer.
You might also use hashtags or abbreviations audiences are familiar with. Here's an example of using the word "ad" in the table of contents of a video, and how it gets displayed so viewers are aware of the influencer relationship here: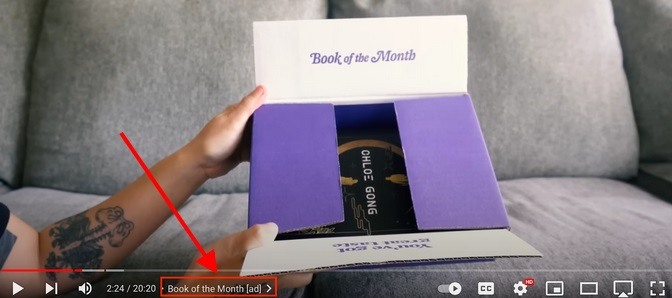 You can also see the "ad" tag in the video description: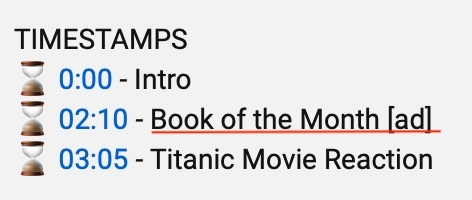 Just as you can add disclaimers to videos, you can easily overlay them on pictures or alongside them in the description. Or, you can use hashtags with words such as "sponsored" or "paid partnership" to make your relationship clear.
Common Mistakes Influencers Make: What Not to Do

Here are a few mistakes influencers often make that ends up with them being non-compliant with the FTC.
Don't Make False or Unsubstantiated Claims
There are two basic rules here:
If you haven't tried a product, you can't claim you tried it and liked it. Similarly, you can't say you liked something you didn't like just because it's made by a brand you work with.
You can't make any claims about a product's effectiveness if the company you're working with doesn't have evidence to support the claim. For example, you can't say a product can (or even might) cure a condition unless the company can back this up with evidence.
If in doubt, don't make the claim.
Don't Assume Followers Know About Brand Relationships
You might think that your followers know which brands you work with, but this is an unwise assumption to make.
New followers are unlikely to know all of your brand partnerships.
Established followers may not remember who you work with.
Non-followers who view your content will most likely have no knowledge of your brand relationships.
If you're making any comment which might be considered an endorsement, however brief, FTC rules mean that you need a disclosure.
Penalties for Non-Compliance with FTC Requirements

If you don't comply with FTC requirements, a few things may happen:
You could receive a warning, or Penalty Notice, from the FTC about deceptive advertising.
If you don't correct the issues identified in the Notice, you could face financial penalties. Depending on the violation, such penalties could be significant.
Your reputation may be damaged among your audience. This could have a negative impact on your brand and your ability to remain an influencer.
You may lose credibility with the brands you endorse. This is another way that your ability to make a living as an influencer could be affected.
In the most serious cases, the brands you endorse may also be sued or fined.
Takeaway: FTC Requirements for Influencers
Influencers promote goods, services, and locations online. They encourage their audience to try new brands or shop with certain companies. The comments they make are considered advertisements, or endorsements, by the FTC. Therefore, influencers must follow advertising rules to prevent deceiving or misleading the public.
The FTC's main requirements for influencers are:
You must disclose if you have a material connection to a company, which means a financial, personal, employment, or family relationship.
Your disclosure must be placed prominently within the content or endorsement message. It should be hard to miss.
The disclosure must be simple to understand, so use clear language and short sentences.
Don't make any claims about products or services you haven't tried (unless, of course, it's to say you haven't tried it). Don't make scientific claims about a product if the sponsoring company doesn't have evidence to back it up, and don't say you liked a product you didn't like. In other words, avoid anything which could be deemed deceptive, fraudulent, or inaccurate.
It's unwise to assume that your followers or audience knows about your connection. Always err on the safe side and disclose your relationships. However, if you're just telling your followers about a product or service you like, but it's unsponsored and there's no brand connection, you don't need to disclose that it's unsponsored.