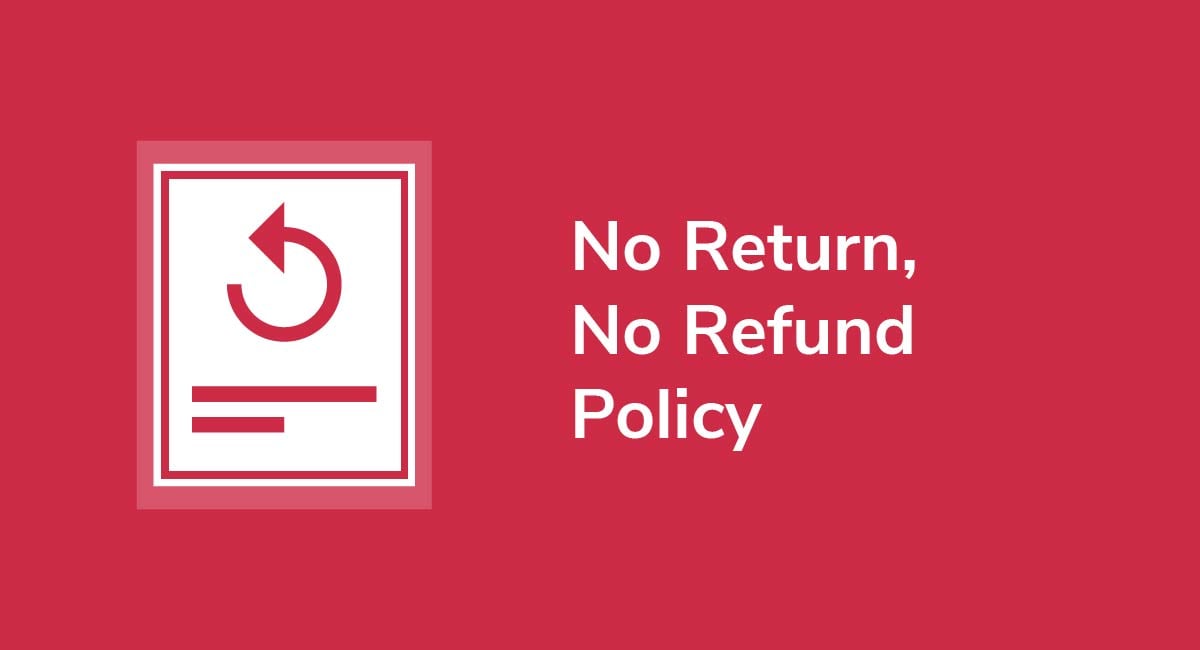 A No Return, No Refund Policy is a policy where you declare publicly that you don't accept returns or issue refunds.
Here is an overview of what a No Return No Refund Policy should contain, whether these policies are legal, and how you can create and display your own.
Get compliant today with PrivacyPolicies.com
Select one of our generators to create the required legal agreements for your business:
Integrate a free Cookies Notice and Cookie Consent banner to comply with the EU ePrivacy Directive and the new GDPR law regarding cookies.
What is a No Return, No Refund Policy?
A No Return, No Refund Policy informs customers that all sales are final, meaning they can't get a refund or return any products they purchase.
There's no set format for writing or displaying a No Return, No Refund Policy. You can either have a separate Return and Refund Policy that confirms that all sales are final, or you can insert a clause prominently into another legal notice such as your Terms and Conditions agreement.
Here's an example of a "no refund" clause from FLEO. Although the company accepts domestic (U.S.) returns, all international orders and sale items are final: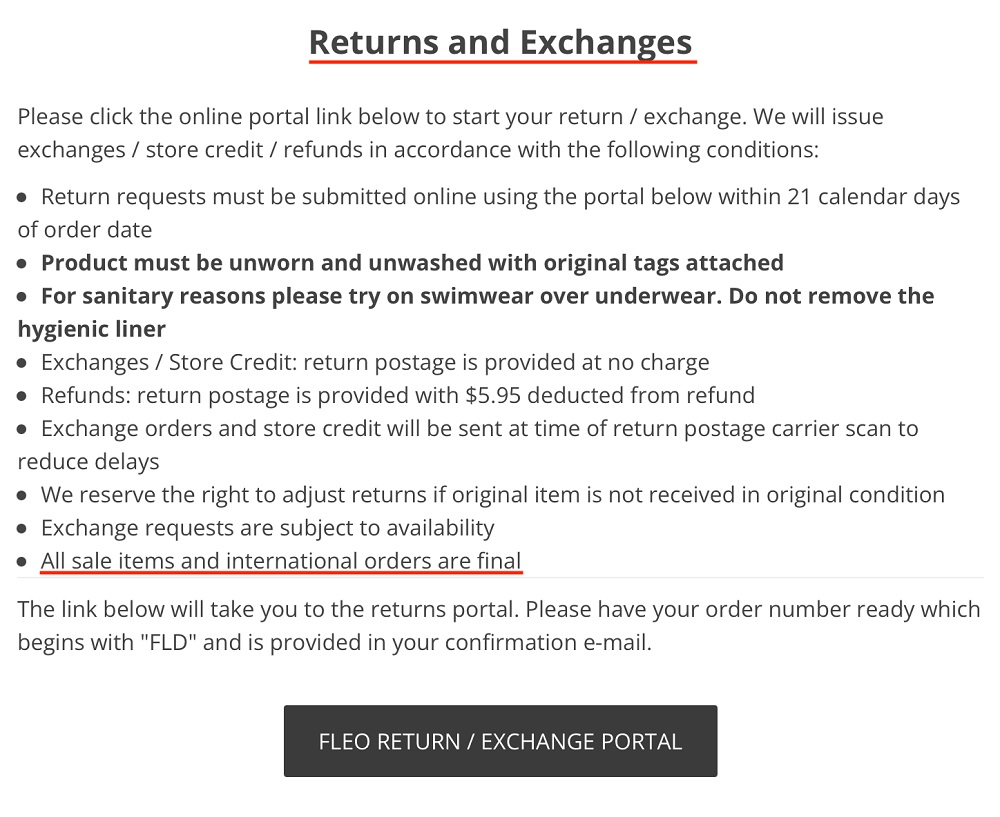 We'll cover how you might phrase such policies in more detail below.
Are No Return, No Refund Policies Legal?

Not always. Here's a brief summary of the position in various countries and territories around the world:
Australia: In Australia, customers can return defective products or if it doesn't work as advertised. There's no legal right to return an item just because they change their mind.
Canada: There are no federal laws prohibiting stores from using No Return, No Refund Policies. However, if you don't want to offer refunds or exchanges, customers should be made aware that all sales are final.
China: Customers can return goods within 7 days of purchase, including items purchased online, unless the items are perishable or they pose a health risk e.g. opened cosmetics.
EU: If goods are faulty or not as described, customers can have a refund if they're in the EU. Items purchased online can be returned to an EU retailer within 14 days for any reason.
UK: Customers in the UK can return items that are faulty, not as described, and not fit for purpose. Shops are not required to provide a Returns Policy but they must honor the Policy if they have one.
USA: There are no federal laws obliging companies to offer refunds, so you can usually have a No Return, No Refund Policy. The Policy should be displayed conspicuously so customers have a chance to read it before buying anything. Look into state and local laws, though.
What can we take from these rules?
In short, No Return, No Refund Policies can be used in certain countries such as Canada and the USA. However in some places, such as the UK and Australia, businesses are not obliged to accept returns just because a customer changes their mind but they must offer refunds in certain circumstances. This means that businesses there can't use general No Return, No Refund Policies.
If you're based in countries where customers are legally entitled to refunds, you can have a restricted Returns Policy rather than a No Refund Policy. We'll cover the differences in how you might word these policies below.
What are the Benefits of No Return, No Refund Policies?

There are three specific benefits to having a No Return, No Refund Policy:
When you have a clear, transparent No Return, No Refund Policy, customers know what to expect. Your terms are obvious which means there's less chance of time-consuming disputes arising.
Since all sales are final, a No Return, No Refund Policy makes it easier to predict your cash flow and keep more of your revenue.
Unless you fail to deliver an item or it's not as described, it may be easier to reverse or refuse chargebacks if you have a No Return, No Refund Policy in place.
A No Return, No Refund Policy can help you run your business more efficiently, depending on your commercial goals.
Are There Downsides to a No Return, No Refund Policy?
There are a few downsides to having a No Return, No Refund Policy in place:
When customers know they can't return an item, they may be less likely to make a purchase.
If your competitors offer more generous refund terms, your would-be customers might shop with them instead.
Strict No Return, No Refund Policies are fairly uncommon. This makes them be viewed in a suspicious light and could deter customers from trusting your business. In effect, if you won't stand behind the quality of what you're selling and allow for returns, why should a customer put trust in ordering from you?
Although No Return, No Refund Policies are perfectly legal in some jurisdictions, you need to make sure they align with your business objectives before implementing one.
No Return, No Refund Policies by Product Type

No Return, No Refund Policies are more common for certain products and services than others. You'll more often see them with things such as subscriptions, digital products, intimate items and perishables.
Subscriptions and Memberships
Depending on which country's commercial laws apply, businesses can often treat subscription and membership fees as non-refundable. The reasoning behind this is that the subscription or membership benefits have already been had during the time period, so returning the money basically means the person got the benefits for free since there isn't a tangible item to return.
Kobo, for example, does not offer refunds on membership fees already paid if a customer cancels their plan:

Digital Products
It's common for businesses to refuse refunds on many digital products such as:
The logic behind this is the same as it is for denying refunds for subscriptions and memberships.
For example, Walmart will not offer refunds on software downloads or electronic games:

Just keep in mind that different countries will have laws requiring you to refund electronic and digital items in certain circumstances.
Perishable Items
Perishable items can't be resold once they've reached the consumer for a variety of reasons. Such items include:
Flowers
Fresh cakes
Frozen food
Poultry
Magnolia Bakery, for example, treats most sales as final:

Personalized Items and Gift Cards
You might refuse refunds for personalized items as these are much harder to resell. However, the relevant commercial laws might compel you to offer refunds if e.g. the name is wrong or the product is faulty.
Often, businesses won't accept returns for gift cards. Barnes & Noble, for example, won't offer refunds on Access Codes or gift cards:

Hygiene Restricted Items
Businesses often refuse refunds on items which may be unhygienic to resell such as:
Cosmetics
Hosiery
Lingerie
Jewelry for piercings
In some countries, you may be required to accept refunds on these products if they're faulty or the customer received the wrong item. Always check the applicable laws before refusing refunds.
Writing a No Return, No Refund Policy

Now we're clear on how No Return, No Refund Policies work, here's a look at what information your policy should include.
When the Terms Come Into Effect
Be transparent about whether sales are final from the moment they're completed, or whether customers have a window e.g. 14 days to return something they bought.
Ryderwear, for example, accepts refunds for non-discounted items within 60 days:

If customers in your jurisdiction have a statutory right to return items within, say, a 30-day period, you must honor this in your No Return, No Refund Policy. However, there's no need to accept refunds beyond this date if you don't wish to do so.
Always seek legal advice if you're unsure what rules apply in your jurisdiction.
What Items are Non-Refundable
You may decide that every sale is final, or you may allow customers to return some items but not others. Whether you opt for a blanket No Return, No Refund Policy or you're prepared to make exceptions, make sure the terms are clear to your customers.
UK store The Seamstress of Bloomsbury won't accept refunds unless items are folded properly and returned in perfect condition:

And Collectif Clothing won't accept certain items e.g. hosiery for hygiene reasons:
Google Play typically won't offer refunds unless specific criteria applies. It's also clear that customers can't return a product more than once, so if someone changes their mind and buys the app or game again, this will be a final sale: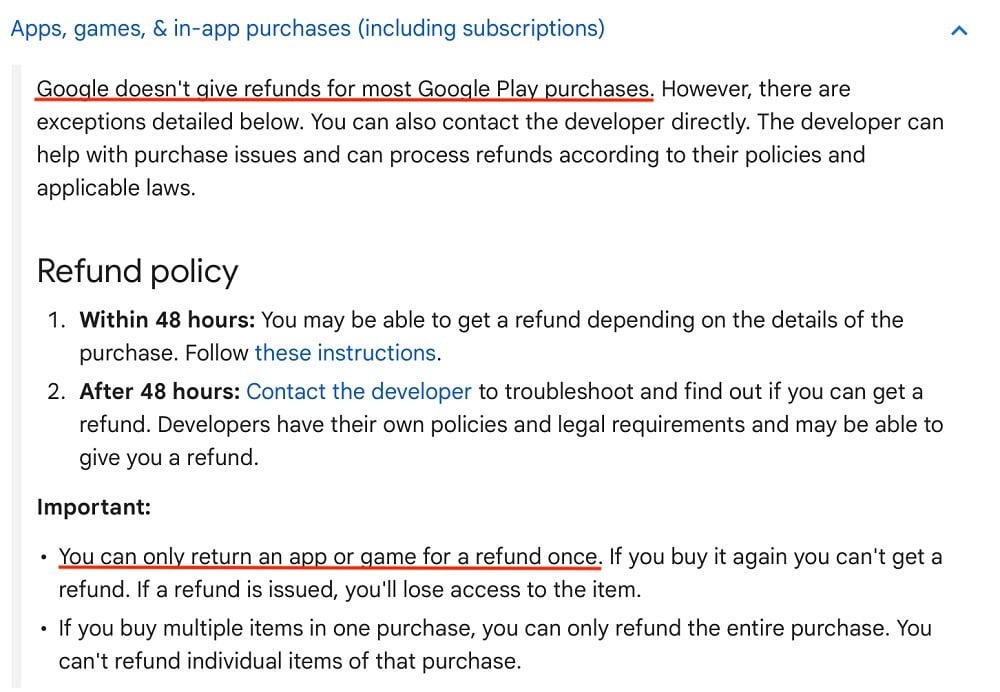 It's not uncommon for delivery fees or taxes to be non-refundable. That said, you should still confirm if this is the case so your customers are certain of this.
For example, here's how FITJEANS discloses that it won't refund original shipping costs:

Make sure your terms are clear so customers know what your Refund Policy is before they buy.
Gift Vouchers and Store Credit
You might decide it makes sense to offer store credit or gift vouchers in lieu of a refund, rather than refusing returns completely. Again, you must make this clear so customers know they can't expect a monetary refund if they shop with you.
Women's Best offers store credit rather than refunds for certain items:

While your No Return, No Refund Policy may need more detailed information, or perhaps some of these suggested clauses won't be necessary, this is a starting point that most businesses could benefit from implementing.
Your own No Return, No Refund Policy will be as unique as your business is.
Tips for Drafting a No Return, No Refund Policy

Now we've covered what No Return, No Refund Policies should include, here are some tips to help you create your own enforceable policy:
Use simple language and avoid legal jargon to ensure the average consumer understands your terms.
Consider using bullet points or short sentences to improve readability.
If you offer refunds for some products but not others, make sure the distinction is clear by using, for example, bold font or different colors of text.
Even if you don't wish to offer refunds for all products, consider if you might offer alternatives, such as store credit, as this can help with customer acquisition and retention.
You might find it helpful to look at the No Return, No Refund Policies of other businesses in your niche and evaluate how others are writing their Policies. While it's never appropriate to copy another company's legal notices, you can take inspiration from how they phrase clauses and structure their terms.
Displaying a No Return, No Refund Policy
Since No Return, No Refund Policies are somewhat uncommon and thus unexpected, it's even more important that you display your notice somewhere conspicuous so customers understand your policy before completing checkout.
The best places to display a No Return, No Refund Policy are in your website footer or sidebar alongside your other legal notices, in your Terms and Conditions, and on the checkout pages before a customer makes their purchase.
FLEO displays its notice very well, so let's consider it as an example.
First, there's a link to the Returns and Exchanges Policy in the website's footer: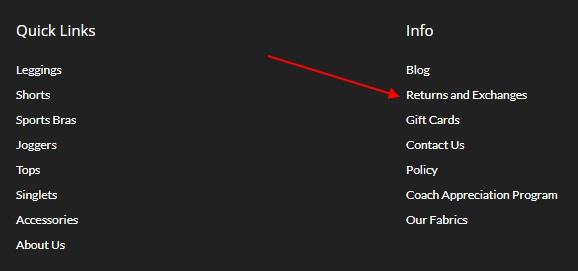 There's also an obvious "All sale items are final sale" notice at the top of the "Sale" section on the website, and every item has "Final Sale" clearly marked: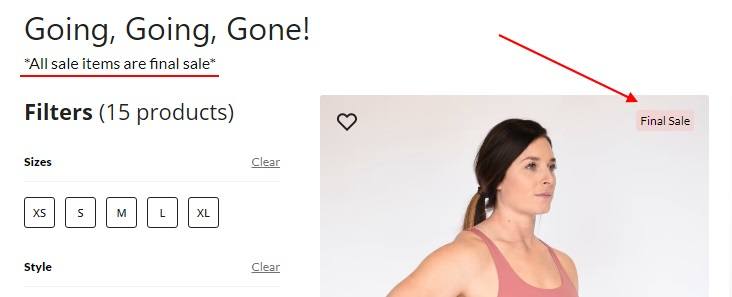 Although there's no need to add such text to your webpages and images, it ensures customers can't miss your "all sales are final" message.
Finally, customers can read the notice before they complete checkout since the Refund Policy is again linked at the bottom of that page: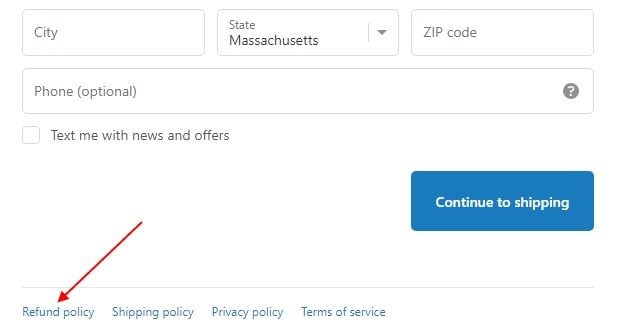 If you run a bricks-and-mortar store, you should display a No Return, No Refund Policy in your store window and at the till. And if you offer web sales of any kind, make sure you display your notice prominently online as outlined above.
Conclusion
If you don't want to offer customers a refund when they buy your products, then you should provide a No Return, No Refund Policy. Bear in mind that such policies aren't necessarily the norm, so they may catch customers by surprise.
For this reason, make sure you display your notice conspicuously or else you may be obliged to offer customers a refund even if it's not your desired policy.
No Return, No Refund Policies are illegal in some countries such as the UK and Australia. Sellers may, however, offer a restricted Refund Policy so long as the terms comply with the applicable commercial laws.
If you do opt for a No Return, No Refund Policy elsewhere, it should include the following:
When the No Return, No Refund terms come into effect e.g. is it after a certain number of days or do the terms apply immediately after completing checkout?
What products the No Refund Policy applies to. Is it everything, or only digital or perishable items?
Whether there are exceptions to your policy, such as you always allow returns/refunds for faulty items, but nothing else.
If you offer exchanges or gift vouchers in lieu of a refund.