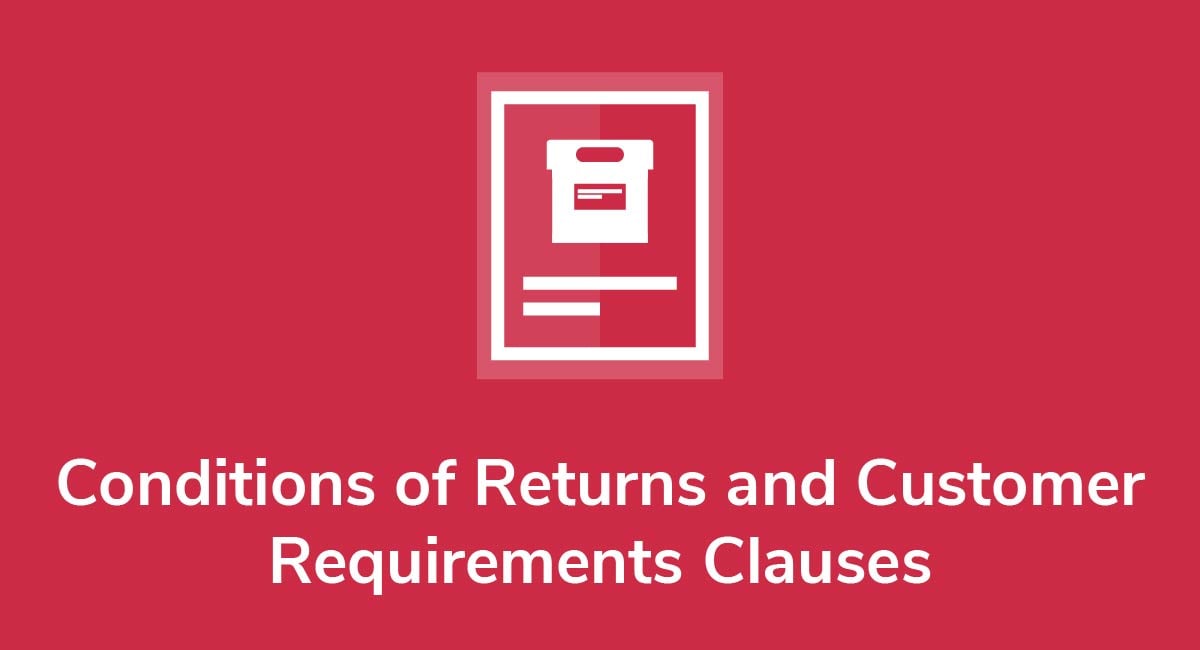 When you're selling online, be it physical goods, digital products, or services, you should always have a Return and Refund Policy on your website.
A Return and Refund Policy sets out when you are prepared to give people their money back, and any specific requirements you have in place for this. For example, you can say whether you'll only offer refunds on products which meet certain conditions e.g. they're still in the original packaging. Or, you might only offer refunds on full-price rather than sale items.
However you choose to set out your terms, it's important you make them known. Otherwise, you risk disputes with customers which are easily avoidable.
Below, we consider what conditions you might include in your Return and Returns Policy and how you should set out these clauses so they're easy for customers to adhere to.
Get compliant today with PrivacyPolicies.com
Select one of our generators to create the required legal agreements for your business:
Integrate a free Cookies Notice and Cookie Consent banner to comply with the EU ePrivacy Directive and the new GDPR law regarding cookies.
What is a Return and Refund Policy?
A Refund and Refund Policy sets out your rules regarding:
If you offer refunds
When you offer refunds
How customers go about returning an item
When you can refuse a return
What form of return you process
If you have any restocking fees
In other words, your Refund and Return Policy is a legally enforceable contract between your store and its customers.
To ensure all customers have the chance to review your policy before they complete a transaction, you should link to your Refund and Return Policy somewhere obvious on your website e.g. in the footer and at the checkout screen.
Do I Need a Refund Policy?

It depends.
In the U.S., there's no legal requirement to publish a Refund and Return Policy because customers are not automatically entitled to refunds. The exception is California, where customers are entitled to refunds in certain circumstances.
Some customers in other territories may be entitled to refunds in some circumstances, depending on the commercial laws of their country. Meaning, if you're selling to customers outside of the U.S., you should ensure there's a Refund and Return Policy on your website.
In practice, it always makes sense to have a Refund and Return Policy because it's a document you can rely on if there's a customer dispute, especially when it comes to the conditions of returns.
What are the Conditions of Returns?
Essentially, they're the circumstances in which you'll accept returns. Common restrictions include:
Items must be in their original packaging
No refunds on certain items e.g. lingerie for hygiene issues
Store credit or exchange only for sale items
No refunds without proof of purchase
By including some return conditions, you're free to reject refund requests if they don't meet your store requirements.
Remember, your Refund and Return Policy is a legal contract between you and your customers, so you can rely on these conditions if a dispute arises.
Let's consider how you might write these conditions and frame them in your policy.
How Do I Write Customer Returns and Requirements Clauses?

Your conditions of returns should be clearly set out within your Refund and Return Policy. They ought to be:
Obvious: Set your conditions apart so they stand out. You might want to use bullet points for extra clarity.
Clear: Use simple language and short sentences. Break your points into short paragraphs.
User-friendly: Always use a readable font with a clear contrast against the background. Black font against a white background, for example, works well.
There's no set format for how to write a Refund and Return Policy. It can be just a few paragraphs long, or it could be a whole Q&A section on your website. What matters is that it's easy enough for the average reader to understand.
If it's too dense or confusing, then it could lead to avoidable disputes.
What Should I Include in Conditions of Returns?

We briefly touched on this earlier, but now let's break down specific conditions you might include and look at some good examples of these clauses in action.
Conditions of Getting a Refund
First, confirm whether your business offers refunds. This should be clear from the start of your Refund and Return Policy.
Here's an example from Fitbit. You can find its Returns Policy in its Terms of Sale, and it's obvious from the first few lines that the company offers refunds on products which meet the conditions for returns: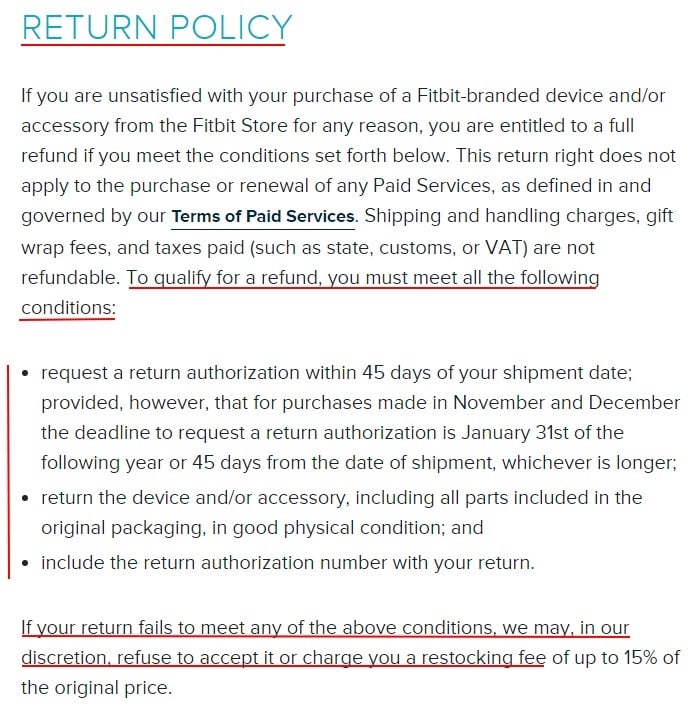 It's good practice to use clear, transparent language like this so that customers are in no doubt over when they can claim a refund. Make your key points quickly, and don't hide them in the middle of long paragraphs.
Here's another example from FITJEANS. Again, it uses simple language and an easy-to-read bullet list to inform customers of their right to return items and what conditions are required: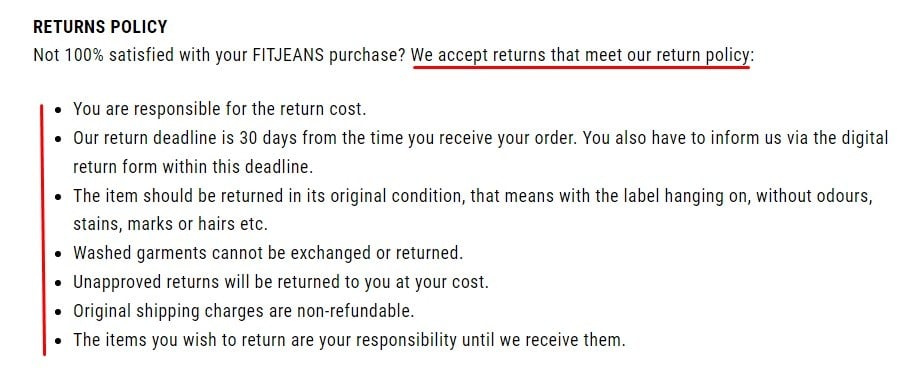 Even if you don't accept returns, you should still have a Refund and Return Policy which states this explicitly so customers know what to expect. "All sales are final" policies are less common nowadays, but they're okay so long as there aren't any state or federal restrictions in place against this.
The specific conditions you include will vary, depending on your store. However, what's most important is that the conditions are clear and obvious from the outset.
What is Non-Refundable
Every customer wants to know what they can't return, so this should be a key section of your Refund and Return Policy.
Here, you're trying to strike a balance between:
Protecting your business, and
Upholding consumer rights
In other words, your return conditions should be concise and easily understood. However, the language should be just vague enough to let you change your policy as you see fit to protect your business interests.
Here's an example from Brooks Brothers. The company sets out in clear bullet points what items customers can't return. However, by using the word "include" in bold, it can use discretion and refuse to accept items outside this list:

Bad Rhino clearly excludes certain products like masks and jewelry from its Refund Policy. It uses a "Q&A" format for the policy, which is great because customers can quickly jump to the section they're interested in: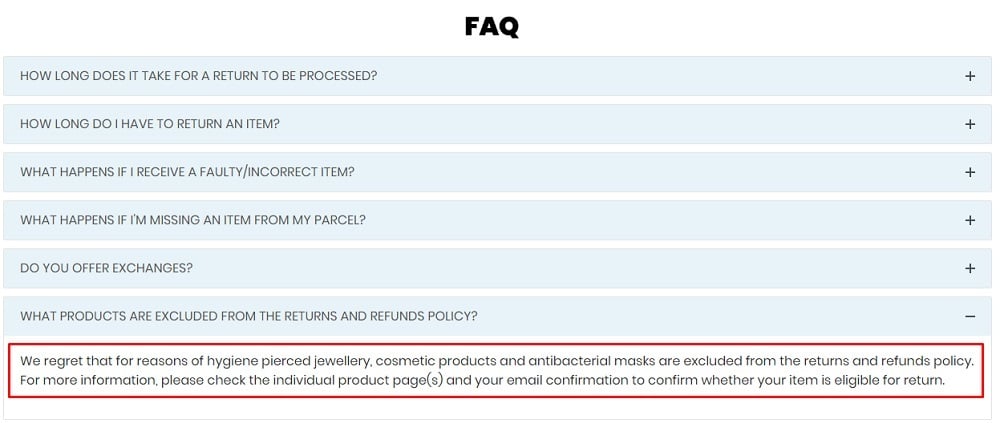 Note that the clause doesn't explicitly state that all other items are refundable, so there's still scope to exercise some discretion here.
Deadline for Requesting/Receiving Refunds
Give customers a certain amount of time to request a refund. Deadlines give both you and your customers more certainty, which can stop disputes from arising.
You may be required by law to offer customers a certain length of time to request a refund e.g. 14 or 28 days. However, so long as you're within the legal limits, you're free to set your own time limit as a condition of returns.
FLEO, for example, clearly states that customers only have 21 days from the order date to seek a refund. This is the first bullet point on the list, because it's one of the company's most important return conditions: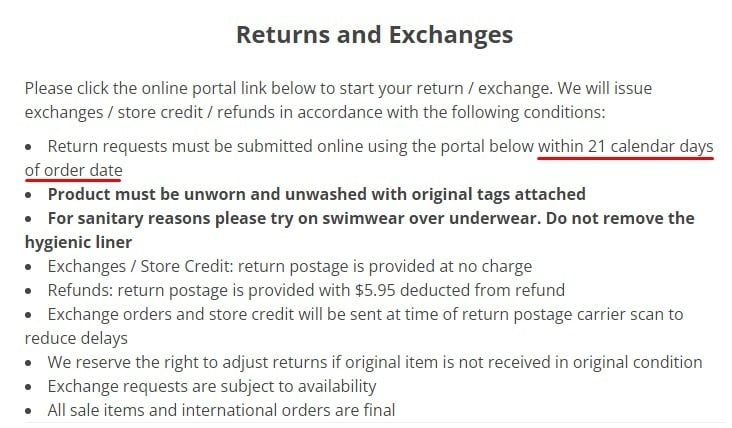 Shopify uses bold font to highlight its 30-day limit on refund requests. Using bold font quickly draws readers' attention to key points within your policy, which helps prevent readers from missing important details:

By imposing time limits as a condition of returns, you have more freedom to refuse refund requests, which helps you manage business cash flow more effectively.
Fitbit, for example, reserves the right to charge customers a fee if they try to return items outside of the 45-day deadline. This sentence stands apart from the return conditions, so it's obvious and easy for customers to spot:

ASOS only accepts items returned in original condition within 28 days of delivery (for a full refund). Customers have up to 45 days to return an unused item, but they'll only get store credit, not a cash refund: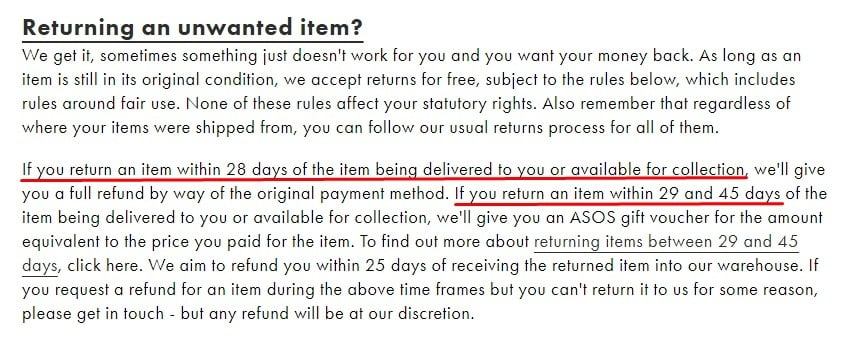 For any items returned outside this deadline, the policy's clear. The return won't be accepted, and customers might incur a charge:

What's great about this example is how it turns complex information into just a few concise sentences. ASOS also clearly separates its "no returns after the deadline" section from the rest of the clause, for improved clarity.
This level of clarity is what you should be aiming for when you draft your own conditions of returns.
Full Refund or Store Credit
You may wish to offer store credit rather than a full refund, depending on your store policy. If this is the case, you must explain this clearly in your Refund and Return Policy.
Take Women's Best, for example. It issues store credit rather than refunds, which is clearly set out in the refund clause. Customers must accept store credit as a condition of return: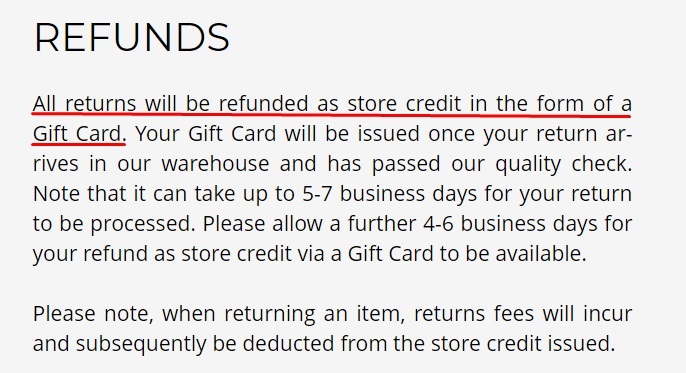 And here's an example from Gymshark. This short clause explains the position clearly with no fluff or unnecessary words:

Keep these clauses concise and readable.
How to Initiate a Return
Make sure it's obvious how customers should go about requesting a refund or returning items. For example, explain what details they need to provide, and what procedure they must follow.
If you set the requirements out clearly, you can reject refunds which don't follow the rules.
Walmart, for example, sets its requirements out very well. Every step is broken down into short, numbered bullet points so it's simple for customers to follow: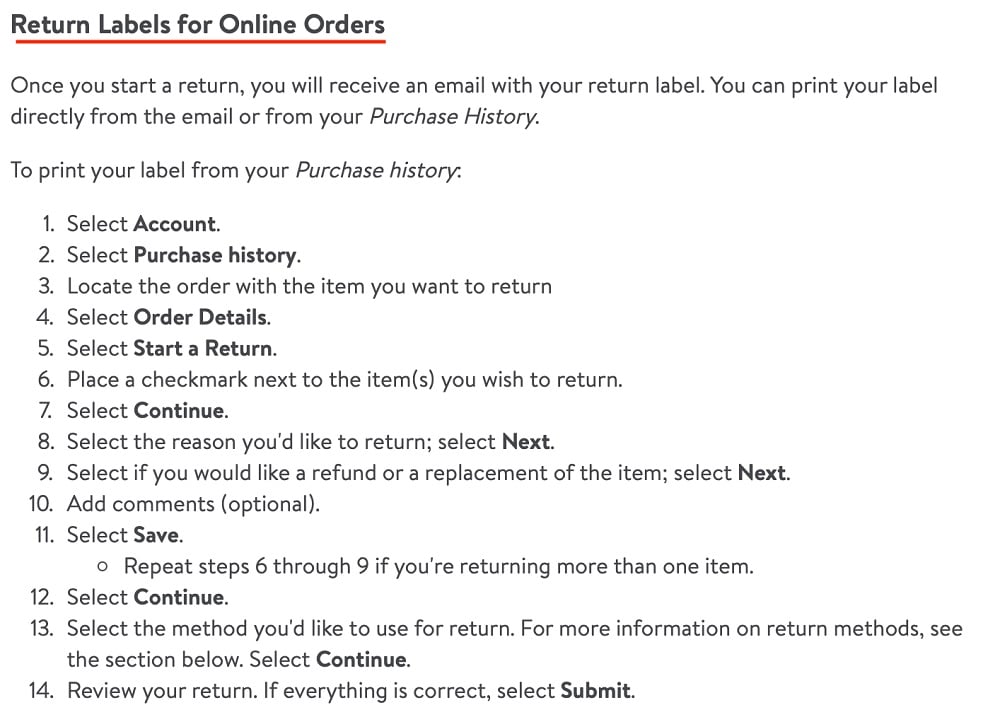 HELM Boots provides a clear link to its returns portal, which provides succinct, step-by-step instructions to guide customers through the process and what details they need to provide:

Ensure customers know what's expected of them to make the returns process as smooth as possible.
Your Refund Processing Times
Just as you set conditions for accepting returns, you also have some responsibility to process refunds in a timely manner. Once you set out customer requirements for requesting a refund, provide an estimate of your processing times.
The word "estimate" is crucial here. If you provide a firm deadline, you're in breach of contract if the refund takes longer than expected.
Here's a good example from Gymshark. Refunds take up to 7 days from the date the order is received back. The company notes to allow up to 5 additional days for the refund to be processed by the banking institution and show up in the account:

Your Business Contact Details
Ideally, as explained, your Refund and Return Policy should be clear, accessible, and easy for the average customer to follow. However, customers should always be able to contact you if they don't understand your Return Policy, they're unhappy, or they feel your conditions are unclear in some way.
Here's how Gymshark includes a link to a pop-out window that lets the user search for help or contact the support team:

You could also simply add your business email address, phone number or other contact methods at the end of your policy.
Conclusion
If you're a business selling services or goods, you should have a Refund and Return Policy.
This policy allows you to set out:
If you accept returns
What items cannot be returned
What the timeframe for accepting returns is
What conditions must be met for a return to be accepted
How long the process takes
What format you'll offer refunds in
How customers can request a refund
When you're entitled to refuse a refund
Make sure you display your Refund and Return Policy somewhere where your customers will easily be able to locate it when needed, such as in your website footer with your other important legal agreements:

If you don't have a Refund and Return Policy, other commercial laws may apply depending on which state or territory you're in. This is to ensure consumers are protected when they're shopping online.
Any Refund and Return Policy you draft must comply with any state or jurisdictional laws, so check with an attorney if you're unsure whether your terms are legally compliant.