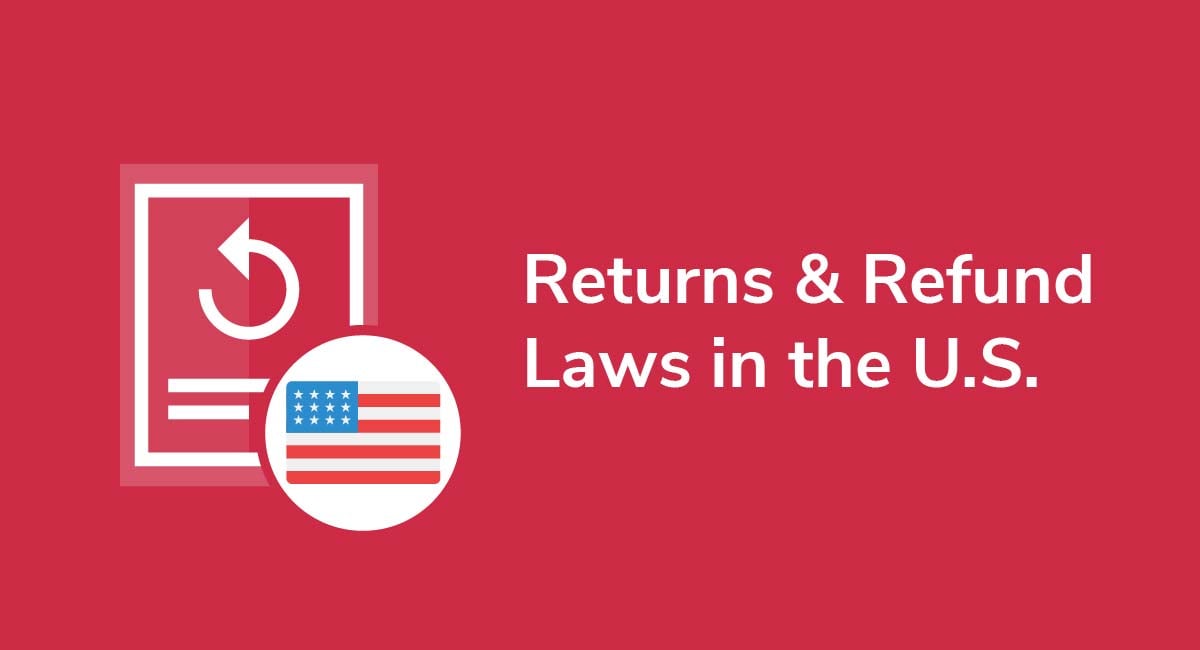 In the U.S., there are no federal laws determining whether stores must accept consumer returns. Returns and refund laws vary from state to state, so it's important you understand how to comply with these various rules if you're selling across the United States.
Below, we cover what legal obligations you may have at the state level when it comes to your return and refund processes.
Get compliant today with PrivacyPolicies.com
Select one of our generators to create the required legal agreements for your business:
Integrate a free Cookies Notice and Cookie Consent banner to comply with the EU ePrivacy Directive and the new GDPR law regarding cookies.
What is a Return and Refund Policy?
A Return and Refund Policy is a legal notice advising your customers what your store's policy is on returns, refunds, and exchanges. It includes information such as what items are returnable, how the process must be initiated, and how you issue refunds.
A Return and Refund Policy should set out, for example:
When (or if) you accept returns
What customers must do to return or exchange an item
How long customers have to request a refund or exchange
What (if any) items are non-refundable i.e. final sale products
How customers can reach you if they have any questions regarding your policies
How you draft a Return and Refund Policy depends on what works for your business. It can be just a few lines in another notice such as your Terms and Conditions Agreement, or it can be a separate page.
BEC + BRIDGE, for example, summarizes its return policy in a few short, simple paragraphs: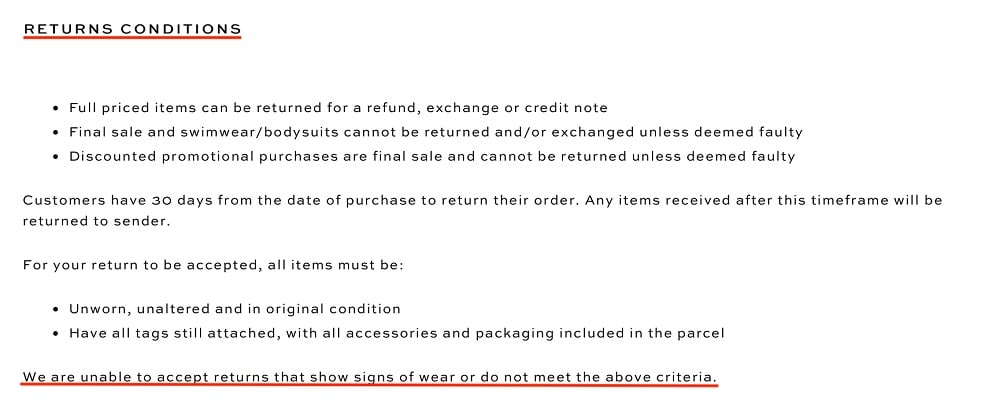 Ticketmaster's Purchase Policy is more detailed, as we can see from this extract: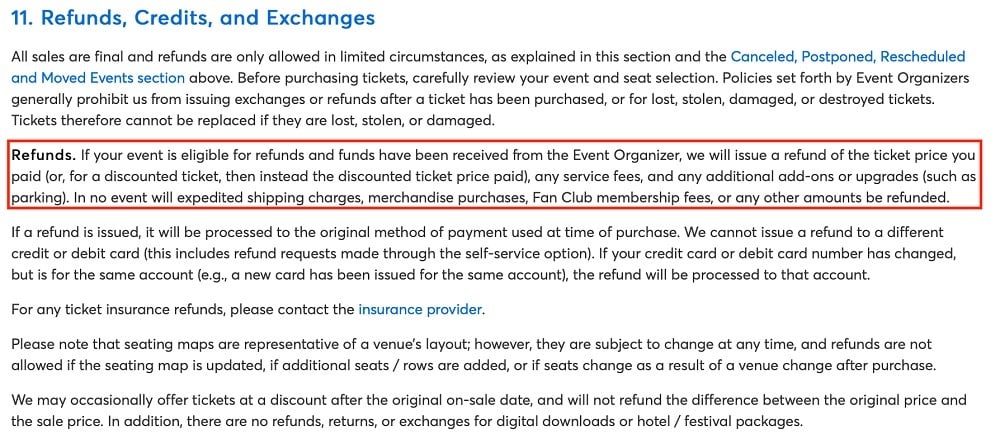 Do You Need to Display a Return and Refund Policy?
At a federal level, no, but if you have something like an All Sales Are Final Policy which restricts returns completely, you should display it somewhere prominent so customers have fair warning of your terms.
This may also be required by some laws if you wish to enforce terms a standard shopper may not at all expect.
Consumer Returns and Federal Law

Some states have specific returns and refund laws which give customers more rights than they have at a federal level. For example, it's sometimes mandatory to display a Return and Refund Policy if you intend to refuse all refunds, and so on.
However, if no such laws exist, the federal position applies, which means consumers typically have no right to return items unless:
A cooling off period applies
The product is broken or defective, or
The seller breaches the contract of sale in another way
Cooling Off Period
Under the FTC's "Cooling Off Rule," door-to-door salesmen must inform consumers of their right to cancel a purchase made over the value of $25. The rule also applies to some purchases made at temporary locations e.g. conventions.
Broken or Faulty Items
If a product is unfit for purpose, meaning it's defective or faulty, it could be covered by an implied warranty. An implied warranty means that a product should work as intended, but if it breaks or doesn't function properly, the consumer is entitled to a refund or exchange.
Breach of Contract
If the seller fundamentally breaches the sale contract in some way, the customer is entitled to a refund or exchange. Examples of contractual breaches include:
Failure to provide a transport or accommodation service on an agreed date
Non-delivery of an item purchased online
Failure to deliver an item within a reasonable period of time e.g. 30 days
Delivering goods which are damaged in transit
United States Returns and Refund Laws

There are no U.S. states where it's mandatory to accept returns. However, there are states where, for example, you must display your Returns Policy in a certain way. Here's a breakdown of the U.S. states with specific requirements.
California
In California, a store does not need a Refund Policy if it offers refunds, exchanges, or store credit on unused items returned within 7 days of purchase with a valid receipt.
If the store has a more restrictive Refund Policy, it must be displayed conspicuously. Otherwise, customers have up to 30 days from the date of purchase to return an item.
All that said, there's no requirement to accept refunds on clearly used items, perishable goods, and items which can't be resold for hygiene or health reasons.
Connecticut
In Connecticut, retailers must display their Return and Refund Policy somewhere obvious. If retailers fail to display their policy conspicuously, then customers can ask for a refund on unused, new items provided they have a receipt.
Customers are not entitled to refunds on final sale items, plants, food, used items, perishables, or custom items. They're not entitled to a refund without a receipt, either, unless the retailer agrees to accept the return.
Finally, Connecticut consumer law lets retailers charge a "restocking fee" which covers handling fees associated with returning an item to the warehouse. They can't charge this fee, though, unless it's clearly mentioned in the store Return and Refund Policy.
Florida
According to the Florida Statutes, retailers must clearly display a "no refund" sign if they don't offer refunds or accept returns. If a retailer fails to display a sign to this effect, then a customer can seek a refund within seven days of purchase if they have a valid receipt and the goods are unused.
The Statutes do not, however, place a seller under any obligation to accept returns for perishables or customized items. This is apparent from Section 501.142(2):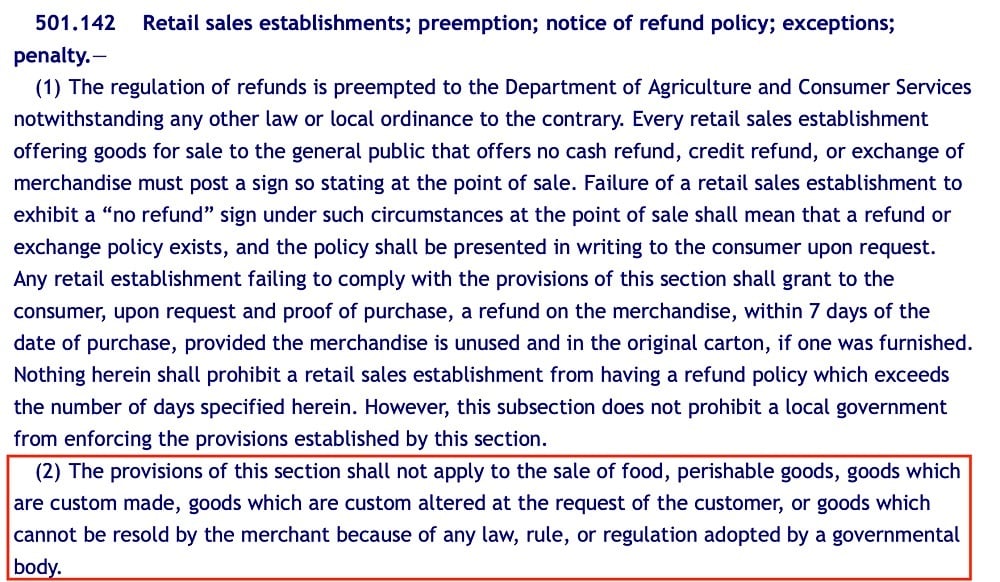 Hawaii
Under the 2010 Hawaii Code, retailers can decide whether they'll accept returns or exchanges, or whether all sales are final. They can also set their time limit for accepting refunds to less than 60 days.
However, if retailers decide to limit their returns policy in any way, whether it's by restricting the return of certain purchases e.g. perishables or refusing all refunds, retailers must display a conspicuous sign to this effect.
This rule is set out in Section 481B-5.5(b)(1):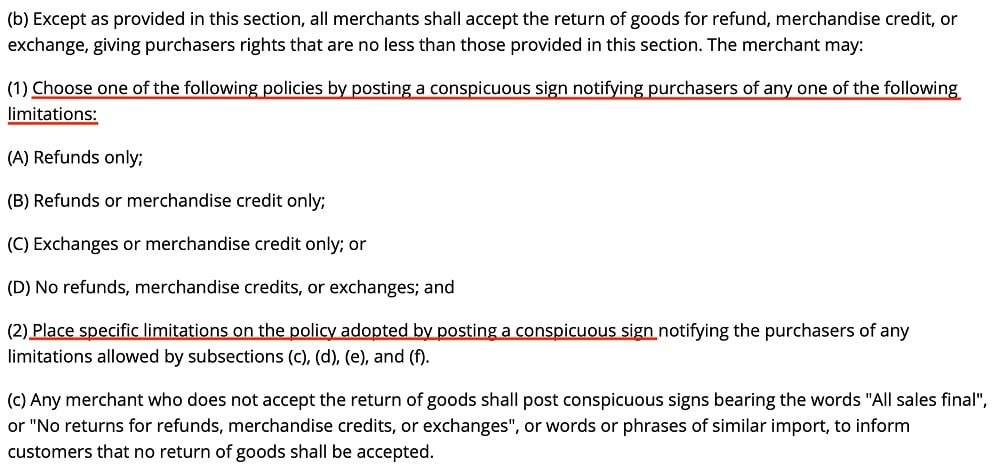 If the retailer fails to post a conspicuous sign, they must provide a refund if requested, as the customer can argue that the policy was not properly disclosed.
Maryland
Regardless of a store's returns notice, businesses in Maryland must replace, repair, or refund a defective product. Otherwise, stores are free to set their own terms so long as the terms are disclosed at the time of sale, such as on the receipt or on the store website.
If a Maryland retailer fails to post their Return and Refund Policy, then they must accept customer returns in line with federal law because they didn't give the customer proper notice. In other words, the customer is entitled to expect a refund or store credit.
Massachusetts
Massachusetts consumer law allows retailers to adopt an "All Sales Are Final Policy" if the terms are clearly marked as such. This rule is set out in 940 CMR 6.12:

Similarly, retailers can set their own terms for refunds so long as customers have a chance to read these terms before completing their purchase. If the seller fails to disclose its Return and Refund Policy to a buyer, it's deemed a "deceptive trade practice" under Massachusetts law. In such cases, buyers are entitled to seek a refund or store credit.
Minnesota
Customers are entitled to refunds in Minnesota unless the store displays a Returns Policy with its own terms somewhere clear and obvious. Under the 2022 Minnesota Statutes, the Returns Policy must use at least 14-point bold type so that it's easily visible: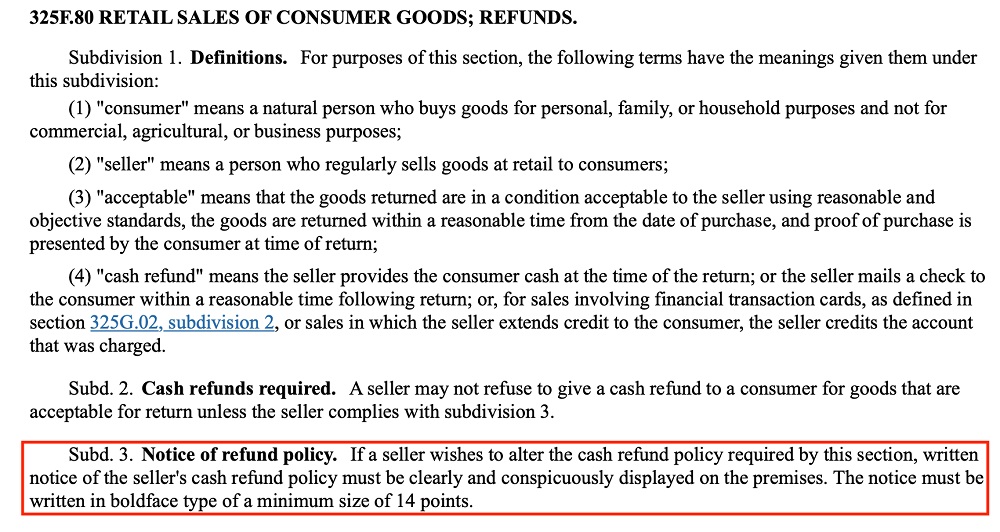 If the store does not display a notice complying with this requirement, then customers can expect a full refund the same way they paid e.g. in cash or by credit card.
New Jersey
Under Section 56:8-2.16 of New Jersey's Consumer Fraud Act, retailers should display a Returns Policy:

If the retailer fails to provide a returns or refund notice, then customers have 20 days from the date or purchase to seek a refund unless the item is damaged or used:

New York
Stores are legally required to post a Return and Refund Policy in New York. If they don't post a policy, then they must accept refunds within 30 days of purchase so long as:
The customer has a valid receipt, and
The item is not used or damaged
The Return and Refund Policy should state, at minimum:
What items are final sale
How refunds are issued e.g. store credit or cash
How long customers have to make a return
Whether a restocking fee applies
Ohio
Ohio consumers are entitled to a refund or exchange in line with federal laws unless the store conspicuously posts a Return and Refund Policy stating otherwise.
The policy must be shown to the customer prior to a sale. Otherwise it will be deemed invalid as the customer did not have proper notice of its terms.
Rhode Island
In Rhode Island, stores must present a Refund Policy at the point of sale if they have an "all sales are final" policy or they won't accept certain refunds. Otherwise, customers can seek a full refund within 10 days from the purchase date according to state commercial laws.
Utah
Businesses in Utah can set their own refund terms, but they must disclose these terms to the consumer prior to a sale. A failure to provide a conspicuous Return and Refund Policy means the seller must honor refunds and exchanges.
Sellers must refund the customer within 30 days of a valid request and they can't charge any restocking fee unless this fee is clearly disclosed prior to purchase.
Virginia
According to Section 59.1-200(A)(16) of the Virginia Consumer Protection Act, shops can refuse refunds so long as they display a notice to this effect. If the store's Return and Refund Policy is not readily noticeable or it's only visible after the sale e.g. it's printed on a receipt, the terms are invalid and customers can seek a refund under federal law rules.
These rules don't apply, however, to certain merchandise including sale items, expired products, and custom items:ž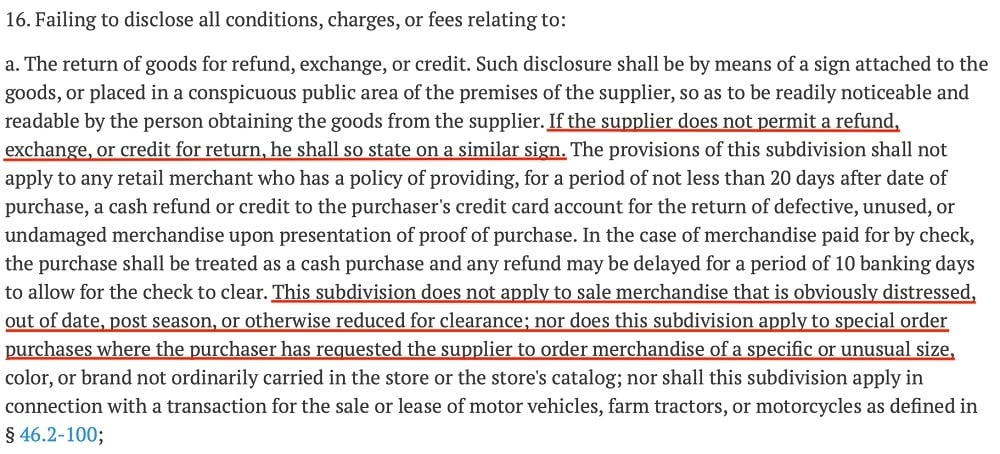 As you can see, the best way to comply with these laws while getting the return and refund parameters you wish to have are to always display a detailed Return and Refund Policy.
Tips for Writing a Return and Refund Policy in the U.S.

What's most important when writing a Return and Refund Policy is that it's clear, transparent, and easy for consumers to understand. When you're drafting your own policy, here are some tips to keep in mind.
Use Plain and Simple Language
Your Return and Refund Policy should be clear and easy to read. If your terms are ambiguous, the policy could be read in favor of the consumer, so use short sentences, break long paragraphs into short sections, and consider italicizing or highlighting key phrases so they stand out more.
Include the Right Information
Be clear about whether you offer refunds or exchanges and how your returns process works. If you won't accept certain items e.g. lingerie, jewelry, cosmetics then make sure this is obvious from your policy. Give customers a timeframe for how long they have to request a return.
Cover the finer details too, such as who pays for shipping costs and how long returns take to process on average.
Display Your Return and Refund Policy Prominently
Remember to display your Return and Refund Policy somewhere conspicuous such as the website header, footer, or sidebar, or checkout screen.
For example, OLAPLEX displays its Returns Policy link in its website footer along with other important links: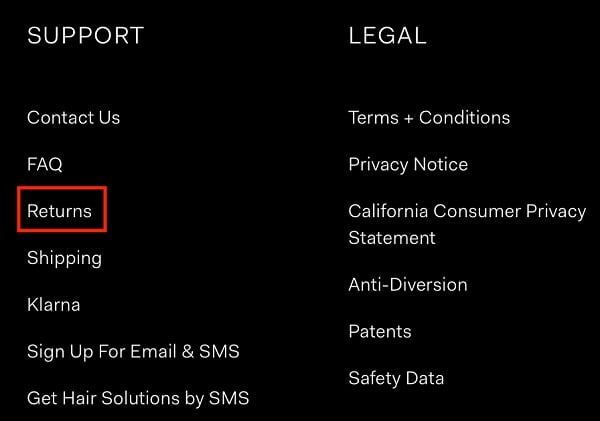 Summary
At the federal level, U.S. customers are not usually entitled to return items just because they've changed their mind or the product is no longer suitable. Since there's no federal obligation placed on businesses to accept refunds, you're often free to refuse refunds at your discretion and you don't need to provide a Return and Refund Policy.
However, since certain states have their own laws regarding when customers can expect refunds, it's typically a good idea to have a clear, compliant Return and Refund Policy and display it somewhere obvious on your website.
You're generally free to refuse refunds on products unless they're faulty or defective. If you want to restrict returns like this, then provide a Return and Refund Policy to this effect.
In certain states like California, if you don't conspicuously display your No Refund Policy, customers are entitled to a refund regardless of what your policy is.
Customers often expect retailers to allow refunds and exchange. If you want to restrict returns, this should be absolutely clear before a customer makes a purchase.