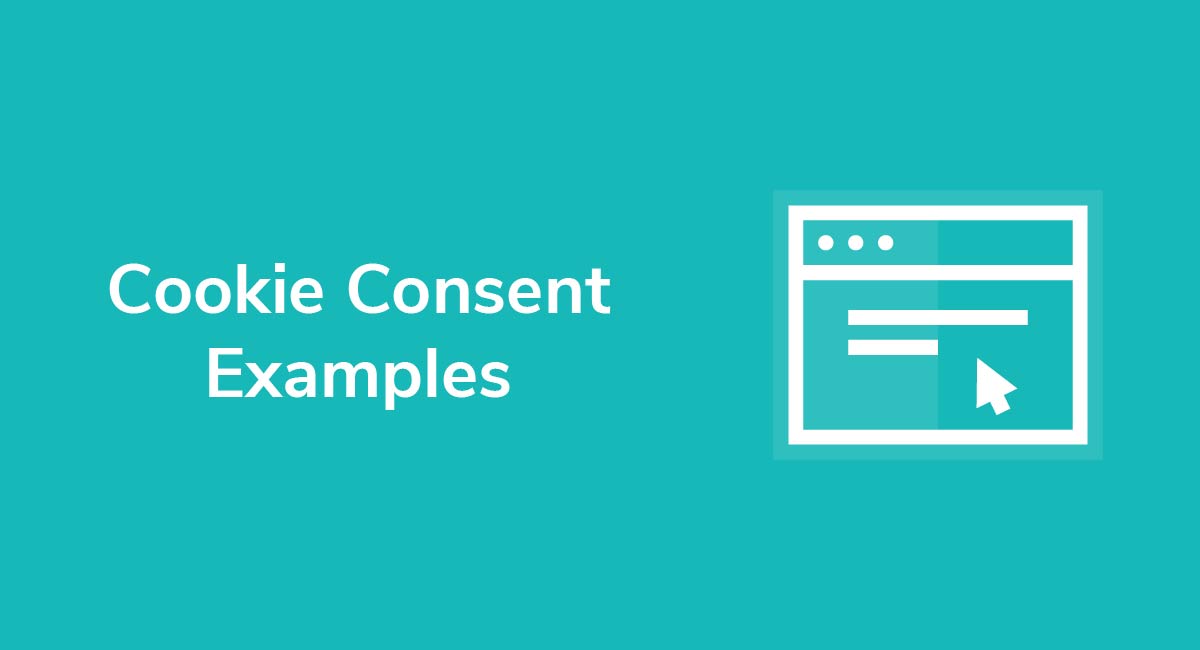 If you run a website that uses cookies, you likely need to notify your site visitors of your use of cookies and get consent to do so.
In this article, we'll look at different options for displaying your Cookie Consent notice on your website. We'll also look at the text that should go in this notice, how to include a link to your Cookie Policy and other components that go into a good cookie consent notice.
Cookies are tiny text files that get downloaded onto your website visitor's device (i.e. laptop or smartphone) when they visit your site. These files allow your website to recognize the user's device and store details about their preferences.
Developers and businesses regularly use cookies to enhance the user experience of a website. Using cookies can also help provide you with useful information to help improve your understanding of your visitors.
For example, cookies can:
Save user login details
Measure how often a user visits your website and which pages they visit
Target relevant advertising to your visitors
Your website's Cookie Policy must contain information about how your user's data is managed when they visit your website. It must also advise how your visitors can opt out of the placement of cookies from your website.
Do I Need a Cookie Policy?

If your website is based in the European Union (EU), or if a citizen based in the EU may interact with your site, you're required to have a Cookie Policy according to the law.
In May 2018, the General Data Protection Regulation (GDPR) came into force. This legislation protects the rights of EU citizens to maintain control of their personal data.
It is important to keep in mind that a Cookie Policy isn't only required for businesses based in the EU. Having this policy is also necessary for any website getting traffic from users from an EU member state.
The regulations surrounding cookies make it very clear that a user must take an action which clearly indicates the acceptance of, and consent to, the use of cookies.
User consent can come in many forms, such as replying to an email or clicking an opt-in button on a website.
You can use a notice (such a banner in the header or footer of your website, or a pop-up) to inform users that your website uses cookies. This notice can link to your Cookie Policy.
Examples of Cookie Consent

Let's run through a few examples of how and where you can display your cookies consent notice on your website.
Remember, obtaining a user's consent through an affirmative action that indicates acceptance is key to a compliant cookie consent notice.
Footer Banner
Perhaps the most common location for cookies consent requests is in a fixed footer of a website. This footer notification would show up for a visitor the first time he visits your website. While this puts your notice in a prominent position, it isn't obtrusive to the actual content of the website.
UK newspaper The Guardian has a large box in the footer of its website with a link to its Cookie Policy:
As a user scrolls down, the box stays in place, prompting the user to take action to remove it. The box states that the cookies are used on the Guardian's site to improve site experience and to show relevant advertising to the user.
In this example, a user must click 'OK' or 'More information' to remove the box. By selecting 'More information' the user is taken to a separate page which offers them the opportunity to manage the cookies used and the advertising they see when using The Guardian's website: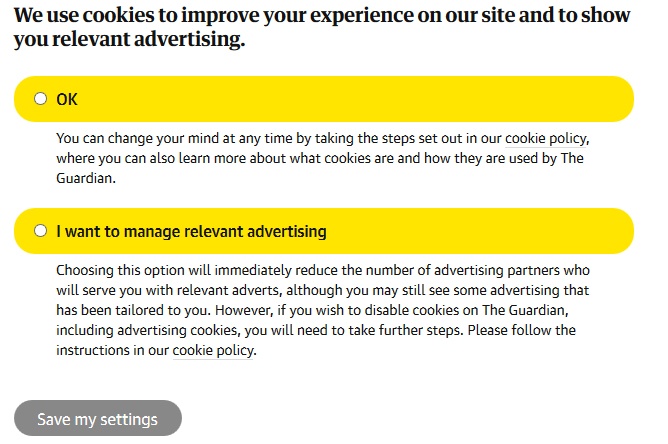 eBay UK's mobile website also shows its cookies consent notice in the footer of the mobile homepage. Users can tap 'Accept' to show consent: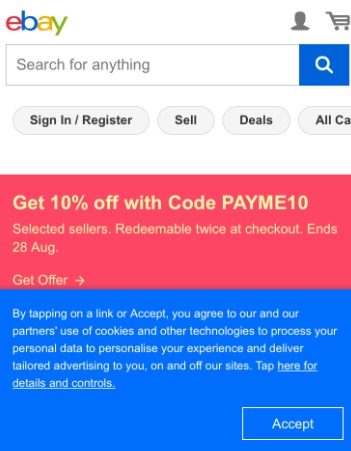 Header Banner
Another common location to see cookie consent notices is in the header of a website. This is immediately visible to any visitors to your site.
As an example, the BBC has its cookie information contained within a thin bar at the top of its website:
The header displays a link to the BBC's Cookie Policy and also asks for consent to use cookies. The BBC explains in this consent box that the cookies are used to give the best online experience.
Clicking 'Yes, I agree' removes the notification. This is the explicit consent required by legislation. However, if a user clicks 'No, take me to settings', they are taken to a page which provides them with a list of cookie preferences that they can adjust: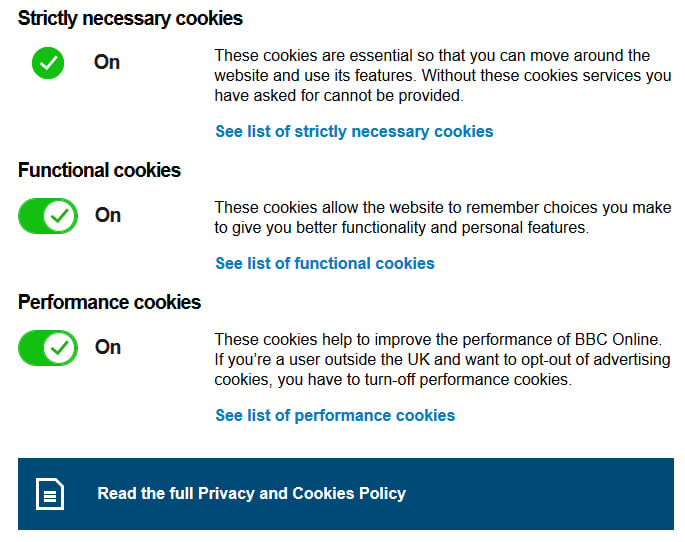 Each section outlines what the purpose and function of each type of cookies is so that users can make informed decisions.
As well as providing a wealth of information on the different type of cookies used on their website, the BBC also provides a link to their full Privacy and Cookies policy at the bottom of the page.
Facebook's mobile website takes a similar approach and provides its cookies consent notice at the top of the website: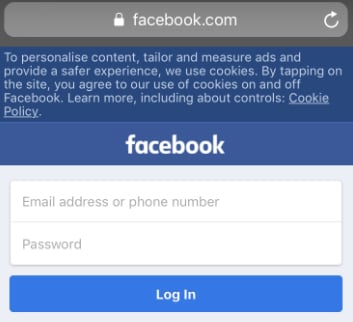 Culinary website The Kitchn places its cookie consent notice at the bottom of its website and includes a link to its legal agreement information: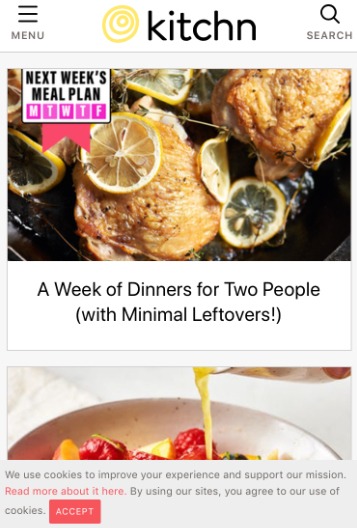 Corner Box
Some organizations include a pop-up box in a corner of their website to highlight their Cookie Policy. This requires a user to interact with the box in order to see the content on the website.
Financial Times has a box in the bottom left of its website that asks users to accept the use of cookies: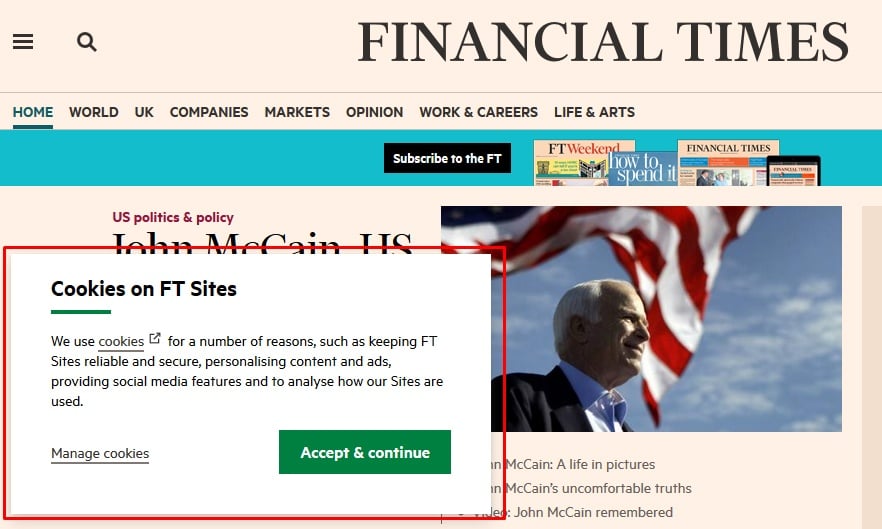 The text in the notice indicates clearly that cookies are used to keep the sites reliable and secure, as well as for the purposes of advertising and personalizing content.
As in the previous examples, the Financial Times provides a link to its Cookies Policy and an option for users to manage their cookie preferences by clicking 'Manage cookies' from within the notice box: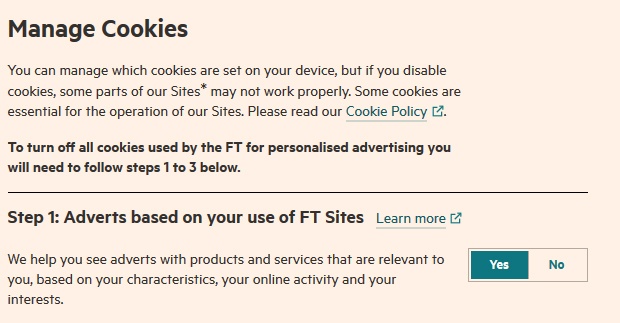 Otherwise, users can click 'Accept & continue' and continue to navigate around the website.
Persistent Pop-Up
The examples you've seen so far have demonstrated cookies consent notices embedded in the header or footer of websites. However, some websites go one step further and prevent users from interacting with the website until they have indicated their consent preferences.
One example of this is investment website The Motley Fool. Upon entering the website, a user is greeted with the below pop-up covering the entire screen: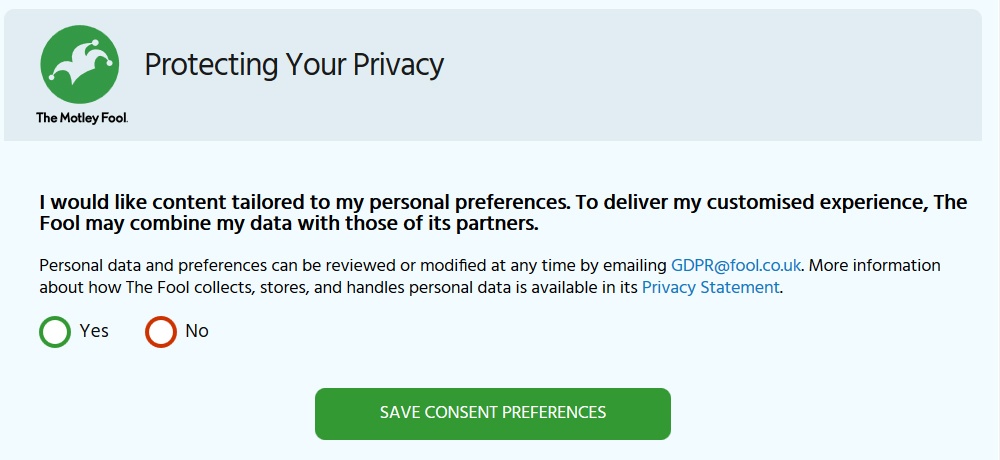 If the user has any questions or would like to modify their preferences, they are provided with an email address to contact. In addition, a link is provided to the Privacy and Cookie Statement where additional details are provided about how the website collects and handles personal data.
In this example, the user has no option but to make a choice about how their personal data is used. This means there can be no ambiguity or uncertainty for the user, and The Motley Fool is making sure to obtain affirmative consent.
Implied Consent
Some websites deem a user has consented if they continue to interact with the website. Amazon is a good example of this, as shown below: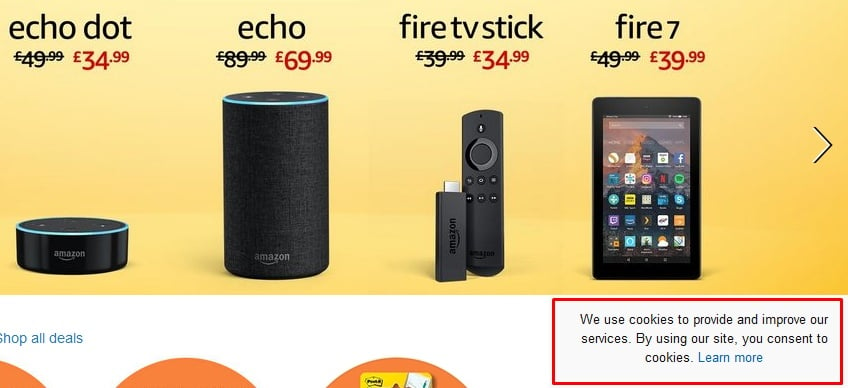 If a user clicks 'Learn more' they are taken to a separate page which explains how Amazon uses cookies. Members of Amazon do have the option within their user account to modify the advertisements they see: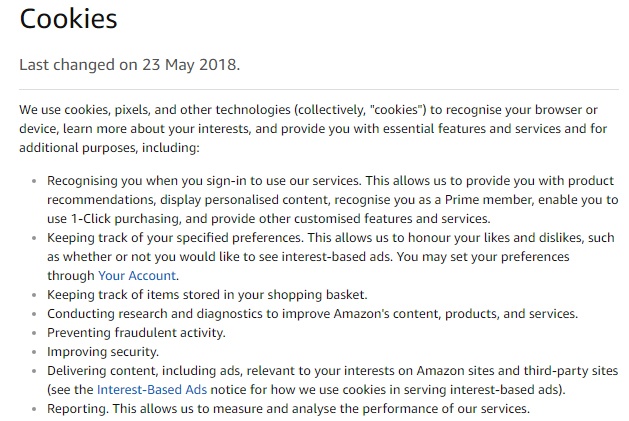 Text of Your Cookie Consent Notice

The text of your cookie consent notice should do the following:
Inform your users that your website does store cookies
Include brief details of why your website stores cookies (improving the user experience, tailoring advertising, etc.)
Provide a link to your Cookie and/or Privacy Policy
Let users know what they're agreeing to or accepting by taking some action
If you use a checkbox to request consent, make sure it isn't pre-ticked
Summary
You have a number of options for how and where to display your cookie consent notice on your website. However, you need to make sure that it's displayed in a prominent way.
Make sure your notice informs users what you're using cookies for and what they're consenting to.
Provide a link to your Cookies Policy and to any Settings pages you offer so that users can access these resources right away.