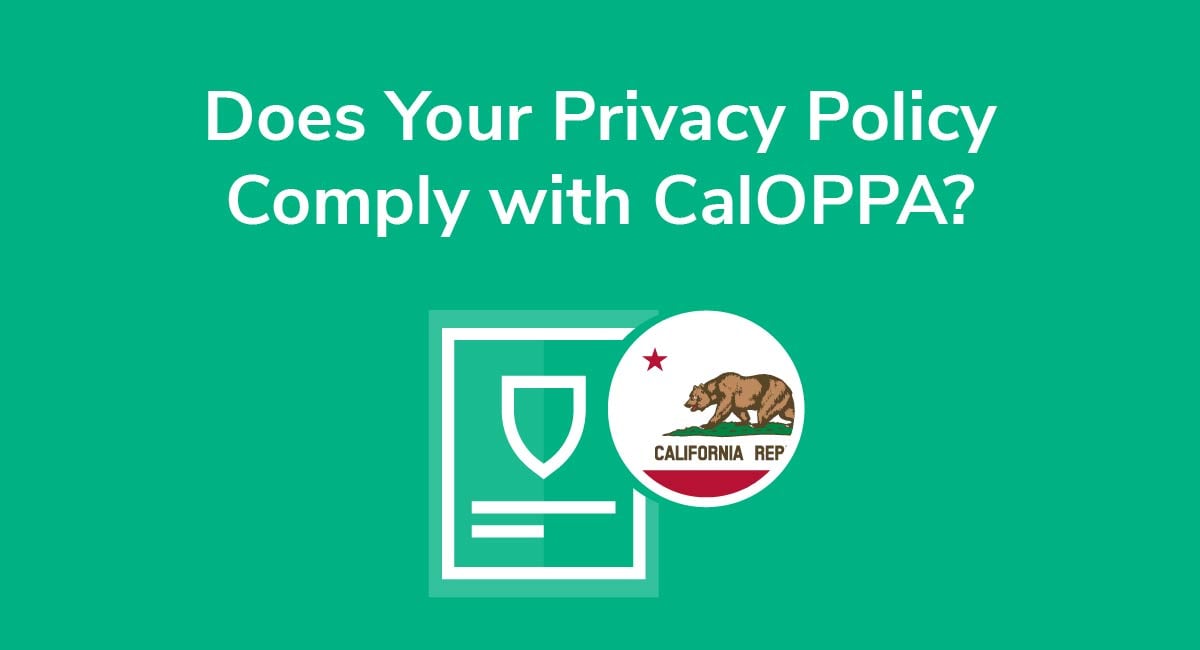 One of the strictest set of consumer privacy guidelines in the world was enacted in 2003 by the state of California. The California Online Privacy Protection Act, or CalOPPA, was the first law in the United States to establish far-reaching consumer data handling laws for online businesses.
It includes legal requirements for the safe handling and protection of private consumer data. It also provides special considerations for minors and for user controls.
CalOPPA applies to all ecommerce stores, blog sites and websites that collect and manage information from California residents, including sites that are not located in California.
If you own or operate a commercial website that collects or uses personal information from residents of California, you must have a Privacy Policy conspicuously posted on your site that meets all requirements of CalOPPA.
This article takes an in-depth look at CalOPPA and its implications for your site or mobile app.
Need a Privacy Policy? Our Privacy Policy Generator will help you create a custom policy that you can use on your website and mobile app. Just follow these few easy steps:
Click on "Start creating your Privacy Policy" on our website.
Select the platforms where your Privacy Policy will be used and go to the next step.

Add information about your business: your website and/or app.

Select the country:

Answer the questions from our wizard relating to what type of information you collect from your users.

Enter your email address where you'd like your Privacy Policy sent and click "Generate".

And you're done! Now you can copy or link to your hosted Privacy Policy.
What is a Privacy Policy?
A Privacy Policy discloses all of the various types of personally identifiable information you collect, store, use, share, sell and disseminate. It also clearly communicates how you use the information you collect and how you keep it safe.
A Privacy Policy lets your audience know about how you collect personal information. This collection can happen directly from the user, such as when someone fills out a form on your website. It can also happen indirectly, such as through website cookies and other electronic means. Both collection methods need to be disclosed in your Policy.
It's important to determine the complete list of the types of information you currently collect, or may collect in the future, and thoroughly itemize it in your company's Privacy Policy. Personal information can include a number of criteria such as names, addresses, email addresses, government ID's, etc.
Following is a partial list of personally identifiable data:
Education history
Healthcare information
Licenses and certifications
Government identification
Family history or genetic information
Mother's maiden name or next of kin
Bank, credit or other financial account information
Biometric identification
Criminal history
Web cookies
Social platform accounts
Chat threads and online content
However, the types of data your Privacy Policy must address is not limited to personally identifiable information.
Non-personally identifiable data that is trackable to a California resident also needs to be addressed by your Privacy Policy.
Information that might be trackable or assignable to personal data includes but may not be limited to:
IP addresses
Passwords
Browser activity
Product descriptions viewed
Forms submitted
Videos watched
Security answers
Shopping cart data
User preferences
Location data
You might be collecting both personally identifiable information as well as trackable non-personally identifiable data. Both types of personal data are subject to CalOPPA.
Understanding CalOPPA

CalOPPA imposes strict rules for a range of website data collection and management protocols and provides important rights and protections to California consumers.
It requires websites to protect personally identifiable information collected from website visitors and to post an easy-to-find and easy-to-understand Privacy Policy on the website.
In addition to specific rules for protecting the private information of Californians, CalOPPA also imposes specific rules for how to structure a compliant Privacy Policy including organization, required disclosures and even language.
In general, a CalOPPA-compliant Privacy Policy will accomplish the following:
It will be on the website in a conspicuous location. The law places the burden for easy access to your Privacy Policy on you, and not on your website visitors to find it.

It will be simply worded so that your typical website visitor will be able to understand it. Complex jargon and legaleze are discouraged.

It will be organized simply and in such a way that your typical website visitor can easily find the information he needs. The state recommends using specific headers throughout a Privacy Policy in order to help users find and understand each clause on its own.

It should include a sub-section or clause that states your Do Not Track (DNT) policy. Whether your website does or does not respect DNT settings of your users is up to you, but the law requires you to disclose what you do.
Do Not Track (DNT) Provisions of CalOPPA

A 2013 amendment to CalOPPA introduced a new mandate for websites to disclose their procedures for handling Do Not Track (DNT) settings.
DNT refers to digital tracking of how a website visitor navigates across a site and to/from other sites. For example, If a user clicks a link on your website which takes them elsewhere in your site or externally to another site such as an advertisement or external link and your website records those activities, this is tracking.
Tracking website browsing patterns is useful for improving a user's overall experience on your site and on the web in general. It allows advertisers to target consumers with relevant ads, even reminding them of items they previously saw or similar items available from a competitor.
However, some users do not want websites to track their browsing history and have pressured browsing platforms for better user controls. In response to this pressure, Microsoft, Google, Mozilla and others introduced user controls allowing consumers to set DNT to "on" or "off."
The 2013 amendments to CalOPPA were created because it's assumed that the average consumer does not understand tracking or its implications on their privacy. It's also assumed that the average user is not aware of DNT browser settings.
To address this lack of understanding about DNT, CalOPPA requires websites doing business with Californians to disclose their DNT policies, specifically identifying whether the website does or does not acknowledge DNT settings.
CalOPPA does not require websites to respect user DNT settings. It only requires websites to disclose whether or not they do respect those settings.
CA Attorney General Recommendations for CalOPPA Compliance
The California Attorney General issued a handbook with recommended best practices for complying with CalOPPA. The handbook has a "Highlights of Recommendations" section that provides a useful summary of the document.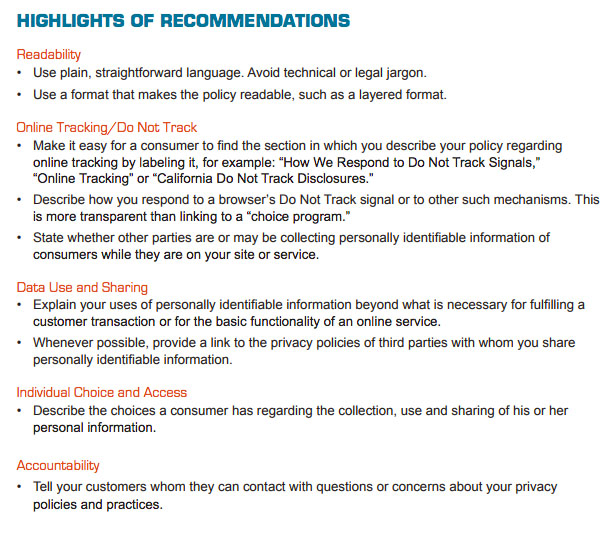 Let's take a look at a few of these recommendations in further detail.
Your Privacy Policy Must be Easy to Read

The key to readability is plain and simple language the "average" website visitor can understand. The state's Attorney General recommends using plain language, short sentences and to consider posting your Privacy Policy in multiple languages.
Other recommendations include using titles and headers to organize your Privacy Policy neatly, and to use graphics and icons to support text.
Here's a simple but clear example from Apple's California Privacy Policy, with plain language and a bold header:

Target's approach is a little different, combining the legally required notice to minors within a general notice to Californians, while still using a bold header to introduce the clause:

Both are adequate, though Apple's approach is better. Because CalOPPA specifically mandates ease of finding applicable notices, Apple's approach to creating a specific clause for minors is the recommended approach.
Your Privacy Policy Must be Easy to Find
CalOPPA requires you to post your Privacy Policy in a conspicuous location on your website. The responsibility for ensuring your typical website visitor can locate your Privacy Policy is on you. Your visitors should not have to go looking for it.
The most common location for your Privacy Policy is in your website footer.
Target posts its Privacy Policy in its website footer. While the Privacy Policy contains a sub-section dedicated to California Privacy, Target also links directly to the California clause in its footer.
This makes it easy for users in California to locate the information they need:
Like Target and many others, Gap provides a link to its Privacy Policy and its California Privacy Policy in its website footer:

How Does Your Site Share Personal Data with Third Parties
Virtually every website interacts with third parties. From the platform hosting your website to analytical tools, advertisers, payments processors and communication tools, it is a near certainty that your site is sharing personal customer information with third parties.
The types of information third parties might be collecting through your site, how you transfer the information to those third parties and how the information is used must be disclosed in your Privacy Policy.
The California Attorney General recommends the following:

Additionally, many third parties will have their own Terms requiring you to make certain privacy disclosures in order to ensure that they, too, are protected.
Email marketing giant Constant Contact is a good example of this.
In order to use their email marketing software, you must first agree to their Terms of Use, which includes a sub-section specifically addressing third parties: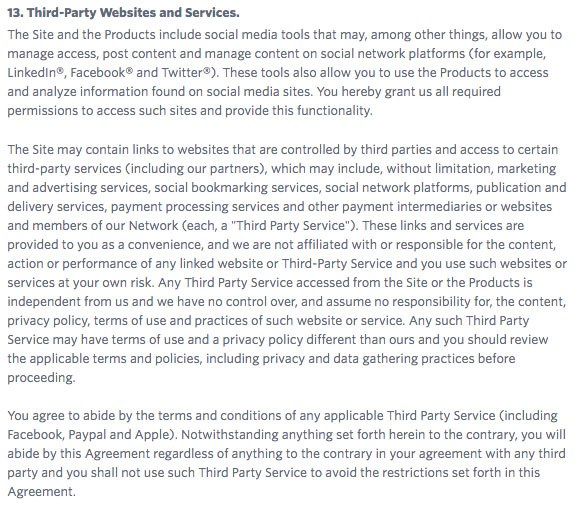 Other third parties, such as Google Analytics, payments processors and advertisers require similar terms.
This means that all instances of third party information sharing on your site must be disclosed in your Privacy Policy.
This is necessary to comply with CalOPPA and the requirements of third-party vendors equally interested in limiting legal liability.
Choices and Rights of Individuals
CalOPPA requires that you give users rights and choices when it comes to:
Collecting their personal information, and
Giving them access to the information you've collected from them.
Here's an example of how you can accomplish this with two short clauses that each link to more detailed information:

Of course you could always make these clauses more detailed if you don't have a link to further information. As long as you make the information accessible and easy to find, you'll be doing well.
Contact Information
Your Privacy Policy needs to include contact information for whom a user can contact if he has questions or concerns about his privacy and your privacy practices.
Here's an example from TransLink's Privacy Statement:

This can be a dedicated privacy manager or a general contact at your business. Just make sure you're active with responding to concerned users.
Creating your CalOPPA-compliant Privacy Policy

The first step in creating a compliant CalOPPA Privacy Policy is to identify the following:
Personal data your site is collecting from California residents
Personal data your site is sharing with third parties
How the data is being collected
How the data is being shared
How your website handles DNT settings
Whether your website attracts minors
How your website gives users access to their personal data upon request (and that you perform this mandatory service at no charge)
How your website transfers personal data to other websites if requested by the individual who owns the data
How you delete personal data when requested by the individual
Next, ensure your Privacy Policy addresses each of the following topics, as recommended by the state of California:
Scope of Policy - Spell out what your policy covers
Data Collection - Identify all types of data your site collects now or might collect in the future
Do Not Track - Identify whether your site does or does not acknowledge user DNT settings
Data Use and Sharing - Identify all third parties which share your user data
Individual Choice and Access - Provide instructions for opting out of sharing data with your site, as well as for requesting a copy or transfer of data
Security Safeguards - Identify your efforts to protect data and prevent data breaches
Effective Date - Identify the date of your policy and date(s) of updates to the policy
Accountability - Clearly state how your website visitors can contact you for information about their data.
Next, be sure to use language throughout your policy that is easily understood by your typical website customer. If your website attracts minors, give special consideration to them.
Finally, be sure to post your Privacy Policy in a conspicuous location on your website such as in the website footer to ensure ease of access. Providing additional access with a search bar or as a link inside your Terms of Use helps further ensure compliance.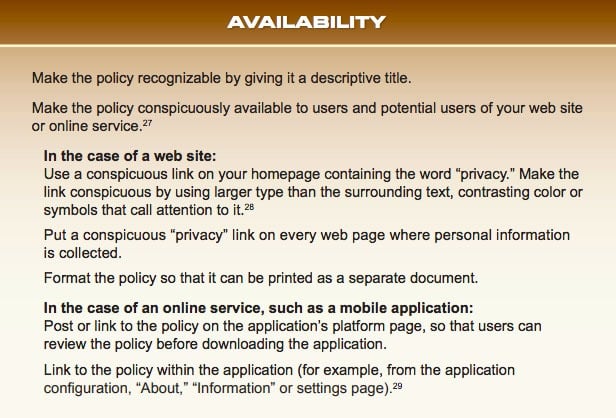 By following these guidelines, you can rest assured that you will be in compliance with CalOPPA and virtually every other state and federal privacy mandate in the United States. You'll also have a good start on complying with privacy laws around the world such as the GDPR that protects your users who are located in the EU.