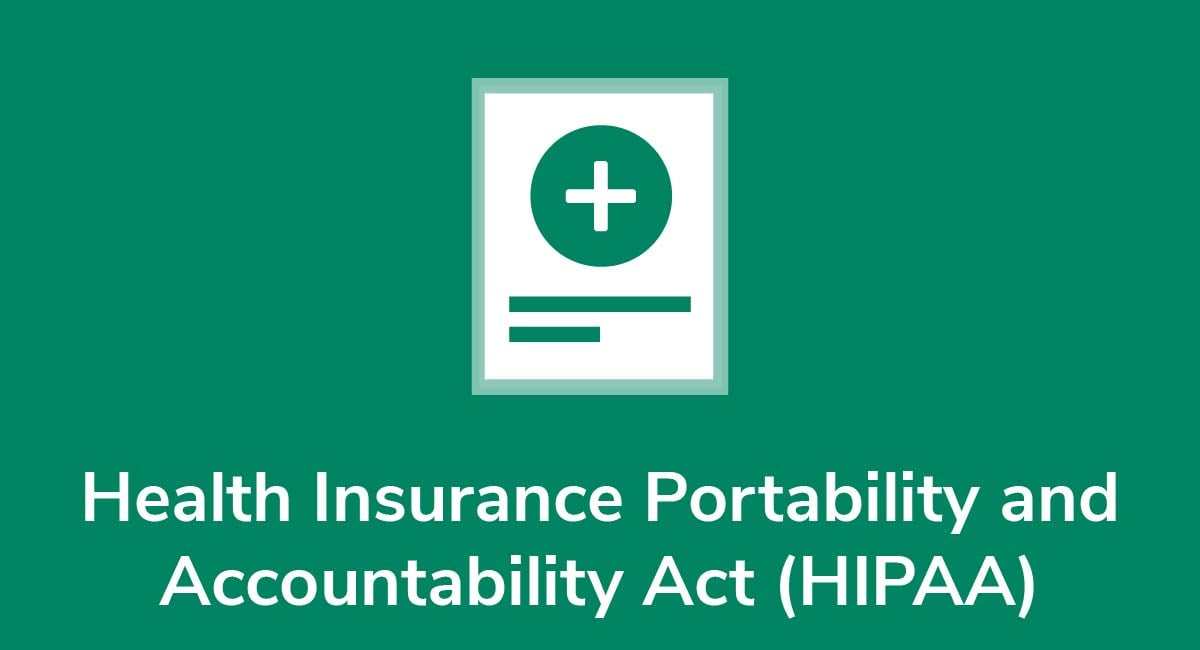 The Health Insurance Portability and Accountability Act, or HIPAA, applies to your business if you handle any U.S. health data. To help you understand if you must comply with the Act, here's an overview of HIPAA, how it works, and how to comply with the Act's provisions.
Need a Privacy Policy? Our Privacy Policy Generator will help you create a custom policy that you can use on your website and mobile app. Just follow these few easy steps:
Click on "Start creating your Privacy Policy" on our website.
Select the platforms where your Privacy Policy will be used and go to the next step.

Add information about your business: your website and/or app.

Select the country:

Answer the questions from our wizard relating to what type of information you collect from your users.

Enter your email address where you'd like your Privacy Policy sent and click "Generate".

And you're done! Now you can copy or link to your hosted Privacy Policy.
Introduction to HIPAA
First enacted in 1996, HIPAA helps to regulate how businesses can share and process healthcare information. More broadly, the Act aims to reform healthcare.
The purposes of the Act are as follows:
Improve the privacy and security of patient health information
Provide clear, enforceable standards for protecting health data
Improve health insurance portability which makes it easier for people to switch providers
Reduce the risks of healthcare and health insurance abuse and fraud e.g. fraudulent claims
In other words, the Act:
Gives people more control over their private healthcare information
Sets enforceable standards for businesses to follow if they process or collect health data
Helps businesses understand how they can better protect health data and ensure patient confidentiality
HIPAA contains five titles:
Title I: This title protects someone's health insurance coverage if they change or lose their jobs
Title II: Also known as the "Privacy Rule," Title II is concerned with protecting privacy in electronic healthcare transactions
Title III: Title III covers tax issues
Title IV: This title covers some definitions for health insurance reform purposes
Title V: Finally, Title V concerns life insurance
For our purposes, Title II is most important. However, you should be aware that each title could potentially apply to your business.
Title II Privacy Rule
HIPAA Title II establishes standardized national rules for protecting certain categories of health information. Title II covers "protected health information," or PHI.
PHI means "individually identifiable health information," which is any health data you can use to identify a person.
Examples include:
Diagnosed mental or physical health conditions
Health care treatment details e.g. treatment plans
Health plans e.g. insurance and payment details
Name, date of birth, address or similar personal information
The Privacy Rule doesn't cover de-identified health data, which is data you can't reasonably use to identify a certain person. For example, this could include anonymized healthcare statistics or results from a study.
When in doubt, though, assume HIPAA applies and treat the data as identifiable health information.
Who Must Comply With HIPAA

Under Section 1172, the following businesses must comply with HIPAA:
Health plan providers
Health care providers
Health care clearinghouses (Companies process nonstandard health data into a standard format e.g. an electronic format)
You should also comply with HIPAA if you provide services to the above businesses, and you need access to health information to provide those services e.g. lawyers and companies who destroy medical records.
HIPAA Requirements

Now we're clear on who must comply with HIPAA, here's a summary of what's required of businesses obliged to comply with Title II.
Understand Patient Rights
Under HIPAA, individuals have the right to:
Know how their health information is shared, and for what purposes
Correct any errors in their health data
Ask for (and receive) a copy of health records
Give permission before a business can use health data for marketing or commercial reasons
Complain if a business fails to protect their data
As a business owner, you must understand these rights so you can help people exercise them.
Inform Users of Their Rights
As a business handling health data, you must inform users of what rights they have regarding their personal information. You can do this through a Privacy Policy which we'll discuss below.
Protect Health Information
You must ensure there are sufficient security measures in place to protect any health data you collect, process, share, or destroy.
You should also:
Limit who can view or access health data
Perform regular risk assessments
Provide security and HIPAA training to any employees with health data access
How to Comply With HIPAA
Luckily, HIPAA compliance is more straightforward than it may seem at first glance. To comply with the HIPAA requirements outlined above, you must do two things:
Provide a HIPAA-compliant Privacy Policy on your website
Design and implement a HIPAA compliance program
Let's consider each of these requirements individually.
HIPAA Privacy Policy
A Privacy Policy describes how your company processes personal data; in this case, healthcare information. Every HIPAA-compliant Privacy Policy should include the following clauses.
Introductory Clause
Explain what the document is i.e. a Policy disclosing how you process, use, and share health data, and what rights people have over this information.
Here's an example from Fit to Smile. It's short but it explains exactly what the document is and why patients should read it. It's also in bold lettering so it stands out, which is good practice when you're drafting an introductory clause like this:

Individual Rights
As mentioned, HIPAA empowers people to safeguard their personal data and control who can access their healthcare information. In your Privacy Policy, you must clearly set out these rights and how people can exercise them.
There's no set format for how to structure such a clause in your Privacy Policy. However, it's helpful to look at some examples.
South End Eye sets out patient rights using bullet points, which makes the clause very readable and easier to understand:

And Fit to Smile sets out longer, more detailed explanations in clearly separated paragraphs for readability:

Ensure you draft your Privacy Policy in a clear, accessible, and user-friendly way so the average reader can quickly understand how these rights affect them.
Use of Patient Data
Explain how you use the health data you collect.
The Boston Medical Center's Privacy Policy includes a link to its Patient Privacy Practice, which clearly describes why the Center needs the data and how it's used:

Although there's no need to include a separate document like this, you should aim to include similar definitions in your HIPAA Privacy Policy.
Patient Data Disclosure
You should describe who you share patient data with, and when patients can restrict data sharing.
Dentistry of Colorado, for example, specifies that it might use patient data in health marketing, but it won't do so without express permission:

South End Eye clearly sets out different uses for patient health data. The explanations clearly identify who else might receive health data, and why: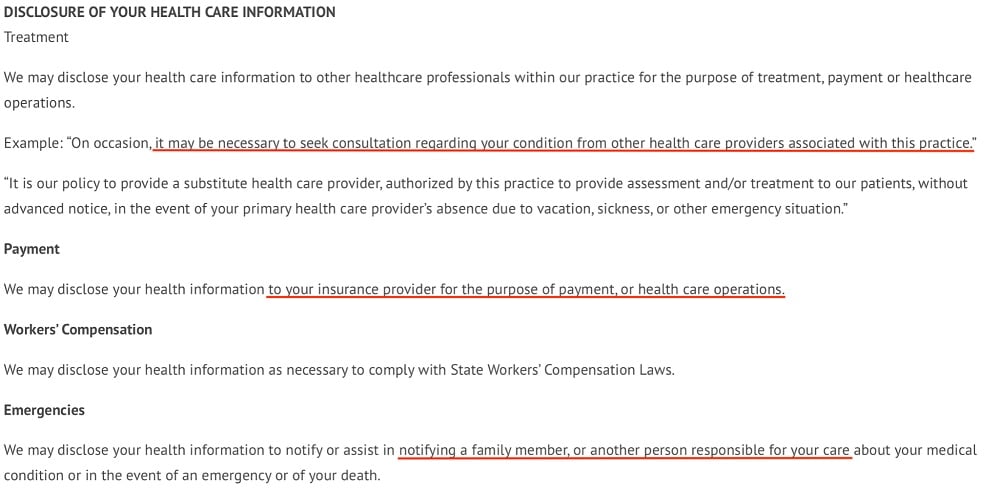 Patients have the right to know who you share data with and why, so make sure you cover as many disclosure situations as possible in your Policy.
Special Situations
In certain situations, you can release health data without a patient's permission e.g. to comply with a legal obligation. Since patients may not be aware of this exception, you should refer to them clearly in your Privacy Policy.
Dentistry of Colorado has a detailed clause explaining when it might share data in the public benefit or if required by law:

Contact Details
It's important that patients or users know how to contact you with any queries or questions regarding your Privacy Policy.
Dentistry of Colorado includes contact details at the end of its Privacy Policy:

Fit to Smile places its contact details at the start of its Privacy Policy:

It doesn't matter where you place the details, so long as they're included.
Patient and User Complaints
If someone believes a company violated their HIPAA rights, they're entitled to make a complaint. So, your Privacy Policy should include a clause explaining how patients can complain.
Here's an example of a comprehensive clause from Dentistry of Colorado:

South End Eye has a more succinct clause but it's still obvious that people have the right to complain, and there are clear guidelines for doing so:

HIPAA Compliance Program
To design and implement a HIPAA compliance program or plan, you must consider the following points.
Disclosure Mitigation
Under the "minimum necessary" principle, you should only disclose the minimum amount of data necessary to achieve the intended purpose.
Develop a policy to limit the sharing and use of health data.
Limit staff access to health data. Employees should only be able to access what's necessary to perform their duties.
If patients give consent to using their data for marketing purposes, keep clear records of all written consent forms.
Data Security
You must ensure all health data is secure. The challenges you face vary depending on the nature of your business e.g. a health app provider faces different challenges than, say, a family physician with a local office.
However, always consider the following:
Appoint a member of staff to oversee HIPAA compliance
Introduce sufficient cybersecurity safeguards e.g. firewalls, private networks, software
Protect offices and data storage locations with e.g. CCTV and secure locks
Develop a strategy for spotting, remedying, and reporting HIPAA violations
Employee Training
Train all personnel with access to health data and ensure they understand HIPAA. Enforce good security practices such as:
Encrypting data
Changing passwords frequently
Using multi-factor authentication e.g. fingerprint ID on mobile devices which contain business data
How to spot phishing scams or malicious links
Using secure networks to access data
Risk Assessments
Decide how you'll perform risk assessments and how often you'll audit your infrastructure. How you do this will vary depending on, for example, how much data you process and how sensitive the data is.
Make sure you record all risk assessments and address any problems you identify.
You may require external help from a managed services provider to ensure your systems and processes are HIPAA-compliant.
Remember: To achieve HIPAA compliance, you must prioritize patient rights and take all reasonable steps to secure their health data. So, however you design your compliance program, don't forget these overarching goals.
Penalties for Failing to Comply With HIPAA

If you fail to comply with HIPAA, the OCR can compel you to:
Pay a fine
Implement a "Corrective Action Plan"
It's not strictly one or the other. You could, for example, be asked to pay a fine and also implement a strategy for ensuring the breach doesn't happen again.
If you're ordered to pay a fine, the amount depends on the severity of the offense and your degree of culpability.
For example:
Accidental violation: Minimum penalty of $120 per violation
Negligent act corrected within 30 days: Minimum $12,045 fine per violation
Negligent act and failure to correct: $60,226 minimum penalty per violation
Within those parameters, the amounts payable can vary significantly.
To be clear, HIPAA violations can also constitute a criminal offense. Criminal charges may apply if you're a "covered entity" such as:
Provider supplying health plans
Any health care provider who submit or transmit claims in electronic formats
A Medicare prescription drug card sponsor i.e., you provide drug coverage to those who submit successful Medicare claims
However, even if you're not subject to criminal penalties, be aware that civil HIPAA violations can still be costly.
Conclusion
HIPAA ensures that all businesses that handle healthcare information understand their responsibilities. The Act also empowers individuals to take control of their healthcare data and decide how it's shared.
You must normally comply with the Act if you handle electronic healthcare information of any kind. Failing to comply with HIPAA attracts, in some cases, steep financial penalties, so you must understand how the Act applies to your business.
To comply with HIPAA, you must do the following:
Understand how the Title II Privacy Rule affects you
Set out a HIPAA compliance program for your business
Provide a HIPAA-compliant Privacy Policy for users and/or patients on your website
Safeguard any health data in your care e.g. by using appropriate cybersecurity measures
Under HIPAA, people have the right to:
Access their healthcare data
Amend any data which is factually incorrect
Ask for copies of their healthcare data
Know who their data is shared with
Reject the sale of their healthcare information for any commercial purpose
As a business owner processing healthcare data, you should ensure your users and/or patients understand these rights. If you're concerned about HIPAA compliance, always seek legal counsel before capturing, processing, or sharing any healthcare information.