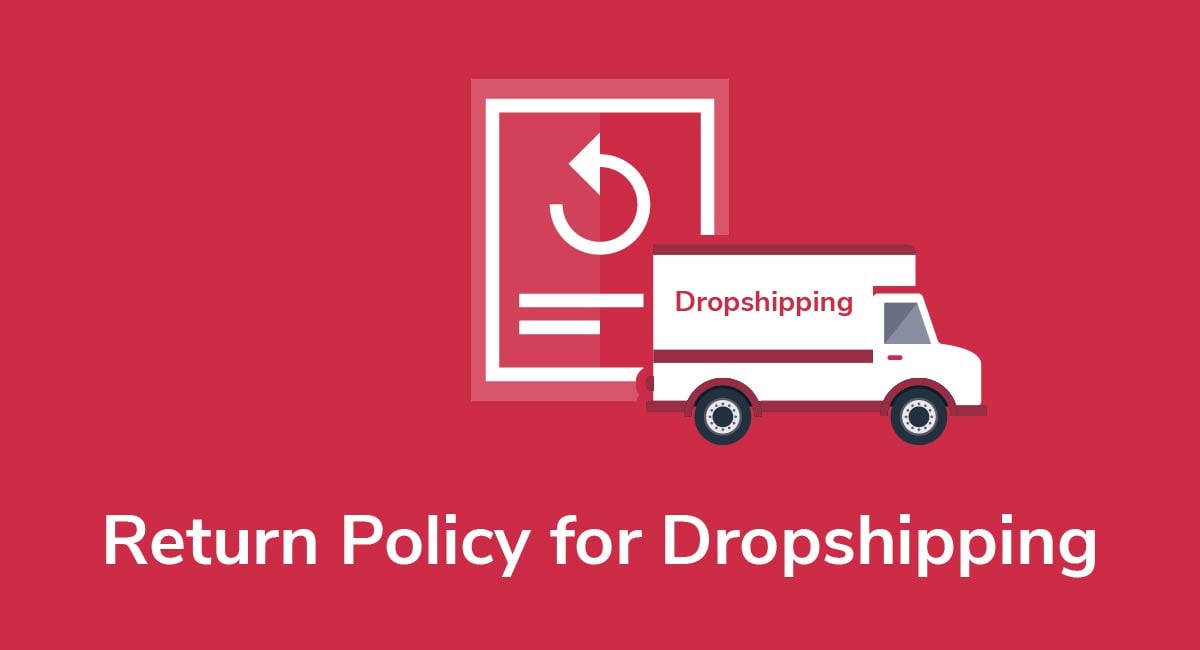 If you run a dropshipping business, you should provide a Return Policy so customers know what happens if they're unhappy with a product they receive.
There's no standard format for what a Return Policy for dropshipping looks like. It will differ in ways from one business to another. However, there are some components that you'll need to include, and you'll need to make sure that your Policy is clear and easy for the average customer to understand.
Let's break down what should be included in a Return Policy for dropshipping, and why you need one.
Get compliant today with PrivacyPolicies.com
Select one of our generators to create the required legal agreements for your business:
Integrate a free Cookies Notice and Cookie Consent banner to comply with the EU ePrivacy Directive and the new GDPR law regarding cookies.
What is Dropshipping?
The idea behind dropshipping is really simple.
Essentially, you run an ecommerce store. However, although people place orders with you, it's not your responsibility to hold the stock in a warehouse and then ship it out to the customer. Instead, you sell the goods and a third party fulfills the order for you.
Remember, with dropshipping, you're the person running the ecommerce store. In other words, it's your responsibility to process orders, communicate with customers and, when necessary, handle returns.
What is a Return Policy?
A Return Policy sets out your store rules around returns, refunds, and exchanges. It establishes:
What items customers can return
How long customers have to return an item
Whether some items are non-refundable
Who covers the return shipping costs
In other words, it's a highly useful document to have on your website, and most customers expect to see a Refund Policy of some kind on your website, anyway.
Do I Need a Return Policy for Dropshipping?

Technically, there is no legal requirement for ecommerce stores to have a written Refund or Return Policy. That said, there are a few reasons why it's in your interests to draft a Return Policy for your dropshipping store.
Firstly, since most customers expect an online store to have a Refund Policy, you risk looking unprofessional if you don't have your own policy. Customers are also more likely to shop at places where a Return Policy is present. So, you could lose business if you don't post a Return Policy on your website.
Secondly, if you don't have a Refund Policy, you risk having disputes with consumers over how and when they can return items. This can damage your store's reputation and discourage people from shopping with you.
Do I Need to Offer Refunds?
Not always, no. It depends on which country's laws apply. In the UK, for example, people can return goods they bought online within 14 days of receipt without providing a reason. Whereas in some U.S. states, a "no refund" store policy is legal.
You need to make sure that your Refund Policy complies with the relevant federal, state, or national laws in the places where your customers reside. Consider getting legal advice from a commercial lawyer if you're unsure whether you need to offer refunds and what the rules are.
What Should the Return Policy Include?

Since Refund Policies aren't legally required, there's no set format they must follow. That said, every Refund Policy should cover:
Which products people can return
Who pays for return shipping
Whether customers can get a full refund, exchange, or store credit
How long customers have to return an item
The basics of your refund process
A Return Policy can be anything from a couple of lines to a few pages long. It all depends on the size of your store, the types of products you sell, and which laws apply.
Introduction Section
Start with a line or two explaining that this is a Return Policy, and whether you accept refunds or not. So, if you want to operate a "no refund" policy or you only accept faulty returns, you can set this out here.
Some companies use the introduction to sum up the main parts of their Return Policy. Here's an example from Pour Moi, a Shopify store. In just a few lines, the company explains that it accepts refunds if products are returned in their original condition, and the customer is liable for the parcel until it reaches the seller again:

It says, "we'll give you a refund, provided that it's returned to us in its original condition and packaging, unworn, unwashed and with all labels attached..."
What Products are (or are NOT) Eligible for Returns
First, you should confirm which items (if any) can be returned. If, for example, you don't want to offer refunds on discounted or custom items, this is where you set out your terms. Other items you may want to restrict include:
Worn clothing
Used items
Jewelry, even if the packaging is unopened
Swimwear or lingerie
Consumables, such as foods or drinks
Here are some examples of how you might set out your rules around product eligibility.
Mini Smart World accepts returns on most items if they're returned in unused condition. However, the company won't accept returns of certain types of items, or any returns after 30 days:

Trendy Goods lists which items it won't accept returns on. Eligible items must be returned in their original packaging within 30 days of the delivery date: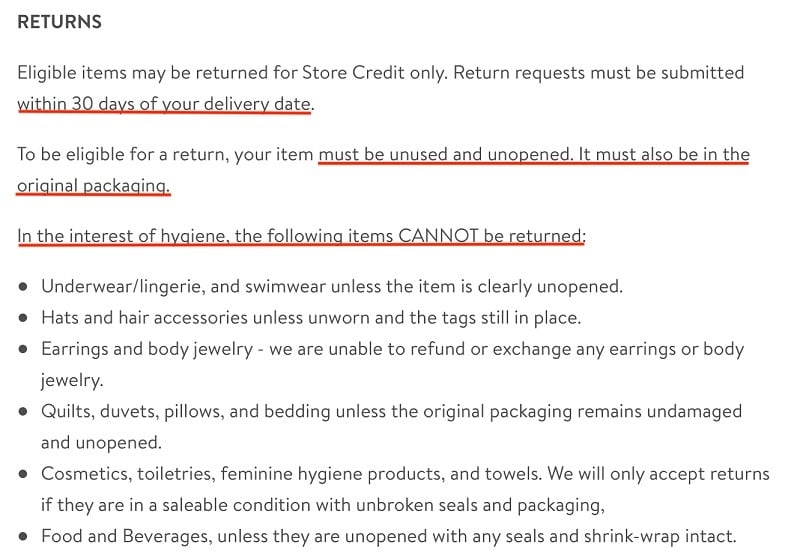 Lists work well because they're easy to understand.
To be clear, you should generally always offer returns on clearly faulty or damaged items, but you're entitled to ask for proof before the customer ships it back to you e.g. you can ask them to take a picture of the damage and send it to you.
Returning Gift Cards and Vouchers
Whether you choose to offer refunds when someone buys a gift card or a voucher is entirely up to you. However, most stores don't offer this, and the recipient can't normally exchange a gift voucher for cash, either.
Whatever your preference, disclose it in your Return Policy. Here's an example from Pour Mois:

A simple statement like this is sufficient.
Type of Refund Issued
Some examples of common types of refunds businesses will issue to customers include:
A full refund
Store credit
An exchange
Be clear about what customers will receive if they return an item to you.
Trendy Goods, for example, only offers store credit, not true refunds:

Mini Smart World offers refunds in the form of the original method of payment:

So long as it's clear, you have a lot of flexibility over what you offer your customers here.
How Long Customers Have to Request a Refund
Set out how long customers have to return items they're unhappy with. Again, make sure the time limit is clearly visible so customers understand what's expected of them if they want to make a return.
Depending on which laws apply, you may be obligated to offer customers at least 14 days to return items (for example, if your customers live in the UK). Otherwise, you can set your own return limits.
HELM boots, a dropshipping store, gives customers 30 days to return items:

Meowingtons offers a full refund within 15 days of receiving the order, and an exchange if it's within 30 days:

It says:
"Full refunds are given as long as a return request is communicated in under 15 days of receiving the order. Free exchanges are given as long as a return request is communicated in under 30 days of receiving the order."

This clause is a good example of how you can offer different terms - a refund or exchange - depending on how long it takes the customer to indicate they want to return something. It's clear and easy to understand, so customers know they won't get a full refund if they decide to return something in 21 days rather than 10, and so on.
What's the Return Process
No Return or Refund Policy is complete without an explanation of how your returns process actually works. When customers want to return something, this is one of the first things they'll look for in your Return Policy, so set the process out clearly and succinctly, and ideally near the beginning of your Policy.
Here's an example from FITJEANS. Customers can either fill in the digital returns form, or they can complete their own returns label and send the item back to the retailer:

Since you're dropshipping, you should also clarify whether you want customers to return the item to you or the manufacturer.
Here's a clear and concise example from Trendy Goods. Customers must return their items to the address stated - not to the manufacturer:

Who Pays Return Shipping Costs
Customer-centric Return Policies typically offer free returns, meaning the business absorbs the cost. However, you can of course ask customers to cover return costs if you wish.
Whichever option you choose, be sure to set it out clearly in your Return Policy. Gymshark, for example, offers free refunds for certain countries, but customers need to cover the costs themselves if they live elsewhere: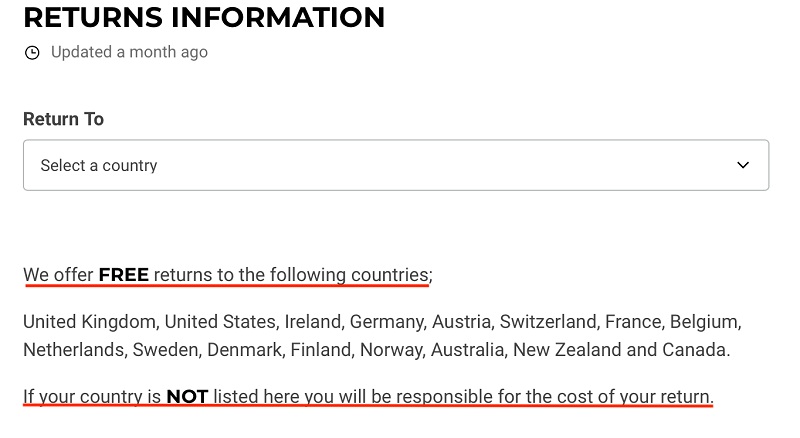 HELM Boots offers free returns on U.S. orders over $50, while everyone else must pay for their own returns:

FITJEANS, however, expects all customers to cover return costs:

Your Contact Details
Although you don't need to include your contact details in your Return Policy, it's a good idea to do so. If customers can contact you to discuss your returns process in more detail, it may give them more confidence in shopping with you.
Meowingtons, for example, leaves an email address for people to use:

Some businesses set up a separate email address solely for handling return queries, but you don't need to do this unless it suits you.
You can place the contact details wherever you want, but people often expect to find such information at the end of documents like this.
Where Should You Display the Return Policy?
Whether it's on a mobile app or the desktop version of your website, customers should be able to view your Return Policy whenever they wish. To make it easy for them, there are three places you should display a link to your Return Policy.
Website Footer
Customers looking for a Return Policy expect to find it beside your other key policies. So, just like you link to your Terms of Service and Privacy Policy in the footer, put the Return Policy there, too.
Here's an example from Inspire Uplift: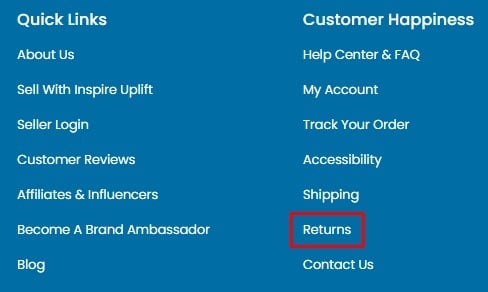 Within Other Policies
You have two options here: Linking your Refund Policy within other store policies, or incorporating the main terms of your Refund Policy into another document. When it comes to a Return Policy, the second option is often the most efficient.
For example, let's take a look at how Inspire Uplift incorporates its key returns terms into its Terms and Conditions agreement. It uses a short, simple clause titled "Cancellation/Refund Policy," and it describes the key points that customers need to understand:

It says:
"You have 14 days from the date you receive your order to initiate and return your item(s) for a refund or store credit. Any returns not made within this window will be rejected. Due to the custom made nature of some of our handmade products we can not accept returns/exchanges or offer refunds for any handmade item."

Customers can then scroll down to the footer and click on the "Returns" link to view the whole policy if they want, but the key points have been covered in this clause.
At Checkout
It's a good idea to draw attention to key points at some point during the checkout process. This way, customers can quickly confirm they're happy to go ahead before they complete the purchase.
Ryderwear has a good example of this. When a customer adds an item to the cart, they see how long they've got to return the item: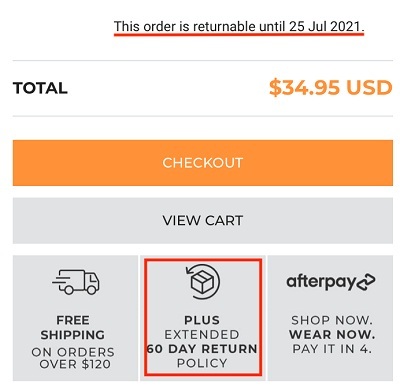 This shows up equally well on both mobile and desktop versions. However, even if you don't add code like this to your website, you could simply put a link to your Return Policy somewhere obvious at checkout instead.
Conclusion
A Return Policy sets out whether you accept returns and when customers can send back items for a refund or store credit. Although there's no legal requirement to provide a Return or Refund Policy, it's good practice to do so.
If you don't set your own Refund or Return Policy, you might deter customers from purchasing from your dropshipping store. So, if you're trying to grow an ecommerce business and boost your reputation, you really need a clear and transparent Refund Policy.
Every Return Policy should contain the following clauses:
How long a customer has to return an item
What items they can return
Exclusions e.g. handmade or custom items
Which party must cover the shipping costs
What type of refund people can get e.g. full refund or store credit
An explanation of how your refund process works
You can display your Return Policy wherever you want, so long as it's prominently placed and easy to find. You might link to it in your website footer or within other key policy documents.