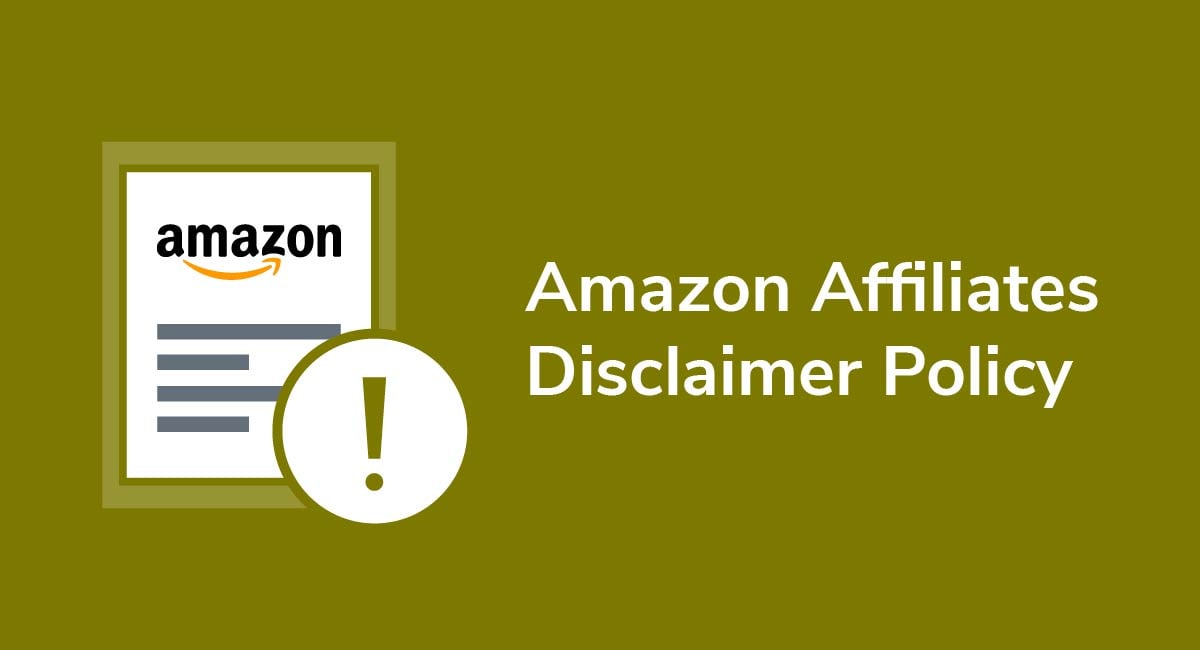 If you're an Amazon Affiliate or Amazon Associate, you need an Affiliate Disclaimer on your website. This disclaimer tells people that you're part of the Amazon Associate Program, which means you receive commission if people buy Amazon products through your website. A failure to disclose your affiliations can result in suspension from the affiliate program, financial penalties, and even legal action against you.
Having a disclaimer is part of Amazon's Associates Program Operating Agreement you agree to when you join the program.
This article will break down who must comply with this, what exactly is required, and how you can comply.
Get compliant today with PrivacyPolicies.com
Select one of our generators to create the required legal agreements for your business:
Integrate a free Cookies Notice and Cookie Consent banner to comply with the EU ePrivacy Directive and the new GDPR law regarding cookies.
What is an Amazon Affiliate?
Amazon Affiliates link to Amazon products on their blog, website, or social media. They then receive a commission whenever someone clicks the link and buys the product.
So, it's like any other kind of affiliate marketing. You make product recommendations, and interested customers click through to buy them. The difference in this case is that it only concerns products on Amazon.
For some bloggers and website owners, affiliate marketing is a great way to monetize their platform.
All you need to do is:
Make product recommendations
Link through to the Amazon products you're recommending
Wait for site visitors to buy them
Earn your commission
There's one final requirement, and that's full disclosure of the affiliate relationship. You're making product recommendations, after all. Customers have a right to know if you're financially motivated to suggest certain products.
If you don't disclose your financial motivations, you could jeopardise your reputation and lose traffic. And you can even get in trouble with the FTC. More on this is further in the article.
So, what do you do? You create a disclaimer. But what is it, exactly?
What is a Disclaimer?

Think of a disclaimer as an informative statement. An Affiliate Disclaimer is a statement that tells people you're part of an affiliate marketing program. You have a financial relationship with a business. In this case, it's Amazon.
You'll often find links to disclaimers alongside links to important legal documents on a website. Here's an example from Home Grounds, an affiliate website:

Affiliate Disclaimers are legally regulated in the U.S. by the FTC. But this isn't the only reason you should have a disclaimer. They're actually really beneficial.
Disclaimers can:
Increase the public's confidence and trust in your platform
Improve your customer loyalty
Promote fair marketing and fair competition
What's more, if you build a loyal following, you could earn a decent amount in commission.
Both Amazon and the FTC have very specific requirements for disclaimers and disclosure statements. Let's take a look at these rules before we check out some real examples.
The FTC's Disclaimer Requirements

The FTC requires the following for affiliates and influeners:
You must disclose your relationship with Amazon
The relationship should be obvious from the first time the consumer lands on your website
You must include disclaimers on every page where there's an affiliate link. A single broad disclaimer on the homepage isn't enough.
You shouldn't make any positive claims about a product if you haven't actually tried it.
The FTC promotes fair and transparent advertising. Essentially, they want customers to understand the relationship between the reviewer, or blogger, and the products they're endorsing. To help affiliates and influencers comply with FTC obligations, the FTC has created its own Endorsement Guides. The Guides themselves are not legally binding. However, violating the Guides means you're probably breaching the Federal Trade Commission Act, which is binding.
What about wording for your disclaimer? Are there any guidelines? Yes, there are.
Essentially, the disclaimer should be clear, easy to understand, and simple to read:
Below, we'll look at examples of great disclaimers and go over why they work. But for now, there's just one other point to note about the FTC Endorsement Guides.
You do not need a disclaimer for:
Products you bought yourself
Free samples you received as a regular customer visiting a store e.g. if a beauty counter gives every customer that day a free sample
Amazon's Affiliate Disclaimer Policy Requirements

You'll find Amazon's policy in Section 5 of the Operating Agreement. Under Section 5, you must:
Clearly identify your affiliate status on your website
Write a jargon-free, easily-accessible disclaimer
You must also include some variation of a very specific phrase: "As an Amazon Associate I earn from qualifying purchases."

You can't make any false claims about your relationship with Amazon, either. In other words, just because you're endorsing Amazon products doesn't mean Amazon is endorsing you. You can't suggest otherwise to consumers.
Writing and Displaying Your Amazon Affiliates Disclaimer

All you need to highlight in your disclaimer is that you:
Are an affiliate
Who earns commission when people make purchases via your links
First, let's take a look at PCPartPicker, an Amazon Affiliate. When you click on any product page, you'll find a short disclosure at the bottom explaining that:
The company is an affiliate
It receives money if customers make purchases from certain retailers by clicking on site links

Since it's succinct and placed very close to the products being advertised, it meets Amazon and FTC standards.
Here's an example from Equipboard, another affiliate. At the top of an article where keyboard controllers are recommend, a short disclosure is included:

Wirecutter tells customers right away that it's an affiliate website. It's the first thing readers see when they launch the website, which complies perfectly with FTC and Amazon rules:

Kids Tablets With Wifi, another affiliate, includes a link to its Disclosure Policy at the bottom of the homepage. In this Policy, readers are told about the relationship between the website owner and Amazon's affiliate marketing program:

You can include a link somewhere on your website (typically the footer) that takes clickers to a longer disclaimer, like Kids Tablets With Wifi did.
However, you don't need to do this. So long as you have a notice prominently displayed following Amazon and FTC guidelines, you don't need a longer affiliate disclaimer.
PCPartPicker utilizes both on-page disclaimers, like seen above, as well as a website footer link to its Affiliate Disclosure:
When you click the link, you land on a general Disclosure that discloses the company's relationships with various vendors. There's a specific Amazon Affiliate clause which complies with the Operating Agreement:

These separately-linked, slightly longer disclaimers are good for bloggers that have multiple affiliate links to disclose, or many disclaimers to make.
Here are some more examples of disclaimers and placements.
The Prepared displays an affiliate disclaimer in the sidebar of its website homepage: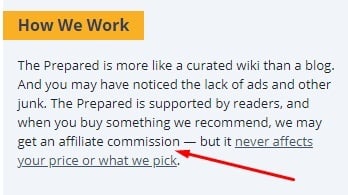 Here's an example from HomeGrounds. It's not a huge disclosure, but it's right at the top of the page where there are affiliate links, so it's one of the first things visitors to the site will see:
Here's a final example from Dog Food Advisor, which puts a disclaimer at the end of blogs containing affiliate links: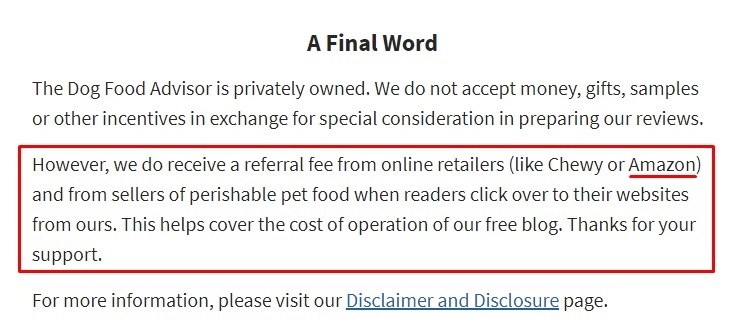 What's especially good about this disclaimer is that there's a clear link to the site's Disclaimer and Disclosure page, too.
Disclosing Within Social Media Posts

We should briefly touch on specific requirements for social media posts. The rules aren't much different but you need to be aware of some extra obligations.
According to Amazon, even just a word or two is enough to count as a disclaimer under FTC rules, so long as it's really obvious and clear:

This is commonly seen on affiliate posts on sites such as Instagram, where a "#ad" will be included in the post itself as seen here: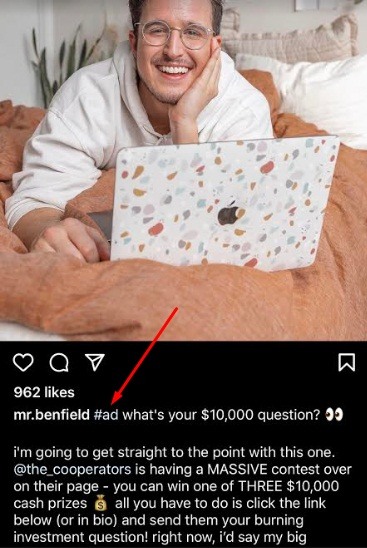 So, now we're clear on how Amazon Affiliate Disclaimers work, there's one final question. What happens if you use affiliate links without a Disclaimer? In other words, what happens if you ignore your responsibilities here?
There are a few potential outcomes.
Penalties for Ignoring Disclaimer Requirements

If you don't disclose your status as an Amazon Associate, you're breaching Section 5 of the Operating Agreement. According to the agreement, this counts as a material breach of contract.
Section 6 of the agreement sets out Amazon's rights under the contract. Most importantly, Amazon can terminate your account immediately if you breach the contract.
So, you'll no longer have access to your Amazon account or the Associate Program:

There's also a chance that you'll suffer reputation damage if followers find out that you didn't act openly and honestly with them.
It's not just Amazon that can penalize you if you breach the contract. Since failing to disclose your affiliate status means breaching the FTC's rules, they can bring legal action against you.
What does this all mean? It's pretty simple. The penalties for non-disclosure can have significant consequences for your business and online reputation. In the long run, you might find it difficult to monetize your website again.
Conclusion
Every Amazon Associate, or affiliate, must publish a disclaimer confirming that they host paid links on their website. This is a requirement set out by both Amazon itself and the U.S.'s FTC.
You can earn a decent amount of commission if you follow the rules and build your platform responsibly. However, if you don't comply with the rules, you could lose your platform on Amazon, suffer reputational damage, and even face court action. There's every chance that the FDC will intervene directly, too.
So, in summary, here's how to comply with your obligations under Amazon's Operating Agreement:
Confirm that you're an affiliate to the public by posting a disclaimer
Explain that you get commission when people buy through the Amazon product links on your website
Put the disclaimer on your landing page or somewhere easily accessible
Ensure you have disclaimers on pages containing affiliate links
Use clear and transparent language at all times
Finally, remember there are some additional requirements for social media influencers endorsing Amazon products through their channels.