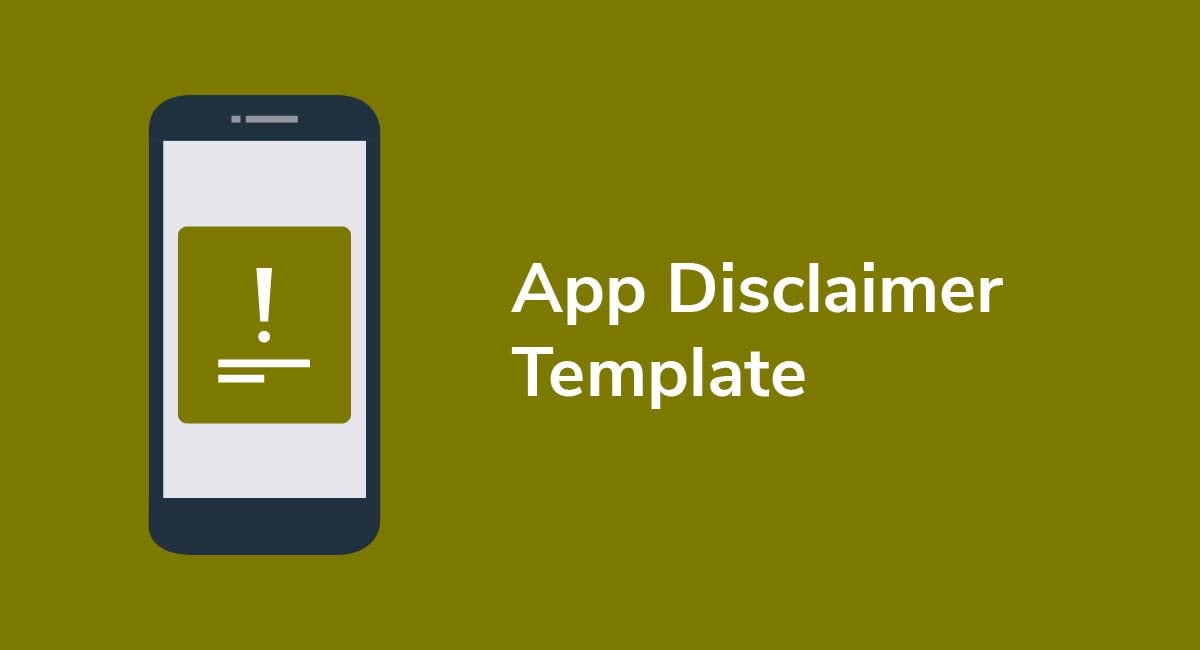 Apps can benefit from a variety of disclaimers that will work to do things like keep users informed, limit the developer's legal liability, and help meet legal requirements.
In this post, we'll look at why mobile app disclaimers are so important, what to include in a variety of different types, and where to display them. We also provide an App Disclaimer Template to help you create yours.
Get compliant today with PrivacyPolicies.com
Select one of our generators to create the required legal agreements for your business:
Integrate a free Cookies Notice and Cookie Consent banner to comply with the EU ePrivacy Directive and the new GDPR law regarding cookies.
What is a Disclaimer?
A disclaimer is a formal statement that acts as a warning and mitigates risks.
Mobile app disclaimers can vary in length and complexity depending on factors like industry, app type, and the nature of the interaction between the owner and user.
On websites and mobile apps, disclaimers usually warn users, customers, and casual browsers that the content they're viewing is for informational or entertainment purposes only and shouldn't be construed as actionable, professional advice. However, there are a variety of other disclaimers as well, which we'll outline below.
Are Mobile App Disclaimers Legally Required?
Not every mobile app needs a Disclaimer, but the Federal Trade Commission (FTC) may require you to have one if you own or develop apps for use in regulated industries like health and wellness or if you engage in affiliate marketing.
Even when they're not legally required, mobile app disclaimers can provide abundant protections, prevent misuse, keep your users and customers well-informed, and lend credibility to your business.
Common Disclaimers for Mobile Apps

While every app will be somewhat different in content and nature, most mobile apps can find benefit in including at least one of the following disclaimers.
Medical Disclaimer
Medical and health-related apps can do everything from monitoring your heart rate to delivering healthy recipes to your mobile device every morning.
If you have a health, physical fitness, or medical app, it's important to let users know the following:
Your content shouldn't be construed as professional advice
No formal relationship exists even when users read your content and interact with your app
Here's how Healthline Media (parent company of Medical News Today) limits liability in its Health Information Disclaimers: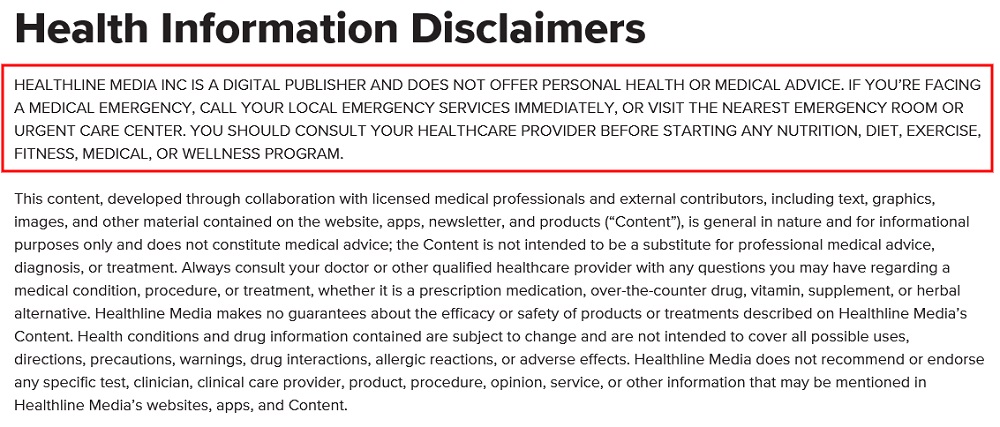 Healthline Media makes it clear that it's strictly a digital publisher and that its content isn't medical advice and shouldn't be substituted for diagnosis or treatment. It also urges users with pressing medical problems to seek professional help immediately and consult with a healthcare provider before starting any plan designed to improve health or fitness.
No Guarantee of Accuracy Disclaimer
In some cases, the information apps display may change so frequently that it's not technically up to date, even if it's only a few seconds old. This is particularly true when it comes to things like stock and commodity prices.
If you operate a mobile app in an industry characterized by ever-changing data, your disclaimer should let users know that the information they're viewing may not be accurate.
In its Disclaimer, GoldPrice informs users that its information comes from sources it deems to be reliable, but that accuracy isn't guaranteed: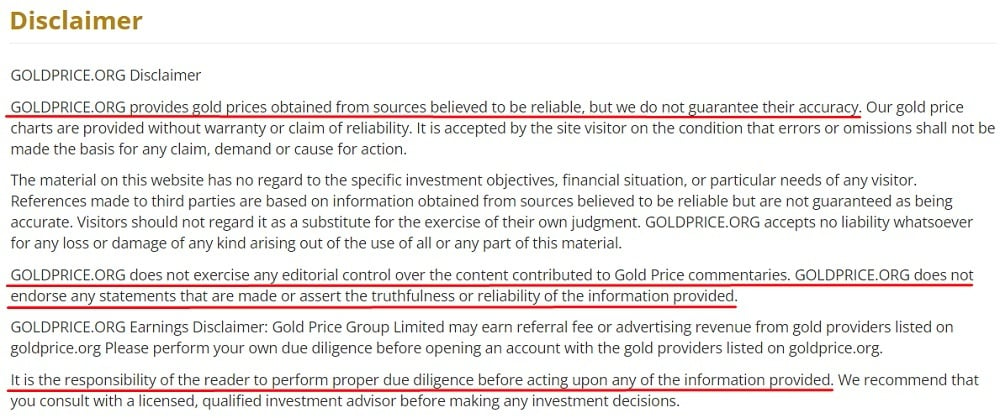 Gold Price's Disclaimer also states that the company doesn't have editorial control over outside content displayed on its mobile app and that it's up to the user to do his/her due diligence before acting on the information provided.
Warranty Disclaimer
Your warranty disclaimer can help your app users understand what rights they have when it comes to warranties under your app or for products you sell via your app. It also helps limit your legal liability for issues with both.
Cars and Bids is an online auction platform that connects vehicle sellers with potential buyers. Its Warranty Disclaimer makes it clear that neither Cars and Bids nor its affiliates make any representation or warranty regarding the services offered:

It's worth noting that this Warranty Disclaimer covers the services provided by Cars and Bids only.
The company separately addresses the condition of auctioned vehicles as follows:

Warranty disclaimers are regulated or prohibited in some states, and when they are, it's important to let customers know that the terms may not apply to them.
Investopedia informs users that some jurisdictions (states) like New Jersey don't allow the Disclaimer of Warranties, and when this is the case, the company's liability is limited to the greatest extent permitted by law:

Affiliate Links Disclaimer
If you engage in affiliate marketing on your app, the FTC requires that you disclose this in an affiliate disclaimer.
Your disclaimer should let users know that you may earn a commission if they buy a product or service after following one of your links.
Here's an example from BuzzFeed:

Learn more in our article Affiliate Marketing and Legal Considerations.
Third Party Content Disclaimer
Many mobile apps link to other apps and websites, display third-party content and link out to other sites. If you do this, you should include a disclaimer stating that the content on any of the linked sites isn't your responsibility and that you have no control over it or its accuracy.
Here's how This Old House informs users that outbound links are for their convenience only, that they aren't endorsements, and that users should exercise reasonable caution:

Use at Your Own Risk Disclaimer
It's important to let users know that they use your app at their sole risk and that you cannot be held liable for any real or perceived damages that arise from that use.
Goodyear addresses risk as follows: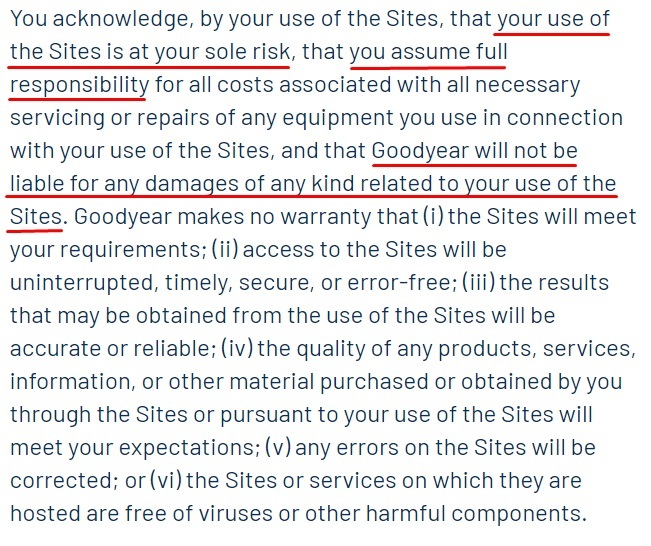 Goodyear's disclaimer also lets users know that:
The site may not meet their requirements or be error-free
Access may not be secure
Results from the site may not be accurate and reliable
Services and products purchased may not meet their expectations
Where to Display Your Mobile App Disclaimer
There are two main places to display your mobile app disclaimer:
Within an in-app menu
Linked to your website's footer, either as its own "Disclaimer" link or within a linked legal agreement such as a Terms and Conditions agreement
Here's how the WeatherBug app displays a link to its Terms agreement in an in-app menu, where disclaimers will be included: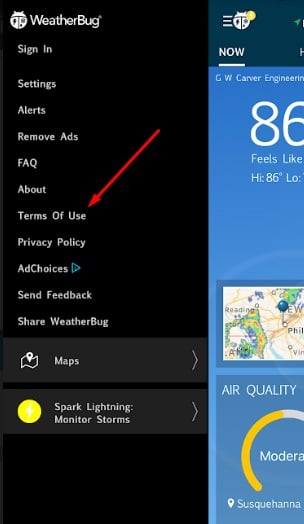 And here's how you can display a link directly to a disclaimer, with a clearly labeled link:
Directly linking to mobile app disclaimers is popular because it makes the disclaimers easier for customers to find and may give developers and owners more legal protection if issues arise down the road.
Likewise, some companies include disclaimer links in mobile pop-ups when customers create new accounts or make purchases.
Mobile App Disclaimer Recap
Mobile app disclaimers are formal statements that serve as warnings to users and risk mitigation tools for app developers and owners.
Some disclaimers may be legally required, such as affiliate disclaimers. However, even when not legally required, displaying disclaimers can offer a number of benefits and protections.
Common mobile app disclaimers include:
Medical disclaimer
No guarantee of accuracy disclaimer
Warranty disclaimer
Affiliate links disclaimer
Third-party content disclaimer
Use at your own risk disclaimer
On most mobile apps, disclaimers can be found within an in-app menu, either linked directly or as part of the linked Terms and Conditions agreement.