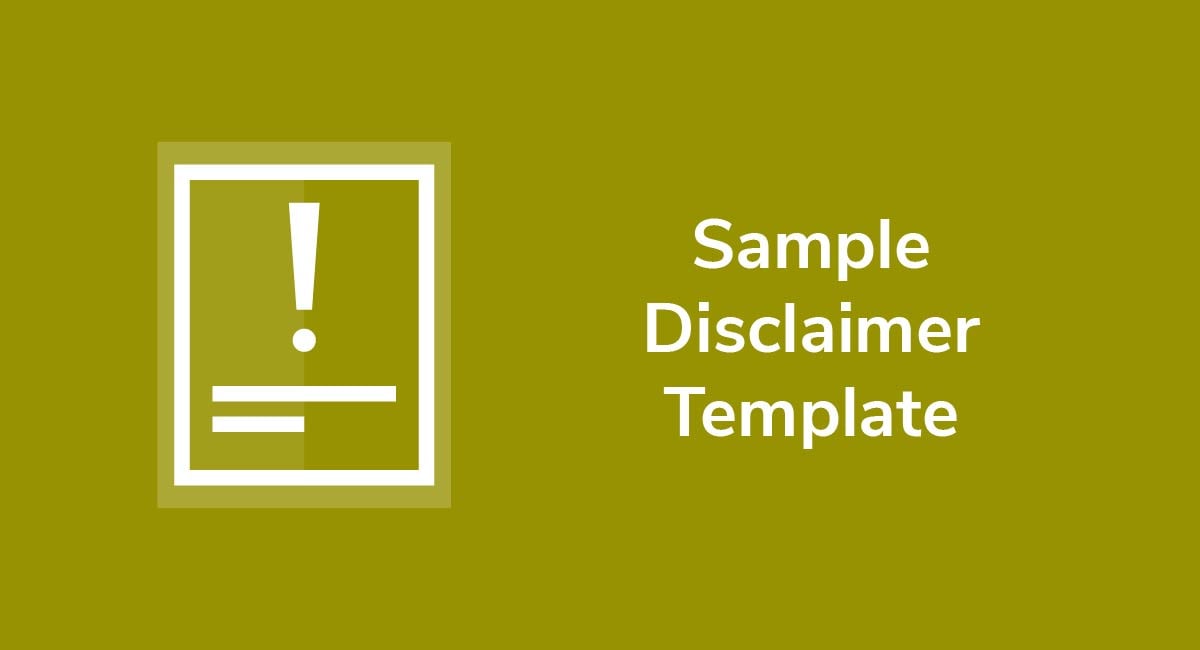 If you offer professional services or sell goods and services online, you might need or benefit greatly from a disclaimer. There are a variety of different disclaimers that you can add to your website that will boost your business, limit your liability and keep your customers informed.
So, what actually are disclaimers, and who needs them?
Get compliant today with PrivacyPolicies.com
Select one of our generators to create the required legal agreements for your business:
Integrate a free Cookies Notice and Cookie Consent banner to comply with the EU ePrivacy Directive and the new GDPR law regarding cookies.
What is a Disclaimer?
A disclaimer is essentially a formal notice on your website. In short, it protects you against unwanted legal claims. You can use them to address specific points of liability, such as:
Medical and legal advice
Third party content
Express and implied warranties
Whatever you use them for, think of disclaimers as your first line of defence against unlimited liability.
A disclaimer can be part of your Terms and Conditions or Terms of Use, a separate policy or a note embedded within a webpage. It's important that your disclaimer is somewhere visible and easily accessible to website visitors.
What are the Benefits of Having a Disclaimer?

Without any disclaimers, there's no telling what site visitors can try to sue you for.
Although you might not think it, the moment visitors land on your website, you're entering into an informal contract with them. If they suffer loss, harm, or property damage as a result of buying your products or simply using your website, they could sue you if you don't take steps to limit your liability.
Disclaimers offer the following benefits as well as others:
Help you avoid legal disputes and claims against your company
Limit how much customers can sue you for
Control a customer or user's expectations
Build someone's faith in your company because you're being transparent with them at all times
In other words, disclaimers make great business sense, and you shouldn't be without them.
Who Needs Disclaimers?
Not every business needs disclaimers, but most companies will at least have warranties or limitation of liability clauses to control what customers can sue them for.
Business in the following industries need disclaimers - the list, however, isn't exhaustive:
Marketing
Technology
Healthcare and pharmaceuticals
Finance
Legal
Home improvement
In other words, the higher risk your services, the more disclaimers you'll need.
Can I Rely on a Disclaimer as a Legal Document?
Yes, you can. They tell users where your legal responsibilities end, and they're enforceable in court. To ensure your disclaimers are enforceable like your other legal documents, make sure that they are:
Somewhere obvious on your website
Unambiguous and clear
Fair i.e. you can't refuse to take responsibility for anything
Agreed to, implicitly or explicitly
If your disclaimers are unfair or unclear, they won't be enforced and you'll be held liable for any wrongdoing.
Drafting a Disclaimer

Although the disclaimers you need varies by business, here are some of the most common disclaimers you'll see and how to use them.
Legal & Financial Advice
Although legal and financial professionals frequently write blogs and other articles for website readers, this content isn't a substitute for specific advice tailored to a prospective client's exact situation.
All disclaimers should state that content is provided only for information purposes. No reader should act on it without receiving full advice.
Martin Searle Solicitors explains that its website content is for information purposes only and doesn't constitute legal advice:

Franklin Templeton takes a similarly clear approach by stating that nothing on the website should be construed as investment or legal advice:
For completeness, Franklin Templeton won't take responsibility for clients who don't recoup the same amount they invested, either:

Medical Advice
If you don't use medical disclaimers, someone who becomes seriously unwell from following information or advice in your content may hold you responsible.
People often go online to check out their symptoms nowadays before visiting a doctor, dentist, or other healthcare professional. The problem is that clinicians must make it clear that, while they can talk about conditions online in general terms, they can't make a diagnosis.
The content on NetDoctor, according to its disclaimer, can't be used as a substitute for medical advice:

NetDoctor fully discharges its responsibilities to readers by telling them to seek medical care whenever it's required: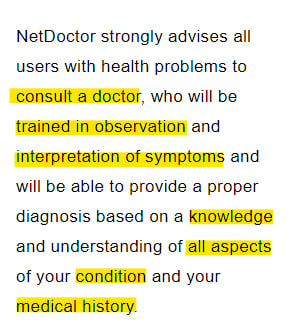 Healthline goes one step further. It includes a brief disclaimer in the website footer: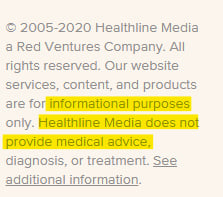 It then confirms that the company is publishers, not doctors, and all users should seek medical attention from an appropriately trained clinician when sick or before beginning a new diet or exercise routine:

In other words, Healthline takes no responsibility for a user's lifestyle choices.
No Professional Relationship Established
If you're offering professional advice, be clear that this doesn't establish a professional relationship between you and the reader. Otherwise, if your advice goes wrong, you could be liable for negligence.
Here's an example from Goldblatt Partners LLP. The clause clearly explains the conditions for becoming a client:

Brazeau Seller Law is equally clear:

Views Expressed
When you're expressing an opinion on something, you should make clear that it's only an opinion, not fact. Otherwise, your audience may misconstrue what you're saying.
An "opinion disclaimer" should distance a company from the personal opinions of its employees or users, like the WTO does here:

Here's another example from CNBC:

Affiliates
You must be clear if you're a brand affiliate when you're talking about the product online. Explain to readers that if they click certain links on your website, and make a purchase, you receive a commission from the brand.
If you don't do this, your content could be banned.
Here are two examples from Elna Cain. First, she explains in her terms that she's paid whenever readers click on certain links:

And then she explains on her product review page that she receives a commission whenever readers buy the product after clicking on her links:

Becca Sills, a Gymshark affiliate, discloses her relationship in her Instagram posts:

Whenever she encourages people to buy Gymshark clothing through her affiliate link, she explains that she benefits from every sale: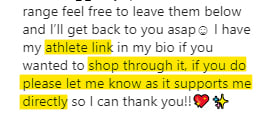 So, while you don't need to spell out your commission rate, you must be clear that you benefit when someone shops through a commission link.
Third Parties
If your website includes links to third party websites or services, explain that you're not responsible for what happens if users click on those links. Explain that you can't control third party website content or functionality, and that these links are not product endorsements, either.
Here's a succinct example from Holidays4Dogs:

And another example from Check Point Software that notes all use of third-party software is done at the user's own risk:

No Guaranteed Earnings
You need a "no guaranteed earnings" disclaimer if you sell anything that's designed to help people make money or give advice on things like investing in stocks.
The disclaimer protects you from a lawsuit if the user loses money or the strategy simply doesn't work. Tell people that:
The strategy won't work for everyone
Many factors influence how successful a user will be
Any projections you make in advertising materials are opinions, not fact
Abraham Group sets this out clearly. There's no guarantee that the program will work:

The user's own personal skills, circumstances, and knowledge influence their success as much as Abraham's advice:

And, finally, sales materials are just that - sales materials:

Here's another short example from OhMyDosh. Following the company's advice is no guarantee of earnings and users agree to this risk when they sign up:

No Guaranteed Results
"No guaranteed results" reminds users that you're not promising a successful outcome if they use your products or follow your advice. This clause is especially important for anyone offering:
Marketing advice
Beauty products
Skincare or health advice
Nutrition supplements
Other professional services
Without such clauses, you're leaving your business vulnerable to criticism if customers don't get the results they're looking for.
Here's an example from The Skincare Edit. The company doesn't promise that anyone following its advice will get a certain result - it all depends on the individual:

Speakeasy Marketing doesn't make any representations that a client will do well just because they follow the company's advice:

Express and Implied Warranties
Although you can't contract out of all express and implied warranties, you should limit your responsibility and liability where possible. This is especially important if you sell goods, develop apps, or host other software platforms.
Why? Well, you can't promise that your goods are perfect, or that your software will always be online and virus-free. You should, then, explain that you're not liable for:
Losses incurred by users or customers due to downtime or other unforeseeable circumstances
Viruses or malware
Goods that aren't suitable for the exact purpose a customer plans on using them for
Any assumptions a customer made as to an item's quality or durability
So, although you're still obliged to provide generally safe products that conform to governing laws, and you're expected to honor, in most jurisdictions, any express guarantees you make, you're not promising perfection.
Myprotein isn't responsible for website malfunctions and doesn't promise that customer information is 100% safe all the time:

Holland & Barrett can't warrant that the information on its website is 100% accurate, and the company is not liable for any damages caused by customers relying solely on this information:

Limitation of Liability
Remember, if you don't limit your liability, then there's no limit to what users can sue you for. Anyone who sells goods or services, including professional services such as legal or financial advice, should have a liability disclaimer.
Your disclaimer should restrict:
What you can be held liable for
How much you can be sued for i.e. put a cap on damages
You can't restrict all liability. For example, you can't exclude liability for:
Personal injury or death resulting from your negligence
Breach of contract
All misrepresentations e.g. fraudulent misrepresentations
In other words, you can only restrict liability so far as the governing law allows. Commonly, businesses limit their liability by imposing:
Time limits for making claims
Caps for damages
Consequential and incidental losses
Innocent and accidental misrepresentation
PureGym excludes liability for injury if users operate gym equipment before receiving instruction from a qualified trainer. The user takes responsibility for their own risk because they chose not to receive proper instruction:

Sainsbury's, a grocery store, clarifies that its disclaimer doesn't limit its liability for negligence and other common law or statutory liability that it can't contract out of:

But, it won't be liable for indirect or economic losses:

If Sainsbury's must be held liable, damages are restricted to how much the consumer paid for the goods (unless the injury falls under an 18.1 exception e.g. personal injury through the company's negligence):

Price Inaccuracies
If you sell products online, make it clear that you're not obliged to honor any pricing inaccuracies. You can cancel the order or let them pay full price.
Without this clause, you could face extremely costly errors. Here's a straightforward example from Origin Fitness. You'll note it specifies that the company is under no obligation to sell customers something for the price quoted in error:

Holland & Barrett uses an extremely similar clause:

Contact Information
Include a contact telephone number or address so that users can ask you questions about your legal policies or your disclaimers. As with Abraham, all you need is a brief section at the foot of your disclaimer:

You can add your contact information to a number of places on your website and within your legal agreements so your users can easily contact you whenever they need or want to.
Displaying the Disclaimer and Consent

Where you display your disclaimers varies depending on what industry you're in and the purpose of the disclaimer. For most businesses, a good place to put a disclaimer is in your Terms and Conditions, but there are three other places you might use disclaimers:
Legal Section
Advertisements
End of articles/content
Terms and Conditions
If you put your disclaimers in your Terms and Conditions, they become part of a binding contract agreed between you and your customers. This means that the person accepts your disclaimers before entering a contract with you.
Here's an example from Experian's Terms of Use i.e. the Terms & Conditions:

Legal Section
You can also put your disclaimers somewhere in your general legal section where you link to your relevant policies.
Smith & Williamson includes its disclaimers throughout its Terms of Service but also on its Legal and Regulatory Information page. This is common practice for highly regulated industries such as law, healthcare, and finance:

Advertisements
Social media influencers or other paid affiliates should also put disclaimers in advertisements for products they promote.
Here's an example from a doctor with a large social media presence. Although he's consuming cough drops in the Instagram post, he makes it clear that it's a paid partnership:

End of Article/Content
If you're writing an article and it's an opinion piece, or it's medical, financial, or legal, put a short disclaimer at the end. You could also put it at the beginning instead.
Here's a disclaimer added to the end of an article to say that a financial article isn't a substitute for proper investment advice:

The disclaimers you use will vary depending on your circumstances, industry, goals and content.
Conclusion
When you're selling goods online or offering professional services, you need disclaimers to limit your liability if anything goes wrong. The disclaimers you need vary by business, but they serve as notice that there are some things you can't take responsibility for.
Without disclaimers, you may be sued for excessive damages.
Disclaimers you might need include, but are not limited to:
Warranties
Limitation of liability
No guaranteed results or income
No obligation to honor pricing inaccuracies
Advice doesn't constitute a legal relationship
Medical, legal, and financial guidance online is no substitute for professional advice
Affiliate marketing and sponsored advertisements
Third party websites and links
Views expressed are personal opinion, not fact
Display your disclaimers somewhere obvious so that readers have full knowledge of them. Your Terms and Conditions is a good place to start, but you can also create a separate Disclaimers page on your website, and embed disclaimers within your digital content itself.