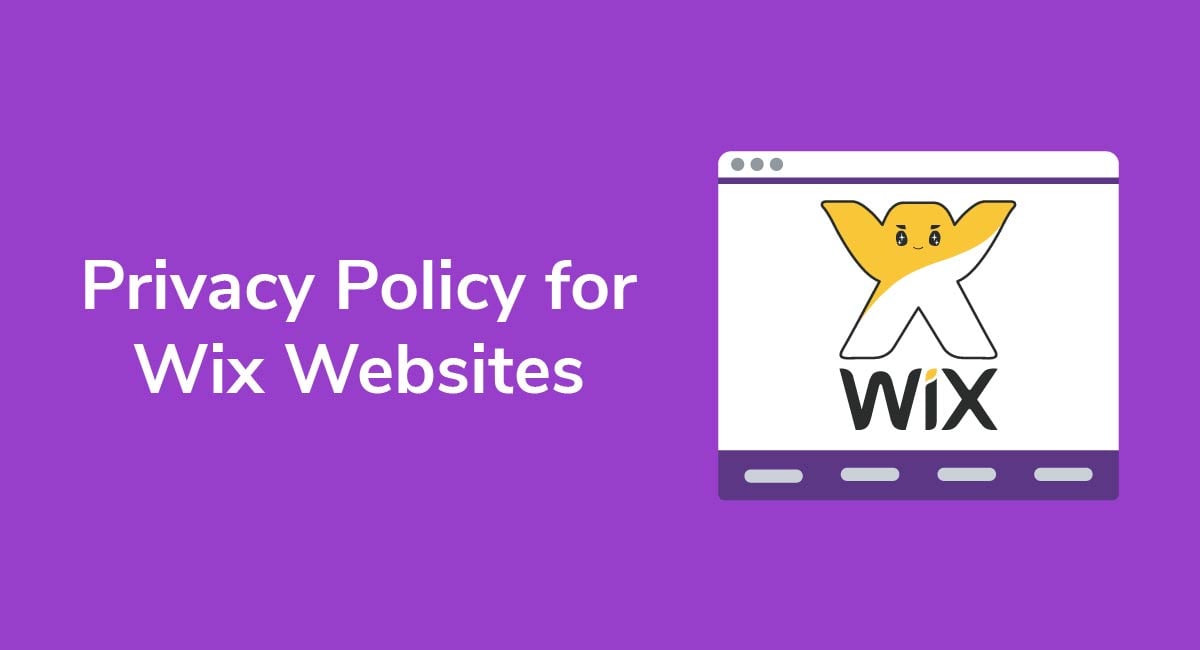 Wix makes it possible for anyone to build a website in minutes using its platform. Using Wix makes running an online business easy, but it also comes with terms.
One of those terms is upholding privacy laws, including state, national, and international standards.
The same is true of building a Wix app.
Do you need a Privacy Policy for your Wix website or app? It's a responsible idea even if it isn't quite required. Here's what all Wix users need to know about their privacy responsibilities.
Wix Recommends That You Have a Privacy Policy
Reading Wix's Terms of Use and Privacy Policy agreement is essential. You'll find out important requirements including the following, which is taken from Wix's Privacy Policy:
"You are responsible for the security, integrity and authorized usage of your Users-of-Users Personal Information, and for obtaining consents, permissions and providing any fair processing notices required for the collection and usage of such information."

This means that you - not Wix - are responsible for staying in line with state, national, and international privacy laws.
Wix explicitly states this again at the end of Section 6 in its Privacy Policy:
"Wix has no direct relationship with the individual Users-of-Users whose Personal Information it processes. If you are a visitor, user or customer of any of our Users, and would like to make any requests or queries regarding your Personal information, please contact such User(s) directly"


In its Privacy Policy, Wix encourages users to "publish and maintain clear and comprehensive privacy policies on their user websites, in accordance with the applicable laws and regulations..."

In this context, a Privacy Policy makes your data collection practices legal when you're under the jurisdiction of sweeping legislation.
Laws That Require a Privacy Policy for Your Wix Site

Wix recommending to its users that they maintain a Privacy Policy is part of its commitment to upholding the laws it must also abide by.
In the United States, CalOPPA (the California Online Privacy Protection Act) requires any website that collects personal information from a resident of the state of California to add a Privacy Policy to their site.
Even if your business isn't domiciled in California, CalOPPA applies to you because you cannot prevent Californians from using your site. A Privacy Policy covers your back regardless of where your site users call home.
The GDPR (General Data Protection Regulation) enacted in May of 2018 also requires you to have a Privacy Policy. The GDPR protects European residents and citizens from predatory data practices. It requires transparency and accountability from businesses that collect any form of data from cookies to user-provided email addresses.
Other major laws regulating the way businesses process data include:
Putting together a comprehensive Privacy Policy is the simplest way to uphold the law and offer transparency to users and customers.
Wix may only recommend Privacy Policies, but if you fall under the jurisdiction of any of the above laws, then it's absolutely required.
Wix Requires Apps to Have a Privacy Policy

Are you running an app compatible with Wix? The Wix App Market Terms of Use also requires you to have a Privacy Policy in place to be compliant in certain contexts.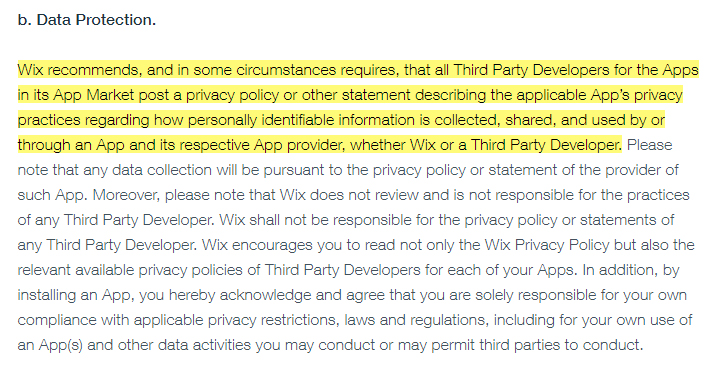 Wix doesn't describe a specific situation when a Privacy Policy must be in place. However, it's prudent for developers to consider the recommendation as a command.
As is the case with Wix websites, apps are subject to numerous state, national, and international regulations like CalOPPA and the GDPR. A Privacy Policy that follows the guidelines put in place by those laws is the best course of action from protecting your business from violating the law.
How to Create a Privacy Policy for Your Website
Need a Privacy Policy? Our Privacy Policy Generator will help you create a custom policy that you can use on your website and mobile app. Just follow these few easy steps:
Click on "Start creating your Privacy Policy" on our website.
Select the platforms where your Privacy Policy will be used and go to the next step.

Add information about your business: your website and/or app.

Select the country:

Answer the questions from our wizard relating to what type of information you collect from your users.

Enter your email address where you'd like your Privacy Policy sent and click "Generate".

And you're done! Now you can copy or link to your hosted Privacy Policy.
How to Add a Privacy Policy to Your Wix Site

Adding a Privacy Policy to your Wix site is easy. Just follow these steps:
Start by logging into your account and visiting the Editor page from your dashboard.
To add a page, you'll click "Menus & Pages." The button is at the top left-hand side of the Editor page.

From here click the "Add Page" button found at the bottom of the panel.
Name the new page as "Privacy Policy." Click Done to save your page. Wix automatically adds the Privacy Policy page to your site's menu.
When you are ready to add your Privacy Policy text to the page, go to the Switch Page panel at the top of your site. You can edit the page from here whenever you need to update your Privacy Policy.
Linking to Your Privacy Policy
Laws governing Privacy Policies want these policies to be as accessible as possible. Although users can see your Privacy Policy page in the task bar from every page on your website, consider adding a separate link to the footer of the site, too.
To add a link to your new Privacy Policy page to your footer, all you need to do is drag the element to the bottom of the page and select "Move to Footer."
What to Include in Your Wix Privacy Policy

Your policy must include clauses that pertain to:
Categories of personal data collected
Methods of collection
Processing methods
Cookies policy
Third party relationships
Data retention periods
Changes to the Privacy Policy
Your Contact details
In addition to highlighting these crucial details, add clauses and language about your relationship with Wix. Wix processes some of the data on your behalf, and you are not in control of it.
Refer to Wix's own Privacy Policy to learn how it impacts your own data.
For example, Section 8.1 Third Party Services notes that Wix's third parties may receive Users-of-Users data: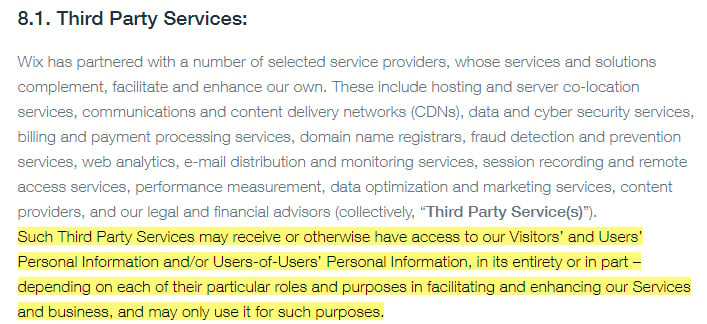 Examples of Privacy Policies from Wix Sites
Here are a few examples of Privacy Policies from existing Wix sites that fit the bill both from Wix's and legislative points of view.
Keep an eye out for how the creator added clauses to their policy that relate to Wix and Wix's uses of data as their website platform.
Clasp'pin's Privacy Policy page is extensive and provides a good point of reference for anyone unsure of what their Wix Privacy Policy should include.
You'll find the Privacy Policy in the footer of the website and not in the header menu:

Placing it here is fine because there's no requirement that says your Privacy Policy must be accessible in the general menu for the website. As long as there is a visible link to it on the site and it is easy to find, then you satisfy both Wix and international law.
Clasp'pin's Privacy Policy begins with the general terms required by legislation like CalOPPA and the GDPR: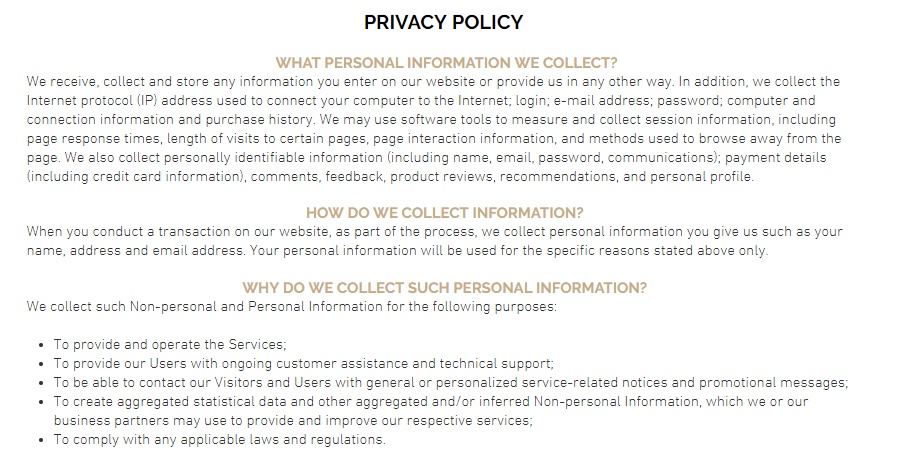 It highlights:
What information the site collects
How the site collects information
What the company does with the data
The Privacy Policy then goes on to discuss elements related directly to hosting the site on Wix: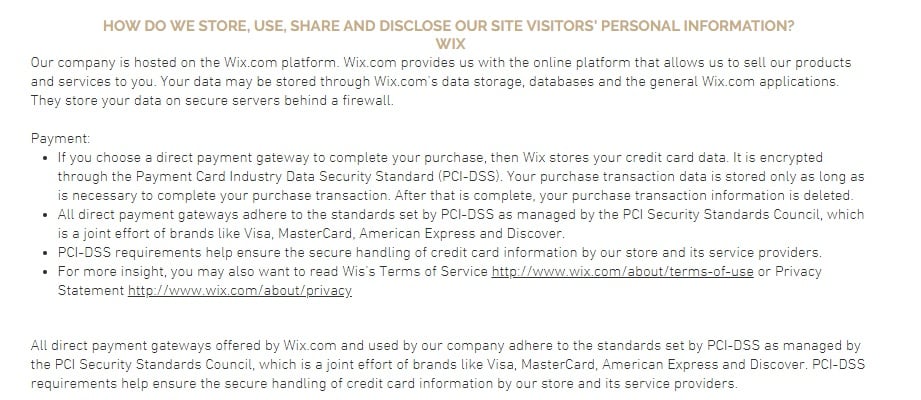 Even though Wix indemnifies itself from any data-related issues for Users-of-Users, it is still helpful to point out that Wix is your website platform.
It provides transparency about data use, storage, and sharing to users, which the GDPR requires from any websites processing data from European visitors. Given that Clasp'pin is based in the Czech Republic and is thus an EU-based business, this disclosure is virtually mandatory.
Finally, Clasp'pin provides its contact information to uphold personal data rights outlined in the GDPR. Adding contact information is also essential for complying with the Wix Terms of Use because Wix directs Users-of-Users to contact the User (in this case, Clasp'pin) directly.

Lee-Ann Johnstone is a UK-based marketing consultant and mentor who provides training and events. Even as a sole proprietor or small business, she must provide a Privacy Policy to satisfy both Wix's Terms of Use and laws like the GDPR.
Lee-Ann Johnstone takes a different approach to her Privacy Policy in comparison to Clasp'pin.
Her Policy includes a condensed section with general information about what data she collects, how it's collected and how she uses it:

Her Privacy Policy works because she does not collect huge swaths of data to share with third parties or store for her own use.
She also discusses the use of Wix as a platform within her Privacy Policy and how it impacts customer data: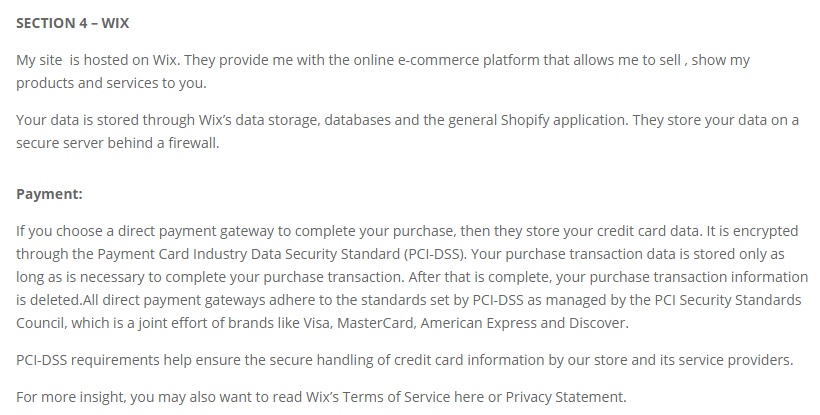 She carefully notes that because Wix is her platform, User-of-User data exists in Wix's data storage and within Shopify.
Finally, she takes responsibility for the data collected at the end of her Privacy Policy by providing an email address for contact:

Finally, you can find her Privacy Statement located in the footer of the page along with the Terms of Service:

What It All Means for Your Site or App
The only time Wix requires you to include a Privacy Policy is when you collect personal data from data subjects - your users. The requirement satisfies Wix's agreement to uphold international law and your own obligation to the same laws.
Wix informs you in its Terms agreement for app developers that you must have a Privacy Policy.
Failing to upload a Privacy Policy not only puts you in violation of the Terms of Use with Wix, but potentially in violation of international laws.