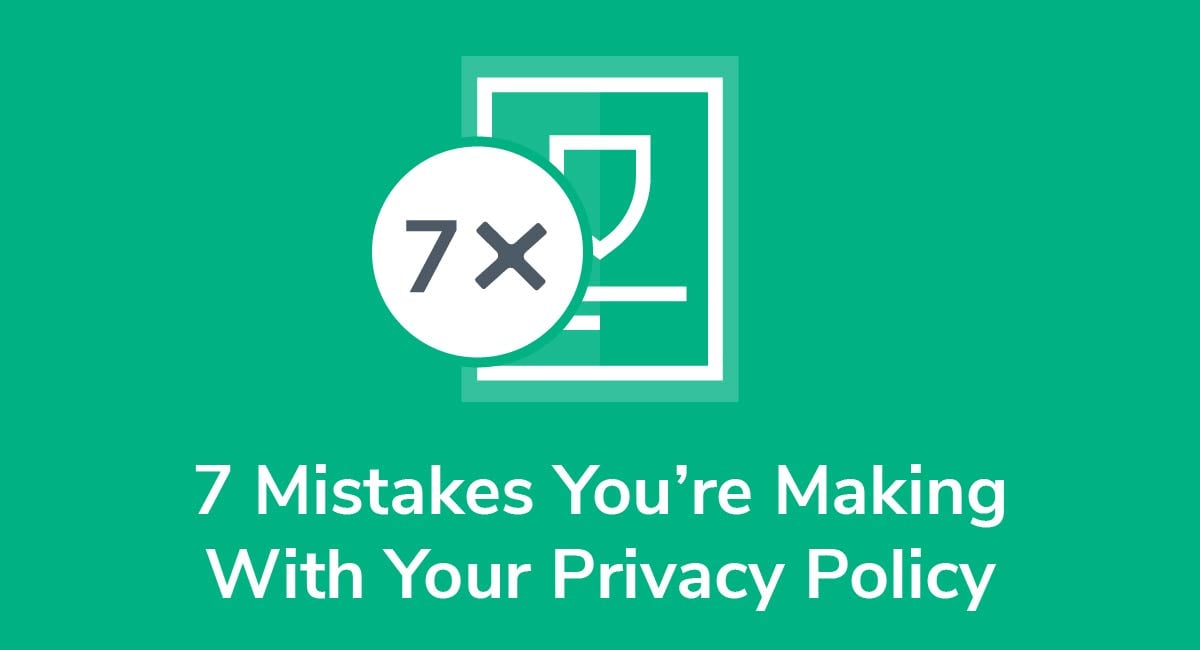 You may be making some mistakes with your Privacy Policy that could come with big repercussions for your company.
A Privacy Policy is meant to provide a customer with full disclosure of what information you collect and how it is being collected and used. There are some specific things you need to do when it comes to what types of information you include, how you display your Policy and how you handle it into the future.
Here are some of the most common mistakes that arise when it comes to Privacy Policies and what you can do to make sure you don't make them.
Need a Privacy Policy? Our Privacy Policy Generator will help you create a custom policy that you can use on your website and mobile app. Just follow these few easy steps:
Click on "Start creating your Privacy Policy" on our website.
Select the platforms where your Privacy Policy will be used and go to the next step.

Add information about your business: your website and/or app.

Select the country:

Answer the questions from our wizard relating to what type of information you collect from your users.

Enter your email address where you'd like your Privacy Policy sent and click "Generate".

And you're done! Now you can copy or link to your hosted Privacy Policy.
Making Language too Complicated
Your consumers are a general audience, which means the language of your Privacy Policy needs to be simple enough that everyone can understand and read it. You are not writing to a table of lawyers, but everyday people.
If you are making the language too complicated, it may appear as if you are attempting to hide your practices through complicated words and phrases.
This issue came to a head in 2015, when TIME partnered with the Center for Plain Language to create a report of the 7 top internet companies and their Privacy Policies. From this report, it ranked each of these companies on clarity of language and ease.
After the report was released, updating Privacy Policies with plain language became a top task for companies around the world.
An example of a top grade from TIME was Google's Privacy Policy. Google's language was found to be clear, simple, and conversational, detailing the terms without hiding behind difficult words. Google uses common words with a clean structure, which users found to be the most appealing.
Here's an example of one clause where you can see how easily understandable the information is conveyed: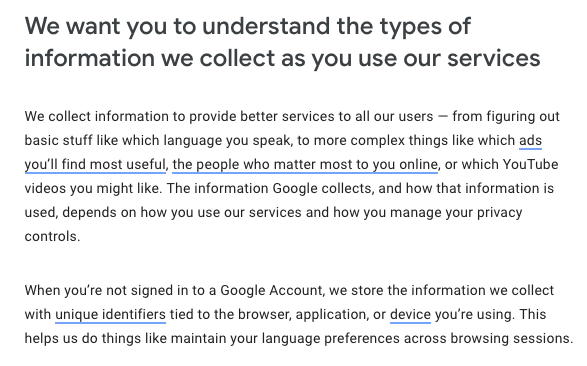 Lyft, a transportation service, came in at the bottom of TIME's plain language report for poor structure, incoherent sentences, and a general confusing policy. The report even went as far as to say that it seemed like Lyft didn't "want you to read this."
Lyft has since updated its Privacy Policy to be more readable and user-friendly.
Not Getting Clear Agreement or Consent

You must receive clear agreement or consent to the gathering of information and to your Privacy Policy. The consent must be expressly given, not implied. Additionally, consumers need to be asked permission when collecting specific information or new data across your website.
For example, under the GDPR of the European Union, consent must be:
Freely given
Specific
Informed
Unambiguous
Clear affirmative action
Any consent that does not meet these descriptions could be considered coercion by your company or trying to defraud your consumers.
Previous ways of getting consent such as pre-checked boxes are no longer accepted. The sign-in form for the online shoe company Zappos is an example of providing places for users to freely and affirmatively give their consent to signing up for the service and remaining signed in to the system: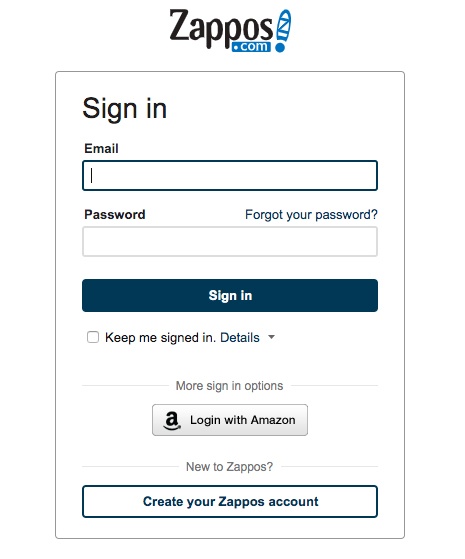 Not Displaying Your Privacy Policy Appropriately
An example of a law that requires appropriate disclosure is the California law CalOPPA, which requires that your Privacy Policy shall be "conspicuously" posted or where the consumer can easily see and access the policy.
A link or notification should be included in places where a consumer would typically wish to see about the privacy of their information. A few examples of places to include links to your Privacy Policy are:
Checkout pages
Footer of the webpage
A pop-up message on an app or homepage
Top corner of the screen
Sign-up and log-in forms
While you do not need to include the entire Privacy Policy on your homepage or landing page, including the links in as many locations is important. Also, including encouragement on your pop-ups or sign-up forms to your consumer to read the policies before they use your site also is key.
Two examples of where to include Privacy Policy links are from ESPN and the Lululemon. The sports website ESPN includes its link in the first place users typically look, the footer of the homepage. The link is bold and clearly defined without a distracting background to confuse the user:

An example of including a link to a Privacy Policy on a "create account" page is from Lululemon, a top fitness clothing brand. Lululemon's link is bold and underlined to draw the customer's attention to it: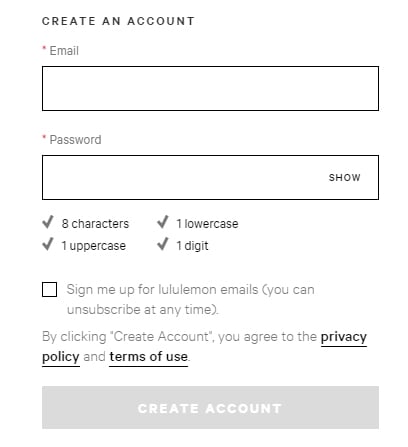 Remember, the more places you include your link, the better. You should include it at points where you collect personal information or want to use the information in a specific way, as seen above. Users are submitting email addresses as well as being asked to consent to sign up for promotional emails, so this is a double-perfect time to link to the Privacy Policy.
Not Including All Required Clauses

A number of privacy laws have some specific requirements for what must be included in a Privacy Policy. These laws include:
COPPA
GDPR
CalOPPA
CCPA (CPRA)
Each of these laws protect a particular group of consumers' privacy and if your users fall into one of these groups, you must include a specific clause.
COPPA
COPPA ("Children's Online Privacy Protection Act") regulates information collected from children and gives parents control over the data collected. If your site is targeted towards children or any of your audience may be children, COPPA will apply. Additionally, any foreign companies who have consumers in the US must also comply with COPPA.
Your COPPA clause must include:
Getting parental consent
Properly securing data
Deleting data when requested, or when informed that it's from a minor
Providing a clear and encompassing Private Policy
Nintendo - one of the leading game console companies in the world, includes a specific clause for children. Nintendo is used by both adults and children and the company included a portion stating they do not collect information from children under 14 without consent and allow parents to modify or delete any information.

GDPR
The GDPR is the European Union's governing body for protecting personal data. The GDPR was adopted in 2016 and fully enacted in 2018. Going forward, any companies who sell services or have EU customers, must follow GDPR regulations. Foreign companies are also included if they have consumers who live in the EU.
The two most important takeaways from the enactment of the GDPR is that foreign companies with EU customers now fall under its regulation and implied consent is no longer acceptable. Express and freely given is now the standard companies must comply to get consent.
If you have any EU consumers, making sure you follow the new guidelines are extremely important.
CalOPPA
CalOPPA, California Online Privacy Protection Act, was created to protect the information of California residents online. Companies that are based in California or collect information from California residents also fall under CalOPPA's reach.
The most important inclusion in CalOPPA is the Privacy Policy of the company must be "conspicuously" posted on the site or the company must use reasonable means to make the Privacy Policy accessible to customers.
The Privacy Policy must also clearly state how it handles "do not track" signals, or identifications made by the consumer that they do not want their information to be tracked by a company.
Apple obtains information from clients around the world. It collects names, addresses, credit card information, and email addresses. Since the company collects data from consumers worldwide, including a separate CalOPPA clause is a must.
Apple's Privacy Policy is clearly linked on the footer of the page and a separate page includes how Apple handles any "do not track" signals its customers may invoke specific to CalOPPA requirements: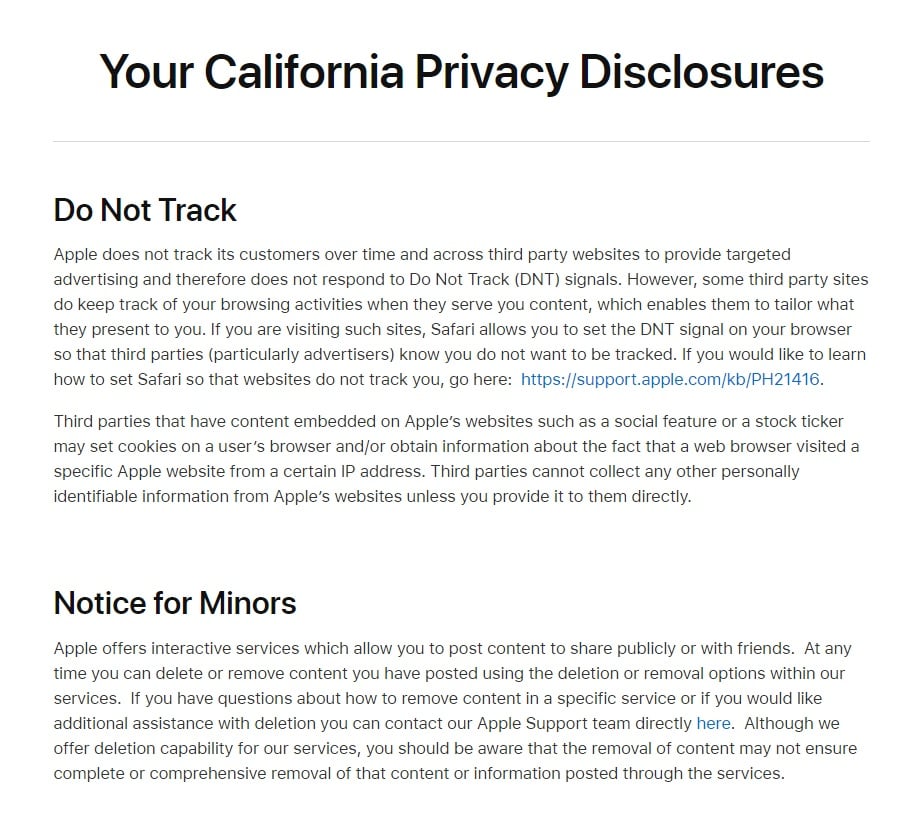 CCPA (CPRA)
The California Consumer Privacy Act (CCPA) and its CPRA expansion applies to for-profit businesses that collect the personal information of California residents. Like CalOPPA, the CCPA (CPRA) applies to California businesses and companies across the world.
After January 1, 2020, all businesses must update their Privacy Policies to include the new consumer rights requirements under the act. These rights include access to information, to request deletion of data, and to not be discriminated against for exercising these rights.
Businesses must notify consumers of their rights. Whether you notify consumers by separate clauses or pages, under the CCPA (CPRA), your Privacy Policy must include:
System for consumers to request and delete information
Webpage and link for consumers to opt-out of selling information - a Do Not Sell My Personal Information page (required only if the business sells information)
Categories of personal information collected (i.e., email addresses and employment information)
Sources of collected information
Purposes for collecting the information
List of personal data sold in the last 12 months
List of personal data disclosed for "business purposes" in the last 12 months
Not Updating Your Policy as Your Practices Change
One of the main protections of laws like the GDPR and CalOPPA is to protect against fraud and misleading language. If your practices have changed and you fail to change the language of your Privacy Policy, it could be construed as deceitful actions.
Changes to your practices may include:
How you collect information
A new third-party the information is sent to
Additional privacy protections
Users must be allowed to read and accept the new changes to the policy. An Update Notice through email, pop-up, or clear links to changes must be created to allow consumers to reject or agree to the new terms.
The telephone company Verizon consistently makes changes to its Privacy Policy due to being in the technology industry. Because of this, Verizon includes a separate page for any current or previous changes that have been made to their Privacy Policy and the reasons behind the changes:

Not only do you need to update your Policy as your practices change, but you need to inform your users about this, too. Not doing so is a big, big mistake.
Conduct a privacy law self-audit so you know exactly what privacy practices your business engages in and what information you need to disclose to your users. Conduct one regularly so you know if things change and you need to update your Privacy Policy to reflect the changes.
Using Standard Templates Without Customization

Since Privacy Policies are required by law, accessing standard forms or templates is very easy. However, when using standard forms remember to customize. These standards may include:
Long-winded legalese
General disclosures
General terms
It is important to customize your Privacy Policy to reflect the specific practices and services your company provides. If you run a mobile app, including the specific information you collect and how the data will be stored must also be included.
Additionally, if you must include certain clauses, like those required by COPPA or CalOPPA, you may have to add those to the generated form. Not every preprinted form includes every clause or disclosure that your specific company may apply to.
Not Including Proper Cookies Disclosures
One of the most important disclosures in Privacy Policies is how information is collected and this includes information collected via cookies. Users need to know how companies are collecting their information and the chance to accept or reject those collection types.
If your company uses cookies to collect data, that must be disclosed.
Here's an example of a cookie clause in Target's Privacy Policy that lets shoppers and site visitors know that cookies are used by both Target and third parties, and what these cookies accomplish: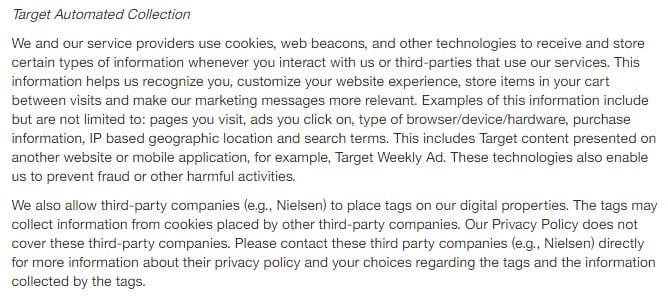 A note for US companies and EU companies. US companies generally include a Cookies Policy or cookie clause in the general Privacy Policy, but EU companies must have a separate Cookies Policy under the Cookies Directive.
Summary
With recent changes to privacy laws and new laws on the horizon, it has never been more important than it is now to double check your own Privacy Policy for mistakes you may be making.
Common mistakes you may be making are:
Keeping language too complicated

Using legalese and long-winded words are no longer acceptable

Not getting clear agreement or consent

Express consent is now required, not simply implied

Not displaying it correctly

Links to Privacy Policies must be clear and conspicuous
Include one in your footer, subscription pages, and pop-ups

Not including required clauses

May need to include clauses for COPPA, GDPR, and CalOPPA if you have certain users

Not updating when your practices change
Using Policy templates without customization
Not including if you use cookies to collect information