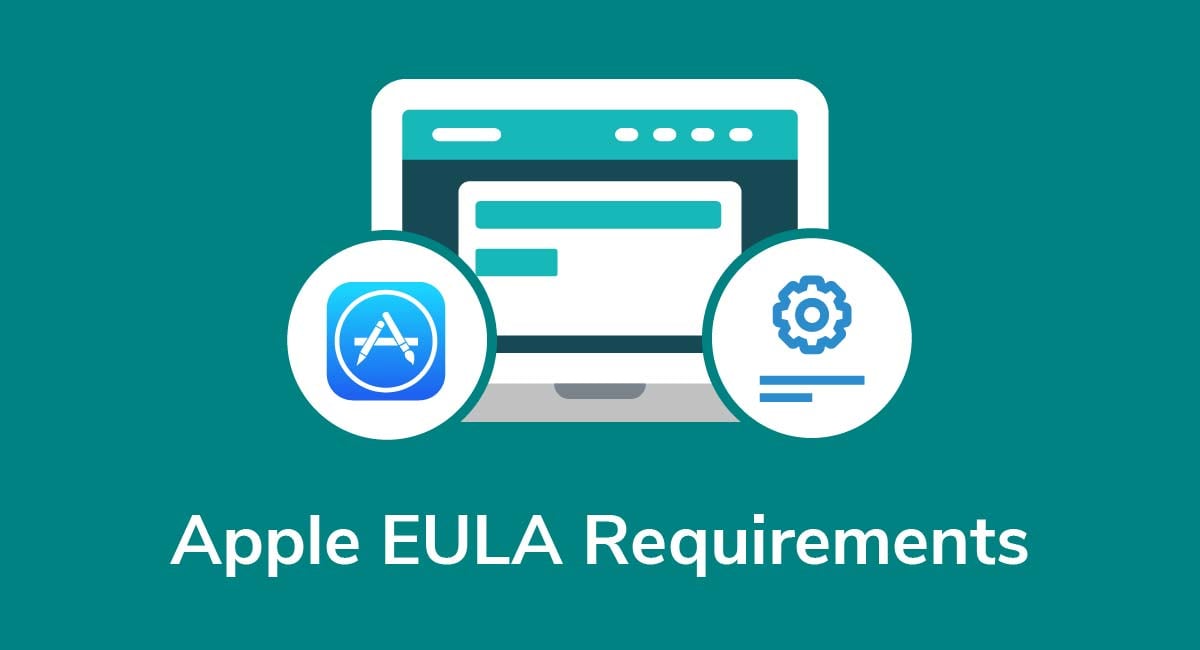 If you're an iOS app developer, you have two options when it comes to satisfying Apple's End User License Agreement (EULA) requirements.
First, you can use the default EULA provided by Apple. If you're not sure if Apple's default EULA will provide adequate protection, you can create your own customized version instead.
However, if you create your own EULA, you'll need to make sure it meets 10 specific criteria established by Apple.
In this article, we'll look at what an EULA is, what Apple requires, and show you how to get your own custom EULA. that's compliant with Apple's requirements.
Get compliant today with PrivacyPolicies.com
Select one of our generators to create the required legal agreements for your business:
Integrate a free Cookies Notice and Cookie Consent banner to comply with the EU ePrivacy Directive and the new GDPR law regarding cookies.
EULA vs. Terms and Conditions
EULAs are similar to Terms and Conditions, but there are a number of differences between the two agreements that are worth noting. While both address the idea of use, they do so differently.
An EULA grants the end user the right to use a license, and explains the restrictions and limits on the license's use. It will allow you (the owner or developer) to address other issues regarding ownership and restrictions on use. For example, most EULAs prohibit users from copying or reverse engineering programs and apps and from using them commercially.
A Terms and Conditions agreement is far more broad and covers aspects of the relationship such as what law governs the entire relationship and agreement, how payments are handled, how accounts can be terminated, what warranties are granted or disclaimed and so forth.
Apple's Default EULA

If you're an iOS mobile app developer who'd rather not create your own customized EULA, Apple's default version will automatically apply.
Apple's default EULA works for many developers because it includes these and other common clauses:
Limitations of liability
Warranty disclaimers
Governing law
Termination
However, on the downside, Apple's standard EULA is a jack-of-all-trades that's intended to cover all apps. As is often the case, such agreements have limitations and don't offer the best protection for every business.
Apple's standard EULA does offer app developers some protections, but it won't allow you to address specifics that relate to your business and products.
This is why it's generally used by small developers who provide free apps. If their free apps become popular and users are willing to pay for them, many developers eventually switch from Apple's standard EULA to a customized one.
Why Create a Custom EULA

One reason many developers choose to create a custom EULA is that it gives them far more control. With a custom EULA, they can decide what they want to include and how specific they want to be. This is particularly important for apps that come with warranties, have unique features or limitations, or are subject to terms that don't apply to other apps.
In addition, a custom EULA will allow you to add additional clauses, but with Apple's default version you're locked into using their clauses only. Again, this is a huge plus if your app has terms, restrictions, or limitations that aren't adequately addressed in Apple's default version.
Likewise, a custom EULA may be the way to go if you need to address tricky app-specific trademark, copyright, and intellectual property issues.
In general, Apple's default EULA is relatively vague and uncustomizable. On the other hand, a custom EULA will allow you to add more information and clauses and to be as specific and in-depth as is necessary to ensure that you get the best possible protection.
10 Things Apple Requires for a Custom EULA

Developers who go the custom EULA route will have to follow the guidelines set forth in Apple's Instructions for Minimum Terms of Developer's End-User License Agreement.
In it, you'll find the following 10 requirements that your custom EULA must meet:
1. Acknowledgement
First, your customized EULA should clearly state that it's an agreement between you and the end user or licensee, and not between them and Apple.
Your EULA should also make it clear that you're solely responsible not only for the app itself, but for any content within it.
Here's an example from Smartsheet:

This clause lets end users know that the agreement is between them and Smartsheet only, and that it's a binding legal agreement that goes into effect as soon as the app is downloaded.
Apple isn't mentioned specifically, but it leaves little room for doubt that Apple isn't a party to the agreement.
2. Scope
Apple requires that an EULA informs end users that the license is limited, revocable, and non-transferable. In addition, it must state that the license only applies to those devices owned or controlled by the end user.
In this example, Smartsheet addresses Scope in a License clause:

It also notes that the license is only granted for personal and internal business purposes in accordance with the terms of the EULA and the subscription agreement.
3. Maintenance and Support
Your EULA must inform users that Apple is under no obligation to provide any maintenance or support for your app. Of course, you'll need to let users know what types of maintenance and support services you will and will not provide for your app.
Here's how Smartsheet addresses maintenance and support:

This clause also states that Smartsheet can change or update apps at its discretion, and that even though the company may provide maintenance and support services, it's not obligated to do so.
4. Warranty
Since warranties can be a gray area, Apple requires that your custom EULA lets end users know that you alone are responsible for handling all warranty issues. Even if you choose to disclaim all warranties, you'll still want to inform users that Apple isn't responsible for or involved with any warranty related issues.
This is how Smartsheet addresses warranties:

Apple isn't mentioned specifically here, but it is in the following subsection.
5. Product Claims
Apple requires that an EULA must state that Apple bears no responsibility for claims resulting from the end user's possession or use of the mobile app.
This includes but isn't limited to the following:
Product liability claims
Claims that arise when a licensed app doesn't "conform to any applicable legal or regulatory requirement"
Claims that arise from privacy, consumer protection, or other similar legislation
In the following example, Smartsheet lets users know that Apple will refund the purchase price if an app doesn't conform to an applicable warranty, but that to the fullest extent of the law, Apple has no warranty obligation:0

Basically this clause just needs to make it undoubtedly clear that you are responsible, and not Apple, for basically anything and everything related to the app.
6. Intellectual Property Rights
In your EULA, you and the end user must acknowledge that you (not Apple) will be solely responsible for dealing with all claim-related issues including investigation, defense, and settlement, if your app infringes on a third party's intellectual property rights.
Here's how Smartsheet addresses this:

7. Legal Compliance
According to Apple's Instructions for Minimum Terms of Developer's End-User License Agreement, the end user must not be:
Located in any country subject to a U.S. government embargo
Located in any country that's been designated as terrorist supporting country
Listed on any U.S. government list of prohibited or restricted parties
In this example, Smartsheet uses wording taken directly from Apple's Instructions:

Smartsheet also adds that end users agree not to transport the app to or use it in any country that falls into one of the above categories.
8. Developer Name and Address
An Apple-compliant EULA must include contact information like business name and physical address, as well as a telephone number and email address where end users can direct questions, claims, and complaints.
Here's how Smartsheet complies with Apple's eighth EULA requirement:

9. Third Party Terms of Agreement
Your EULA must state that it's the end user's responsibility to comply with applicable third party terms when using your app. For example, if you have a mobile streaming app, users must comply with the terms set forth by the wireless service provider.
Here's an example from Solargrade's mobile app EULA: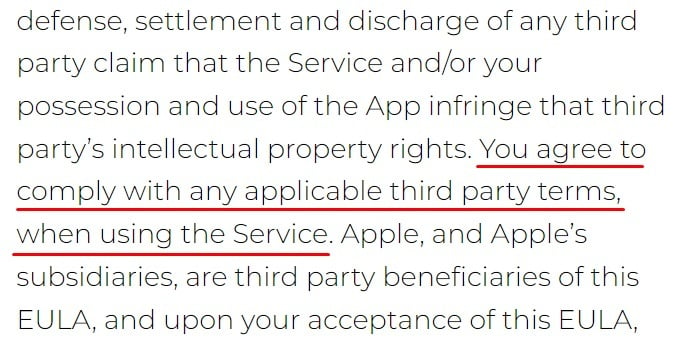 10. Third Party Beneficiary
You and your end user must acknowledge and agree that Apple and its subsidiaries are third party beneficiaries of the EULA.
A third party beneficiary is a person or business that may derive some benefit from a contract, even when they're not a party to it. This means that Apple will have the right to enforce the EULA against the end user when they accept the terms and download your app.
Here's how Smartsheet addresses third party beneficiaries:

If you include all of that information, your EULA will meet the minimum standards that Apple requires.
Summary
iOS app developers can choose to use Apple's standard EULA or create their own to address the specifics of their business and products.
By creating a custom EULA, you'll have far more control and increased protection because you'll be able to customize your EULA by adding more clauses where necessary and including app and company-specific information.
However, those who choose this option must make sure that their EULA includes the following ten points of information, as dictated by Apple:
Acknowledgement
Scope of license
Maintenance and support
Warranty
Product claims
Intellectual property rights
Legal compliance
Developer name and address (contact information)
Third party terms of agreement
Third party beneficiary