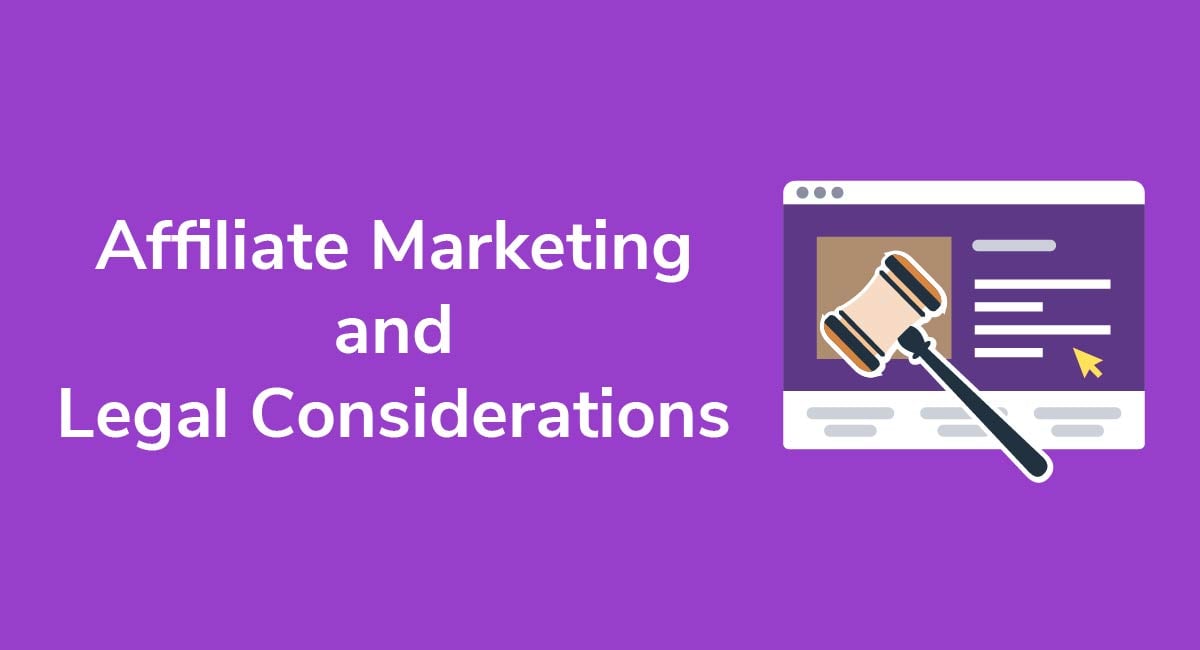 Affiliate marketing is an increasingly popular marketing method that raises particular legalities you should be aware of.
If you're a business owner running an affiliate marketing company or a blogger who participates in affiliate marketing, read on to find out about some legal requirements you need to be familiar with.
Get compliant today with PrivacyPolicies.com
Select one of our generators to create the required legal agreements for your business:
Integrate a free Cookies Notice and Cookie Consent banner to comply with the EU ePrivacy Directive and the new GDPR law regarding cookies.
What is Affiliate Marketing?

Affiliate marketers earn money by signing up with a company or network of businesses and selling their products and services.
It's considered quite lucrative, especially in the age of Instagram-fame where someone can earn over a thousand dollars per photo just by including a specific product.
Affiliate marketing is based on revenue sharing. It's marketed to consumers through whatever channels work best for the merchant company (also often referred to as the seller, the brand, the vendor or the retailer).
An affiliate marketer will be paid a commission by the affiliate program whenever they succeed in selling something to a customer. Affiliate marketing is quite a complex method of marketing because it involves a lot of potential for lack of transparency, inauthenticity and even dishonesty.
Here is a helpful infographic from the Federal Trade Commission that details the way affiliate marketing works.

So, whether you're an affiliate marketer or are running an affiliate marketing company, there are several things you need to be aware of - especially when it comes to your Privacy Policy.
Why does an affiliate marketing business need a Privacy Policy?
Affiliate marketing is, at its core, the sharing of opinions from one person that leads to the purchasing of a product by another. It stands to reason that there needs to be a solid foundation of trust between the various parties involved, and a Privacy Policy is the most effective way to do this.
If you're running an affiliate marketing business and you're neglecting to include a prominent Privacy Policy, you could be costing your business more than you realize.
Unfortunately, there are a number of unscrupulous businesses out there that use affiliate links to exaggerate the benefits of a product or service in order to encourage clicks and sales.
A Privacy Policy that discloses the use of affiliate links is the best way to avoid being seen as such a company.
Affiliate marketer Missy Ward includes a Disclosure Policy in her Privacy Policy to help with transparency.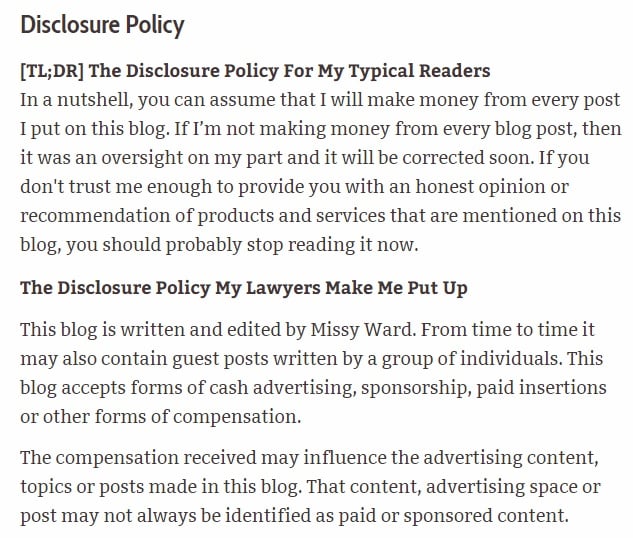 To write a great Privacy Policy, your main aim should be to convey disclosure of intent, which enables your customers to know what your intentions are once they begin to interact with your business, including your collection of their personal information.
Aside from the benefits and advantages a Privacy Policy provides, such as a stronger bond and better trust between customer and company, it's also legally required across many different privacy laws around the world.
What sort of legislation needs to be considered?
No matter where you and your business is located, there's a high chance you'll be required to cover certain legislation when it comes to your Privacy Policy. But how do you know which ones apply to you and which ones don't?
Here's an overview of some of the legislation you should be aware of.
CalOPPA

The California Online Privacy Protection Act (CalOPPA) is a legislation that was created and brought into effect by the California Attorney General's Office in 2004.
It was designed with the aim to provide more privacy to consumers in the disclosure of their personal data, and higher standards of protection from the companies that collect that data.
Even though CalOPPA is a US state-sanctioned law, it applies to any business - regardless of where they're located throughout the world - that deals with and collects personal information from residents of California.
As such, if there's even a slight chance of your company interacting with a resident of California, you're required by law to comply with CalOPPA.
The requirements for CalOPPA are relatively simple. The main one is the inclusion of a conspicuous Privacy Policy hyperlink on your company website.
The policy itself must divulge the kind of personal information you collect from your customers such as email addresses, names, phone numbers, physical addresses, payment information and even things like computer IP addresses.
It should also state the purpose behind the collection of this information, the way in which it's collected and any third-party services that the information might be shared with.
Furthermore, the Privacy Policy should describe the process that a customer can follow if they want to review and change the details they've previously given, the way in which your company intends to inform customers about any changes to your policy, and the effective date of the Privacy Policy.
By following these requirements, you should be able to adhere easily to the CalOPPA legislation and avoid any issues that may arise from noncompliance.
GDPR

The General Data Protection Regulation (GDPR) was designed by the European Union to replace the Data Protection Act of 1998 and the 1995 EU Data Protection Directive.
The purpose of the GDPR is to give EU citizens a better, more secure level of control when it comes to their personal data. It also acts to unify standards across the EU regarding data protection, making it an even playing field for all businesses and consumers.
The GDPR applies to any company that deals with EU citizens and their data. So, even if your business is based elsewhere in the world and/or have very little presence within the EU, it's highly likely that you'll still be required to comply.
In order to be compliant, there are a number of things businesses need to do, including having a clear and accurate Privacy Policy if any personal data is collected from EU citizens. This will help you engage in affiliate and digital marketing in a GDPR-compliant way.
PIPEDA

The Personal Information Protection and Electronic Documents Act (PIPEDA) is the Canadian federal law that was brought in to cover the private sector (organizations that are owned privately rather than by part of the government).
PIPEDA applies to the personal information that is collected through the activities conducted by for-profit, commercial businesses, like selling, buying or leasing. Its purpose is to govern the way such organizations collect, use and disclose this personal information.
It requires that all personal information is collected through fair and lawful methods. Privacy Policies must be available and must include informative information that's also clear, concise and easily accessible.
Collecting Personal Information as an Affiliate Marketer
As an affiliate marketing company, the way you collect and handle customer information can have a big impact on the success of your company.
Regardless of the structure and strategy of your affiliate marketing company, having an accurate and complete Privacy Policy in place is imperative.
In order to do this correctly, you need to consider what kind of data you'll be needing to collect from customers.
Usually, most businesses (whether they're an affiliate marketing organization or not) will aim to collect the following data from their customers:
Name and contact details
Collecting this data allows a business to contact them directly regarding everything from marketing communications to purchases and feedback surveys.
Customer profile information
Having a clear customer profile is very important when it comes to affiliate marketing. It allows you to ensure you're targeting the right sort of customer by having a good idea of who they are, what they want, and whether you can help them.
A concise customer profile will include things like age, birthday, gender, job status, income, hobbies, likes/dislikes and much more.
Customer history
Collecting the transaction history from every customer is essential in revealing the potential value of a customer, how likely you are to get repeat business from them, what products are most popular and when these products are being bought. This gives you a very valuable insight into how your products/services are being received, as well as the spending habits of the people who frequent your site.
Having a record of customer spending habits is essential as well, as it allows you to determine which customers pay in full, on time and which ones are more likely to take their time making payment, changing their order or even cancelling completely.
Communication records
Keeping records of any communication had with both potential and current customers is a great way to monitor the effectiveness of such communication, especially when it comes to the frequency you're sending such communication, and customer response to it.
This data can be collected directly from the customer. However, there are also instances in which data is collected indirectly, which means there is another layer of privacy that must be considered.
This is because the nature of affiliate marketing means there are at least three separate parties involved in the process (the retailer, the affiliate, and the customer), so it's imperative to have a Privacy Policy that covers the collection of data from any of these three parties.
Furthermore, affiliate marketing companies are required by the Federal Trade Commission (FTC) to divulge the usage of any affiliate links. This disclaimer can be included in your Privacy Policy, or through a banner or pop-up notification on your site.
There are two main reasons behind this mandate. The first and most important is to ensure a fair business playing field for all marketers. The second is to provide complete transparency to customers so they know when they're being sold to.
Include a Disclaimer

Affiliate sites are best off including a disclaimer, known as an Affiliate Disclaimer, that's completely separate from a Privacy Policy. This disclaimer should be used frequently, both on your home page and in any content like blogs, articles or social media posts, as well as mentioned within the Privacy Policy itself.
The disclaimer should let readers know if you've been paid for mentioning any product and/or service, and it should use clear, understandable language. It's also considered best practice to avoid technical jargon like "affiliate links" and stick to the more obvious terms like "compensation".
A simple wording for such a disclaimer would be one similar to the disclaimer found on Amy Lynn Andrews' blog:

A more extensive version of an Affiliate Disclaimer can be found at Smart Passive Income: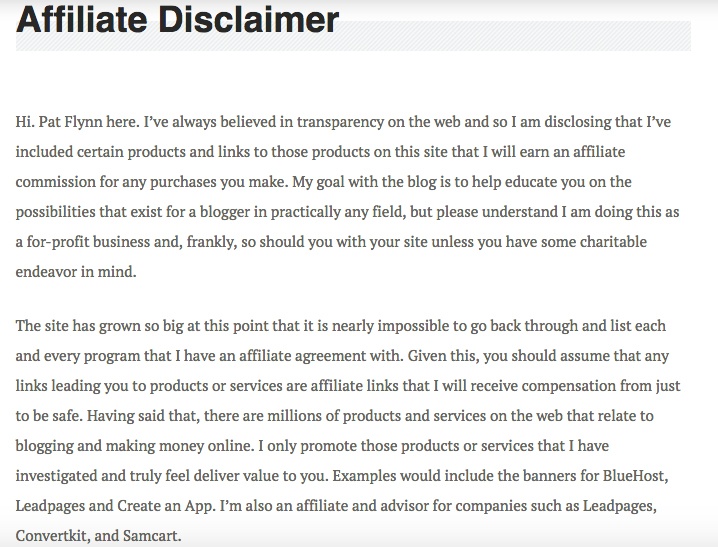 Learn And Master includes a very detailed Affiliate Disclosure Requirements and Examples page that includes acceptable and unacceptable examples of disclosure as well as a link to their Affiliate Manager, should anyone have any questions: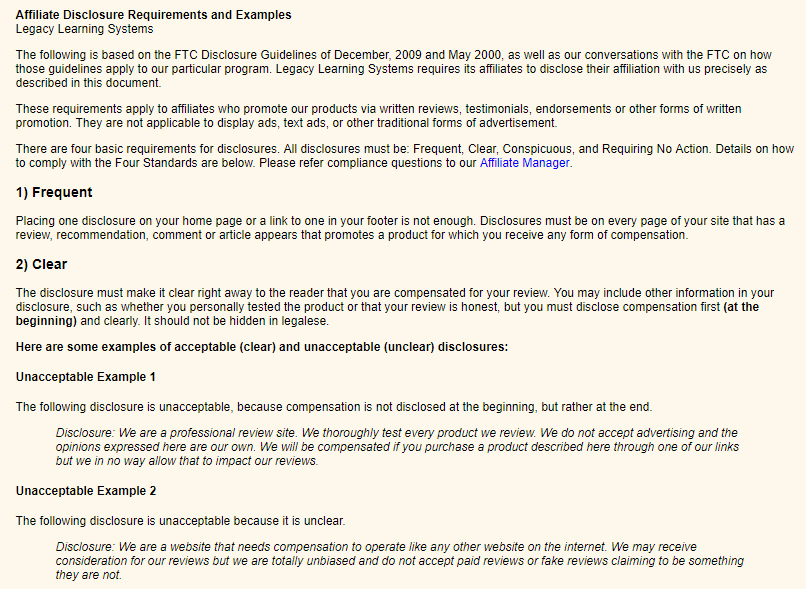 You can include a link to your Affiliate Disclaimer within the Privacy Policy, but it's also good practice to include it alongside any instances where you need to disclose your affiliate links.
Don't think you're doing yourself a disservice by admitting to affiliate links. Being upfront about affiliations with any other parties is paramount in building trust and confidence between your customers and your company.
Disclose your links with confidence, keep nothing hidden and you will be able to find success in monetizing any avenue of affiliate marketing.