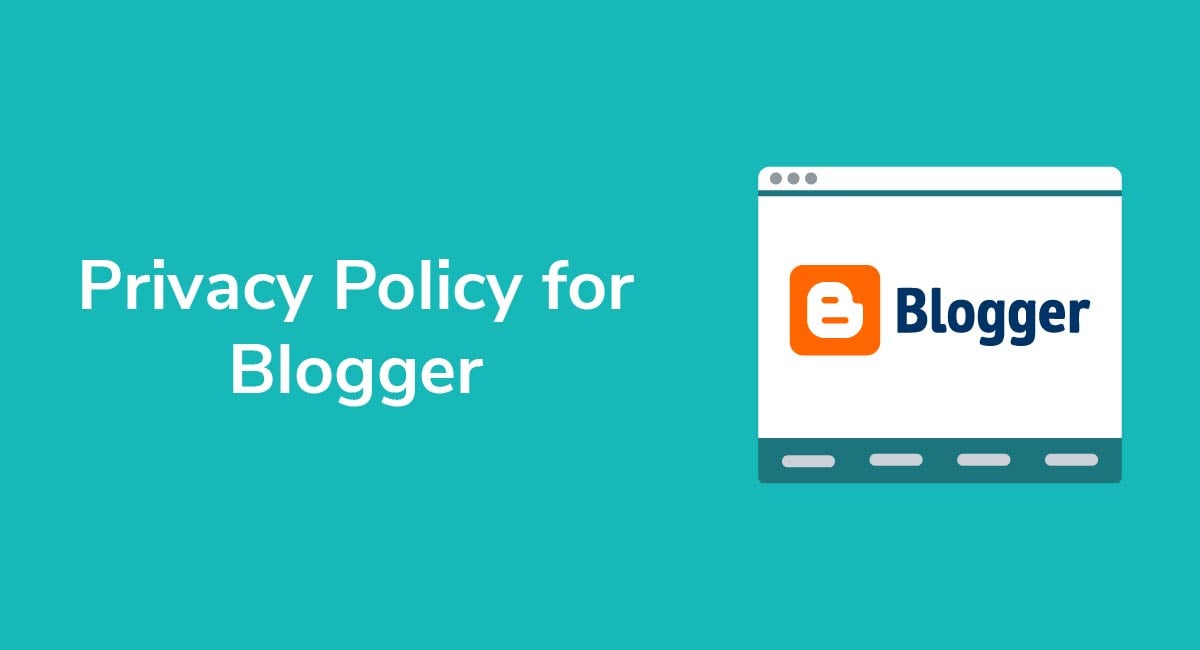 Do you blog for pleasure or as a business? Either way, global data privacy rules changed in 2018, and if you haven't checked in on your Blogger/BlogSpot privacy requirements for a while, then this article is a must-read.
Blogger/BlogSpot doesn't require you to have a Privacy Policy in all circumstances, but there's a good chance you might need one anyway thanks to regulations from the state of California (CalOPPA) and the European Union (the GDPR).
Both of these laws demand that all websites that collect personal data must have a Privacy Policy. That could even include your Blogger/BlogSpot site.
If you use Google Analytics, add third-party links, or collect any data, then a Privacy Policy is a legal requirement, part of your vendor's Terms of Service, and a smart business decision - even if you're just getting started in the blogosphere.
When and why do bloggers like you need a Privacy Policy? Keep reading to find out.
Does Blogger/BlogSpot Require a Privacy Policy?
Blogger is a social media tool from Google, and as such, it does not specifically require a Privacy Policy in its Terms of Use.
The logic behind the lack of requirements is its status as a social media tool. A personal blog would not require you to collect data to process. From that perspective, using a personal Blogger page is the same as running a personal Tumblr blog, Facebook page, or Instagram page.
However, as soon as you monetize your blog, create a newsletter, or collect personal data, you need a Privacy Policy regardless of whether or not Blogger or Google requires it.
What is a Privacy Policy?

A Privacy Policy is a legal document that outlines your data processing practices. It must include information like:
Categories and types of personal data collected
Methods of collection used
Reasons for the collection
Methods of storage and security of the data
Whether third parties have access to the data
These agreements are required by law in some instances, as well as by third-party services, which we'll discuss next.
Why and When You Need a Privacy Policy for a Blog on Blogger/BlogSpot
Not every Blogger account requires a Privacy Policy. If you share pictures and thoughts with family and friends, then you don't need to add one to your site.
However, an increasing number of Blogger/Blogspot accounts do need a Privacy Policy either because the law requires them to have one or they use a third-party service that demands it.
When it's Required: CalOPPA and the GDPR

If you collect any personal information through your Blogger/BlogSpot, then two laws apply - CalOPPA and the GDPR. Personal information can be as basic as collecting email addresses for a newsletter, first names if you allow user comments and IP addresses commonly collected by analytics services.
CalOPPA specifically states that you need a Privacy Policy that outlines all the personal information you collect from California consumers.
The EU's GDPR regulation also requires you to disclose any information you collect about European citizens and residents through your Privacy Policy.
Unless you specifically block your account from consumers with California or EU IP addresses, then people protected by the law can access your site. Because doing that is difficult-to-impossible with an average Blogger/Blogspot account, you need a Privacy Policy.
What counts as personal information? It includes but isn't limited to:
Names
Addresses
Email addresses
Phone numbers
Birthdays
Height
Eye color
IP addresses
Usernames and online handles
Essentially, it's any information that you can use to identify a specific person in the real world.
Let's look at a few examples.
Golubka Kitchen, a cooking blog, offers readers a Privacy Policy because it collects information. To meet privacy requirements, the blog uses some standard Privacy Policy clauses like this "Collection of Information" clause:

Another cooking and lifestyle blog, Local Milk, also notes its use of data in a Privacy Policy. Unlike Golubka Kitchen, it only declares the collection of log files and cookies:

Local Milk also discloses information about "Links to Third Party Websites" in a clause:

You'll want to include this clause in your Privacy Policy if you allow comments on your blog. You might receive comments from other bloggers or services that include a link to their own site.
What does this have to do with data collection? Using clause prevents the appearance of the link on your site from serving as an endorsement of another site's Privacy Policy and practices.
In other words, even if you don't collect data, someone else with a link on your site might. By disclaiming their site, you protect yourself from claims if that site misuses a visitor's data after they find the site through your Blogger.
When It's Required: When You Use Third Party Services

Do you intend to monetize using Amazon Associates? You can't participate in the program until you create and post a Privacy Policy for your blog. The Amazon Associates Terms of Service states that you must disclose your site accurately and adequately, either through a Privacy Policy or otherwise:

Will you participate in Google Analytics or another analytics service? Google's Blogger doesn't require a Privacy Policy, but Google Analytics absolutely does and makes the requirement clear in its Terms of Service:

It states: "You will have and abide by an appropriate Privacy Policy and will comply with all applicable laws, policies, and regulations relating to the collection of information from Visitors. You must post a Privacy Policy and that Privacy Policy must provide notice of Your use of cookies that are used to collect data."
Let's return to an earlier example from Golubka Kitchen. In addition to its list of data categories, the site also includes the mandatory Amazon Associates disclosure within the Privacy Policy:

Blogger Madeleine Shaw notes that her site uses Google Analytics and both links to Google's Privacy Policy and tells her readers how to opt-out of Google Analytics processes:

This is very helpful information to provide to readers and keeps Madeleine compliant with Google's requirements.
How to Create Your Privacy Policy
Need a Privacy Policy? Our Privacy Policy Generator will help you create a custom policy that you can use on your website and mobile app. Just follow these few easy steps:
Click on "Start creating your Privacy Policy" on our website.
Select the platforms where your Privacy Policy will be used and go to the next step.

Add information about your business: your website and/or app.

Select the country:

Answer the questions from our wizard relating to what type of information you collect from your users.

Enter your email address where you'd like your Privacy Policy sent and click "Generate".

And you're done! Now you can copy or link to your hosted Privacy Policy.
How to Add a Privacy Policy to Your Blogger/BlogSpot Site

Blogger makes adding a Privacy Policy page very easy.
Start by logging into your Blogger account and then follow these simple steps:
Select "Pages" from the left-side menu:

Choose New Page to open a fresh new page where you can place your Privacy Policy:

Enter the title of the page and add the text of your Privacy Policy into the content box. Then, click Save.

To make your Privacy Policy live on your page, choose Publish from the toolbar.
To add your Privacy Policy to the footer or header of your blog, follow these steps:
Select "Layout" from the left-side menu:

Choose where you want to add your Privacy Policy and click the "Add a Gadget" link for the relevant section:

A pop-up window will appear. Choose the "Add" icon next to Pages:

In the Configure Page List, click the box next to Privacy Policy and click Save:
Bottom Line
Bloggers don't need a Privacy Policy to fulfill Blogger's Terms of Service, but there are other reasons you might need one. If you post links to other blogs or sites, participate in programs like Amazon Affiliates, or you collect any data, then international law now requires you to post a Privacy Policy.
Luckily, creating a Privacy Policy and adding it to your blog is quite simple.