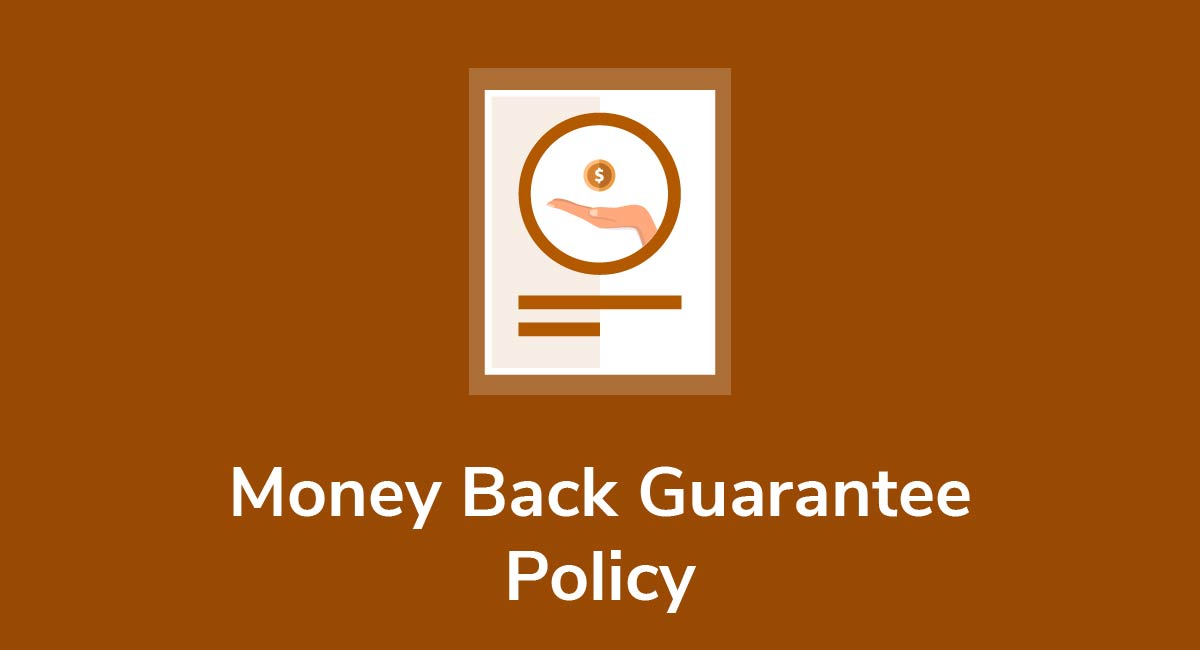 Though there's no law requiring businesses to have one, many retailers and service providers voluntarily offer their customers a Money Back Guarantee.
It may seem counterintuitive, but Money Back Guarantees are often beneficial for both businesses and consumers.
For the former, they may increase sales by freeing customers to make purchases they might not otherwise make out of fear of buyer's remorse, or being stuck with a product or service that:
Doesn't fit
Doesn't work
Isn't what they thought it would be
In short, a strong Money Back Guarantee may be perceived as an insurance policy against the risk of making an unwise purchase.
By increasing overall satisfaction (even when products are returned), Money Back Guarantees can bolster your business' image and make customers more likely to buy from you in the future.
Let's look more into these important policies and how to create your own.
Get compliant today with PrivacyPolicies.com
Select one of our generators to create the required legal agreements for your business:
Integrate a free Cookies Notice and Cookie Consent banner to comply with the EU ePrivacy Directive and the new GDPR law regarding cookies.
Why are Money Back Guarantees Important?
Especially in cases where your competition is more well-known and your products or services are untested, Money Back Guarantees can level the playing field in a number of ways.
They Increase Perceived Quality
The North Face's Return Policy states:
"We proudly stand behind the quality of everything we sell and hope you're happy with your gear."

It also says that customers who are unsatisfied with their purchases can return them, and lists the ways they can do so: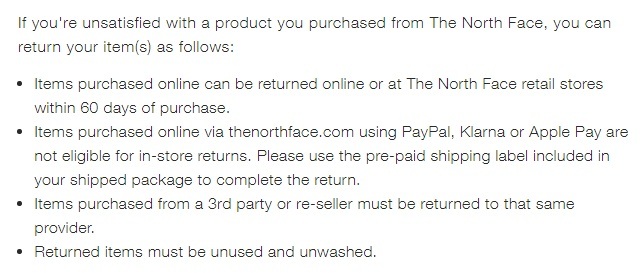 They Reduce or Eliminate Customer Risk
Buying unfamiliar products and services can be daunting, especially when there's no assurance that what you get is what you were expecting.
In other words, unless there's a Money Back Guarantee, consumers fear they may not only waste money, but be stuck with a product or service they don't want, can't use, or doesn't meet their expectations.
It's widely believed that Josiah Wedgwood invented the Money Back Guarantee.
The 18th century business visionary and entrepreneur who founded the fine china, porcelain, and high-end accessories company that now bears his name found that among other benefits, a Money Back Guarantee got people to try his products.
This can be an especially powerful incentive with online transactions where consumers can only see a picture of the item they're interested in and read reviews from those who've already purchased it.
They Foster Trust
Customers have a tendency to be impressed with businesses that stand behind their products.
They may even conclude that in order to offer a Money Back Guarantee, your product or service must be all (or more) than it's cracked up to be.
And if it is, it's probably worth buying, and paying your price.
They Differentiate You From Competitors
Especially if your business is web-based, it's easy to get lost in a sea of competitors selling similar or identical things for the same price.
In instances like this you're essentially in the commodities business, and unless you can set yourself apart from the crowd, success will be hard to come by.
But if your competitors don't offer a Money Back Guarantee and you do, it's a great differentiator that can increase sales dramatically.
When confronted with the choice of buying the same pair of shoes for the same price from two online retailers, only one of which has a Money Back Guarantee, who would choose to buy from the one that didn't?
They Can Enhance Customer Service Experiences
If administered the right way, Money Back Guarantees can make dealing with customer service a pleasant and loyalty-building experience.
It's important to note though, that making customer's needlessly jump through hoops in the hope that they'll eventually give up, business owners may negate all the aforementioned benefits of having a Money Back Guarantee in the first place.
Customers should have a clear idea of:
How the policy works
What they'll need to do to take advantage of it
The expected time frame for getting their money back
What Should be Included in a Money Back Guarantee

Most Money Back Guarantees have their fair share of legal jargon, disclaimers, and exceptions, but many only include a few sections, like:
A Bold Policy Statement
Though not all do, Money Back Guarantees should clearly and concisely state what your policy is, and what customers can expect if they need to use it.
The example below from L.L. Bean does just that, which isn't surprising considering their reputation for standing behind their products: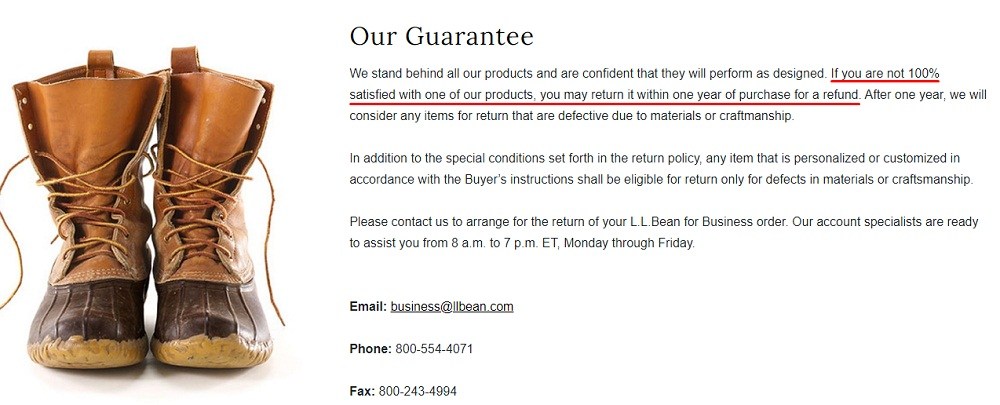 It also includes:
The time limit for getting money returned
Restrictions that may apply (like for customized items)
Contact information and hours of operation
How to Return Gifts
Likewise, the Walmart Gift Return example below provides a time limit and includes a link where customers can see what items might be exceptions:

It also provides customers with special instructions regarding:
The need for original packaging and receipts
Returning accessories
Exchanging or returning items for cash or store credit
Any Special Conditions
Like the previous examples, Target displays its Money Back Guarantee clearly and lists special conditions and exceptions in a Frequently Asked Questions section where customers can click on the things that relate to them: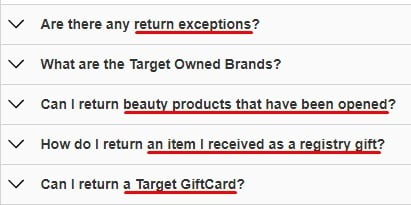 Instructions for Making Returns
REI breaks its Return Instructions into four distinct sections, which allows customers to select the option that applies to them: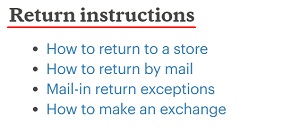 Now that you know what you should include in your Money Back Guarantee Policy, let's take a look at where the Policy should be displayed after you've created one.
Where Should You Display Your Money Back Guarantee Policy?

Website Footer (Homepage)
Displaying a Money Back Guarantee at the bottom (footer) of your website's homepage is popular, like Better World Books has done here with its Return Policy where guarantee information is included:

Checkout Page
When selecting a product and proceeding to a Checkout Page, Bitdefender customers have the option of viewing the company's Refund Policy:

Product Page
To cover all the bases, Bass Pro Shops' Return Policy is included at the bottom of every page on its website, regardless of which product category browsers are searching: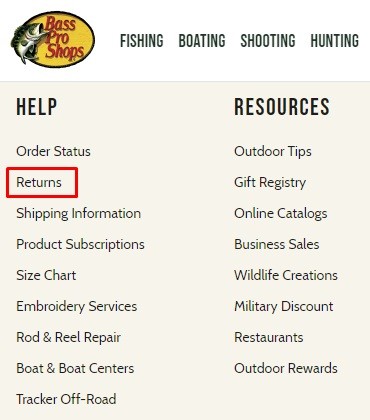 In addition, Money Back Guarantees can be included in various places for mobile apps, like Menus and Checkout Pages.
How to Draft Your Own Money Back Guarantee Policy

Compared to Privacy Policies and Disclaimers, Money Back Guarantees can be relatively simple to create.
Many share the following formula:
IF you don't get the (product, results, satisfiction) you were expecting, THEN we'll refund 100% of your money.
When crafting a Money Back Guarantee for your business, consider things like:
If your products or services are as good as you say they are
If they're true standouts or identical to competitors'
If they're reasonably priced
The ages and buying habits of your customers
Your competitors' policies
If you have the staff and systems in place to handle returns and refunds
It's generally wise to keep your policy short, honest and transparent.
Also include a statement that instills confidence, a fair time period, and clear instructions for making returns.
The Drawbacks of Money Back Guarantees

In many instances the pros of having a Money Back Guarantee outweigh the cons, but there are downsides that should be taken into account too.
They Tend to Attract Bad Customers
Some familiar with the ins and outs of the retail industry claim that Money Back Guarantees attract nefarious customers intent on exploiting your policy for personal gain.
In other words, some savvy consumers are masters at gaming the system, and they'll gladly do it at your expense.
Thankfully it's relatively rare, though getting stung by dishonest users does happen.
It's Impossible to Meet Everyones' Expectations
Even if your product or service meets or exceeds most customers' expectations, there will always be a subset who'll never be satisfied.
Studies suggest that more than 25% of products are returned due to buyer's remorse, and not actual defects.
They Complicate Accounting
The more customers that take advantage of your Money Back Guarantee, the more staff time you'll have to dedicate to managing the process, dealing with customers and credit card companies, and making financial transactions to refund their money.
And depending on the length of your offer, financial documents may need constant adjusting, making tracking difficult.
They May Take Time Away from Your Core Business
In short, especially for sole proprietors who also need to manage their business, find new customers, and deal with existing ones, tedious Money Back Guarantee issues can take significant amounts of time away from your core business.
Money Back Guarantees are used by multinational corporations and mom-and-pop hardware stores in small towns, but determining whether one is right for you is a matter of weighing the risks and rewards.
Unfortunately, there's no right or wrong answer.
In many cases having one will increase sales, and though there are negatives associated with Money Back Guarantees, they usually go a long way toward creating customer loyalty and positive brand image.
Summary
Businesses aren't legally required to offer a Money Back Guarantee for the products and services they sell, but their benefits often far outweigh their drawbacks.
They're often seen by astute consumers as insurance policies against risk associated with buying something new and untested.
Money Back Guarantees can:
Increase the perception of quality and improve brand image
Reduce or eliminate the risk of buying an unfamiliar product or service
Foster trust
Differentiate businesses from competitors
Enhance customer service experiences
Well-written Money Back Guarantees should include clear and concise statements of policy, and address additional items like gift Returns, special conditions and exceptions, and instructions detailing the steps customers must take to return products and get refunds.
Money Back Guarantees are most commonly displayed on:
Homepage footers
Checkout pages
Product pages
In Settings and on Product and Checkout pages on mobile apps
On the downside however, Money Back Guarantees can:
Attract bad customers
Set unreasonably high expectations
Complicate accounting
Take time away from a company's core business
If you decide to have a Money Back Guarantee Policy, make it thorough, accurate and fair for the best results and most customer satisfaction.