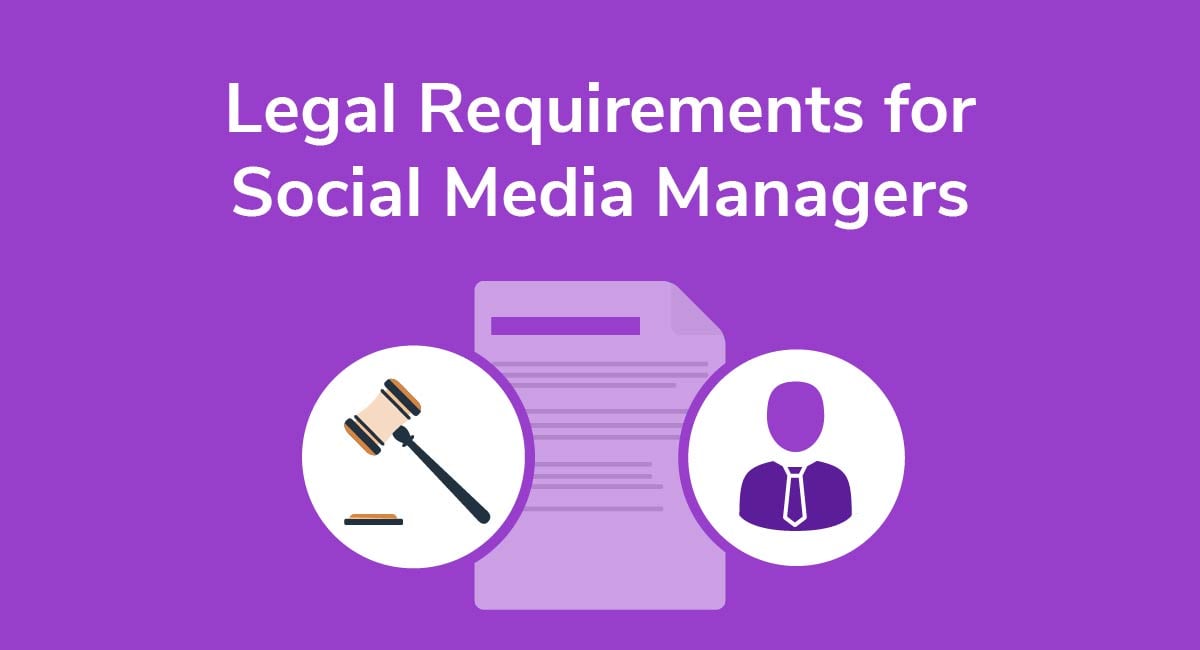 Social media is reshaping the world before our very eyes. According to We Are Social, there were 2.8 billion social media users worldwide in 2017 - that's 37% of the world's population.
The issue of laws applicable to social media management continues to be a popular topic of debate. This arose recently after a recent Facebook data breach, which has raised serious questions that need to be answered by the social media industry.
Social media tools like blogs, community forums, widgets, audio and file sharing apps, etc., offer new ways of facilitating business. They also pose certain legal risks. Business owners and social media managers should be aware of these legal risks.
In this article, we will define the laws applicable to these issues. But before we begin, let's briefly discuss social media management to put everything into context. We'll also cover what it is and how it's linked to the legal issues concerning social media platforms.
Get compliant today with PrivacyPolicies.com
Select one of our generators to create the required legal agreements for your business:
Integrate a free Cookies Notice and Cookie Consent banner to comply with the EU ePrivacy Directive and the new GDPR law regarding cookies.
Social Media Management and Applicable Laws

Social media management involves monitoring, listening, and responding to users across social media platforms to cultivate leads and sales. Contrary to popular belief, it is not just about posting videos and pictures to a business's social media page.
The role of a social media manager is a complex, multi-faceted role. Social media managers speak to a targeted audience on behalf of the business and partake in meaningful conversations with customers about products, brands or trends.
Social media platforms pose a number of legal risks. Social media managers should be aware of the legal issues that arise when users share their content on different social media sites, audio and video streaming sites, picture sharing sites, blogs, and more. The legal risks can be classified as follows:
Potential liability as a result of breaches of private information over the internet
Potential legal risk connected with hacking attacks against site users or "followers" of a company's social media page
Legal consequences of data leakage of third party confidential data because of social media use
The widespread use of social media has caused policymakers to create guidelines and enforce compliance to ensure its proper use. It is imperative for social media managers to stay up-to-date on laws pertaining to social networking sites, as well as regulatory guidelines specific to their industry.
It is also highly recommended to have a clear social media policy in place.
Below is a partial list of rules and regulations that have implications on social media usage.
FTC Disclosures
Businesses use social media sites to connect and converse with their customers. It serves as the perfect platform for brands to respond quickly to customers' suggestions and complaints.
With close competition between brands to capture customers' attention, businesses could be prone to unfair and misleading trade practices.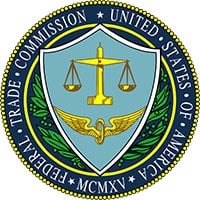 The Federal Trade Commission (FTC) closely monitors the online social media activity of businesses to ensure their advertisements are not misleading. When a business hires influencers or actors to promote its products on social media sites, it has to effectively disclose the contract.
The FTC has developed guidelines regarding sponsorship disclosures.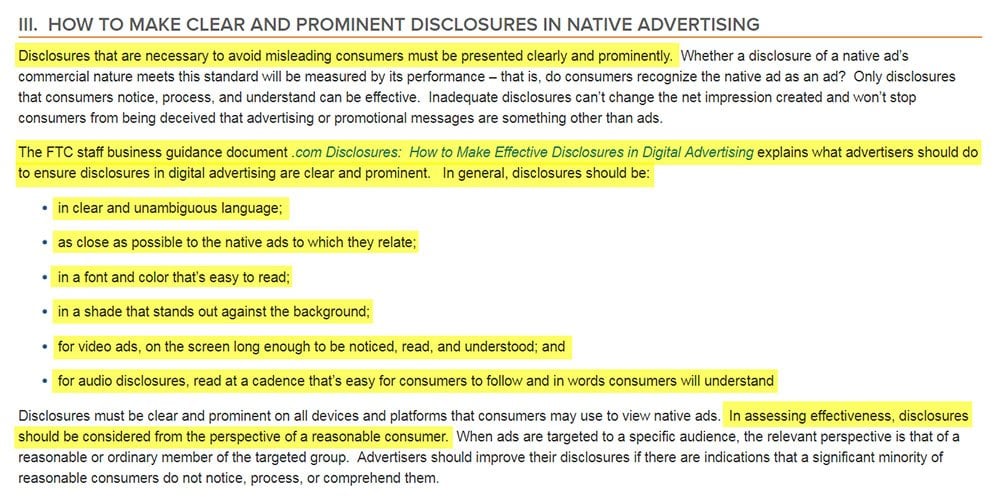 According to the FTC's guidelines, advertisers should ensure that disclosures:
Are written in clear and explicit language
Are similar to the native ad to which it relates
Are easily readable
Last as long as to be seen and understood if in video form
Should be easily comprehensible to the average listener if in audio form
Marketers and social media managers use innovative methods to create, design, and deliver digital ads.
"Native advertising" is a novel way which involves creating ads that look very similar to a site's content. Customers may not be able to distinguish this form of advertising from site content, and not knowing exactly whether a post is an advertisement or not could affect the customer's buying decision.
The FTC has issued clear-cut directives in its Enforcement Policy Statement on Deceptively Formatted Advertisements. The directives describe how the agency implements truth-in-advertising standards with reference to native advertising.
Here is a sponsored ad on Facebook for Indigo Fair. The ad properly indicates that it is a sponsored ad, and in doing so, complies with the FTC disclosure requirement.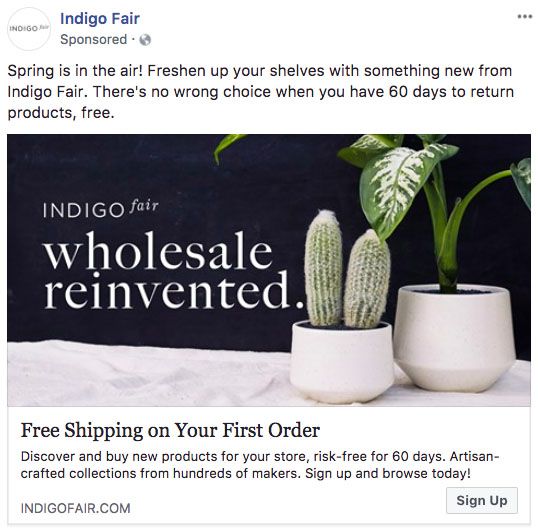 As there are many ways through which ads can convey information to customers, such as audio, video, text, etc., the FTC examines both - what the advertisement says, as well as what the overall message is.
Advertisers and publishers of the ad should avoid any possibility of deception.
The more similar a native ad is to the publisher's website, the more explicitly the advertiser will have to make disclosures. Unless the entire page's content is clearly an ad, the disclosure will have to be made both on the publisher's site as well as the click-or-tap-into page which contains the ad.
Endorsements

Many businesses hire social media influencers to promote their products and services. Influencers are users on social media who have access to a large audience and are famous and relevant enough to influence others within their online social circle.
They get paid for endorsing products of advertisers on social sites such as Instagram, Twitter, Facebook etc.
According to the Commissioner of the Federal Trade Commission:
"Consumers need to know when social media influencers are being paid or have any other material connection to the brands endorsed in their posts."

The FTC explains this using the following example from its endorsement guides:
"Suppose you meet someone who tells you about a great new product. She tells you it performs wonderfully and offers fantastic new features that nobody else has. Would that recommendation factor into your decision to buy the product? Probably."

Now suppose the person works for the company that sells the product or has been paid by the company to tout the product. Would you want to know that when you're evaluating the endorser's glowing recommendation? You bet. That common-sense premise is at the heart of the FTC's Endorsement Guides.
In the Endorsement Guides: What People Are Asking, the FTC advises influencers to "superimpose a disclosure on Snapchat or Instagram Stories just as you can superimpose any other words over the images on those platforms."
What this means is that businesses and influencers should pay attention to these guidelines and ensure that they comply with disclosure practices. Failure to make appropriate disclosures may result in a violation of Section 5 of the Federal Trade Commission Act, which prohibits misleading practices.
Here is an example of an endorsement ad for Coca-Cola on Selena Gomez's Instagram page. In her post, Gomez includes the hashtag, #ad, indicating this is a paid endorsement and, thus, meeting the FTC disclosure requirement.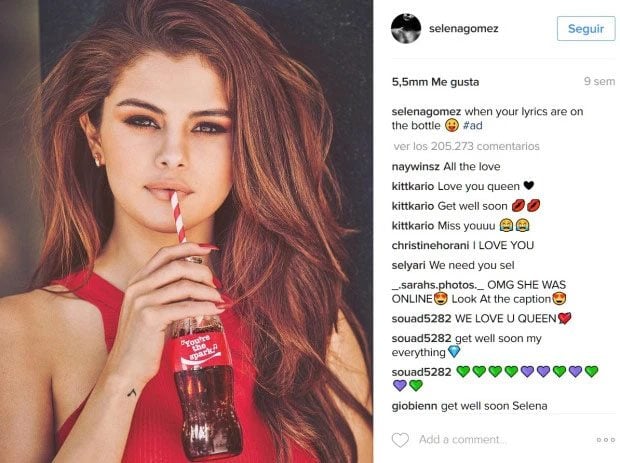 Similarly, employees who use social media to talk about the company's products should disclose that they are employed by the company. Even though the FTC is not likely to pursue individual influencers with small followings, those with bigger exposure may come under FTC's scrutiny.
Why Social Media Managers are Subject to Privacy Laws

One of the main responsibilities of a social media manager is to design, manage and publish content on the company's various social media sites. Social media managers also collect user information and data as a result of their interaction with the user.
In the US, the Privacy Act of 1974 states: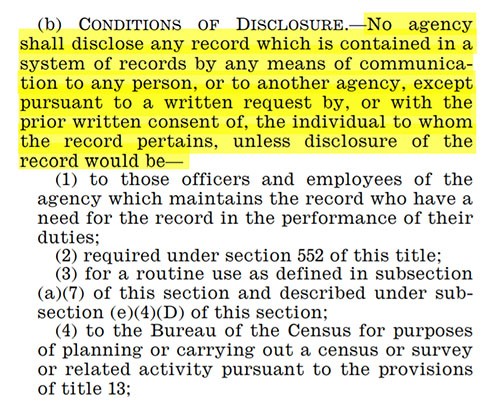 This law prohibits any agency from disclosing the personal information of an individual without their written, oral, electronic or mechanical consent. For this reason, social networking websites ask for user permission when a third party requests their information.
Social media managers are trustees of the information given to them by their customers, and disclosing confidential information, or posting videos or photos without proper consent, may violate the privacy rights of the users.
In today's world, consumer data is considered a form of soft power and it is the duty of those who wield this power to use it responsibly so that customer trust is not compromised. Social media managers can implement the following clauses in their Privacy Policy to limit legal liability:
Encourage users and employees to think before they post content online. Most social media sites are like public marketplaces where everybody sees everything. With no clear private and personal boundaries, it is difficult to know how what is posted might impact a company.
If you collect users' location data and you don't want to violate a customer's privacy rights, it is recommended that you acquire customer permission before sharing the location data.
Be open and transparent to the end users. If you use consumer data to track user behavior, ask for permission first and build confidence by educating users on how you intend to use that information.
Make your Privacy Policy short and easy to read so customers will take the time to read it before buying your products or signing up for your services.
The legal aspects concerning social media are relatively new. Social media provides a variety of tools for businesses to facilitate their growth, and their use comes with potential legal risks.
For these reasons, social media managers should be aware of the rules and regulations surrounding social media platforms.