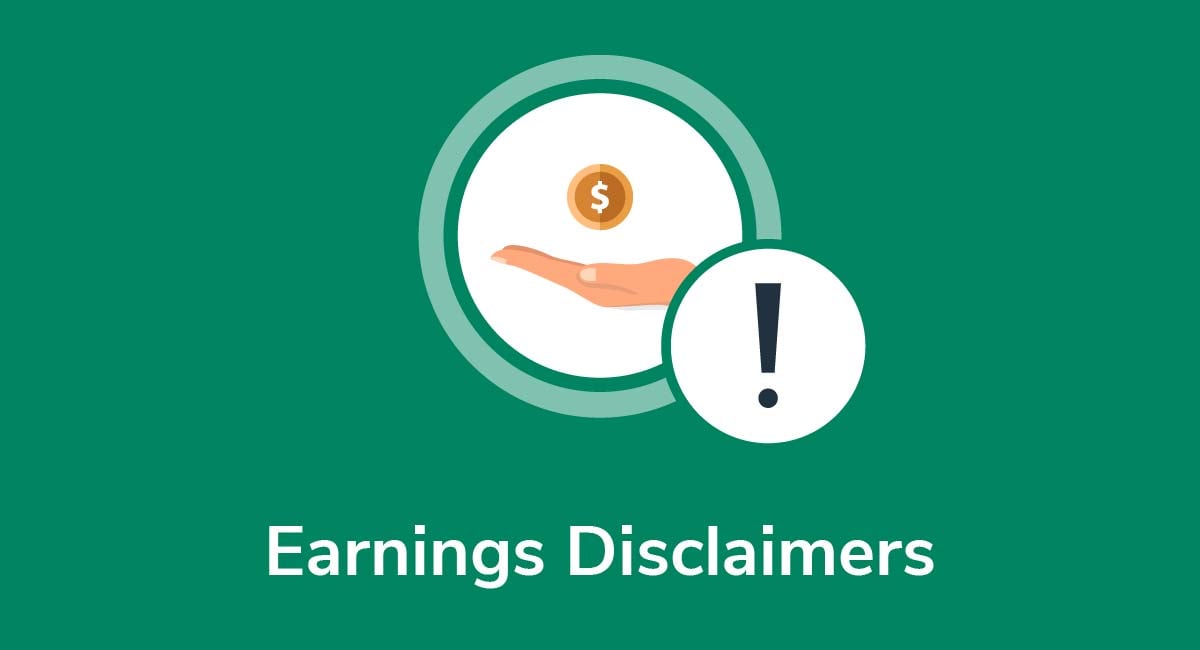 With increased economic uncertainty and a shift away from traditional office jobs, many people are turning to business mentors and income generation programs.
If you provide products and services aimed at helping people make money, you need to protect your business by drafting and displaying an earnings disclaimer.
Earnings disclaimers are vital because many customers who interact with products or content that's aimed to help people earn money won't succeed, and they may have grounds for legal action against you if you've promised them (or implied a promise of) big earnings.
In this article we'll explain what exactly an earnings disclaimer is, why and when you need one, and how to create and display one.
Get compliant today with PrivacyPolicies.com
Select one of our generators to create the required legal agreements for your business:
Integrate a free Cookies Notice and Cookie Consent banner to comply with the EU ePrivacy Directive and the new GDPR law regarding cookies.
What's an Earnings Disclaimer?
An earnings disclaimer is a statement that limits a company's liability by letting customers know that they may not experience positive results when they buy a product or follow a program intended to generate revenue.
In a nutshell, an earnings disclaimer should state that success isn't guaranteed, that testimonials from past customers aren't necessarily indicative of future performance, and that income projections are only estimates.
In addition, many earnings disclaimers let customers know that:
They may not make any money at all
They could actually lose money
Significant effort is required
Success is dependent on various factors like market conditions, relevant experience, and educational background
Are Earnings Disclaimers Legally Required?

In the United States, the FTC requires you to have an earnings disclaimer if you offer products or services that give investment, financial or other similar types of advice aimed at helping someone earn money.
The FTC has a long track record of pursuing companies that it believes use inaccurate or atypical income claims to deceive consumers. Offenders can face big fines and other legal actions.
In 2021, the FTC issued a Notice of Penalty Offenses Concerning Money-Making Opportunities to address the growing problem.
Earnings disclaimers aren't legally required in the UK, but that doesn't mean regulators there don't take consumer protection seriously.
In fact, most English websites have had earnings disclaimers since the Consumer Protection from Unfair Trading Regulations 2008 went into effect.
What to Include in Your Earnings Disclaimer

Most earnings disclaimers will include some or all of the following elements.
You are Not Making Guarantees
Guaranteeing wealth and success will leave you wide open to liability if disgruntled customers take action after failing to make money (or losing money) with your product or service.
Guarantees like this should be avoided even if a significant percentage of past customers made money with your program. The truth is that no matter how good your program is, not everyone will fare so well.
With this in mind, your earnings disclaimer should make it clear that your statements and projections are estimates, not guarantees.
Here's how New Law Business Model (NLBM) addresses this issue in its earnings disclaimer:

NLBM's earnings disclaimer also states that:
The company tries to present accurate claims on its website
Customers may not make any money at all
Customers may actually lose money
Earnings and income statements reflect what customers could earn, not what they will earn
Testimonials Aren't Representative of Overall Success
Many income-generation programs use testimonials as marketing tools. Unfortunately, consumers may assume that testimonials represent results they can expect if they buy the same product or follow the same program.
Since even the best programs have their fair share of failures, and one customer's success doesn't mean that current and future customers will experience the same positive results, it's important to let potential customers know that such results aren't typical.
Here's how NLBM addresses this:

It also states that success is dependent on factors like:
How well the customer learns the curriculum
Whether or not they attend "coaching calls" and utilize the company's resources effectively
Whether the customer asks for help and support when they need it
Hard Work is Required
Nearly everyone would love to generate income from home with minimal effort. However, it's unwise to make statements like, "anyone can do it!" or to insinuate that it's easy to make money with your product or program.
You should steer clear of the get-rich-quick marketing angle.
The lure of easy money can be hard to resist for people who are dissatisfied with their current situations, but everyone knows that it's nearly impossible to generate wealth without putting in lots of time and effort.
Here's how NLBM addresses this in its earnings disclaimer:

NLBM makes it clear that effort and motivation play big roles in their customers' success or failure.
Some Things are Out of Your Control
One way to disclaim liability is to let customers know that their success isn't (and can't be) guaranteed because there are so many factors over which you have no control.
In the following example, FortuneBuilders states that the company can't predict how customers will do because it's impossible to know everyone's background, work ethic, and business skills:

You'll Verify Claims on Request
Most savvy consumers are wary of claims that sound too good to be true. Some may even request proof and verification before purchasing your product or service, just to make sure that they're getting straight facts.
If so, the FTC's Rules of Franchise and Business Opportunities require you to prove that your claims are true and accurate.
To streamline this process, you should address verification in your earnings disclaimer.
In this example, NLBM makes it clear that earnings examples on its website are accurate, and that the company will provide verification on request:

Due Diligence is the Customer's Responsibility
Your earnings disclaimer should make it clear that due diligence is the customer's responsibility. Due diligence can include things like checking a company's rating and complaint history with the Better Business Bureau and contacting previous customers to learn about their experiences.
This is how NLBM addresses due diligence:

NLBM even suggests getting help from "qualified professional advisors" when evaluating the company and its services.
You May Pay Customers to Provide Testimonials
Some companies compensate customers for providing testimonials. The practice is relatively common, but it can lead to authenticity and conflict of interest issues because it may not be clear if they're providing honest opinions and true accounts of their experiences, or overly rosy versions of them just to make a quick buck.
Whatever the case, you should always let customers know if you provide compensation for testimonials.
Here's how Predictable Profits does it:

It's also worth noting that in addition to cash payments, compensation can include things like affiliate commissions and free or discounted products and services.
You May Make Forward Looking Statements
Many money generation businesses make projections and forecasts about the future that may or not turn out to be accurate.
Because there's no such thing as a crystal ball, you should address forward looking statements, forecasts, and projections in your earnings disclaimer.
Here's an example from Vertex Marketing Agency:

Vertex also lists a number of terms that are often used with forecasts and projections so customers can keep an eye out for them when they're reading sales and marketing material.
Where to Display Your Earnings Disclaimer

You should place your earnings disclaimer (or a link to it) in a conspicuous area of your app or website where customers can easily find it.
Below are the most common locations for earnings disclaimer placement.
Website Footer
The site's footer is designed for links, and users know to look here for important ones. If your disclaimer is short enough, you can even put the text of it in the footer.
FortuneBuilders links to its earnings and income disclaimers on its homepage footer: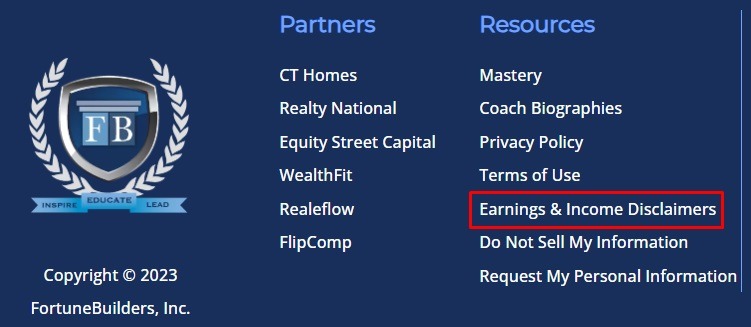 In addition, this same footer content is found on each page on the website so customers can easily find it no matter where their navigations take them.
In this example, Predictable Profits provides links to an earnings disclaimer and a testimonial and results disclaimer at the footer of every page on its website:

Within a Terms and Conditions Agreement
Users know that they can check a Terms and Conditions agreement for important information about a company, and its relationship to the user. Because of this, disclaimers are often placed within a Terms agreement.
This Terms of Use clause notes that a company will not be liable for loss of revenue or profits when using the program:

In addition to linking to its income disclaimers at the footer of the homepage, FortuneBuilders also places a link at the top of its Terms of Use page:

At Sign-up, Checkout, and Registration
It's a good idea to present your earnings disclaimer as many ways as possible to ensure it isn't missed.
In the following example, FortuneBuilders includes a lengthy disclaimer at the bottom of a free webinar sign-up page: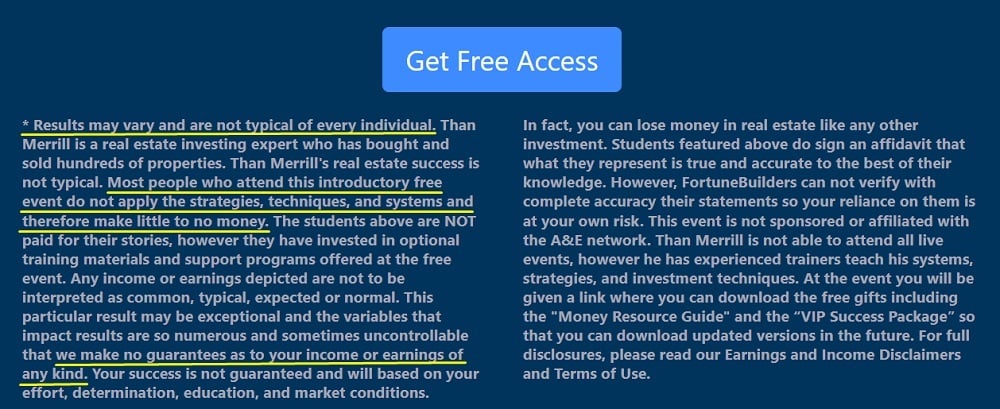 Earnings Disclaimer Summary
Earnings disclaimers limit a company's liability by informing customers that results aren't guaranteed, and that they may not make any money (and could even lose money) when they purchase a product or follow a program designed to generate revenue.
In the United States, companies that sell products and services intended to generate income are required to have an earnings disclaimer.
Most well-written earnings disclaimers let customers know that:
Claims and estimates aren't guarantees of future performance
Testimonials aren't representative of overall success
You may (or do) compensate customers for providing testimonials
Hard work and effort is required
Factors like market conditions and the customer's work ethic are out of your control
Upon request, you'll provide evidence to support your claims
Due diligence is the customer's responsibility
Projections, predictions, and other forward looking statements may not be accurate and aren't guarantees of success
Earnings disclaimers should be displayed prominently on a website such as in a site's footer and within a Terms agreement. Depending on the length and complexity of your earnings disclaimer, it can be displayed in full text format or linked to.